52 Weeks of Sewing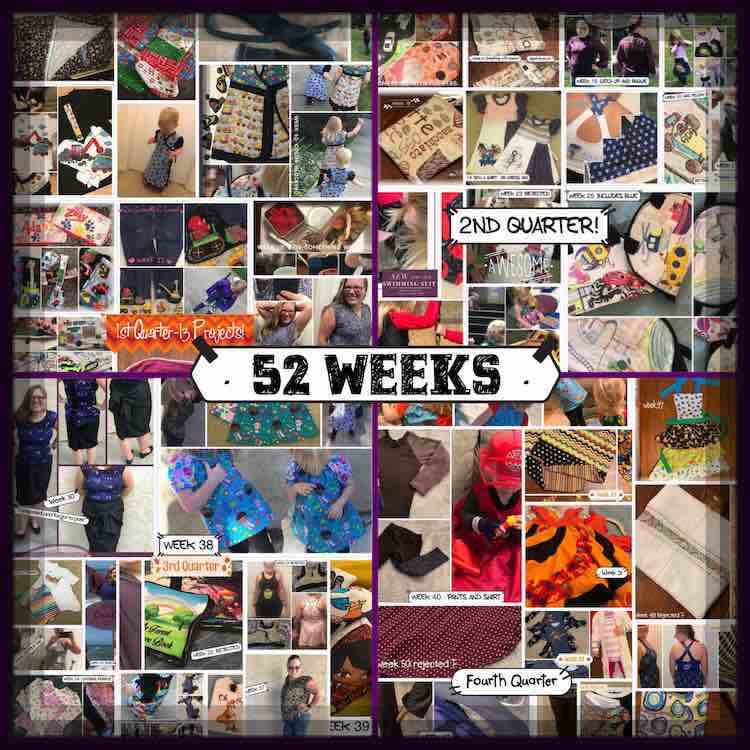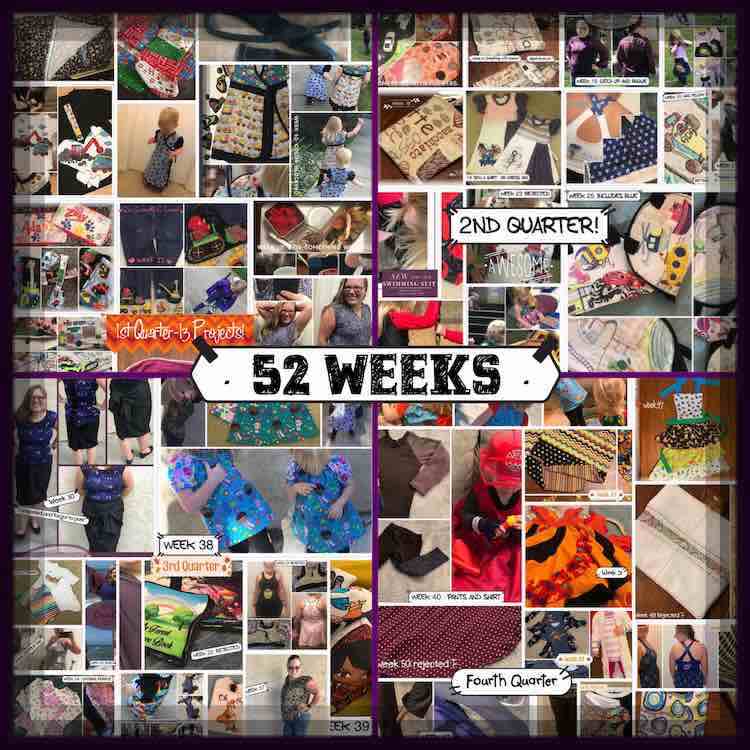 This year I was part of the 52 Week Sewing Challenge on Facebook and loved it! At the beginning I tried hard to accept each challenge, as it was written, to force myself to try new things. As the year unfolded it became easier to reject challenges as I'd have a different project in mind and may have already sewn something using the challenge topic (for example sew something with a zipper, specific sleeve type, or a neckline type). Overall, I learned so much as I had the support and accountability of a sewing community opened to me. I loved how seeing everyone's work helped push me into trying new things while the challenges kept me consistent in my sewing. If you want the same it isn't too late to join the 52 Weeks Sewing Challenge as it's going to be continued in 2019. This is an easy challenge to join if you want to be more consistent with sewing as you aren't required to enter each week and if you do you could always reject the challenge and sew something that doesn't fit the challenge topic.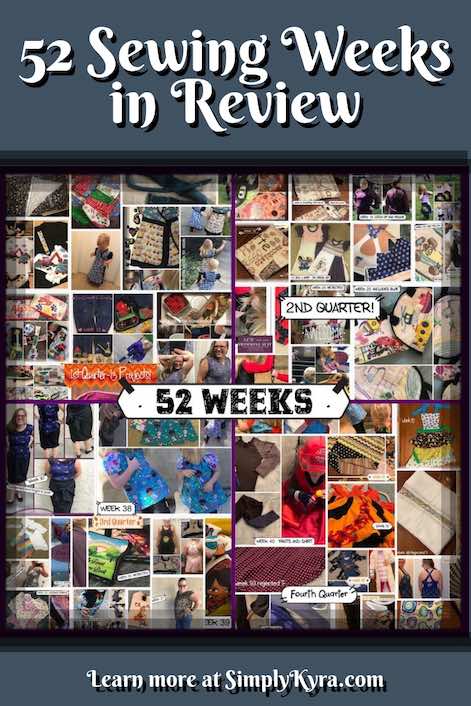 Since the 52 Week Sewing Challenge is continuing the albums and photos I uploaded to track my progress have been deleted so we can easily continue within the same Facebook group in 2019. I wanted to write an overview of my sews this year so I have a spot I can easily return to to see how much I've grown. Additionally, I figured this was a perfect year in review post for my website while also offering links to the patterns and most of the fabric you may be interested in. I really love how how this challenge gave me a reason to keep sewing and trying new stuff out. I really loved the community that grew and over the past year have found so many online PDF sewing pattern companies and custom fabric retailers that offer their own Facebook groups as well. I love the sewing community that's on Facebook and how with the time zones someone is always online to comment if you need help or just want to share.
So without further ado here are the sewing challenges that I posted in 2018:
---
Week 1 – January 1st to 7th
Sew Something Warm/Soft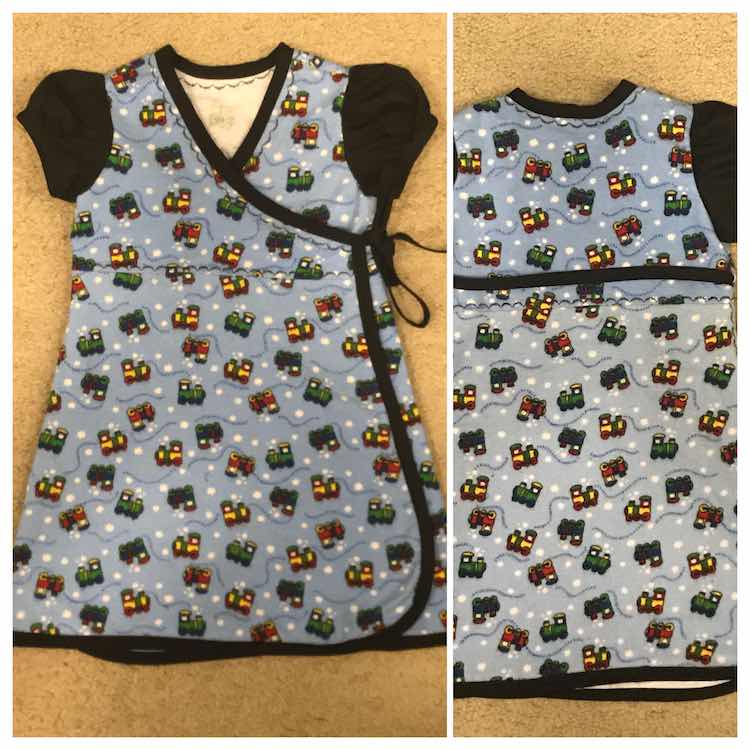 I missed week one although all was not lost as each quarter of the challenge had a catch up thread you can use if you missed a week or more. The Candy Castle Patterns group had a sewalong to make their bubblegum dress during week 10 and so I used some soft train flannel remnants from Joann's Fabrics to try out the pattern for Zoey before color-blocking Ada's. This dress is still Zoey's favorite although I don't know if it's the style of the dress or just what fabric I used to sew it. The dress is included in my blog post detailing Ada's color blocked version from week 10.
---
Week 2 – January 8th to 14th
Sew From The Last Fabric You've Purchased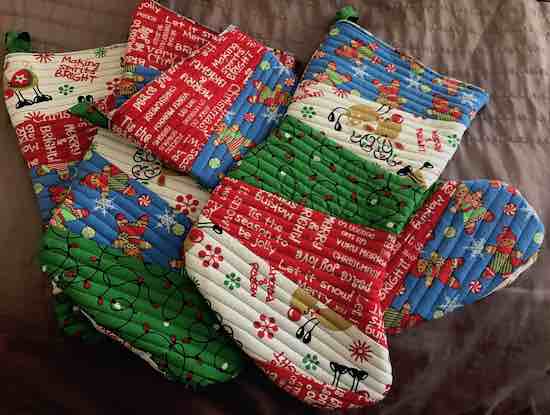 The second week was the first time I actually sewed in time to enter the challenge thread. The last fabric purchased was several Christmas-themed fat quarters from a Walmart sale after Christmas. I had been debating sewing up some heirloom quality stockings for a while so I jumped at the chance to finally make some I loved. I ended up having to go out to buy batting and some snowmen flannel from Joann's Fabrics for the liners which funnily enough became my new last fabric bought. I used a couple different blog posts to put my stockings together and have since written up a post if you're interested in learning more about them… or about the labels I finally added almost a whole year later.
---
Week 3 – January 15th to 21st
Sew Something To Make Sewing Easier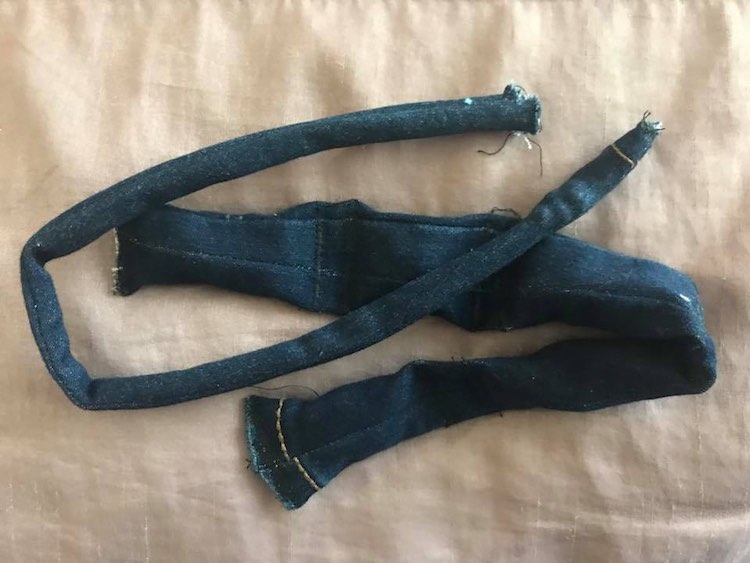 At first I wasn't sure what to sew to make sewing easier and as the week progressed I loved seeing what everyone else in the group was sewing. I loved the idea of sewing up a mat for under your sewing machine or making a fabric scraps basket. I then seriously considered making a mat for my sewing machine foot control pedal but since I sew on rug I wasn't sure if it would be helpful enough to be worth sewing it up. I did need pattern weights though so I ended up making a wiggle weight out of a scrap of cut off jeans from hemming a long pair. I sewed up a tube, put it right side out, and then filled it with fishing weights. As I filled it I kept stopping to sew a horizontal line across to make the pattern weight easier to bend later on. I've also heard of people filling theirs with either lead or buckshot weights too. I've since bought some large washers from a hardware store so sometimes I normally prefer the shorter washer weights but still love this weight as it's long, heavy, and can easily hug the curves. I find myself using it most along the foldline of my pattern since the height doesn't get in the way there. Overall, it's so much better and shorter than the cans I'd been using before.
---
Week 4 – January 22nd to 28th
Sew Something For A Boy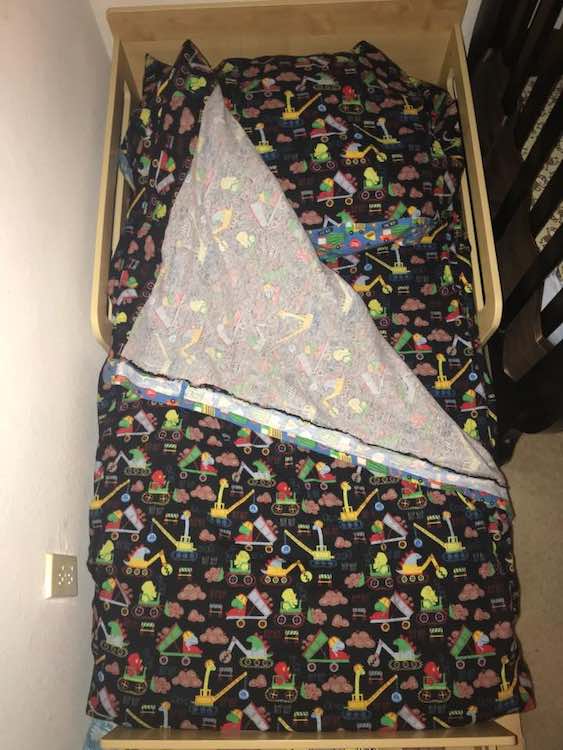 Week four was to sew something for a boy. I ended up mostly rejecting this as I instead sewed for my daughter although the fabric she chose for her sheets would've worked for a boy or girl. I love how she was able to have sheets with both of her favorite things: dinosaurs and vehicles.
I loved the old Skip Hop sheets I had that came with a bottom fitted sheet, a half fitted top sheet, and a pillowcase. I loved how the sheet doesn't pop off the end of the bed but didn't like how thin the sheets were or how short they seemed on the bed. I had been wanting to sew up sheets for Ada that would be customized to what she liked while also fixing what I didn't like about the other sheets. These sheets are what I came up with and later blogged about my process, if you're interested, I have since sewn these sets up three more times over the year (once more for Ada and twice for Zoey) that allows the kids to switch back and forth on which ones they're using. With these first sheets I flipped over the edge and pulled the elastic through the channel while the next three sets I used  MADEeveryday's quick elastic hack instead which was perfect if your fabric shrunk just enough to make you worried about it's width..
If the kids want to use their sister's sheets  I actually get them to ask their sister before they get them on their bed. It's incredibly adorable and has so far worked since they both like their own and their sister's sheets. It will be sad when they upgrade to a twin bed and they no longer fit.
Week 5 – January 29th to February 4th
Sew Something From A Newly Purchased Pattern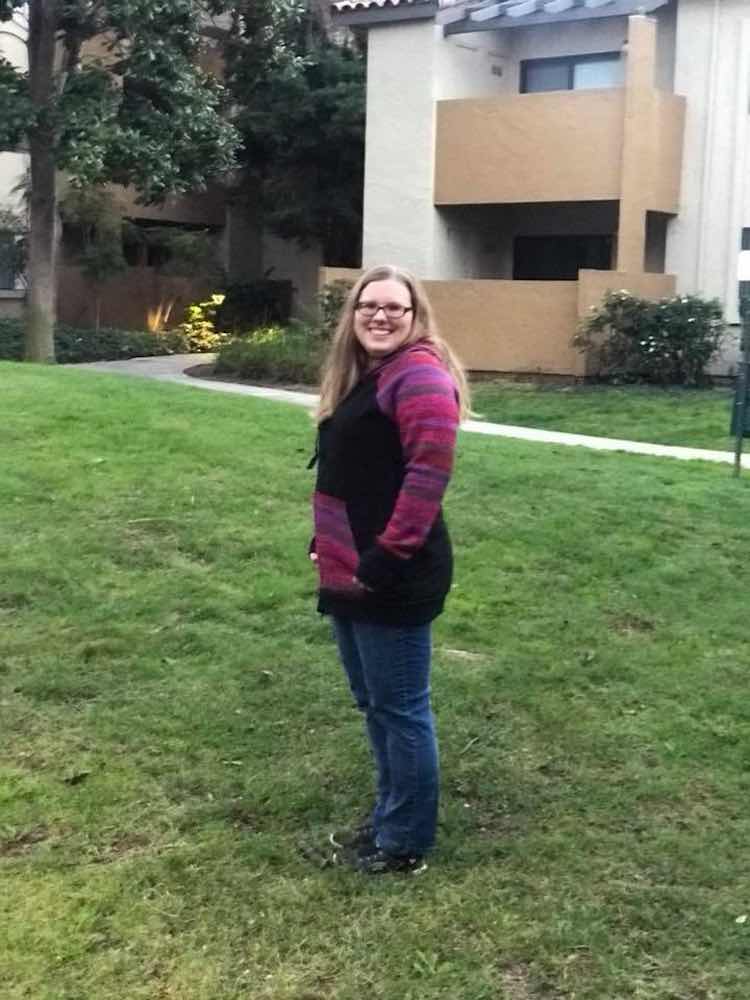 The next challenge was to sew something from a recently purchased pattern. My last pattern purchased was the Tami hoodie through New Horizons (no affiliate) so this was a perfect way to not put it off. I prefer my sweaters with a zipper so jumped immediately into sewing with a separating zipper which seemed scary enough so why not include their default thumbhole cuff along with both sets of optional pockets.
Week 6 – February 5th to 11th
Sew Something Red Or Pink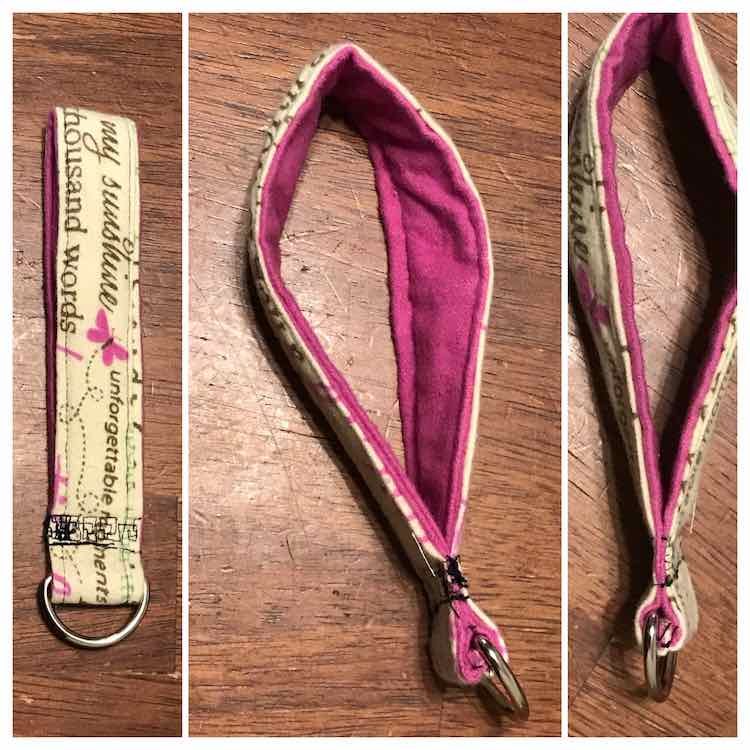 The week before Valentine's Day the challenge was to sew something red or pink. At first I thought I wasn't going to be able to make anything within the deadline but then someone else posted a lanyard and I fell in love with the idea. I looked online at different options and ended up finding a free wristlet pattern through AllFreeSewing that I loved and already had the materials for. I used leftover fabric from making our Duplo storage bag and playmat so was able to quickly whip this up in time.
Week 7 – February 12th to 18th
Sew Something With Hearts
For week seven we had to sew something with hearts. I had wanted to sew more pages to add to Ada and Zoey's quiet books so thought I was only sewing that up instead of the challenge. I finally realized that I had added a heart on two of the page sides so was able to accept this challenge too. I haven't gotten around to finishing the posts about these pages but if  you're interested I can try to post them sooner than later. If you want to look at my older quiet book pages I've included the link to the list.
Update: I've since blogged about the shoes here.
Week 8 – February 19th to 25th
Sew Something Upcycled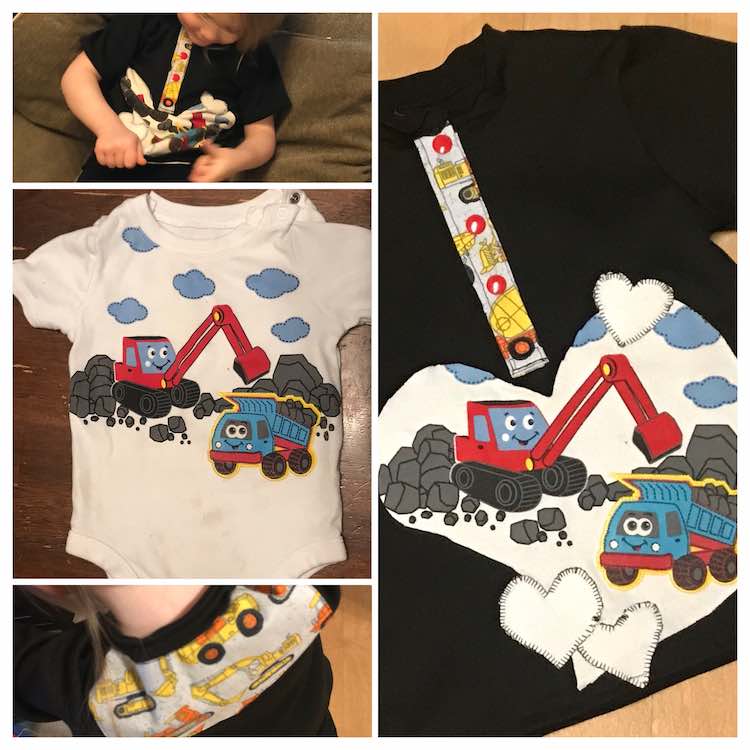 This week was to sew something upcycled. I was trying to figure out what to sew up when I realized Zoey was starting to grow out of a vehicle-related onesie. Ada had picked it out in the store for Zoey although Zoey hadn't fallen in love with it. I figured the onesie would be appreciated more by Ada instead of sitting in Zoey's drawer for a bit longer. I bought Candy Castle Pattern's unisex Soda Pop Polo Shirt pattern as the base and then used reverse applique to add the onesie to the shirt.  More information can be found in my Upcycled construction truck shirt post.
Week 9 – February 26th to March 4th
Sew Something With Buttons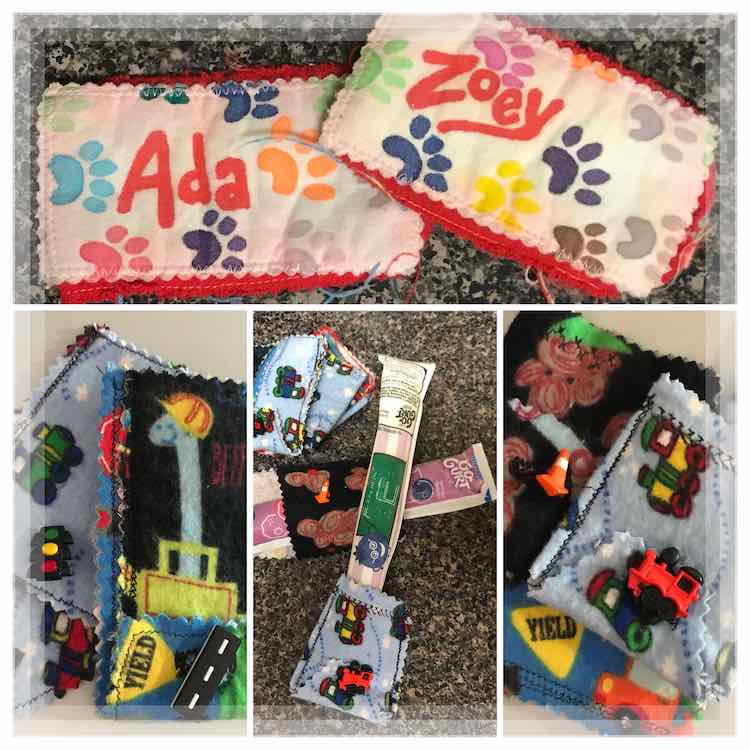 For week nine we had to sew something with buttons. For last week's polo top I had chosen to use KAMsnaps instead so decided to make something that wasn't clothing-related this time. I took the opportunity to make more freezie holders for the kids and made it quicker than the ones I made before by using a single layer of fabric on either side. I decided to make two kinds to test out different styles. You can check out my blog post if you want more details.
Week 10 – March 5th to 11th
Sew Something That Is Color-Blocked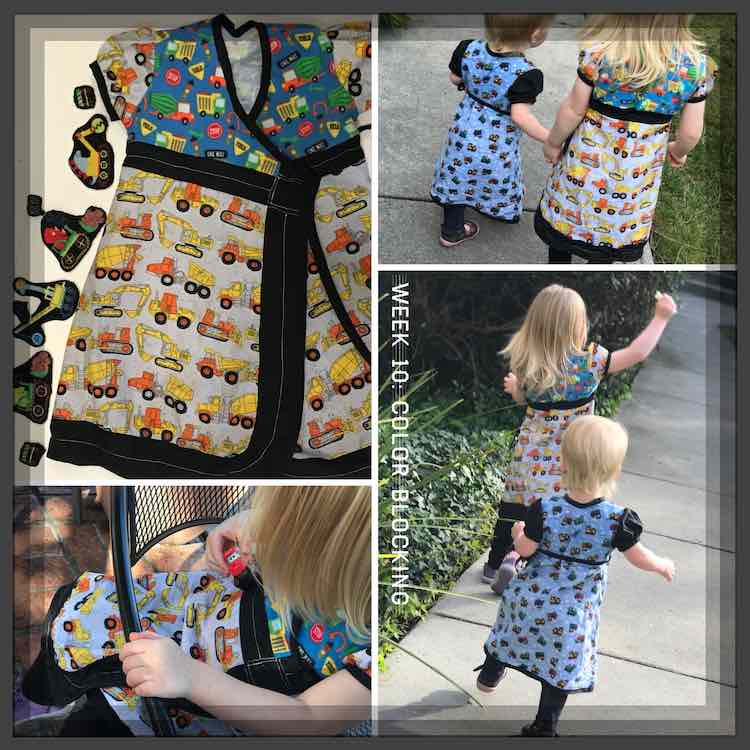 There were many different color-blocking sewing patterns that were mentioned in the challenge group this week but ever since I saw the busy dresses in ads for Princess Awesome I wanted to see if I could make a clothing version of our quiet books. Originally, I wanted to somehow convert the base pattern from the Peppermint Swirl dress so I could have the swirl effect, but wasn't sure how to do it. Instead, at this time, Candy Castle pattern was doing a sewalong for the bubblegum wrap dress so I instead decided to use that as the base. After sewing up the pattern for Zoey so I knew how it worked I converted the pattern pieces for Ada's size before jumping in. I blogged about it if you're interested to read more.
Week 11 – March 12th to 18th
Sew Something Green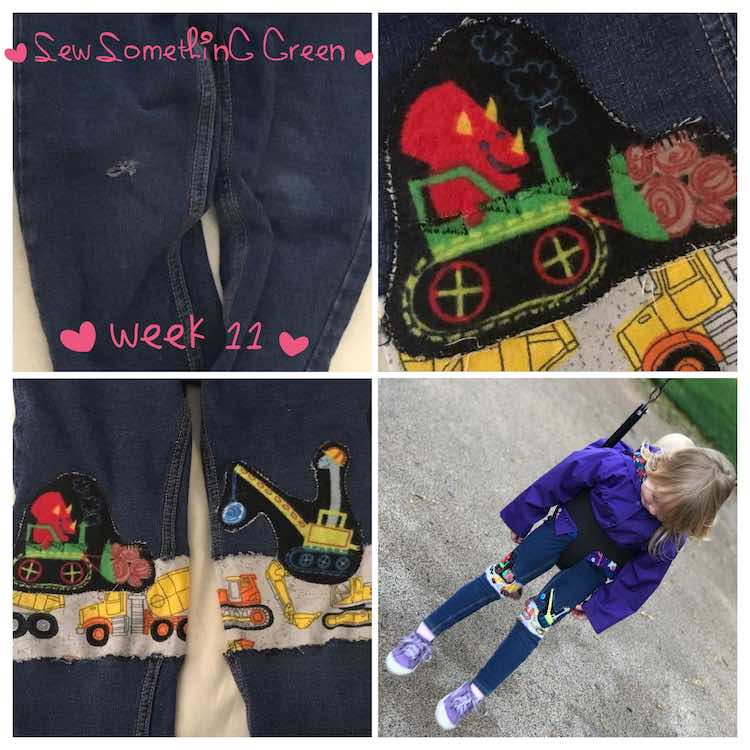 I had been meaning to patch Ada's pants for a bit but then they started getting too short and her other knee popped a hole. I had some patches made from Ada's dinosaur construction vehicle fabric the week before that I hadn't used so decided to use the something green as an excuse to both patch and extend her pants. Technically the one vehicle is green in addition to the life of her pants being extended. You can read about patching and extending Ada's pants in my previous post.
Week 12 – March 19th to 25th
Sew Something From Felt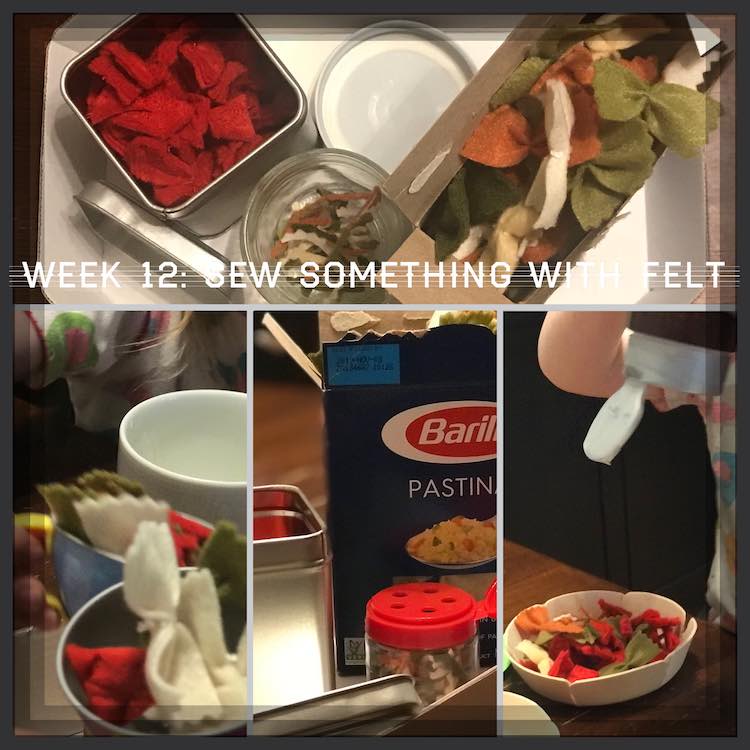 I'd been wanting to make the kids their own pasta for awhile now and used this opportunity to jump in. After looking online I figured that the best (and easiest) would be bow-tie (farfalle) pasta and went on to add diced tomatoes so they could make pasta, tomato, and cheese… a recurring meal around our house. If you want to read about how I made the fake pasta and tomatoes or how to make the legit meal I've written about both previously.
Week 13 – March 26th to April 1st
Sew A Pattern You Own But Have Never Tried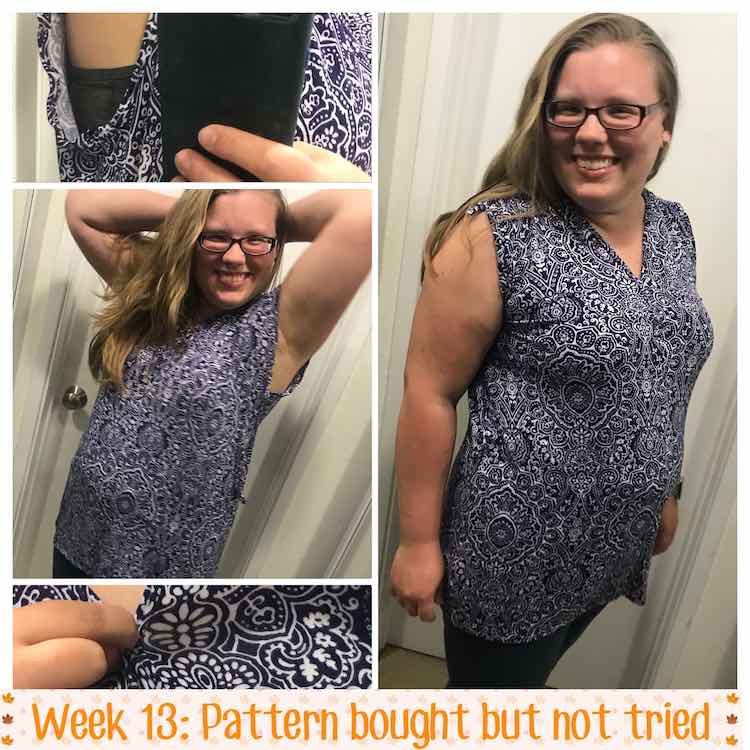 I had bought a bunch of patterns that I hadn't sewn yet so week thirteen had a lot of choices. I ended up sewing the the V for Vanilla shirt from Candy Castle patterns but ended up stretching the neck and armholes while sewing the shirt. I posted about how I shortened up the armholes and neckline if this happens to you.
Week 14 – April 2nd to 8th
Sew Something With Flowers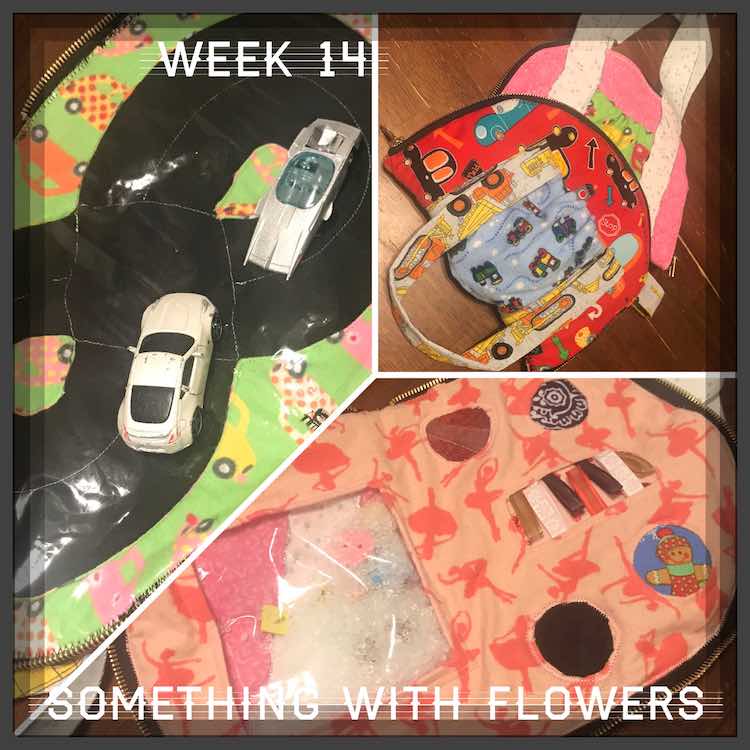 I bought the Play Away Case sewing pattern by FLOSStyle on Etsy after I saw another one in the sewing challenge group. I sewed up the Discover and Drive options. I included topstitching so the road would have a center line and an intersection; made simpler after having done the same on Ada's bubblegum dress. I finished off the outside with an elastic pouch pockets on both sides. Perfect for a friend going on a long flight. Again, I thought I was going to have to reject this week's challenge before realizing that there were flowers included on the lime green fabric's cars.
Week 15 – April 9th to 15th
Sew With Woven Fabric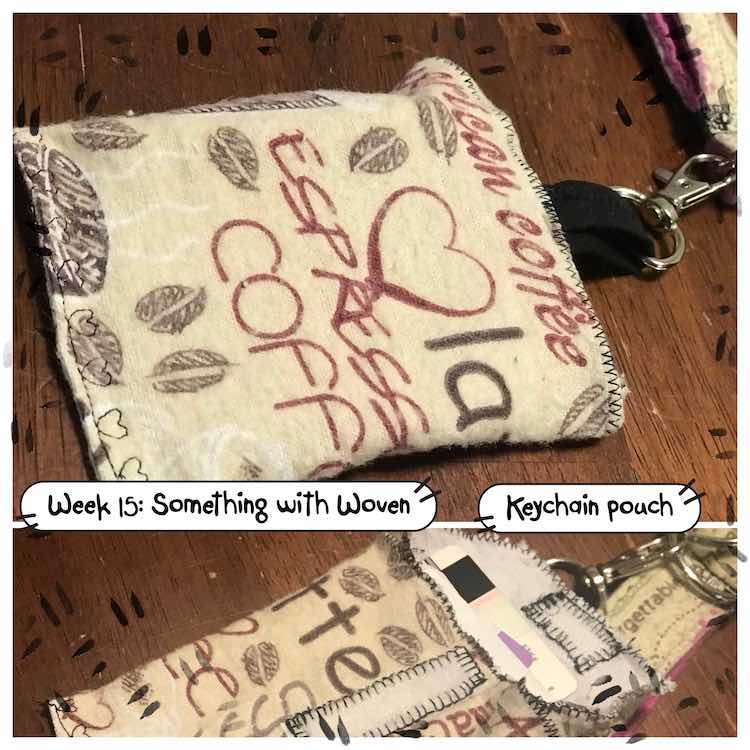 Prior to this week I had an idea to sew up a wallet pouch to attach to my keys. I had sewn up a quick prototype before and with this week's challenge figured it was a perfect excuse to sew up a second iteration of my design. Since I had sewn with woven fabric a few times before including my quiet books and peek-a-boo quilt I wasn't too concerned sewing something smaller this week as I felt I was still challenging myself by working on my own pattern.
Week 16 – April 16th to 22nd
Sew Something For An Animal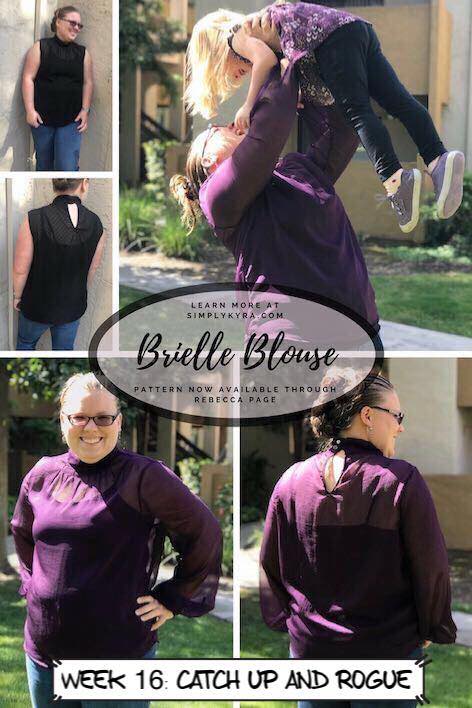 For week sixteen I didn't have an animal to sew for and didn't think I had a chance to sew that week. I ended up catching up later by posting Rebecca Page's Brielle Blouse that I had sewn up but waited to shared as the pattern needed to go live. It was my first foray into sewing with chiffon and I ended up using gelatin, after cutting my pattern pieces, so I could make chiffon bias tape.
Week 17 – April 23rd to 29th
Sew Something With A Pocket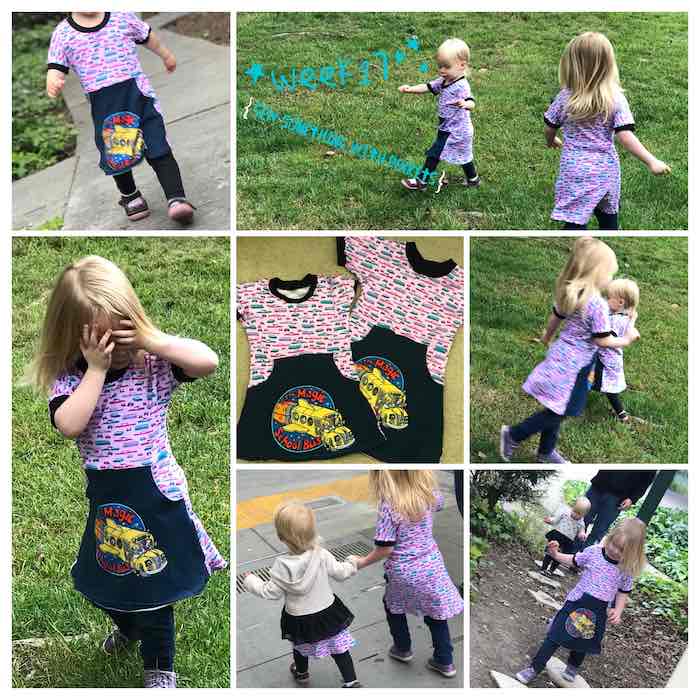 I sewed up the magnolia dress pattern through Stitch Upon a Time that I later blogged about along with a dress I sewed two weeks later. The magic school bus panel was purchased through Whimsy Baby Custom fabrics and the vehicles were from Elevated Fashion Fabrics.
Week 18 – April 30th to May 6th
Sew A Purse Or Wallet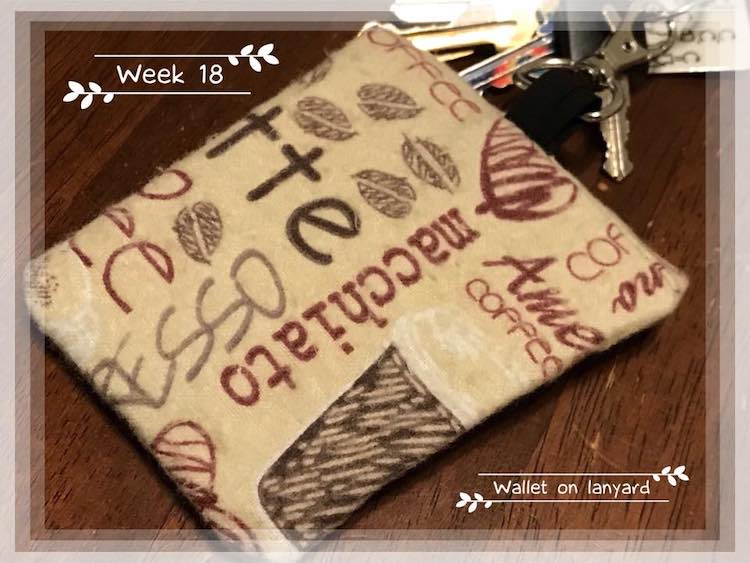 I knew I didn't have the time, or supplies on hand, to make a purse or wallet this week. Instead, I used the opportunity to sew up another iteration of my wallet pouch.
Week 19 – May 7th to 13th
Sew A Shirt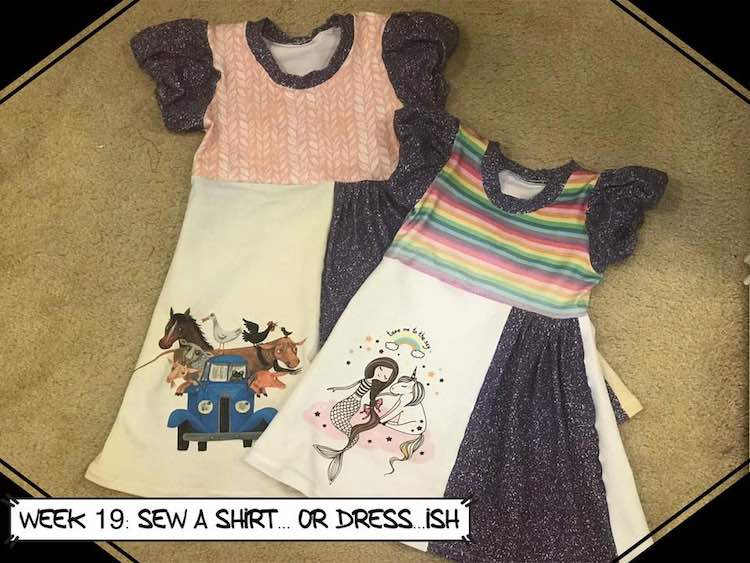 For week nineteen I was to sew a shirt. I attempted it for myself but ended up sewing a dress/tunic length shirt I still have to get around to fixing. Instead I decided to submit the two dresses (shirt-ish since the kids wear them with leggings) I also made this week. I used the Wendybird pattern from Stitch Upon a Time for both dresses using the bubble sleeves and pleated front skirt options for both. I later posted about them for my me-made May post. The dresses were made from Whimsy Baby Customs cotton lycra fabric. I used some printed glitter fabric to have the dresses match, but otherwise either dress is made from a rapport (meter of fabric with a panel/image and coordinating fabric).
Week 20 – May 14th to 20th
Sew Something Yellow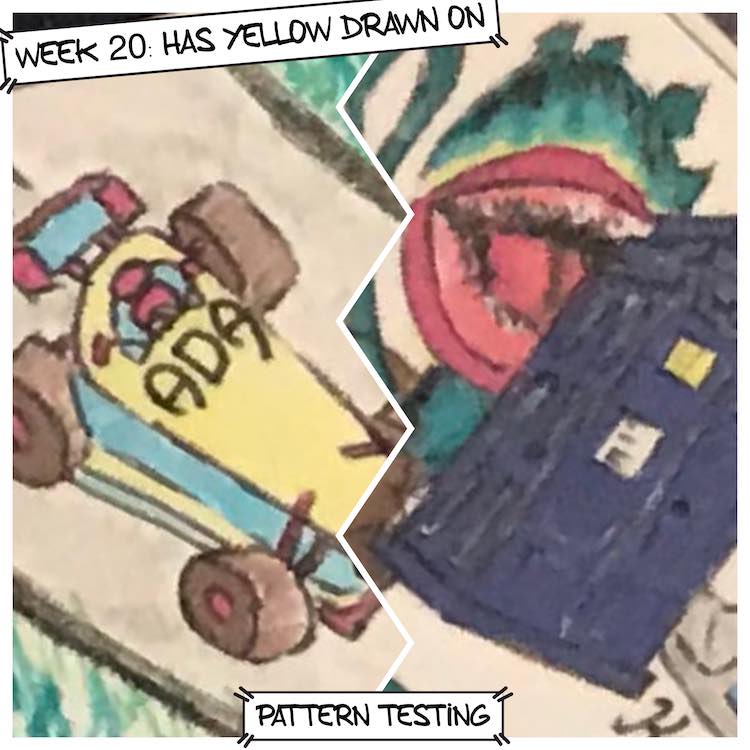 This week I was pattern testing the free Rebecca Page passport holder. After I realized it fit the challenge I decided to submit a closeup shot including my favorite part and the yellow itself. I customized white woven fabric by using fabric markers for each passport pocket and loved how it turned out. I later blogged about this sew when the free pattern was released.
Week 21 – May 21st to 27th
Sew Something With Neutral Colors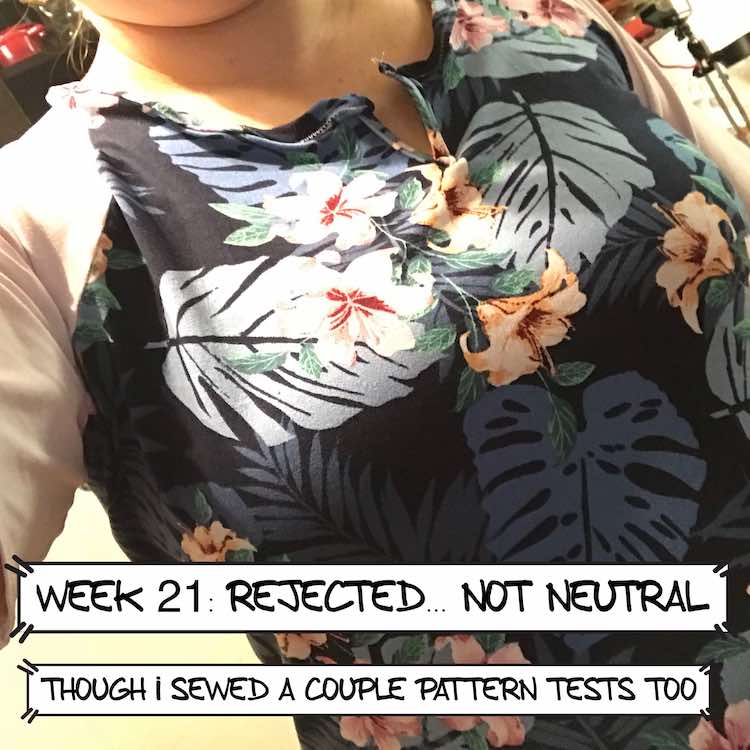 For week twenty-one I sewed up the New Horizon's Riviera Raglan along with a couple tests I couldn't share yet. I didn't consider any of the fabrics used as neutral so ended up rejecting the challenge and submitting the shirt I could completely share. I bought this pattern as I wanted to use it for panels but wasn't sure if I liked the fit for my wearable muslin and haven't taken the time to try it out again since.
Week 22 – May 28th to June 3rd
Sew A Bathing Suit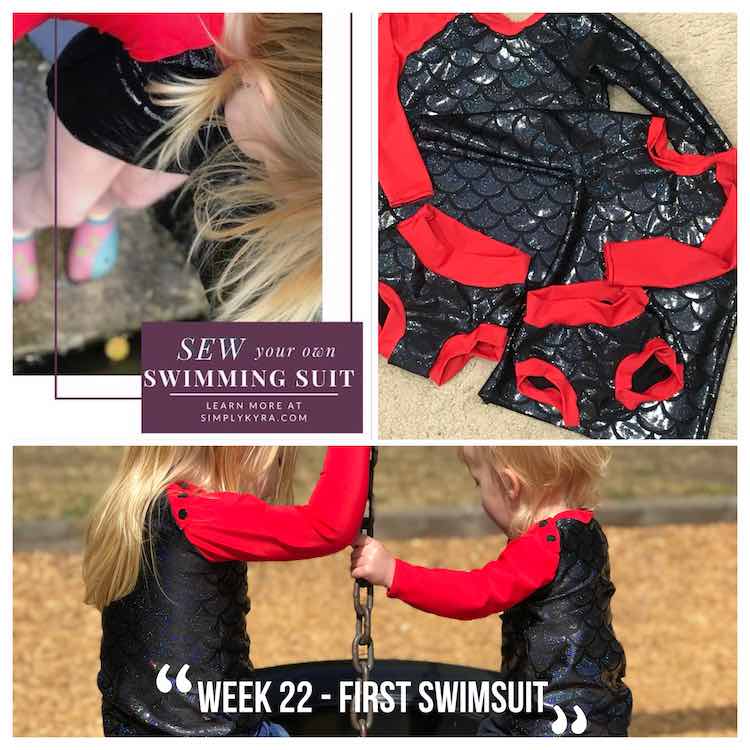 This week's challenge was to sew a swimming suit. Looking ahead at the beginning of the year I had debated sewing my own swimming suit for the challenge, but once we got closer I figured it would be simpler to just focus on theirs. I still need to sew my own swimming suit but thanks to this challenge I sewed up my first swim fabric. These swimming suits became a two-part post with the first being an overview of the suits themselves  and the second going over how I tested the fit, chose the fabric layout, and tested out the placket.
Week 23 – June 4th to 10th
Sew Something With A Collar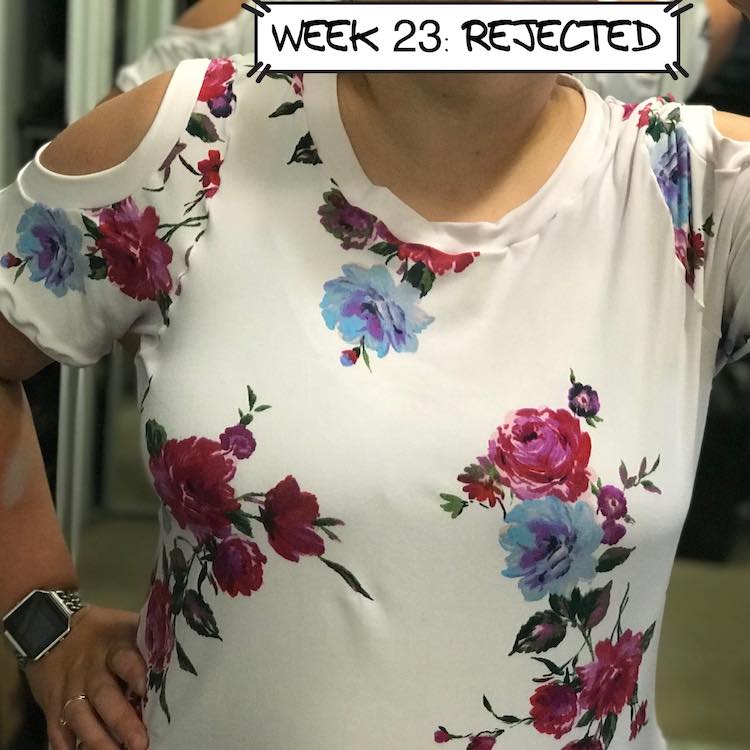 Rejected this week's challenge as I didn't sew anything with a collar. I did, however, sew up some more bedding and a wearable muslin of the George and Ginger anniversary top.
Week 24 – June 11th to 17th
Sew Something For A Girl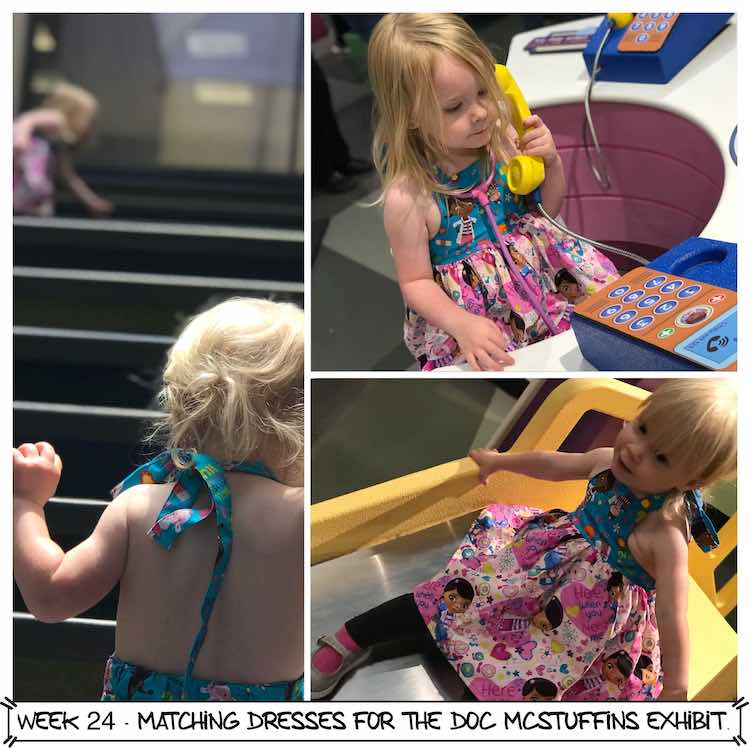 I had bought some Doc McStuffins fabric a while without Ada or Zoey knowing from Joann's fabrics. When a Doc McStuffins exhibit opened near us I knew I had to sew something up for the girls. I ended up going with the Marshmallow halter dresses and sewing them up in two rushed post-bedtime nights. I made a bunch of mistakes and got frustrated as I felt rushed as I wanted them ready to go to the exhibit right away. I was, originally, going to include the ruffles but went with the simpler and quicker version ruffle-less version so Doc wouldn't be obscured.
Week 25 – June 18th to 24th
Sew Something Blue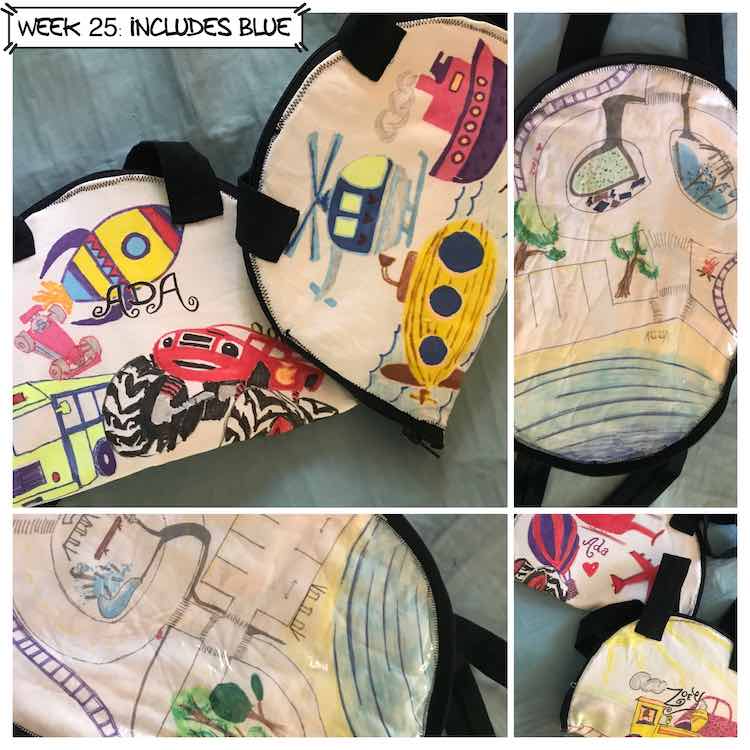 Challenge accepted again! I wanted to sew up something that would, hopefully, keep the kids distracted on our road trip in July so I sewed up two more Play Away Cases and, unlike week 14, hacked the inside to my own design. Looking back I wish I made both cases have the 8-road of the pattern's drive option as both cases weren't played with too often and that may have interested them more. Overall, I'm hoping it's a toy the kids keep going back to over time. Luckily, I used blue for the water and other designs so it fit the challenge. I ended up forgetting about the outside pockets while designing the fabric so left the pockets off and stored the two toy cars I included inside each case instead.
Week 26 – June 25th to July 1st
Sew Something With Stars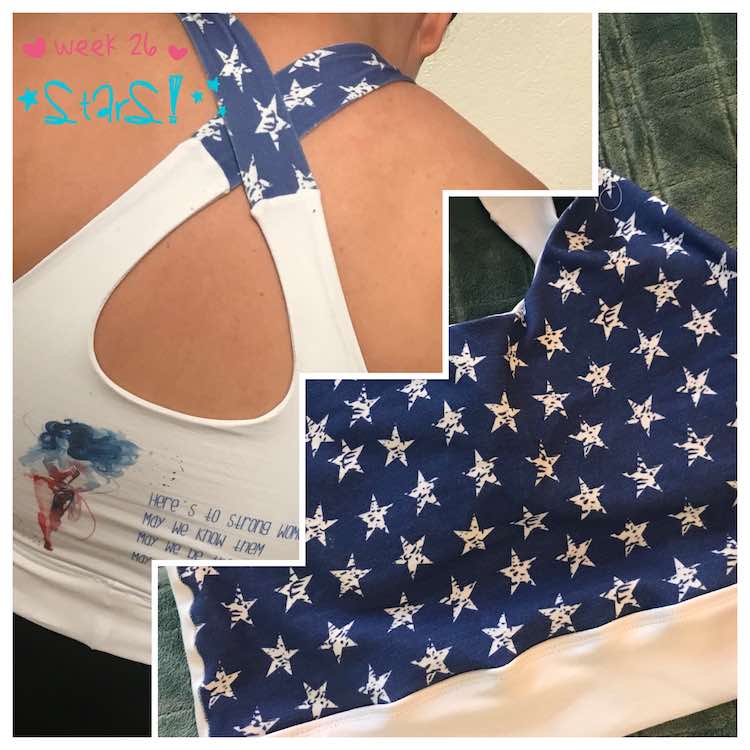 During week 26 I sewed up a Brazi workout bra through Stitch Upon a Time. I was concerned I wasn't able to accept the challenge as I thought of it as wonder woman only and then later fully noticed the stars on the front fabric. Accepted! I used white cotton lycra for the band and lining while the rest of the fabric was from an adult sized cotton lycra underwear panel from Whimsy Baby Customs. I also blogged about it if you're interested in more details.
Week 27 – July 2nd to 8th
Sew Something With Stripes
One part of our road trip this summer included a visit to Drumheller, Alberta and the Royal Tyrrell Museum so I sewed up some surprise dinosaur dresses. I bought two dinosaur panels specifically for these dresses along with coordinating stripes through Whimsy Baby Customs. I used leftover white cotton lycra from before along with some leftover vehicle fabric from Elevated Fashion Fabrics on the inside pocket lining. The pattern was the same magnolia from Stitch Upon a Time that I had sewn before. I was actually going to sew this the previous week, noticed the stripes, and saved it for this week so I could accept the challenge with something I wanted to sew anyways.
Week 28 – July 9th to 15th
Sew A Tank Top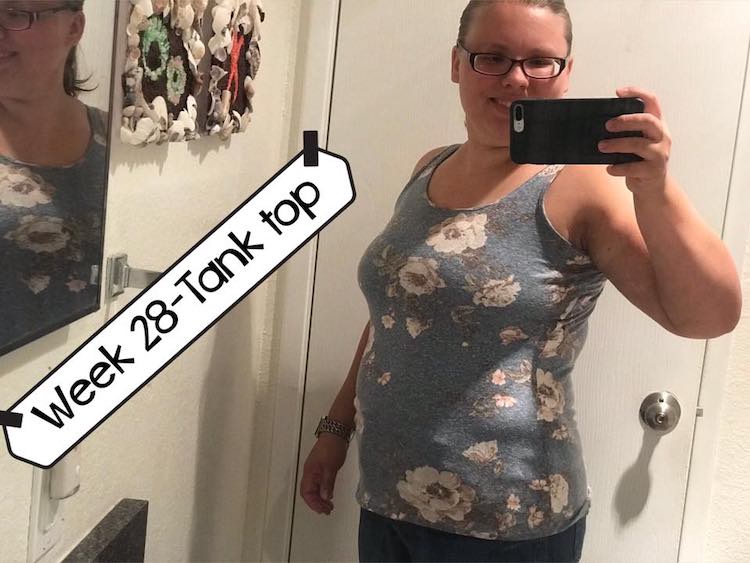 With the 28th week being to sew a tank top and since I still needed to work on being able to sew that I figured I'd jump on the challenge and went with the simplest version of the Stitch Upon a Time Excalibur top with some mystery box fabric I had.
Week 29 – July 16th to 22nd
Sew Something Stretchy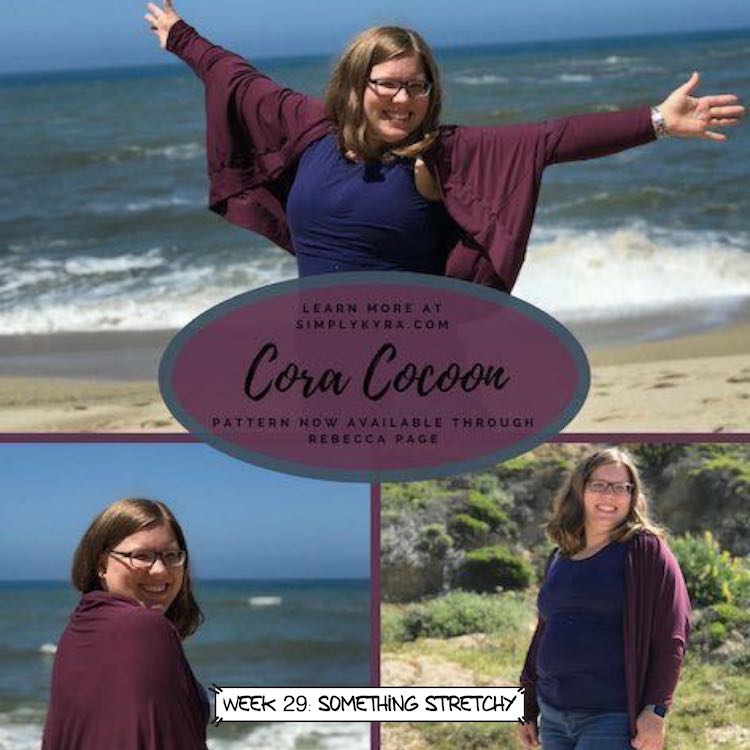 I was on vacation and unable to sew so I ended up sharing the Cora Cocoon that I had sewn previously and had recently gone live.
Week 30 – July 23rd to July 29th
Sew A Summer Dress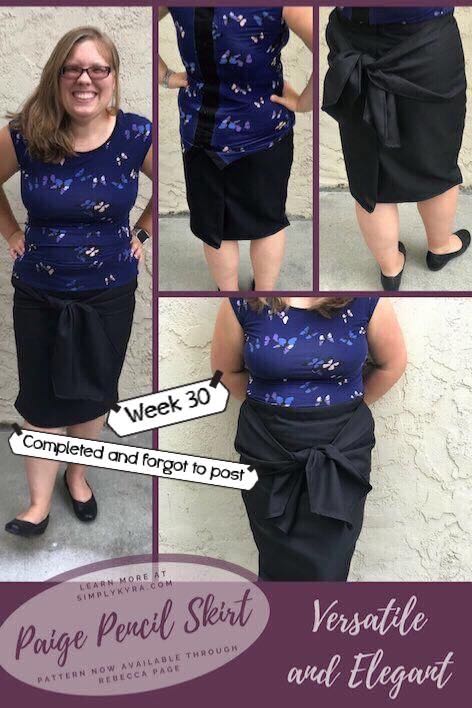 For the 30th week I sewed up the Paige Pencil skirt… not quite a dress. It was in testing but as I finished by 2 p.m. on the Sunday I was going to share a closeup shot of the fabric to submit. I instead got completely caught up taking photos of the skirt, taking Ada swimming, and then supper so it completely slipped my mind. I waited until the pattern went live to post my blog post and then later added it to the makeup post for this quarter.
Week 31 – July 30th to August 5th
Sew Pants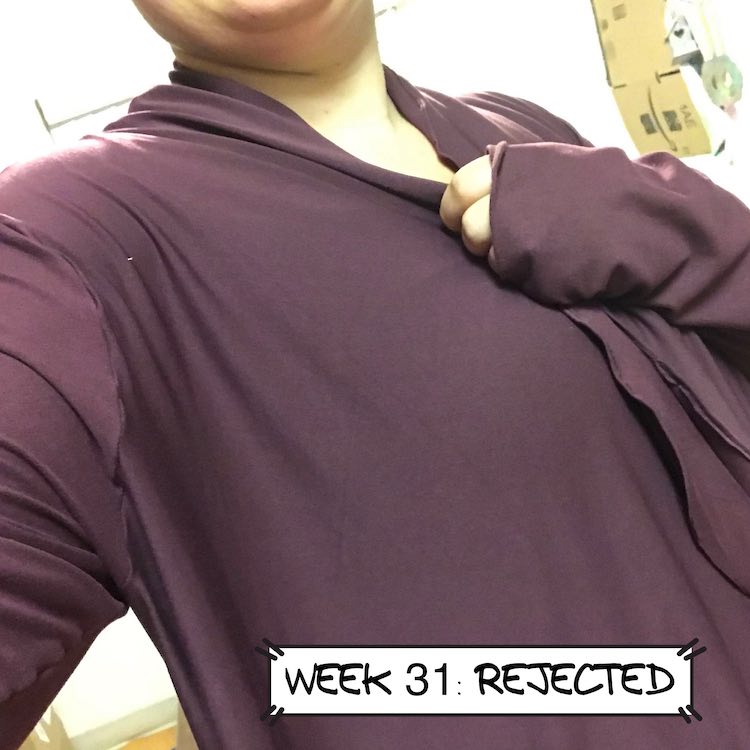 For the 31st week I rejected the challenge as I didn't have time to work on pants and instead sewed Rebecca Page's Circle Cardi using the same fabric as I used for the Cora Cocoon earlier for the upcoming blog tour post.
Week 32 – August 6th to 12th
Sew Something Slinky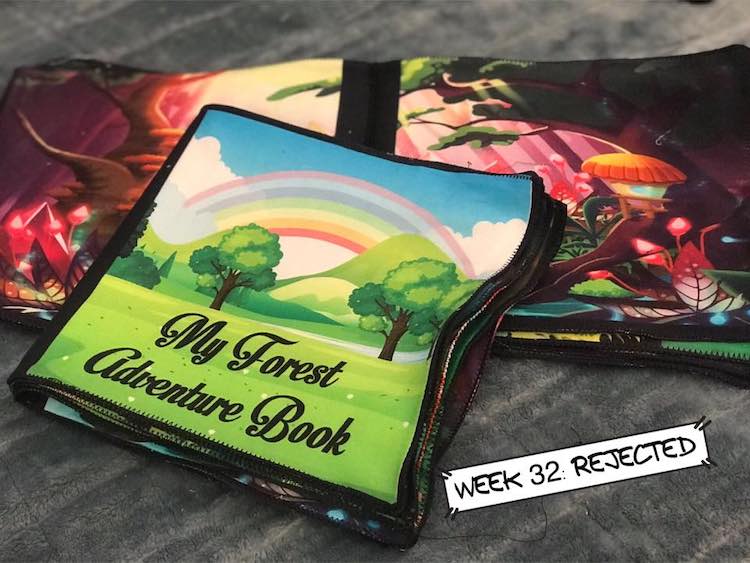 I ended up rejecting yet another challenge as I was too busy working on quiet books to focus on anything else. I bought the fabric for the quiet books and stuffed characters (not shown) from an RP Custom Fabrics preorder.
Week 33 – August 13th to 19th
Sew Something With A V Neck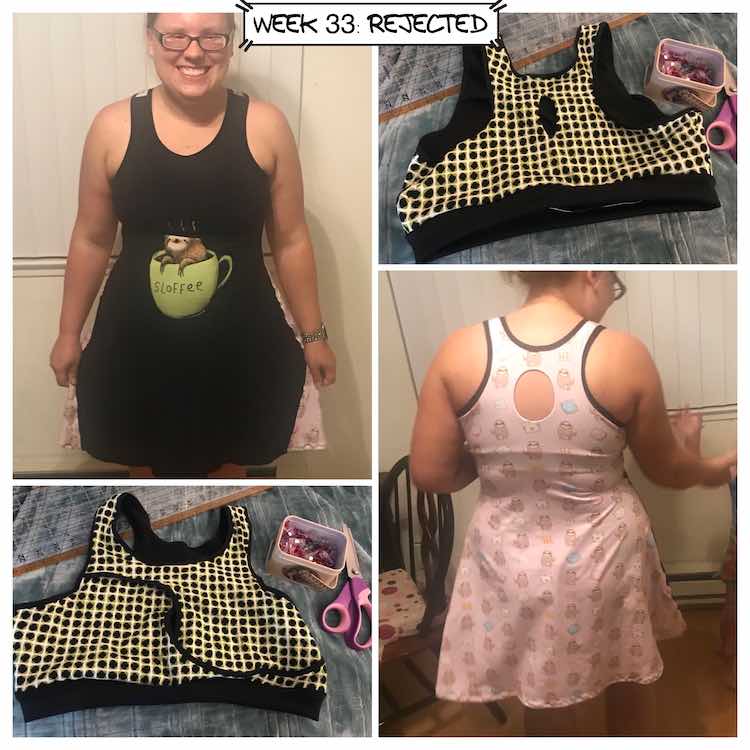 Once again the challenge was rejected. Stitch Upon a Time hosted a Calista sewalong so I jumped on that instead. I made my wearable muslin from a mystery box fabric using the razorback curvy bra option. I then went on to hack the pattern so I could have a sloffee nightgown with a built in bra showing the full panel. I ended up sewing some of the excess pink sloth fabric to either side of the main sloffee panel to make it wide enough for the front of the dress and then had to shortened the dress pattern pieces as I was limited in height for both fabrics.
Week 34 – August 20th to 26th
Sew Something Purple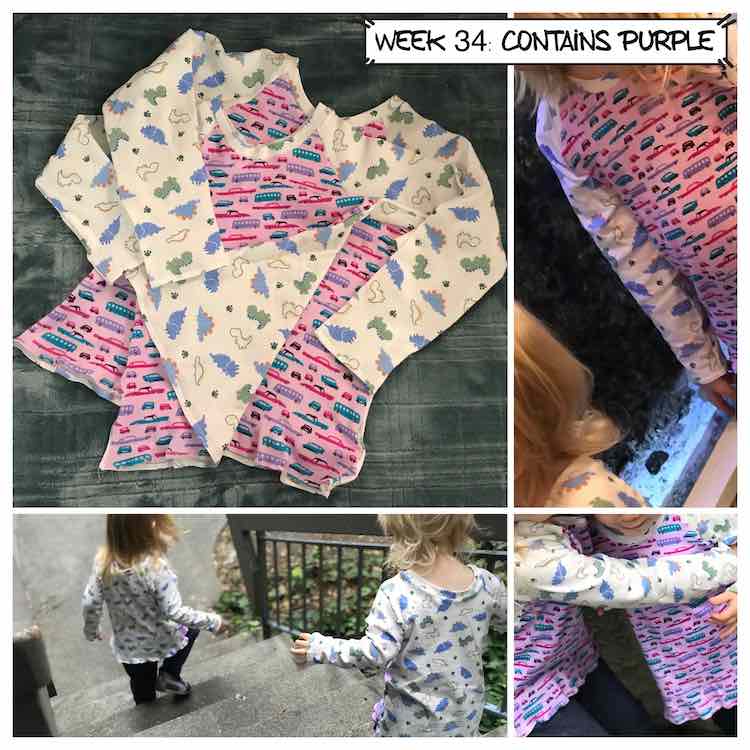 This is another weekend that I thought I wouldn't be able to accept the challenge which was hilarious as a large amount of my wardrobe is purple. I had ordered some t-shirt jersey knit from Sly Fox Fabrics that I was worried might be too transparent so I paired it with some leftover vehicle fabric from Elevated Fashion Fabrics for the front. I sewed these up just in time to surprise the girls with them when we went out for Ada's birthday and later realized that they fit the challenge as the added vehicle fabric has purple. The shirt itself is the unisex raglan top pattern from Ellie and Mac as I used it before on the swimming suits and knew what size they'd fit in from making their wearable muslins the first time.
Week 35 – August 27th to September 2nd
Sew Something From A Free Pattern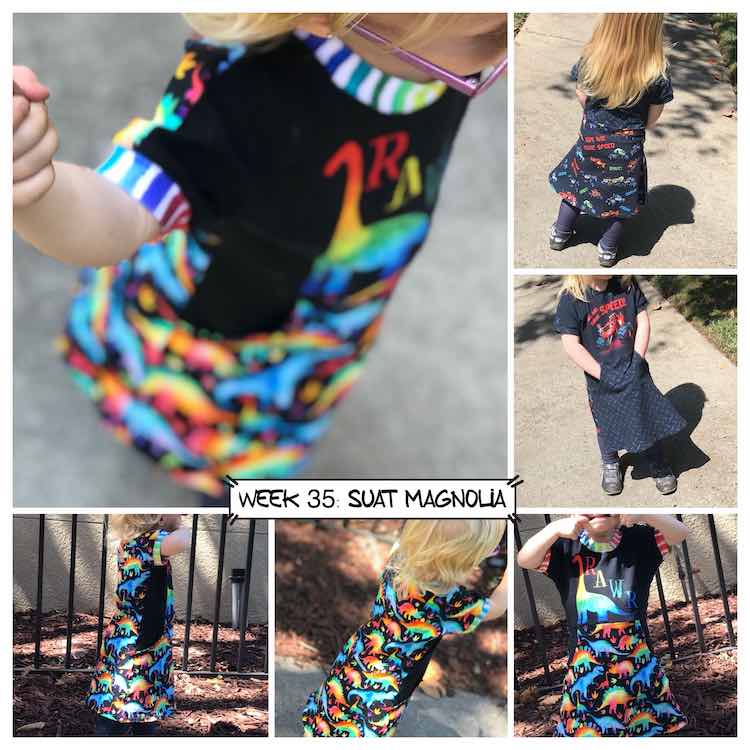 Accepted!!! When my Whimsy Baby Customs preorder containing a monster truck rapport came a week or two before her planned daddy and friends monster truck playdate I knew I had to sew it up. I ordered it before we planned the playdate so it was an awesome coincidence. I love the magnolia pattern through Stitch Upon a Time and knew what size they were so decided it would be a quick minimal prep sew. I ended up also using the watercolor dinosaurs rapport I bought for Zoey so they'd both get their new dresses at the same time. Third (or sixth individually) time sewing this pattern up and really love it. I was also able to remove the horizontal back line on Zoey's dress by combining the back skirt and back bodice pieces together before cutting the fabric although I just had enough room for her size on the rapport.
Week 36 – September 3rd to 9th
Sew Something With A Zipper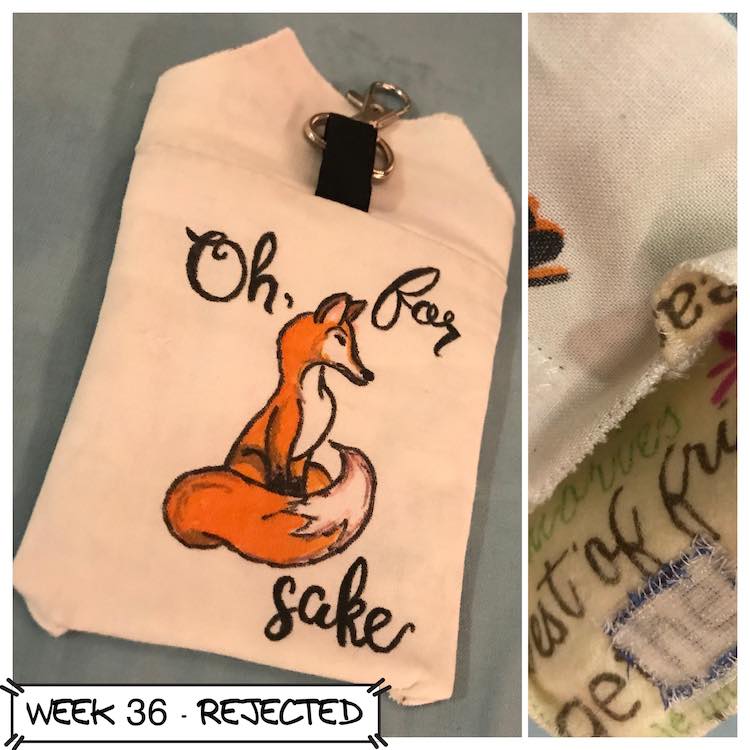 Challenged rejected as I didn't sew anything with a zipper this week. I did; however, make another iteration of my wallet pouch using plain white fabric decorated with fabric markers on the outside and some flannel fabric on the inside.
Week 37 – September 10th to 16th
Sew Something You've Sewn Before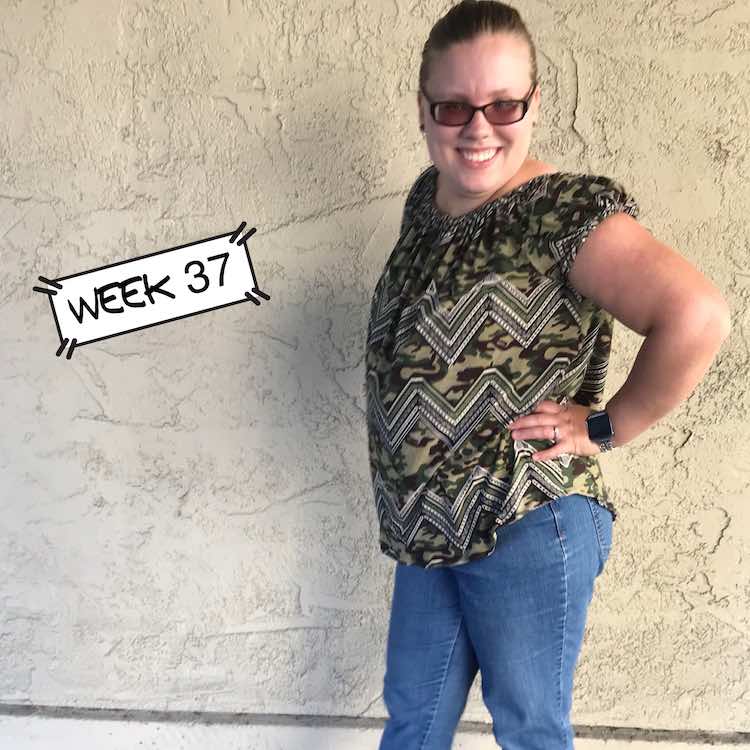 Challenge rejected again as I wanted to sew up the new Olivia top by Rebecca Page. I chose a fabric I didn't really like and ended up loving how my wearable muslin turned out. Apparently sewing with fabric makes you fall in love with it more… normally.
Update: I blogged about this and my kids' Olivia top since then.
Week 38 – September 17th to 23rd
Sew something with the last pattern you purchased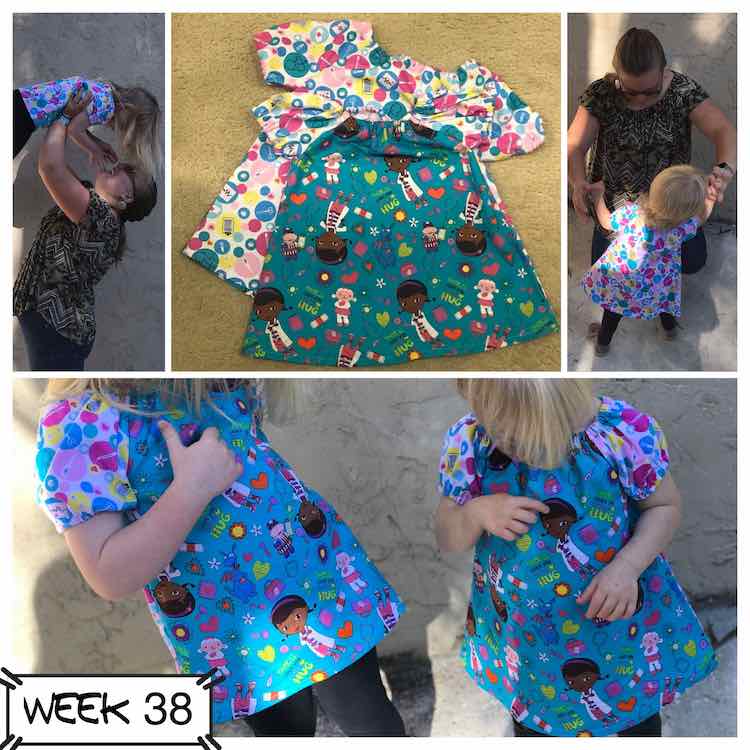 Another challenge rejected as I wanted to sew matching Olivia shirts for my girls. I used our leftover Doc McStuffins quilting cotton and paired it with some unlicensed doctor/nurse fabric I found at Joanns. I love how Rebecca Page's Olivia pattern can be made out of wovens or lightweight knit (last weeks).
Update: I blogged about this and my Olivia top since then.
Week 39 – September 24th to 30th
Sew Something Brown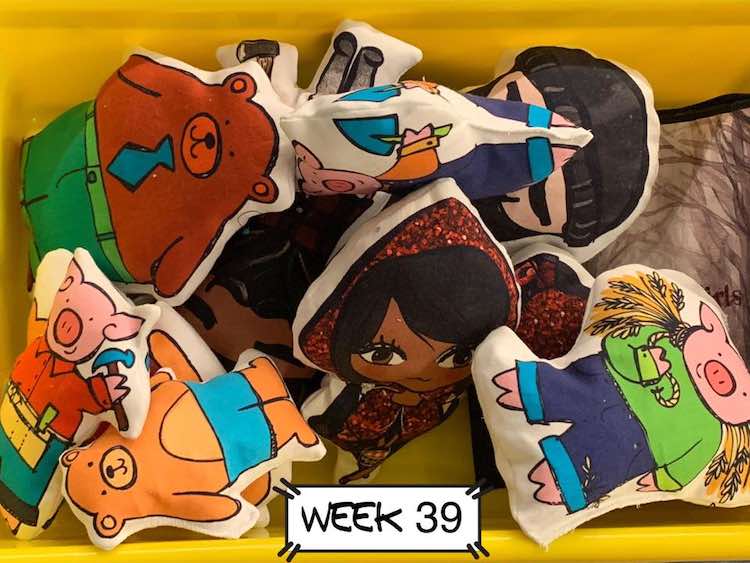 I sewed more than normal this week but nothing brown… until I finished the stuffed characters for my last quiet book. Fabric was a preorder through RP Custom Fabrics.
Week 40 – October 1st to 7th
Sew Something With A Hood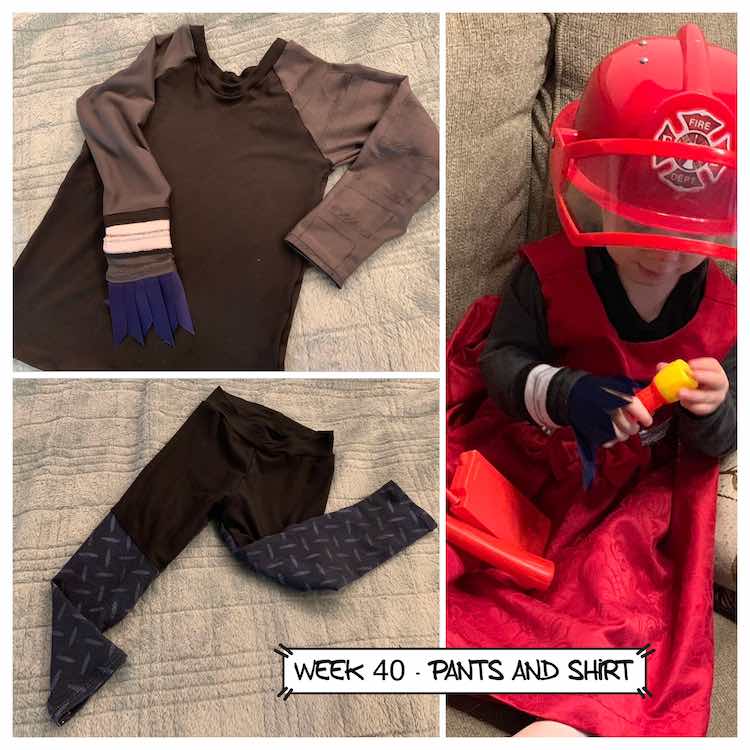 I rejected this week's challenge as the firetruck costume I made Zoey had everything except a hood. I made a raglan shirt with a water hose and a ladder sleeve along with a pair of wheeled leggings. I bought a red dress and red firefighter accessories to turn Zoey into a firetruck for Halloween. I later blogged about this if you want more information about the patterns, fabric, and/or construction.
Week 41 – October 8th to 14th
Sew Socks Or Tights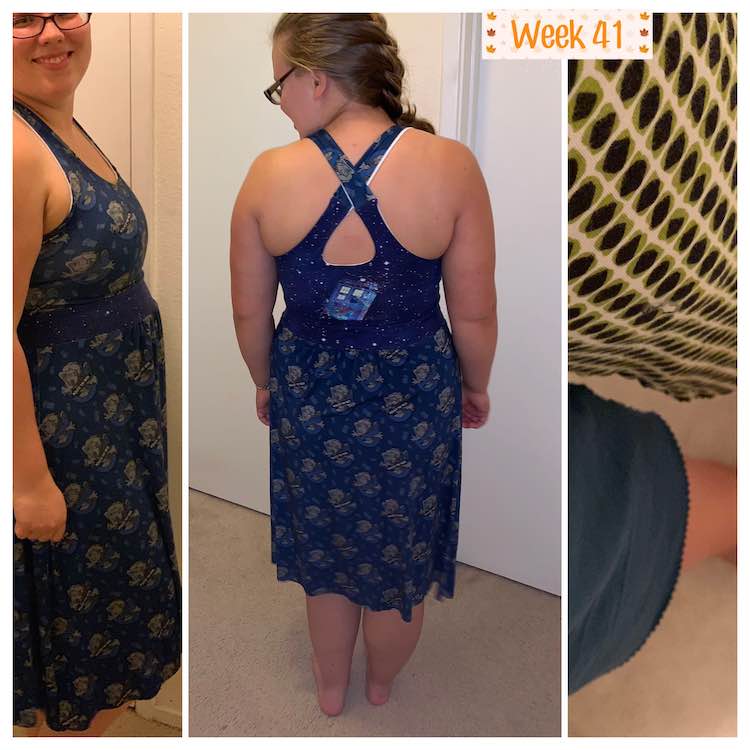 For week 41 I debated making socks but wasn't sure if the seam would bug me. I did make a wearable muslin of the Pippa pants from Rebecca Page but I wouldn't call them tights. My favorite sew was this week was my Brazi dress. I made tons of mistakes including putting the bra cups in backwards (which I left in and regretted more and more as I progressed) so it's become an extremely comfy home dress. I used "Don't Blink" bamboo lycra angel fabric bought through a Halloween Fabriculous Custom Fabrics preorder. After I ordered it I thought it needed something to go with it so found some Doctor Who fabric from Snowy Owl Fabrics for the TARDIS on the back to save the day! I lined the dress with leftover white cotton lycra from Whimsy Baby Customs.
Week 42 – October 15th to 21st
Sew Something Orange Or Black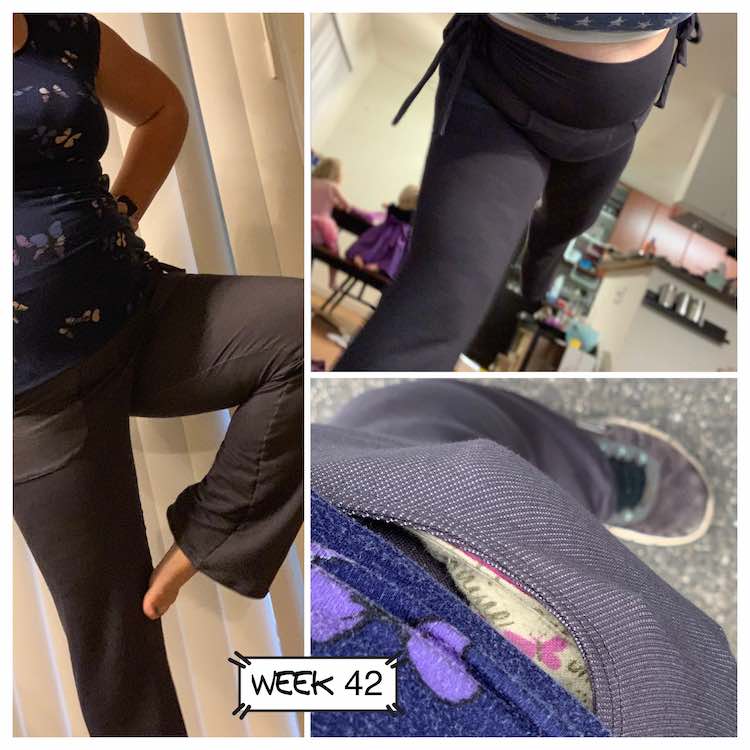 This was before Zoey's favorite color switched to orange so I didn't have much orange yet. I decided to reject the challenge and submit the grey Rebecca Page Pippa pants I sewed up.
Week 43 – October 22nd to 28th
Sew A Halloween Costume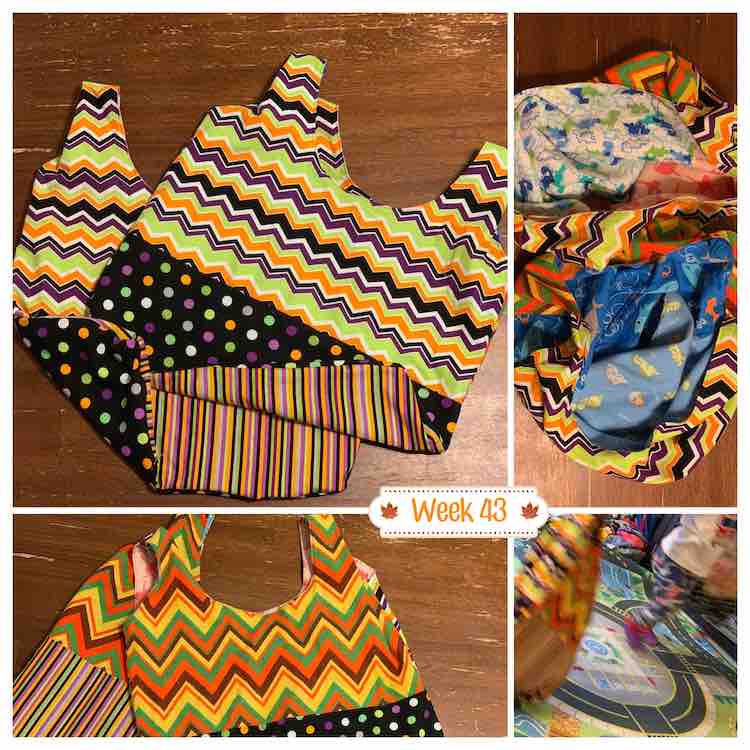 I thought I was done sewing Halloween costumes by week 43 so instead I decided to make the kids trick or treating bags from our Halloween fabric I'd bought the year before. I did start handstitching Zoey's costume's pants but hadn't quite finished so didn't submit it. You can get more information about our trick or treating bags here.
Week 44 – October 29th to November 4th
Sew A Bag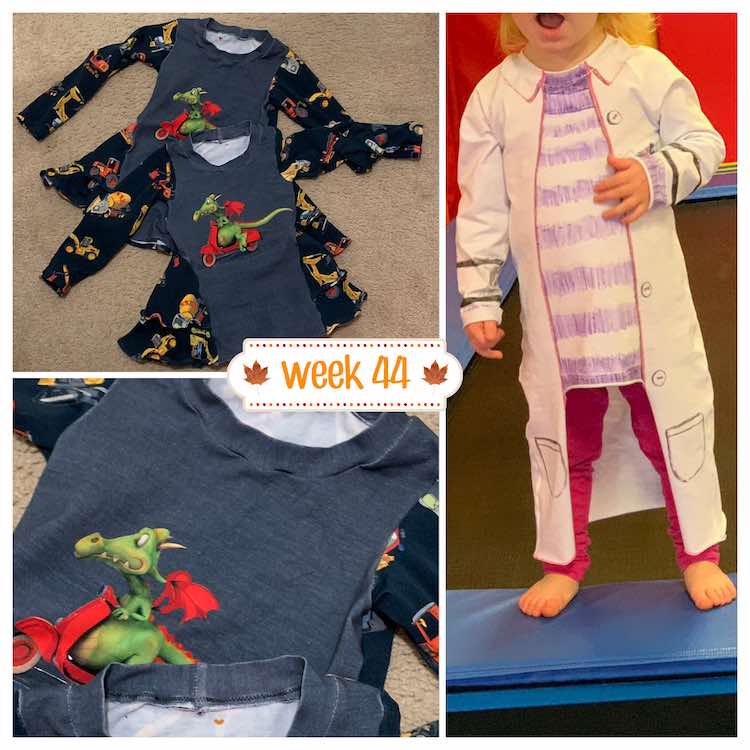 I had done this theme the week before but that was okay as I had to make a last second alternate costume for a picky toddler and finally crossed sewing the Sugar Pea swagger shirts off my bucket list… should we consider the bucket (list) to be bag-like?
Update: I posted how I made the Doc McStuffin's Costume the next year.
Week 45 – November 5th to 11th
Sew A Stuffed Animal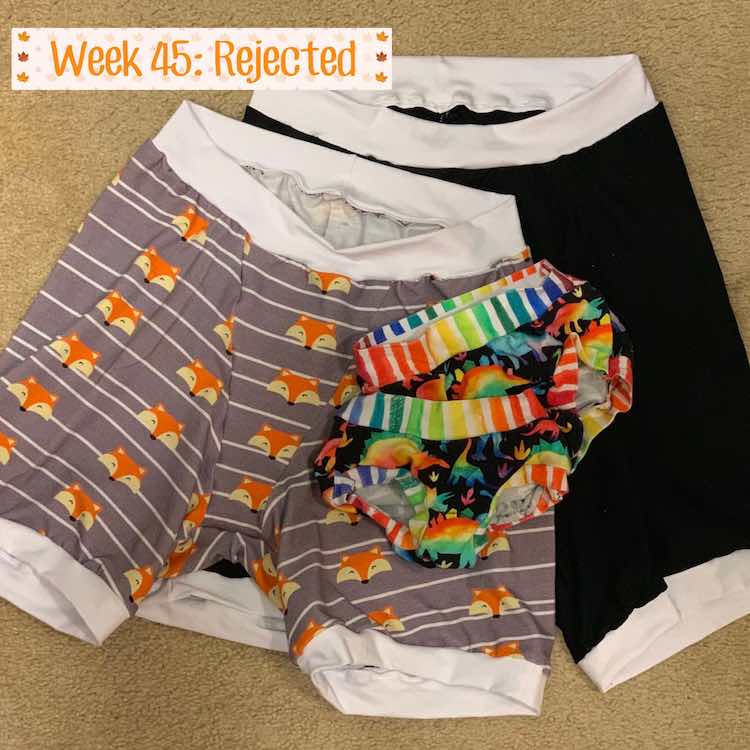 Figured I'd use the Stitch Upon a Time sewalong as an excuse to sew up wearable muslins for both their boxerwear patterns, size Ada up, and make Zoey her first pair. Eventually I should probably attempt to sew up a 3D stuffed animal but for this week this was more important.
Week 46 – November 12th to 18th
Sew Pants With A Stretchy Waist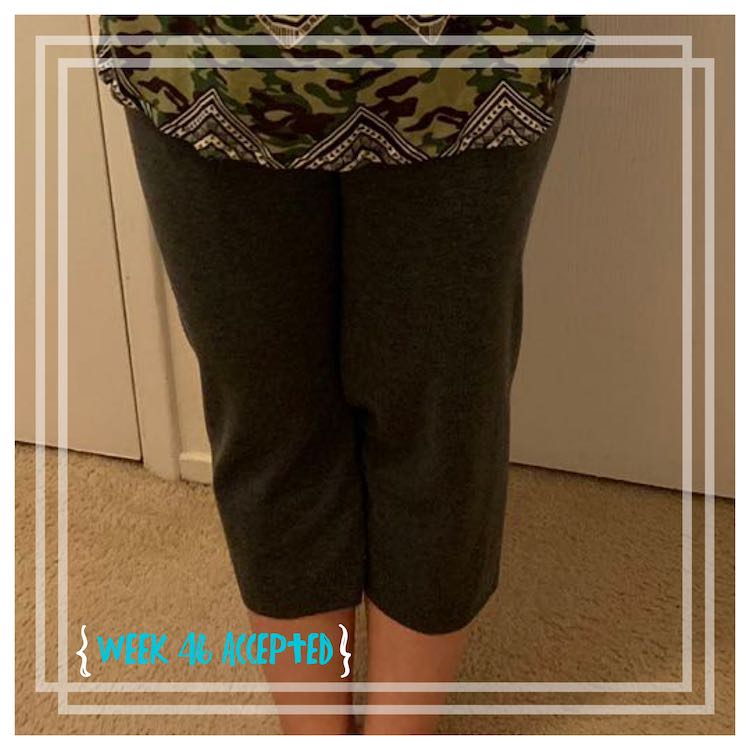 Challenge accepted as I loved the excuse to sew up another pair of Pippa Pants. I left these unhemmed and they are so comfortable.
Week 47 – November 19th to 25th
Sew From Fabric You Got A Deal On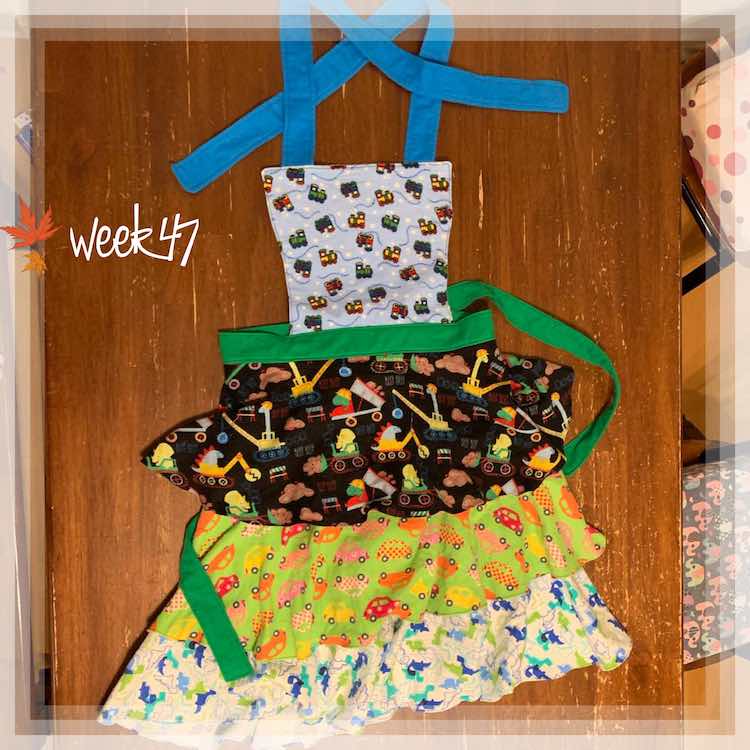 For week 47 I sewed up the free apron through Rebecca Page using a selection of Joann's cotton I had in my stash although I'm sure I got most (if not all) of it on sale. I decided to go through and find all the fabric I used on my girls so it was a perfect snapshot for what they liked this year.
Week 48 – November 26th to December 2nd
Sew Something With Long Sleeves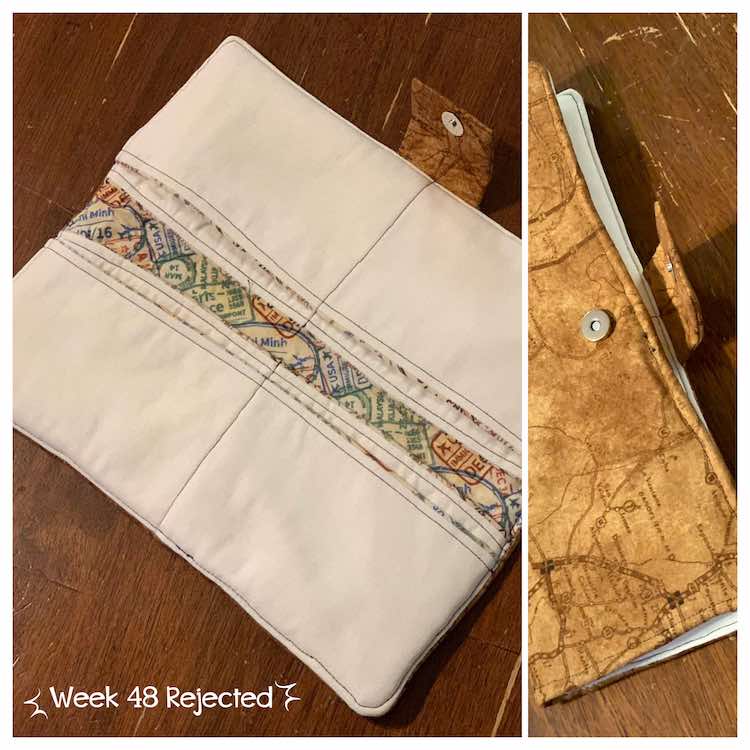 Challenge rejected to sew more of Rebecca Page's free Passport Wallets. I posted about my earlier passport wallet before and this week I rushed to sew up four more for Christmas gifts.
Update: I've also posted how I made the passport pockets two-toned instead of a single color since then.
Week 49 – December 3rd to 9th
Sew A Gift For A Family Member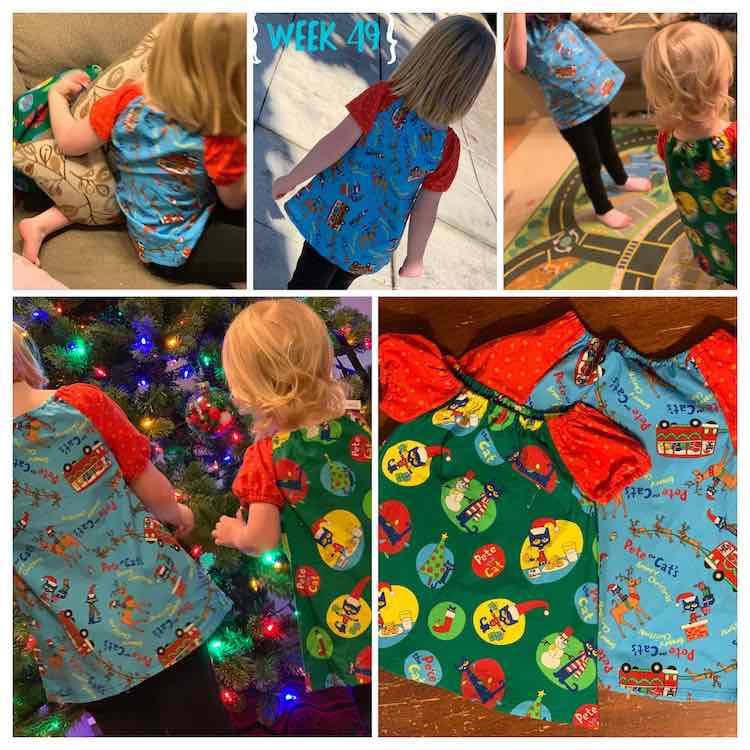 I couldn't resist the Pete the Cat Christmas fabric I stumbled across on Fabric.com and the kids Olivia was the perfect pattern to sew it up with. The kids got Christmas shirts in time to wear before Christmas.
Update: I've posted about the Olivia top since then.
Week 50 – December 10th to 16th
Sew A Gift For A Stranger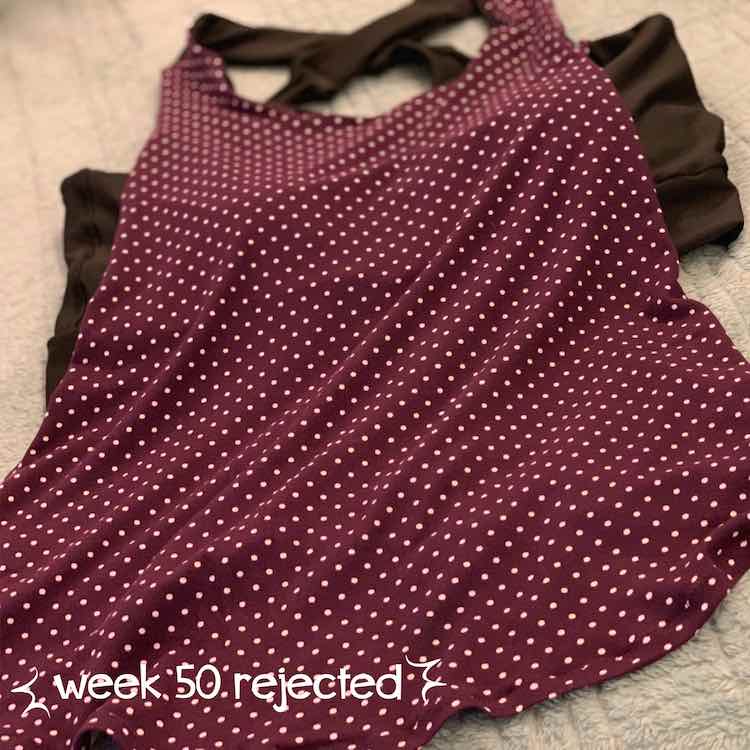 I had the idea to hack the Stitch Upon a Time Brazi, that I'd posted about before, into a workout top. It was one of those ideas you think of half an hour before you go to bed then have to get up to jot down any additional details you think of. I was debating waiting until after Christmas to sew it up but wanted to work on it while it was still fresh in my head.
Week 51 – December 17th to 23rd
Sew A Holiday Outfit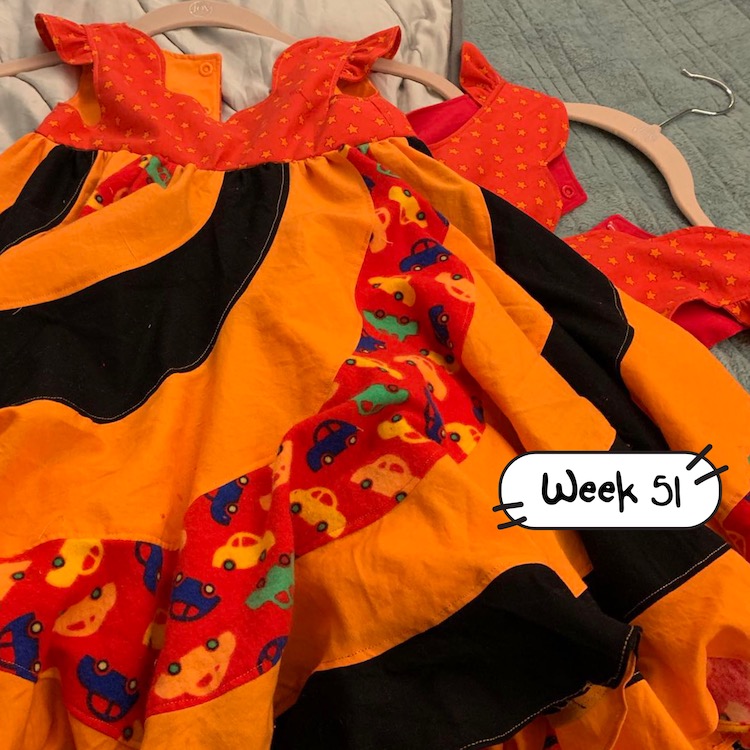 This week I was rushing to finish four dresses for the girls. I finished the first two within the challenge deadline and then finished the other two at midnight after the deadline. The dresses I didn't quite finish in time were the free Patsy party dresses through Rebecca Page.
I had sewn the Peppermint Swirl Dresses through Candy Castle Patterns last year for the girls and loved seeing how much I had improved over the year. This time I topstitched all the recommended seams along with each skirt swirl before finishing with a rolled hem on my sewing machine. I love how these dresses match yet look different with the red (fabric and thread) versus the orange overall theme for each dress.
Week 52 – December 24th to 30th
Sew A Gift For Yourself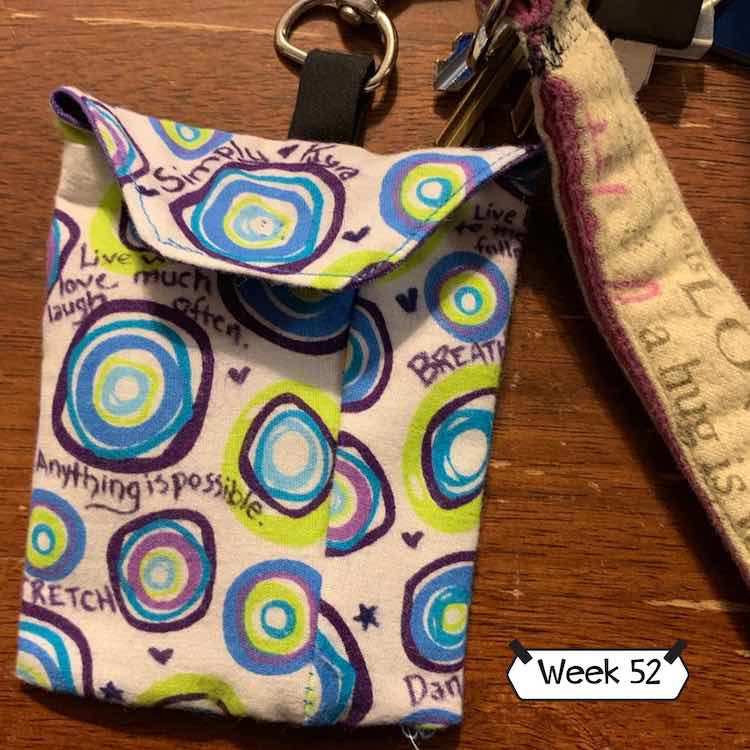 This week I wanted to sew, but also wanted to clean my sewing area after all the Christmas sewing. I put off cleaning (it's the first week's challenge in January) and updated my  keychain wallet instead. It was the perfect quick project to officially end the year. I customized my woven fabric with fabric markers before sewing it up.
---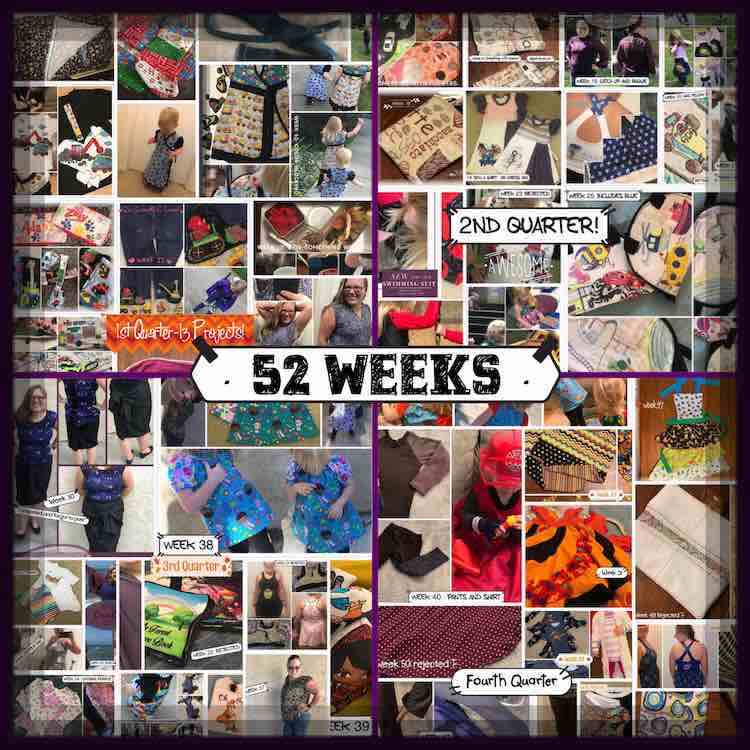 Another reason I decided to share this was that the 52 week sewing challenge has been so successful that they're going to continue it for 2019. This challenge has helped me stay consistent with my sewing and I think I've improved a lot because of it. Seeing what other people have sewn has helped me try new things and see what I may want to learn in the future. I've also found so many other general sewing groups, sewing pattern groups, and fabric companies through the challenge. Plus there's a weekly chance to win as icing on top of the cake. I ended up winning a gift card on week 47 for The Fab Clique Fabric Shoppe when they reopen from their move. If you want to join for 2019 you can choose to sew all the challenges or work on the ones you have time for. Either way it's a great Facebook group if you want to join the group.
Hope you have a Happy New Year! Feel free to share whether you're part of the sewing challenge in 2018 and if you're also continuing into 2019. You can share in the comments below, on my Facebook page, or through Instagram. I hope you have a great day!