Zoey's Simple and Updated Pumpkin Costume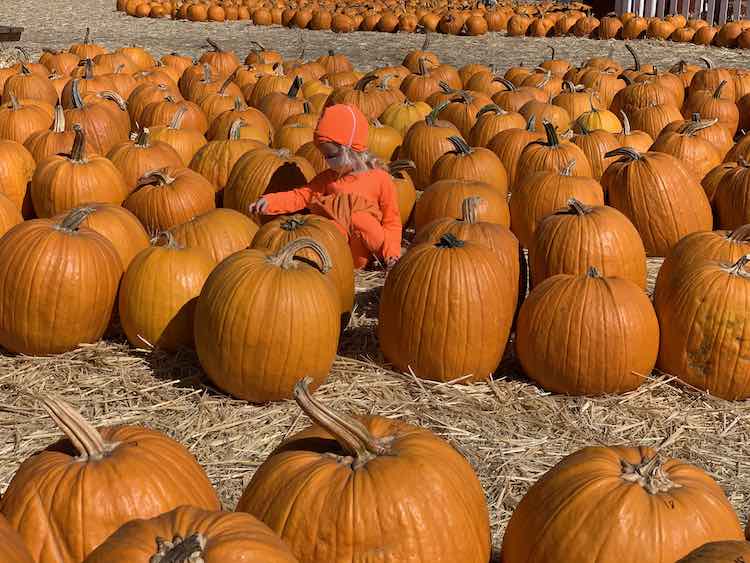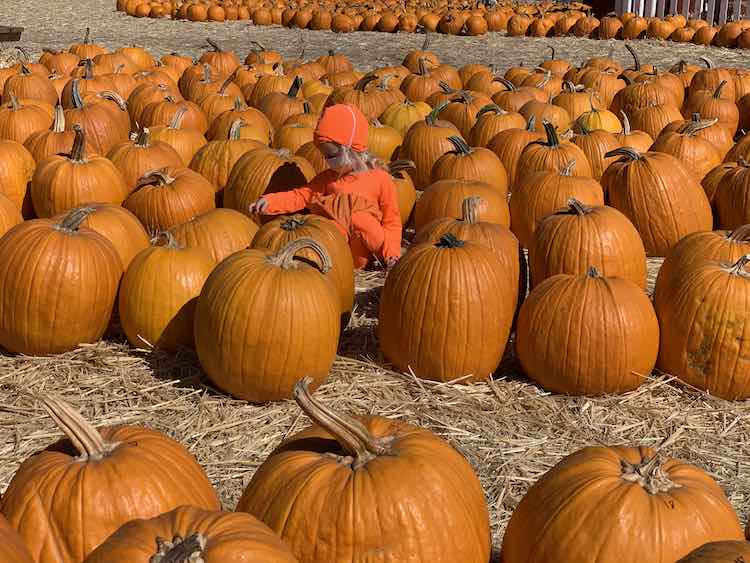 Last year Zoey chose to be a pumpkin for Halloween which, after a trip together to Walmart, turned into a jack-o-lantern costume when we found an adorable top. Even before that year Zoey was enthralled with pumpkins so when Halloween approached again this year I wasn't surprised to find out that she still wanted to be a pumpkin. As I talked it over with her I found out that it wasn't just a pumpkin she wanted to be; instead, she wanted to be a pumpkin with no face… so no reusing the jack-o-lantern shirt from last year. The costume ended up changing just enough that I figured I'd share what we kept from last year, what we added, and what we removed to update last year's jack-o-lantern costume to fit this year's pumpkin with no face costume.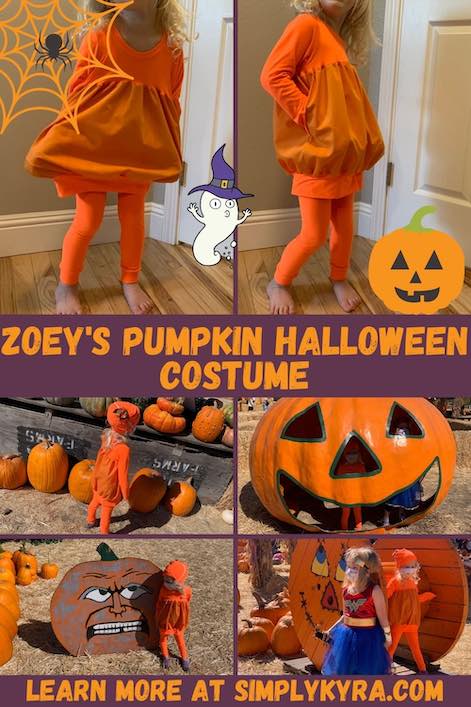 ---
Since first deciding to be a pumpkin with no face we've hit upon a couple times where I thought Zoey had changed costumes. The first time was when Zoey came up to me and asked "who is the princess of the ocean". I replied Moana and she told me "that's who I am". I became worried and asked if she was going to be Moana or a pumpkin with no face for Halloween. "No" she retorts "I'm a pumpkin with no face for Halloween!" "Okay", I quickly reply, "so a pumpkin with no face for Halloween and Moana now." Zoey nods. "Hi Moana." Zoey grins and then replies "sometimes people throw me off the boat but I get back on". I smile back and confirm "yes definitely" and she runs off to continue being Moana. It was adorable. Now, as I type this up Zoey sits beside me and as I wrote the introduction paragraph I read out loud as I typed. This somehow prompted a discussion on whether Zoey wants to be a pumpkin with no face or a lantern that lights up in the dark. After discussing it back and forth I realize a pumpkin is, in fact, a lantern that lights up in the dark and she still wants to be a pumpkin with no face and she's okay if it doesn't light up.
---
When Zoey first told me she wanted to be a pumpkin, this year, I figured it would be so simple as she was a jack-o-lantern the last Halloween. Then I found out that she wanted to be a pumpkin with no face so we couldn't reuse the jack-o-lantern shirt that still fit her from last year. I next went to try the orange leggings on Zoey just to realize that she'd grown out of them. Luckily, the adorable beanie from last year still fits on Zoey's head so we started out with one garment already ready before having to do anything for this year's costume.
Last year when planning Zoey's pumpkin costume I wanted a pumpkin-esque shirt or tunic over matching leggings. I then came across and bought the tulip tunic through Ellie and Mac as I realized that it would be an awesome pumpkin-shaped top. I quickly sized and cut out fabric to make both girls a wearable muslin, thus sizing it for Zoey's costume, but before I got a chance to sew them up I came across the jack-o-lantern shirt at Walmart and we went with that instead. I then set aside those already cut out shirts for about a month or so before I finally got around to sewing them up. The finished tops were adorable, although shorter than I had expected which may have been because of my children's growth since sizing them.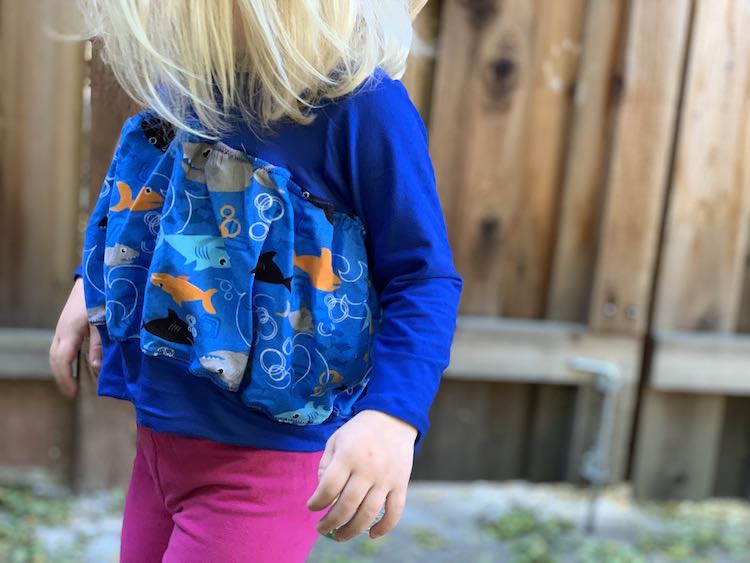 Although I ended up not sewing a pumpkin shirt last year I had bought several yards of a lightweight orange polyester and spandex knit fabric, when I was planning, so all the garment pieces could match. As I had only sewed up a single pair of leggings and a beanie I still had a fair amount left to use for this year's costume which was awesome as the costume could then match last year's beanie. Zoey had outgrown her MyFit Leggings, from Apostrophe Patterns, over the last year but I was able to simply regenerate the pattern, based on her current measurements, and sewed up a new pair for her, using the same fabric, this year.
The shirt was more difficult to tackle compared to the leggings. I knew I had the Ellie and Mac Tulip Top as a good default since I had sewn a wearable muslin of it last year; although I knew I'd have to remeasure Zoey before cutting it out again this year. Last year I had worried that the top wouldn't bubble out enough to look like a pumpkin while also worrying that if I added a face to make it a jack-o-lantern the woven fabric might hide the face within it's folds. Around this time I also was debating adding an inner layer to the tulip tunic by mashing the pattern with the Ellie and Mac unisex raglan, which I had used several times for swimming suits in the past, so the final shirt would consist of an inner layer, the raglan, and an outer bubbled layer, the tulip tunic. I knew I'd want to include a slit somewhere so I could easily stuff, and un-stuff, the space between the knit interior layer and the woven exterior bubble so it would appear more spherical and thus more pumpkin-looking; yet still be easy to launder. This year around, once I realized Zoey wanted to be a pumpkin again, I debated, momentarily, of using that idea from last year and maybe expanding on it, but instead decided to go simpler. At first I saw simpler as using elastic and decided to allow more of a bubble by cutting the tunic version of the top rather than the shirt length from last year. I next planned to add elastic to the bottom band, so you could easily pull it up and bubble it out, and/or add elastic vertically to cinch the top and the bottom of the bubble together at different points around Zoey's waist. In the end I went with the simplest idea overall and just made the pattern as called for, but made it two sizes larger as a tunic instead of according to Zoey's exact measurements. This way the top is comfy and can easily be worn as an everyday top at any point…. and there's always the option of adding elastic, in the future, if I think the bottom band should be held up higher.
Since I had an excess of newly bought orange woven fabric and a lot of the orange knit fabric on hand I decided to just jump in and skip sewing a wearable muslin this time around and it worked out great. As I cut out the woven fabric I was debating how to make the top look more pumpkin-like, while leaving off a face, and decided to use my orange fabric markers to mark the pumpkin's segments by sketching in small curves. The markers were close to drying out, cough cough Zoey, so the colors weren't that dark but I continued on both pieces of the bubble, so both sides of the shirt, and later used my iron to set the ink in place. That bit of coloring was the only change I made as I then followed the pattern's instructions to sew up the tunic. It turned out adorable and looked perfect with the leggings. Zoey absolutely loved it!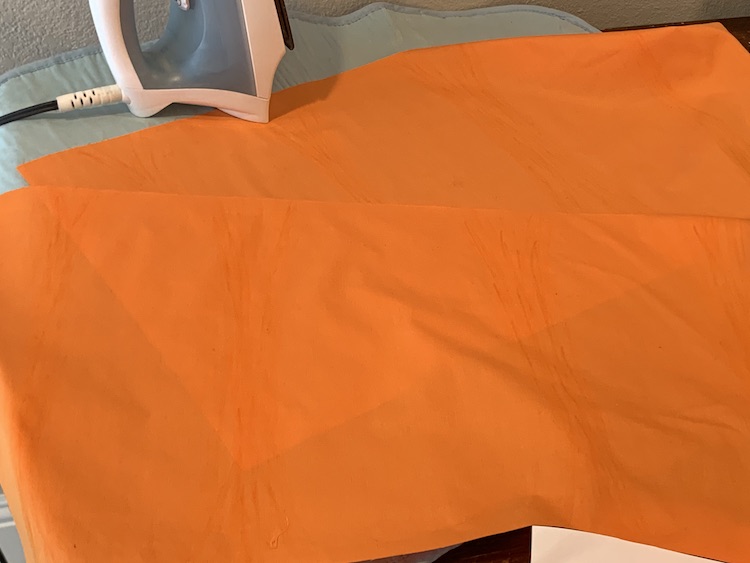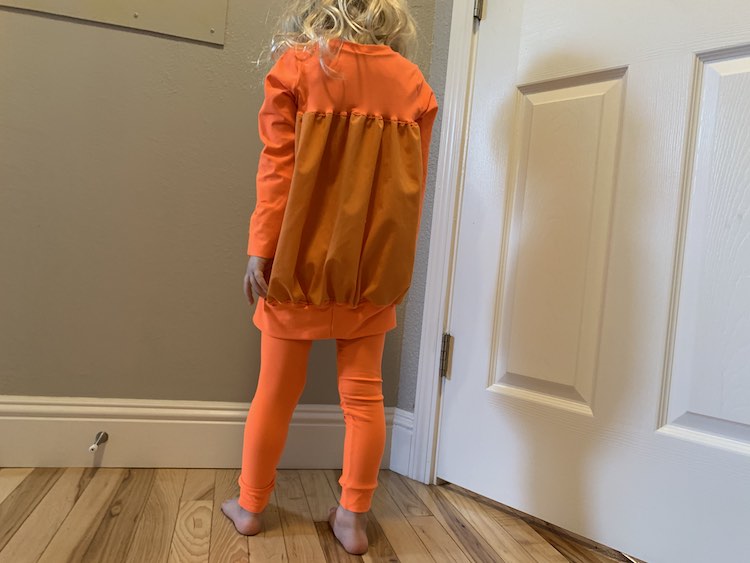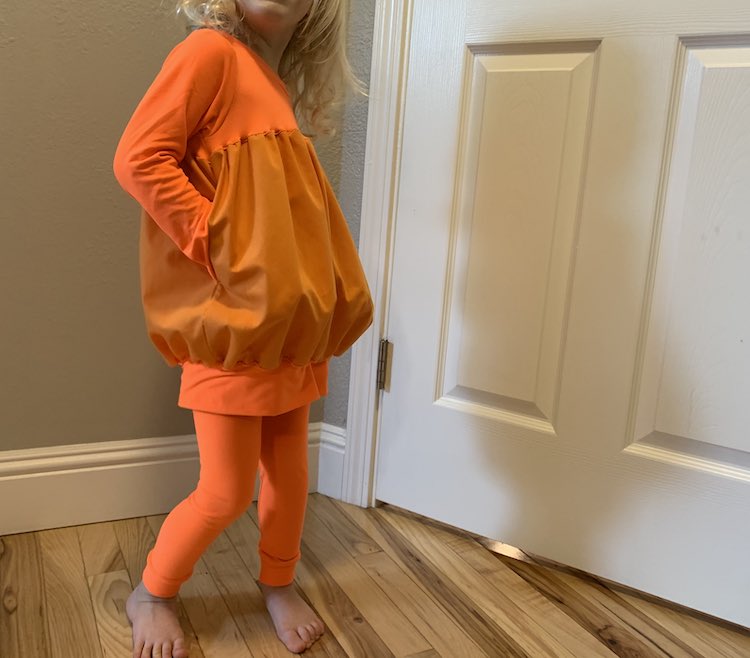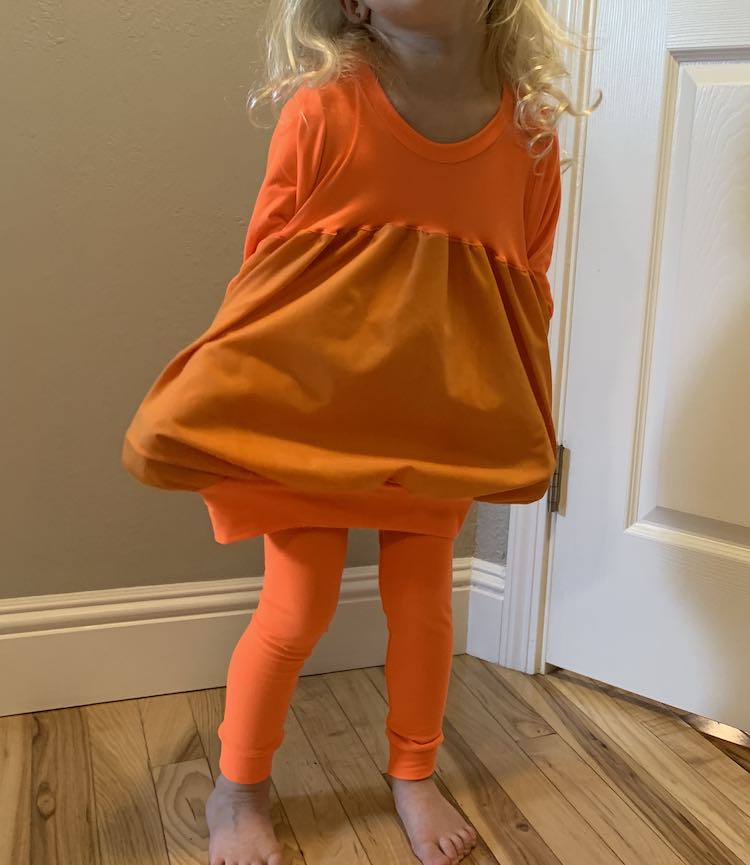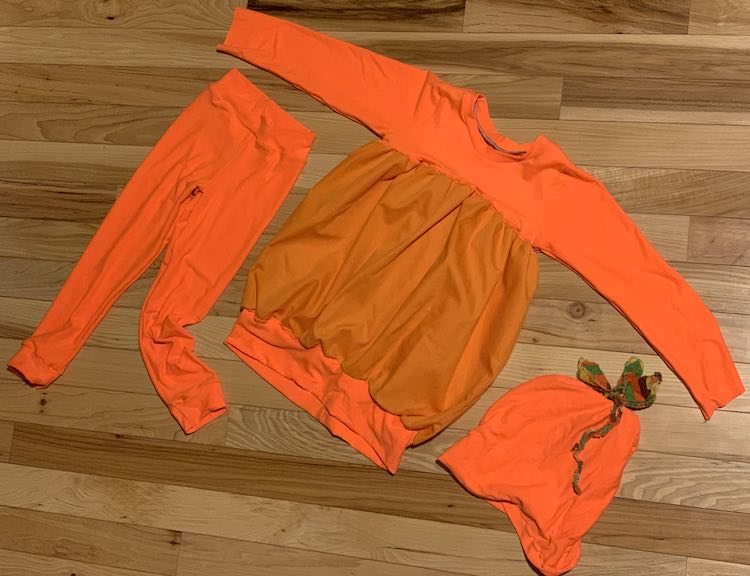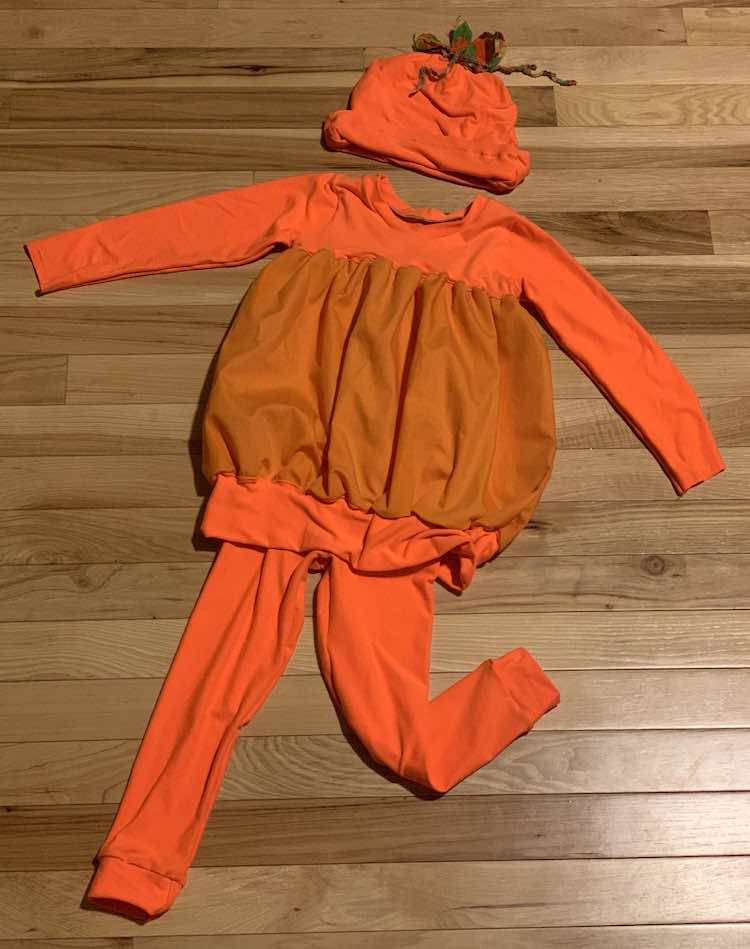 Since this is for this year's Halloween costume and I had just finished the costume itself I didn't have any super awesome photos to go with the blog post. Zoey has absolutely loved pumpkins for over a year, loved orange since she could first verbalize her favorite color, and has been a pumpkin for two Halloweens in a row…. so I knew I had to snag some photos of Zoey with some pumpkins. With the coronavirus disease lurking around I didn't want to go anywhere crowded with Zoey so debated taking her to somewhere smaller. My first idea, Trader Joe's, didn't look picture-esque enough when I went grocery shopping to size it up. The local garden center looked like it had a pumpkin patch but had strict COVID-19 guidelines online so I didn't think they'd want me and two kids snapping photos whether we bought a bunch of stuff or not. We ended up, instead, going to a pumpkin patch, skipping the rides and food, and Zoey was blown away by all the pumpkins. Last year we had gone sunflower picking which just happened to have pumpkins available but this time around the display was bigger and more spread out and Zoey loved it. When we left I held her so she could see the pumpkins over my shoulder and I chanted "good bye pumpkins" and she said things like bye, and I love you pumpkins after each time I chanted. It was so adorable.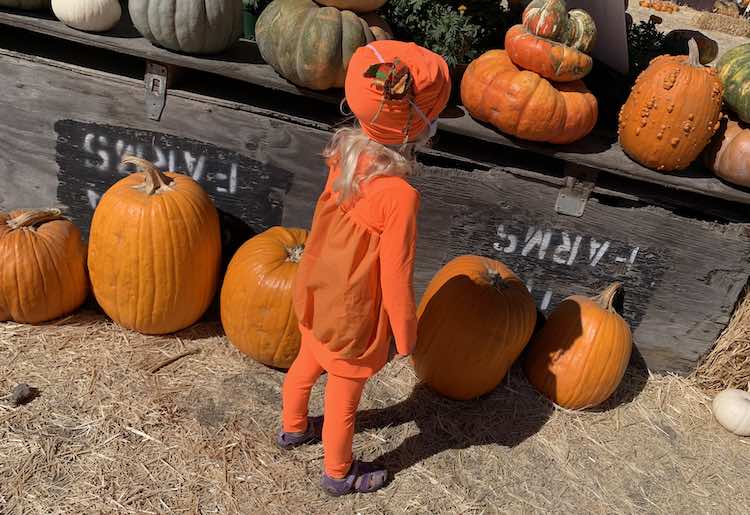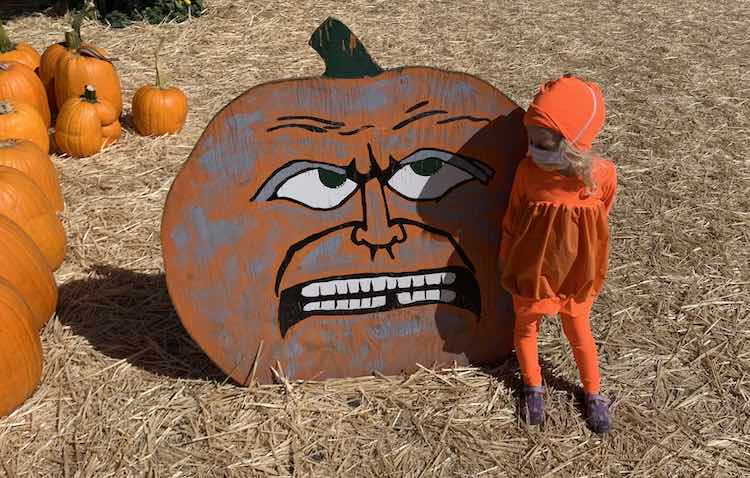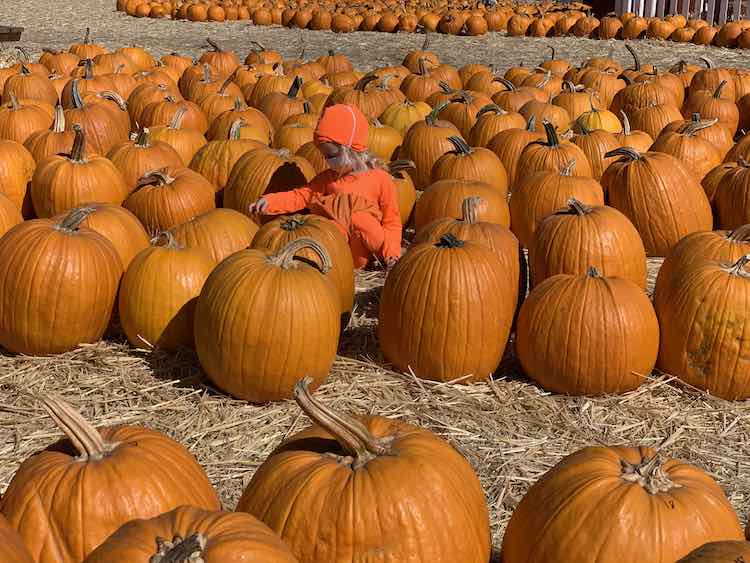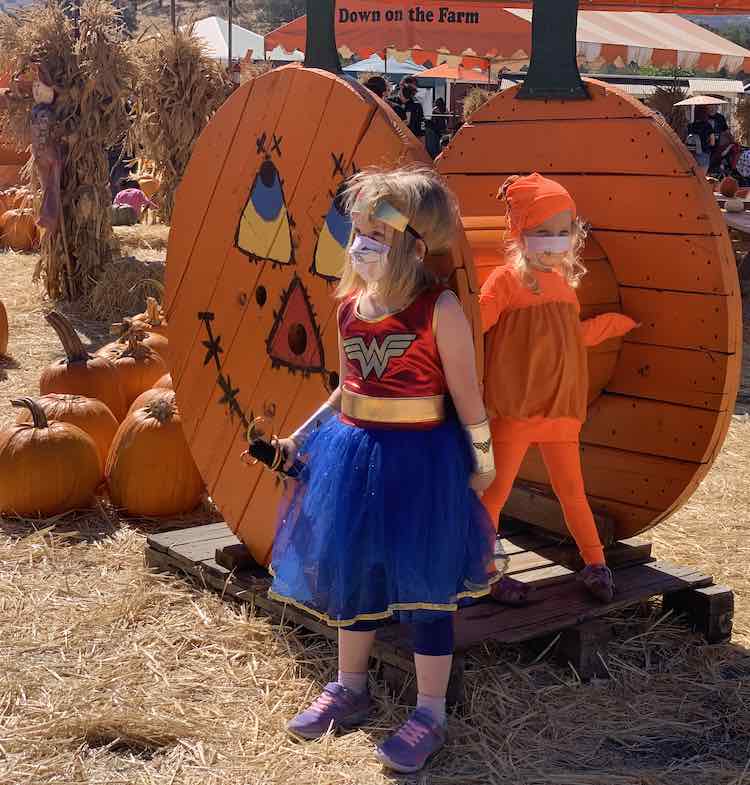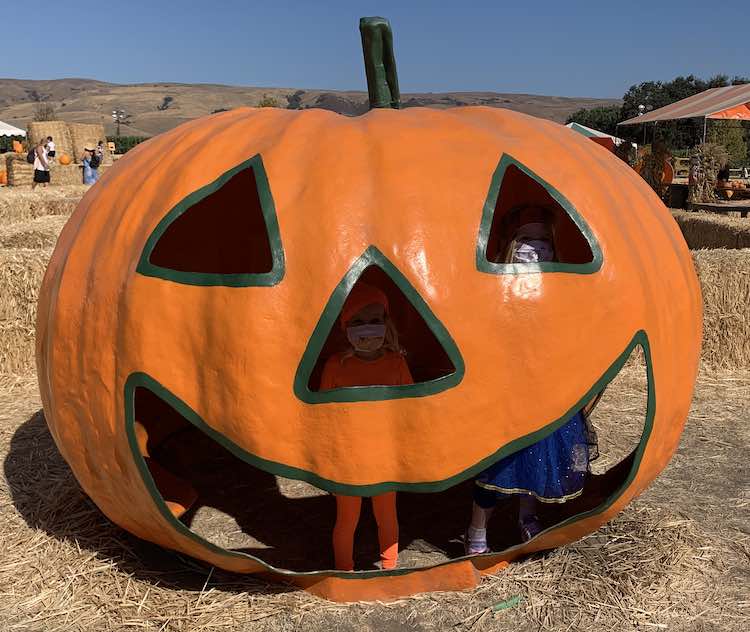 Overall, Zoey had a blast seeing all the pumpkins and is still going pumpkin strong. I don't know if I'd want to go again, with COVID-19, but I'm so glad she got to see it this year in case her love of pumpkins disappears over the next year.
---
If I were to add elastic to the costume, as mentioned above, I could see it going two ways. My first idea was to cut elastic about the size of Zoey's hips, or waist depending where I want the shirt to end, before overlapping the elastic's ends, sew them together, quarter off the elastic and the bottom band's seam so I could match them equally together, and then zigzag stitch them together. This would cause the band to fit tighter which could, unfortunately, cause the band to wrinkle. Ideally, the band would look fine and the elastic would help keep the woven fabric bubbled out if you lift the bottom band up so it bubbles out more. My next idea was to cut several pieces of elastic to be just under the height I wanted the pumpkin-like bubble to be. I would then attach the top of the elastic to the woven fabric's top seam and the bottom of the elastic to the bottom band's seam. I would repeat this several times around the shirt so the vertical elastic would lay against Zoey's torso and cause the woven bubble to, well, bubble out. I wasn't sure which way would be best or if I should use both ideas together. As it stands Zoey loved the tunic when I I had her first try it out so I decided to leave the elastic off, for now, and haven't regretted it yet.
A couple weeks ago I saw someone on Facebook post about their pumpkin costume using a pillowcase dress pattern with an added band at the bottom hem to help cinch it in. It was adorable. Looking at that I could see using a pillowcase dress pattern, or maybe my favorite Olivia pattern, with an added band and/or elastic at the bottom along with the leggings. Who knows maybe that will be next year's costume if Zoey goes for three years of pumpkin-y goodness in a row.
I'm not sure what your plans for Halloween might be this year but I wanted to share our costumes, both last year and this years, with you in case you or your kids are set on costumes this year. Between the jack-o-lantern and skeleton last year and the pumpkin with no face and Wonder Woman this year I hope you're able to get some ideas for yourself. In case you're interested we've also bought, made, and assembled a firetruck (to match her sister's Costco firefighter's costume), added a working light to a train costume's hat, and colored a store-bought onesie to make a Koko to match her sister's Wilson costume. Additionally, if you sew and are looking for trick or treating bags I love the market bag from Stitch Upon a Time that, I just checked, is still free. Whatever you buy or create I'd love to hear what you're planning on doing, or have done, in the comments below. Hope you're having a great week.
---
If you're interested in getting any of my future blog updates I currently come out with a new one every Wednesday and share them to my Facebook page and Instagram account. You're also more than welcome to join my email list located right under the search bar or underneath this post.