Ada and Zoey's Joint Birthday Party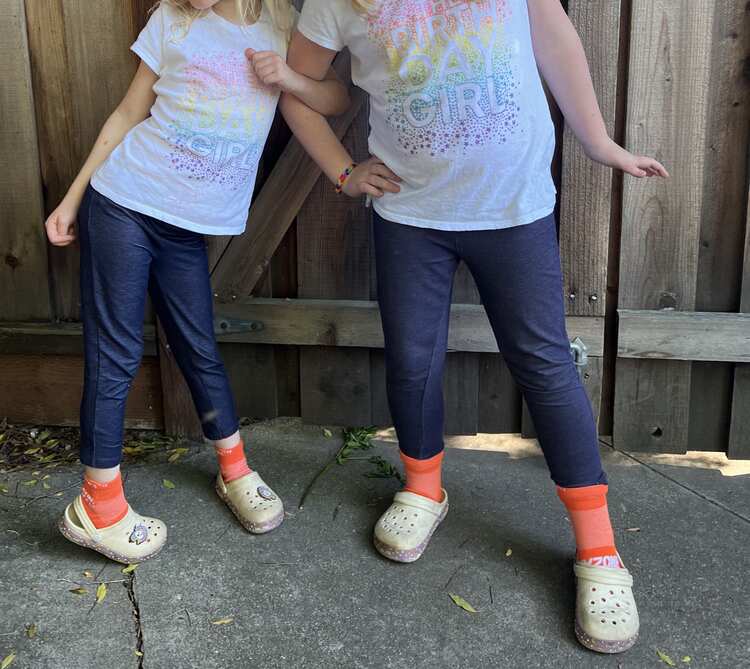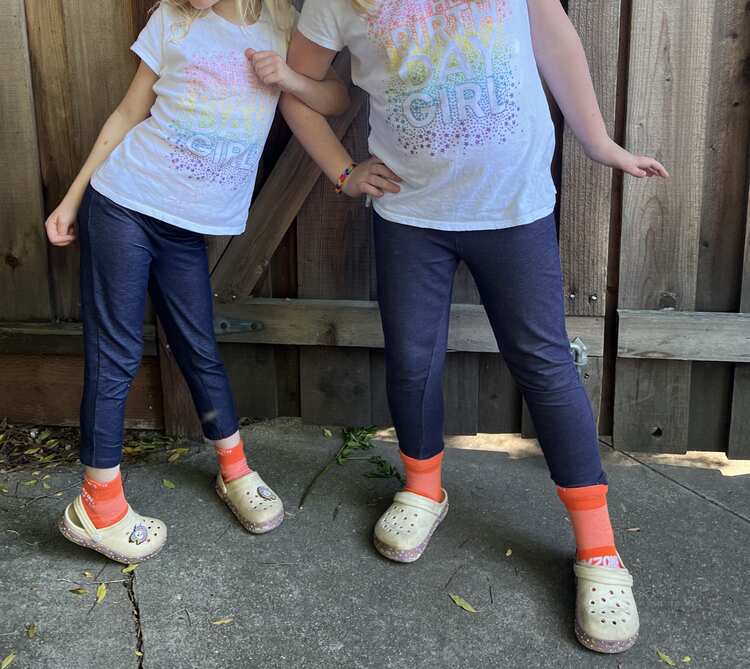 The girls' birthdays are a couple months apart and as such have always had separate parties. This year; however, we planned a long distance move between the two birthday dates. As such we decided to move the later party earlier so she could hang with her friends, then decided to make it joint, then decided to move the shared party even earlier so all their friends could attend as many had summer plans. As such we had their first (and only?) joint birthday party and they had an absolute blast!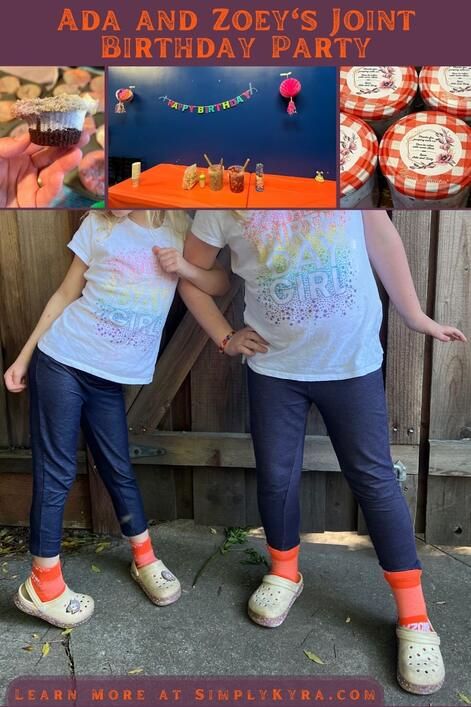 ---
Quick aside: If you want to check out our previous birthday-related content you can find it here.
Early Planning
Months ago, once we decided we wanted to move, I had the realization that we should host both birthday parties before we move so the girls could both celebrate with all their current friends. While talking the proximity between the parties, the estimated ramp up of the move, and the overlap of friendships naturally led to the idea of a joint birthday party. While discussing dates I quickly realized I had issues scheduling the party around the guests' summer plans, but then realized if we're having one party early why not do both early and chose a weekend several weeks before school got out. Then came the difficulty of deciding what the party should be...
Over the years we've only done parties at home and I considered doing the same this year as I could then take advantage of my fridge, oven, and stove when planning the food. When chatting with the girls about it I realized one was firmly for the party at our home while another was adamantly against it and instead wanted to have the shared party at a particular park. I started warming up to the park idea over the next week and, when packing up boxes, started setting aside all my bubble mix and chalk specifically for the party. I even debated whether it would be easier to get to the park early to save a table or rent a portable table for the day so we didn't have to worry. Additionally, I knew one of my friends had a hot bag for pizza and considered whether we should pick up Costco pizza, like she had for an earlier party, or order delivery directly to the park.
Luckily I had started this planning process early but knew I shouldn't put off planning anymore and should get back to it. I touched base with either kid in case they changed their mind and quickly realized there's no good option between firm park only and a home-only party option. I needed something new to break the stalemate and thus started browsing Facebook groups and reaching out to party venues looking for something simpler but still in line with what we wanted in a party.
Venue
After several emails, waits, price quotes, and unavailability I finally decided on Rockin' Jump and both girls adored the idea. I decided a specific weekend, confirmed it was available with a few of our friends, confirmed with the kids, confirmed the party packages, and booked it!
While deciding the tier we wanted we used the jump time itself as the main metric. The two lower tier packages included only an hour of jump time and we wanted a bit more. After seeing how much it was to add jump time to the lower packages we decided to instead go with the largest Mega VIP Party package which came with two hours jump time and no fee to bring desserts or additional food into the party room. So a three hour long party was set!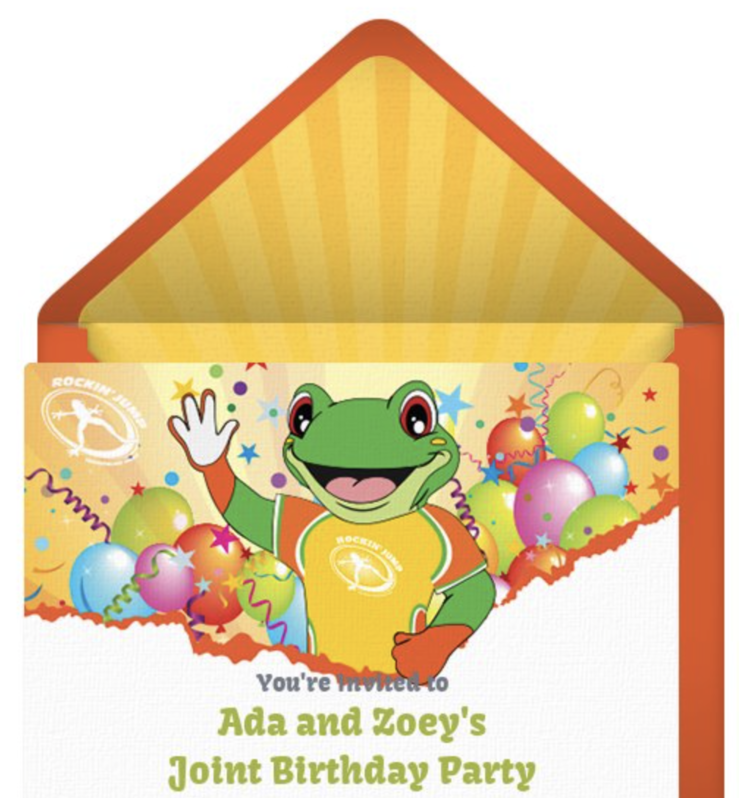 With the party venue planned we next finalized our invation list and sent out the electronic invitations. Previously we used evite but part of the Rockin' Jump package included branded electronic invitations through Punchbowl so we switched over. Somehow everyone RSVPed with a simple yes/no which meant I had to get specific numbers closer to but otherwise it seemed fine.
Plan
With the party decided, booked, and invited it was time to start planning the details.
Party Favors
When booking I noticed our package came with a water bottle, stickers, and a VIP pass to hand out... which I then forgot and thus, closer to the party time, I started planning the party favors. At this point we had already started boxing up our stuff and deciding what should be donated before our move. As such I was cognizant of what we had and didn't want to buy any unneeded items that we'd just have to then pack up. I had alot of white glue on hand along with other bulk slime making ingredients and saved up Bonne Maman jam jars so I decided to make slime. That then led to looking on Etsy for stickers as I wanted a simple way to both thank the guests and explain that the contents were in fact non-edible. I found some customizable stickers through Sunshine Custom Labels and added some snacks to go with it. You can read more about how I made the slime and what I added here.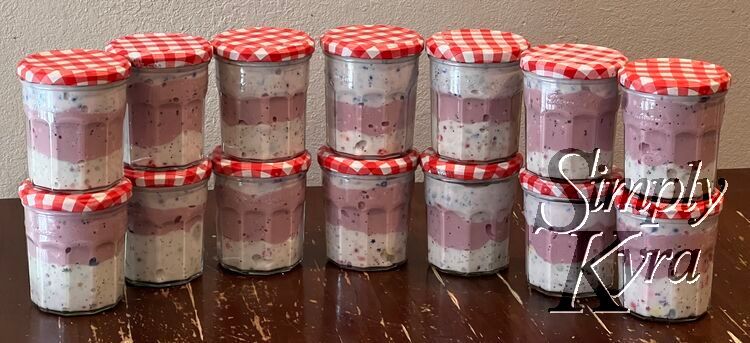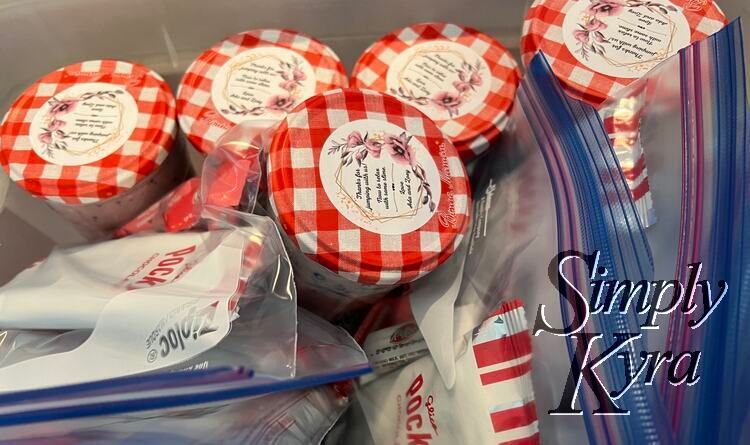 While researching the stickers I came across these other listings on Etsy and figured I'd share here in case you do a similar jump themed party. The listings stood out to me but I haven't used these sellers before.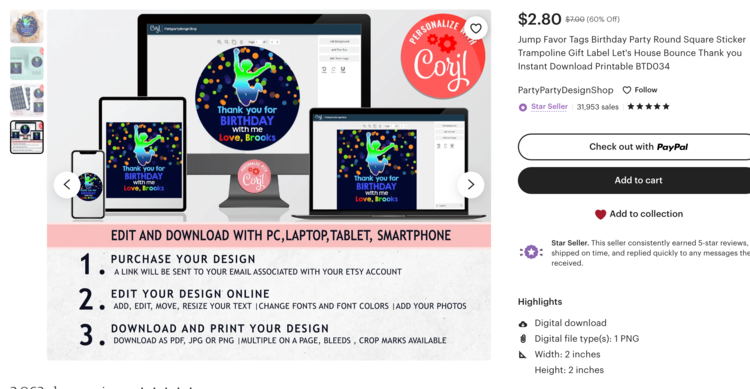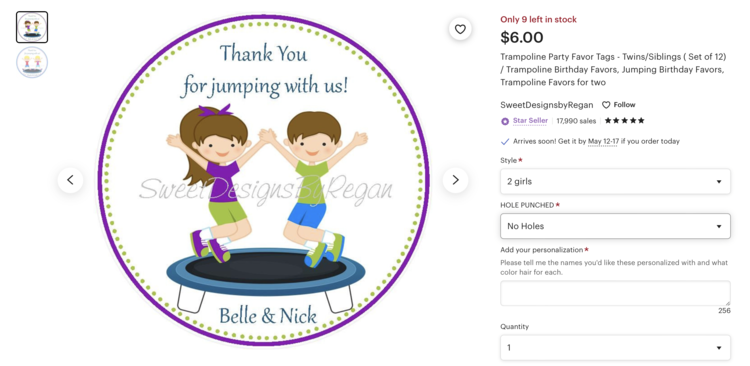 Before settling on the snacks I had also considered purchasing some push down popper toys or leaping frog toys to go with the jumping theme. I found both through Amazon (have no affiliate) and decided against the first option as some reviews complained about them not being easy to figure out and either way I figured it would be better for the favor bag to be more consumable rather than just more stuff in homes especially with our move coming up.
Food
Part of the party package included a pizza and bottle of soda/pop for every five jumpers. That said, part of the reason I chose this place over others was that I could allow the parents to stay if they wanted to watch their kids and/or visit. As visiting was my favorite part of home parties when the kids were younger and this was also, unofficially, a goodbye party we decided to pay for an additional pizza and I wanted to also include more variety in the food options for both the hungry jumpers, as they'd just jumped for two hours, and the parents.
At Ada's eighth birthday party last year I had made a Fruit Salad with Lemon Dressing from The Secret Ingredient Cookbook along with don't-tell-anyone-it's-vegan swiss chard caesar salad with hand-torn croutons from the No-Fuss Family Cookbook. It went over great and I figured these foods would travel well in an insulated bag with ice packs so I decided to do the same now. I went grocery shopping for all the ingredients the day before, left my favorite sourdough diced and drying out overnight for the croutons, and then the morning of the party I made a doubled batch of both. For the fruit salad I made it directly in a lidded bucket and packed a ladle to dish. The caesar salad was also made in a bucket but I kept the croutons off so they wouldn't get soggy and people could decide to leave them off (gluten free) or decide how much they wanted as they dished. I also brought the extra dressing on the side but it wasn't easy to pour so I wish I brought it in a wider container with a spoon. I also added a bag of pretzel chips to dip or eat on it's own along with a case of chilled water bottles and, when combined with the pizza and soda, we were ready.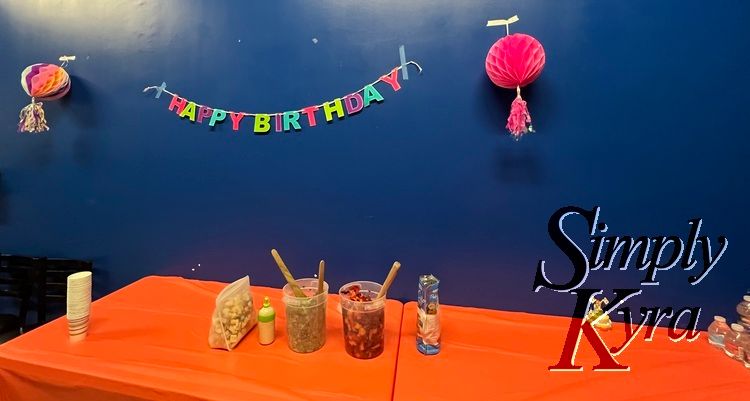 Another reason I made the fruit salad and doubled it was that I absolutely love the leftovers. Last year I had them on vanilla ice cream while this year I also used it as a drink by mixing it with pineapple ginger beer, carbonated water, or lemon gin depending how I felt each time.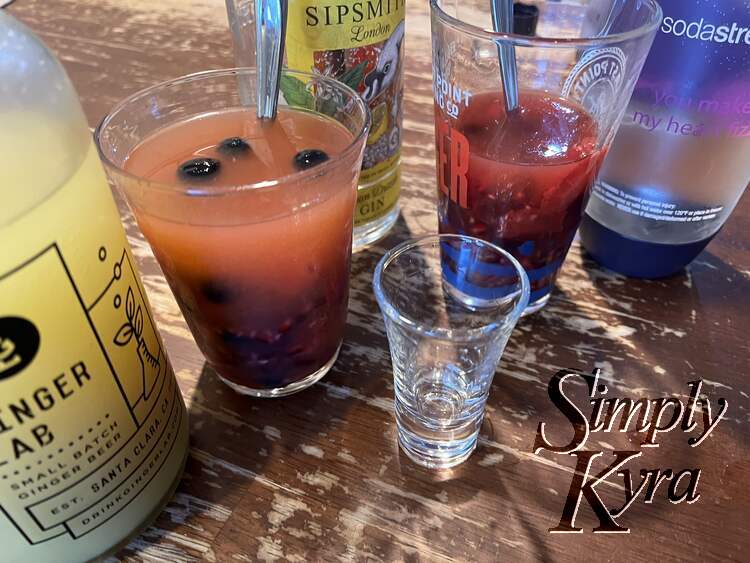 I even created a second fruit salad using the remaining odd-shaped fruit leftovers cut directly into a Stasher bag and shook up with the dressing ingredients. The kids loved it!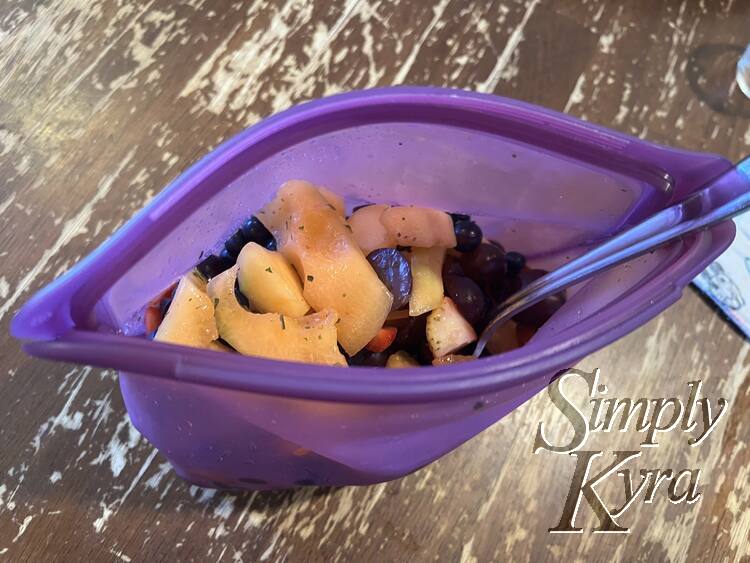 Dessert
Even pre-covid we've been doing cupcake style desserts at our parties rather than a birthday cake as it seemed a bit more hygienic and easier to hand out when there's no need to cut it up. With the combination party; however, we came up with a disagreement over what type of cupcake we should make. I then decided why not combine the two and these simple box mix brownie angel food cupcakes were born.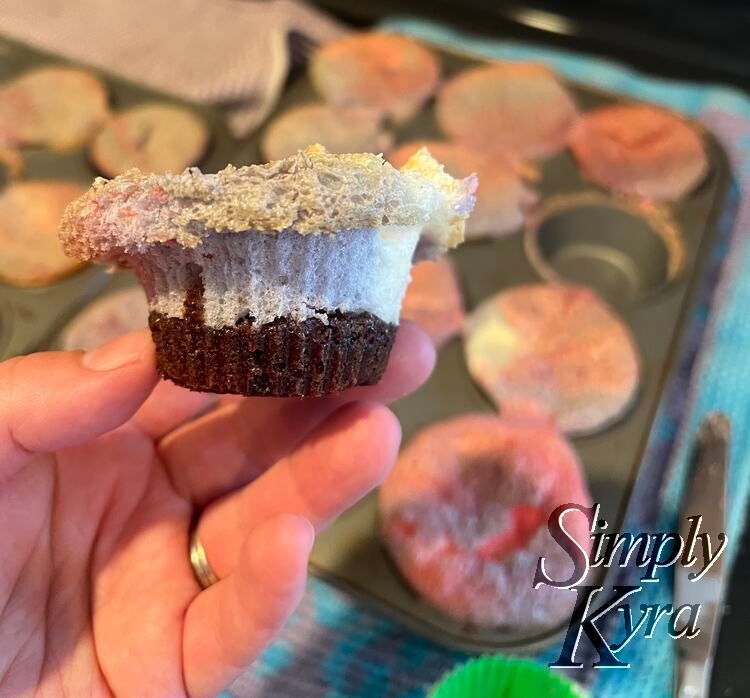 Party Time!
When moving their clothing out of their dressers a couple weeks before the party the girls found their matching Birthday Girl shirts they were given by my mom. That led to them planning their entire matching outfit with no input from me. I love how they matched and especially loved how it was on their terms. For our record I snapped some photos on the way to the party and again when we returned home after. I love having these photos and how their excitement is shown.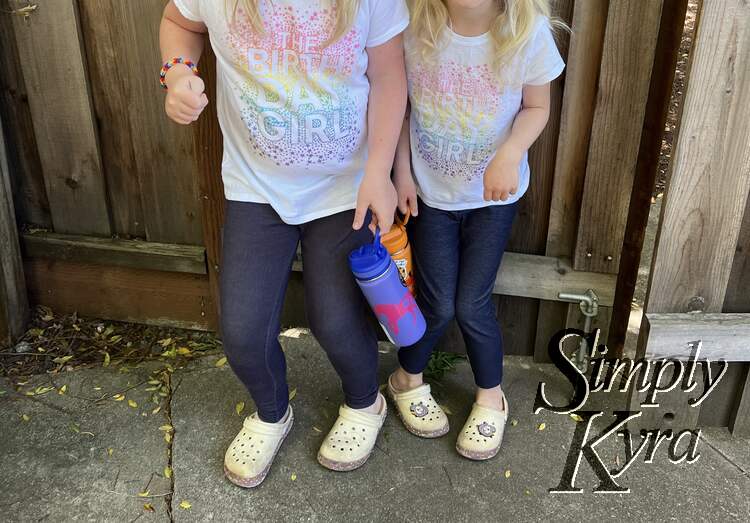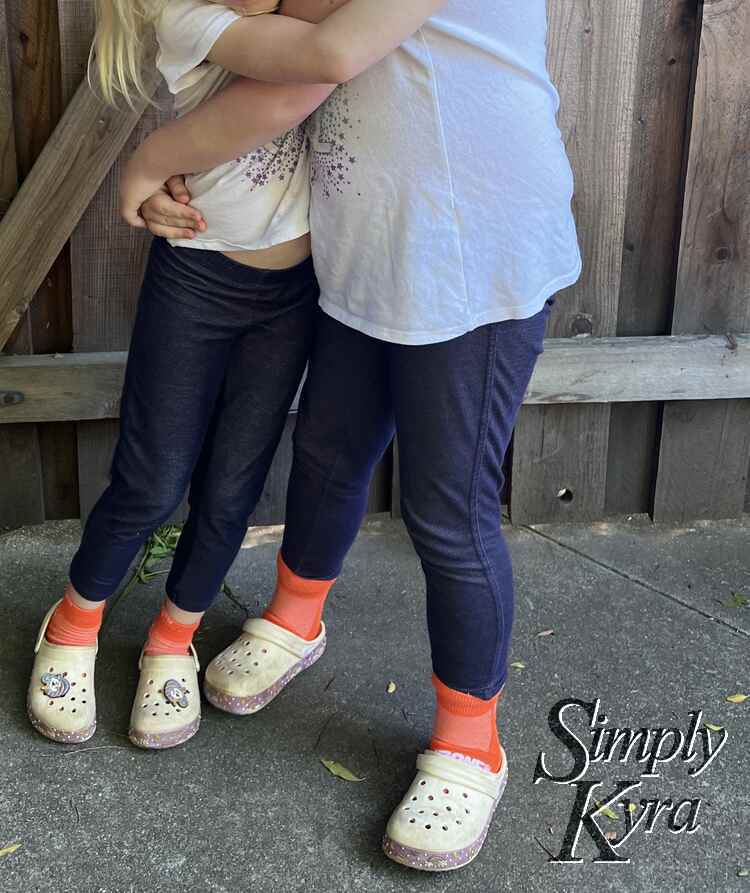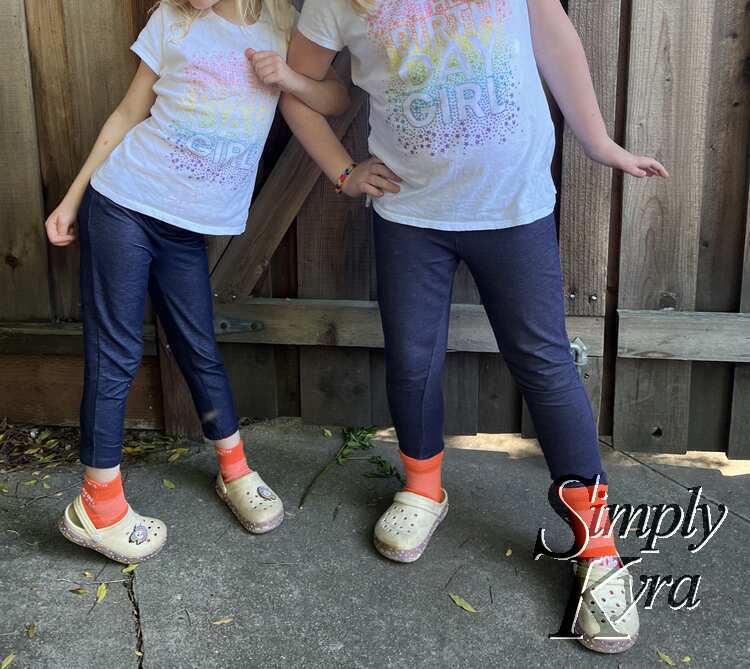 The girls absolutely enjoyed their party! Signing up I saw the party package came with a shirt and was confused when the girls weren't given one in the beginning although I also didn't want to cover up their shirts. I was happy to realize, in the party room after, that the venue waited until the end to do the shirt so they could ask the party girls if they wanted them to be signed. The party host then got all the guests to sign the back of both of their shirts.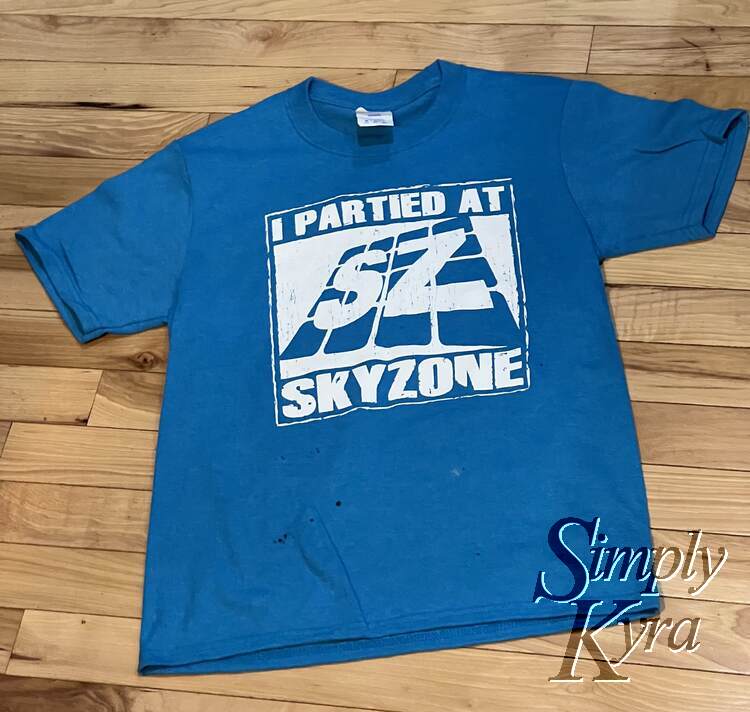 ---
And with that the party was done and the girls had had a blast. I had wanted to have the party at our home again, so we had access to our appliances and could extend the party if everyone was having fun, and had warmed up to the playground party idea but this venue choice was a blast too.
I'd love to hear from you if any part of this post helped you in planning your own party. What would you add if this was your party? What would you change?
I hope you're having a great day and week.
---
If you're interested in getting any of my future blog updates I normally share them to my Facebook page and Instagram account. You're also more than welcome to join my email list located right under the search bar or underneath this post.