52 Weeks Of Sewing In 2019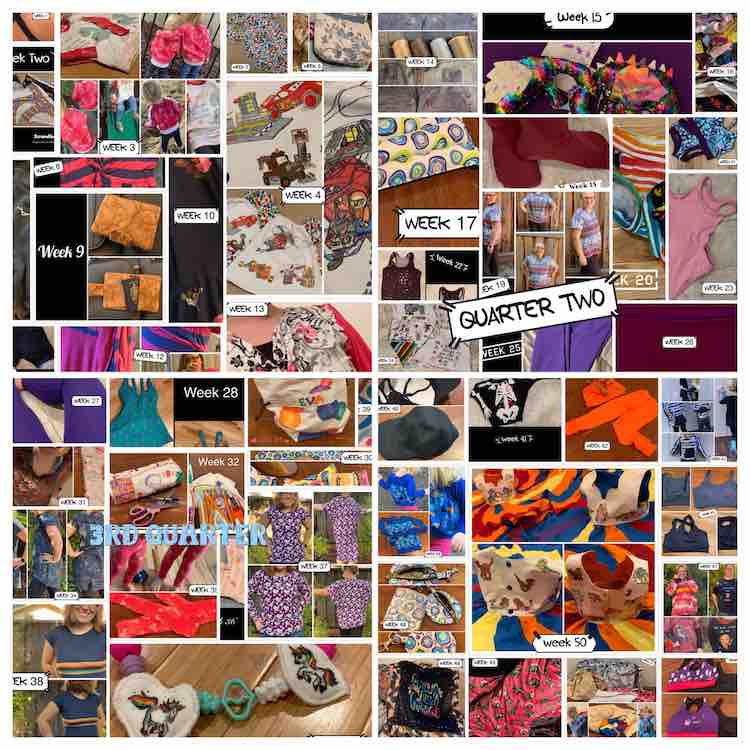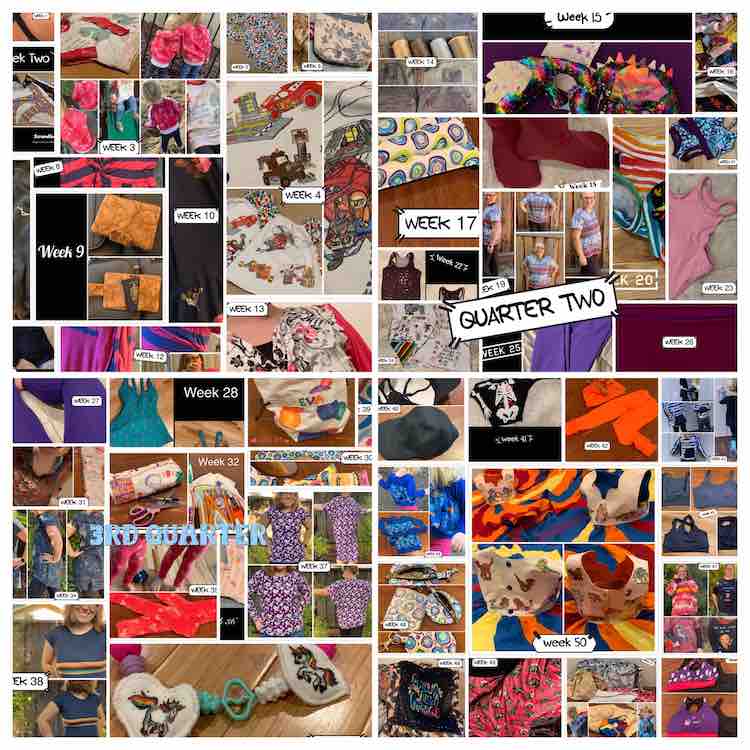 At the end of 2017 I was lucky enough to come across the 52 weeks sewing challenge. I spent 2018 attempting to complete each one according to the specified challenge for that week. Looking back on that year I realized it was slightly stressful. There were weeks I had to reject the challenge, weeks where I didn't have time to sew, and weeks where I sewed an extra project so I could "make-up" a missed week and be able to enter the quarterly challenges. I found myself stressing about what I should do for each challenge and sometimes put the projects I actually wanted to sew off if they didn't fit the challenge that week. There were weeks I happened to have sewn several items but still felt like I should try to sew something fitting the challenge so I could accept it and not have to reject that week. When I heard that the sewing challenge was going on for another year I was both excited and slightly worried but didn't fully understand at that point. Thankfully when 2019 started I decided change up my personal challenge within the sewing challenge. The sewing challenge is meant to be fun and keep you sewing so you can improve. I love the group and didn't want to leave. Each week you can still enter the challenge even if you don't fill that week's challenge as long as you sewed something… so I decided to allow myself to reject the challenges. I still looked at the next week's challenge if I wasn't sure what to sew that week but I didn't stress if I wanted to sew something else that didn't fit the challenge topic. My main focus in 2019 was to learn, have fun, and sew something every week. I decided to see if I could complete the challenges without having to make up a week later on. And I did! Some weeks I sewed a lot but there were many weeks I only sewed something small and quick because I either didn't have the time or I lost my sewjo (sewing mojo) for that week. This year's challenge ended up being so much better than last years. Am I going to continue and join in the 2020 sewing challenge? Definitely. Am I going to try to accept all challenge and stress if I miss a week? Nope. I'm going to appreciate my attempt to accept all the challenges in 2018, sew each and every week in 2019, and see what 2020 brings. If you want to do the same I'm linking to the 52 week sewing challenge, hosted through Facebook, so you could also join in. It's a great group and is so handy if you have the odd sewing-related question too.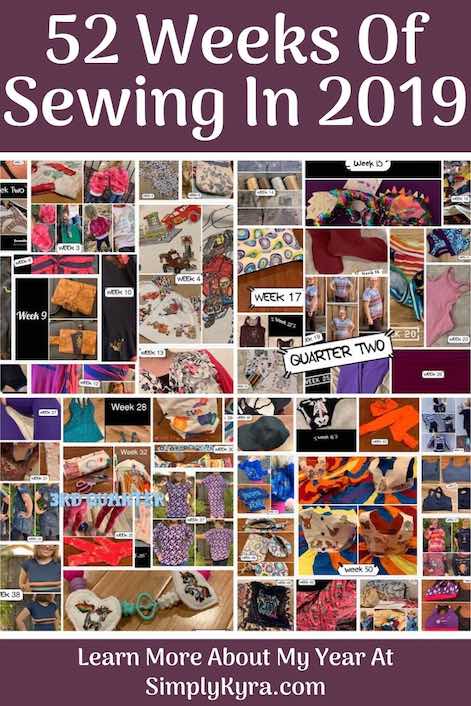 And without further ado here are all my submitted challenges from this year.
---
First Quarter
Week 1 – Dec 31st 2018 to January 6th, 2019
Organize Your Sewing Space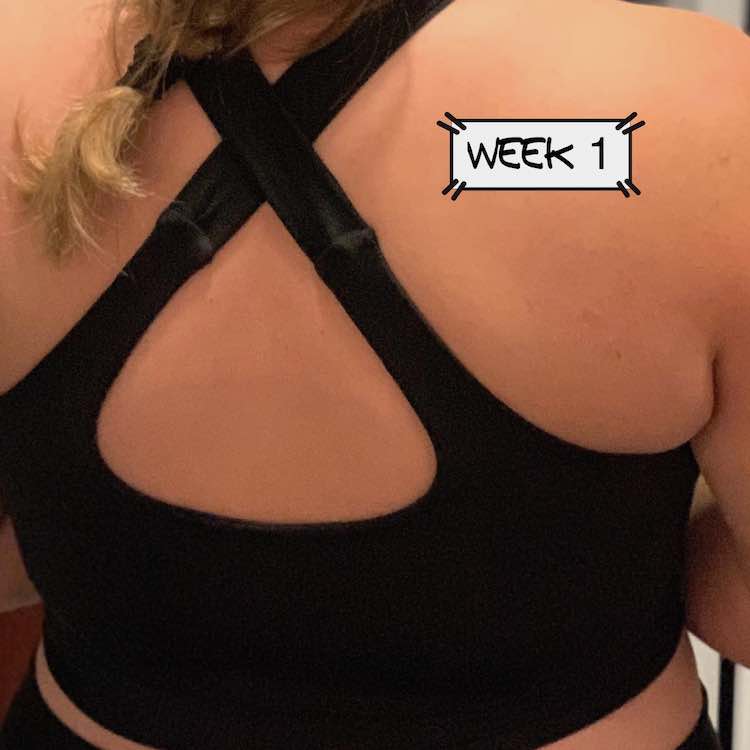 I chose to start off by rejecting this challenge. My sewing space was, at that time, located in our bedroom so I had already somewhat gotten it organized after the craziness of Christmas sewing. I was also trying to focus on reorganizing the rest of our apartment, for the first couple weeks of January, and didn't want to split my focus too much. Even though the challenge wasn't directly sewing-related the first week the 2019 challenges now included bonus entries if your sew used one of that week's sponsors through either their sewing patterns or fabric. I had sewn up a workout bra over the last summer and kept putting of sewing a plain black version of it. When I saw Stitch Upon A Time was one of the sponsors for this week I jumped at making a plain black Brazi bra and even though I rejected that week's challenge I was able to get a bonus entry because they were the sponsor. Great way to start the year off.
Week 2 – January 7th to 13th
Sew a UFO (unfinished object)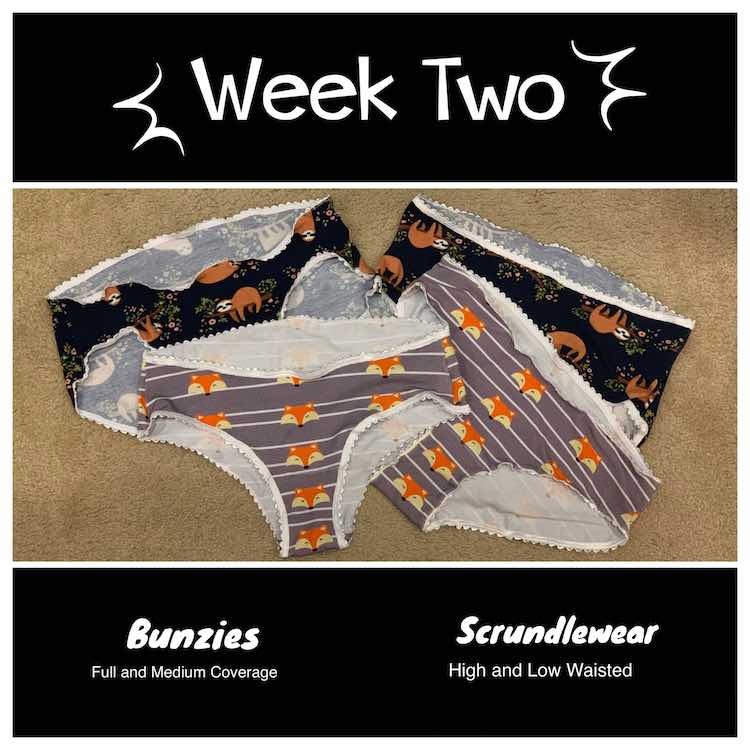 If you come across the term UFO in the sewing group it means an unfinished project. In crocheting the term was work in progress or WIP. Sometime in 2018 I had cut out four pairs of underwear for myself using two different patterns by Stitch Upon a Time and using two different styles within each pattern. I wanted to compare all four of them for fit. I was able to use this challenge to force myself to finish and thus accept the challenge. At first I thought it was going to be a quick project and I'd be able to finish all of them on Monday but they ended up taking way longer than that… but I finished within the week and loved all four versions. The patterns used are the Bunzies using two different levels of cheek coverage (they also have super booty) and the Scrundlewear pattern using only the one style but trying two of their waist heights. Both patterns have the choice of knit waist and leg bands (which I've previously used each time) but I wanted to try these with lingerie elastic instead.
Week 3 – January 14th to 20th
Sew a Pattern You Own But Have Never Tried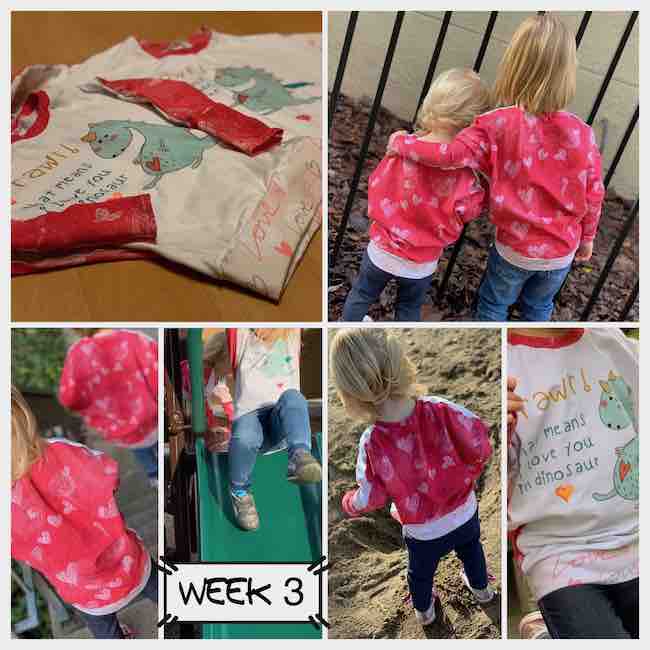 I wanted to make my kids a new Valentine's Day top using a panel and yardage I bought from Whimsy Baby Customs. I was going to sew the Dreamy Drape pattern through Rebecca Page which was new to me so I got to accept the challenge too. Perfect all around! I haven't blogged about this pattern yet but you can buy the doll pattern, kids pattern, ladies pattern, or a bundle including all of them. Rebecaa also created an add-on to turn it into a dress. I used a thicker fabric than most other (custom cotton lycra) so you could easily use a lighter fabric to make it drape more.
Week 4 – January 21st to 27th
Sew Something Red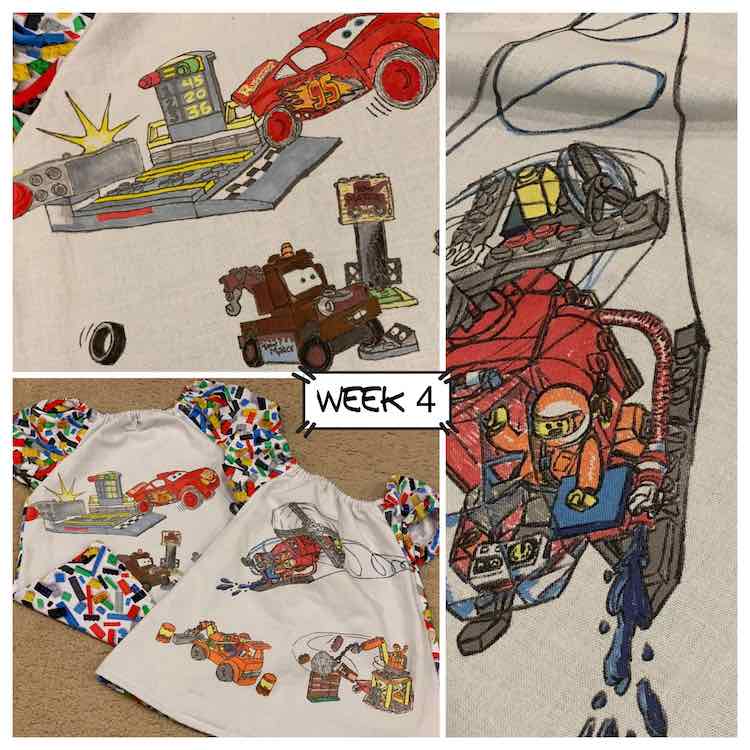 We started planning our first trip to LEGOLAND® California so I started making LEGO® themed clothing. I used fabric markers to trace out some LEGO® coloring pages onto white woven fabric and mixed it up with brick knit fabric (Peek-a-Boo Pattern Shop) to sew the girls yet another Olivia top from Rebecca Page. Challenge accepted once again as there was red on both the knit fabric and the drawings. I blogged more about the Olivia pattern here and have also hacked it making it into a cozy nightgown.
Week 5 – January 28th – February 3rd
Sew Something with Fancy Seams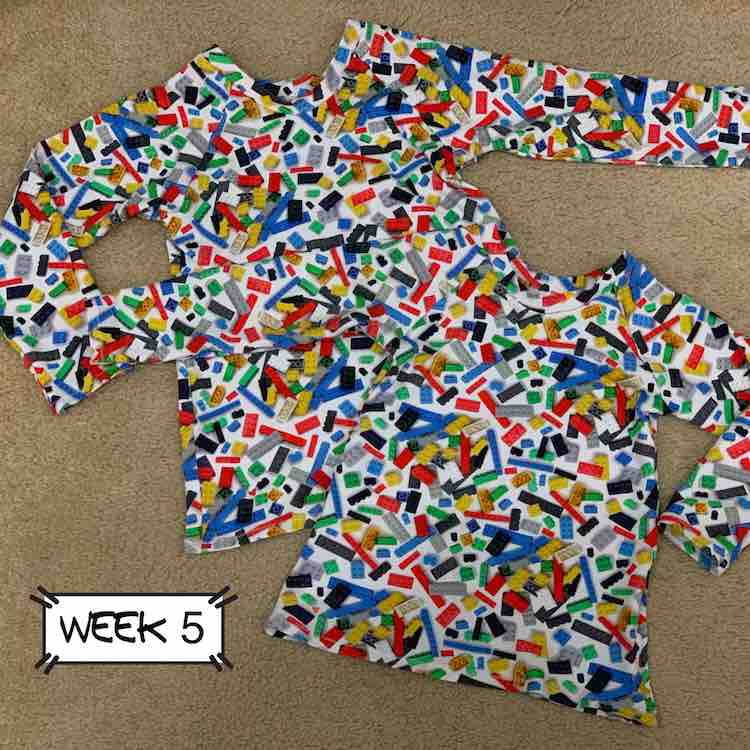 After three weeks accepting challenges I had to reject this one. I had been working with french seams on both the Olivia the week before along with the two Patsy dresses I was sewing up this week but I didn't think I'd get the dresses done in time so instead of rushing it I instead took a break to sew up two raglan tops. I used the brick knit fabric from Peek-A-Boo Pattern Shop along with the unisex raglan top pattern from Ellie and  Mac.
Week 6 – February 4th to February 10th
Sew Something to Make Sewing Easier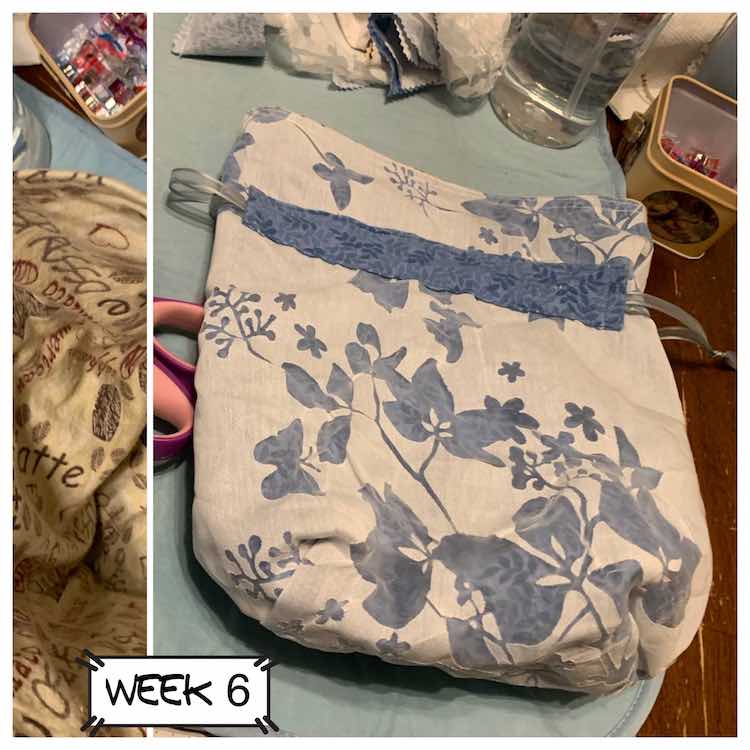 I decided to call this challenge accepted as I attempted to make a bag to hold my sewing clips and thus make sewing easier. I chose to use the free pattern I found on Kristin Omdahl's website called "How to Sew Fully Lined, Flat Bottomed, Drawstring Bag FREE Pattern" although I didn't take time to think about the measurements as I went. I had a remnant of white fabric with clear butterflies on it, that I bought a while back from Joann's, and wanted to use for myself so I combined it with some leafy flannel to create a window effect on the bag. I adored the finished bag but it was way too big to use comfortably for my clips. I ended up putting my kids toys into it and used the bag, and it's contents, to distract them while we were out and about so I still got to enjoy it and felt successful.
Week 7 – February 11th to February 17th
Upcycle Something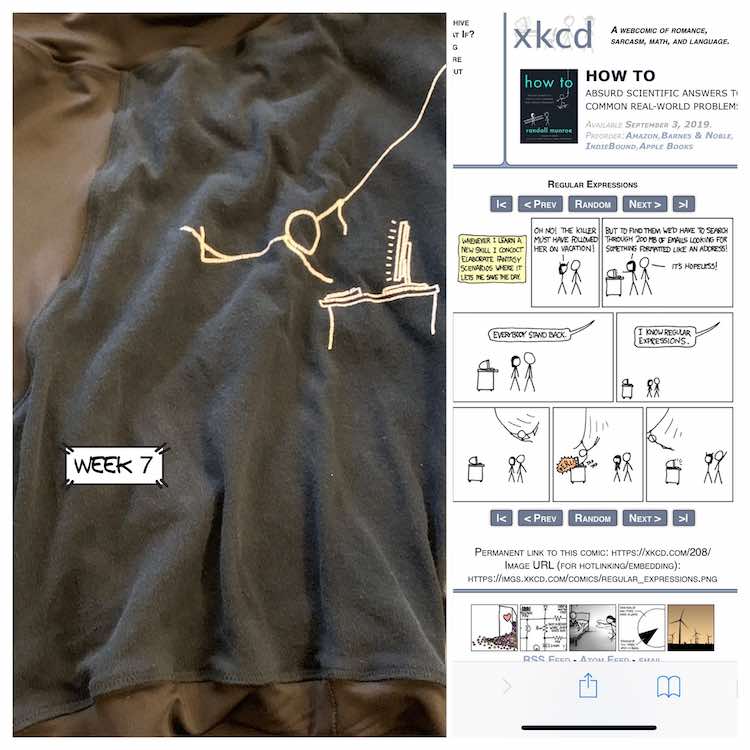 I was able to accept another challenge this week. Matt had an old shirt I bought him when we were still in university that he wasn't wearing and had been debating donating; yet, we both still enjoyed the XKCD comic portrayed on it. This challenge allowed me to cut into it, pair it with some black cotton lycra from my stash for the bands, and create a pair of Stitch Upon A Time boxers. The front of the shirt became the one leg and I used the, plain, back of the shirt for the other leg.
Week 8 – February 18th to February 24th
Sew Something with Knit Fabric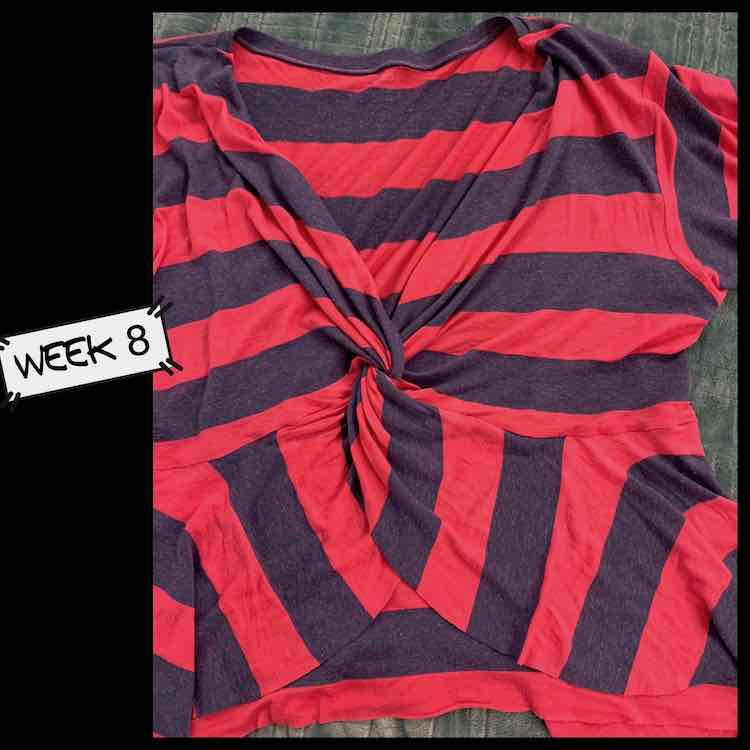 Accepted the challenge again. Grabbed some knit fabric I received in a mystery box from Boho Fabrics to create a wearable muslin of Rebecca Pages's Mariella. I didn't have quite enough fabric so I shortened the bodice to make it work.
Week 9 – February 25th to March 3rd
Sew Something Green or Environmentally Friendly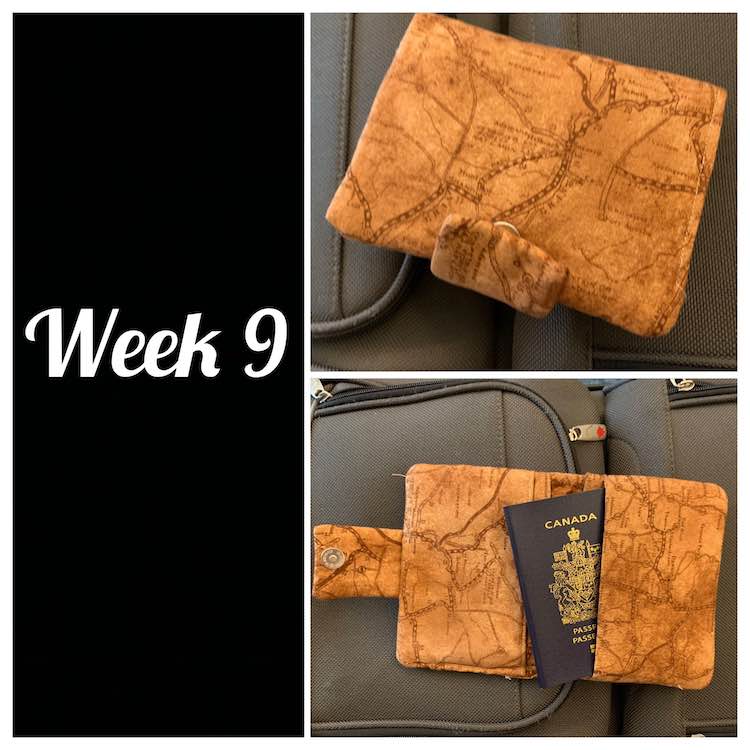 Challenge rejected as Matt asked me to make him a small passport wallet for his upcoming trip. I shortened the Passport Wallet, that's free through Rebecca Page, to make it. I'd previously posted about the first time I sewed her passport wallet for our family, when I hacked the pattern to use two different fabrics for the pockets, and, after I finished this wallet, I shared this hack too.
Week 10 – March 4th to March 10th
Sew Your Oldest Fabric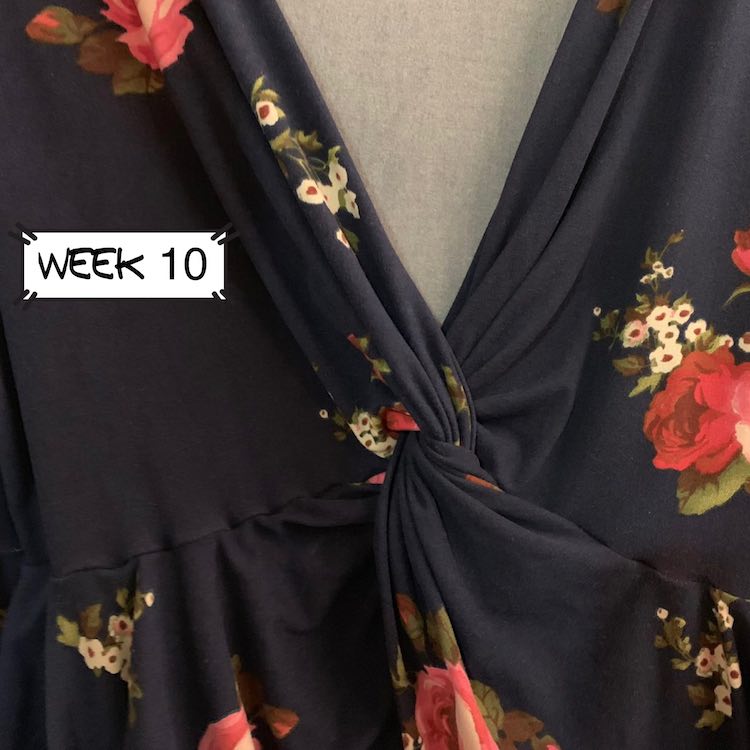 I wasn't sure what my oldest fabric was so I rejected this challenge and grabbed some fabric from a mystery box of knits to sew up another Mariella top. Not sure what fabric this is or where I got it but it's a warm and thin fabric.
Week 11 – March 11th to March 17th
Sew Something with a Collar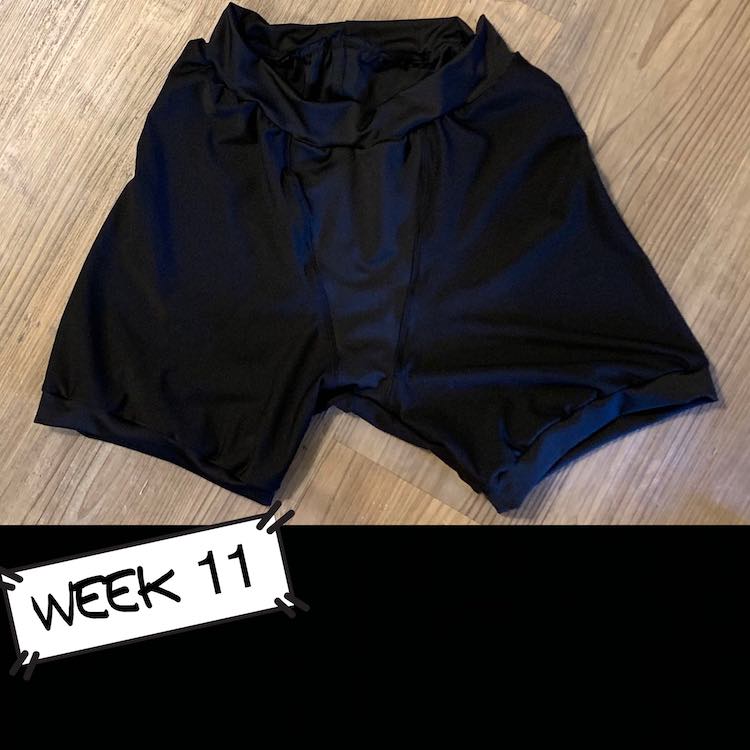 Once again I got busy with other things this week and decided to forgo sewing something with a collar. I had cut out another pair of boxers, this time for me, with black knit fabric and figured this was a quick project to sew up within the deadline. The plan was to have them in case I needed to wear them under a dress but that hasn't happened yet.
Week 12 – March 18th to March 24th
Sew a Woman's Pattern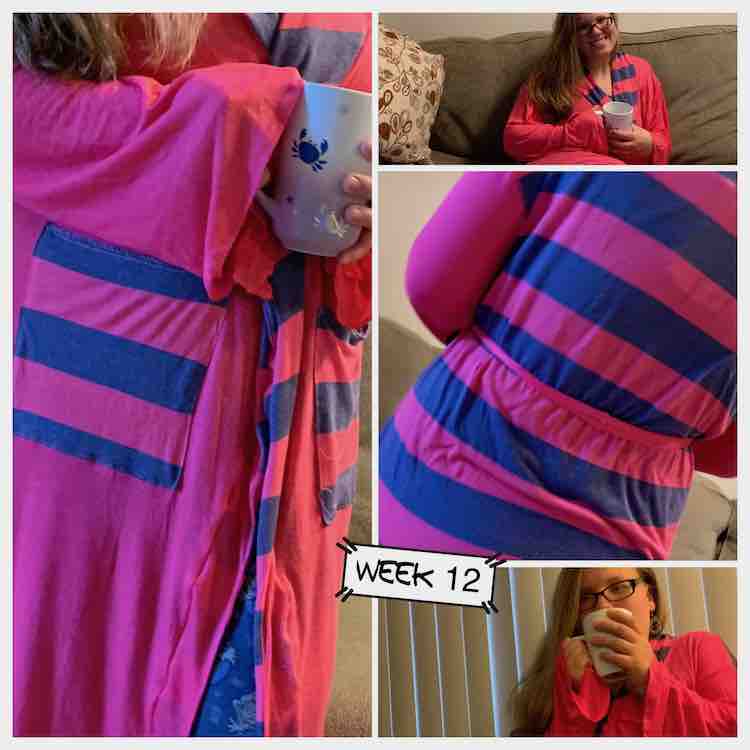 Accepted the challenge by grabbing the leftover stripe fabric used in the Mariella top in week 8 and found some matching mystery knit fabric I also had and sewed up the new relaxation robe by Rebecca Page. The fabric I used was lightweight, felt comfy, and I loved the drape.
Week 13 – March 25th to March 31st
Sew Something That Is Not Clothing
I saw that Rebecca Page was the sponsor for this week's challenge and decided to sew up another Mariella top so I could get the bonus entry. I saw I had a mystery knit that matched the pink fabric leftover from the week before so I mashed them together to come up with this top.
First Quarter Ends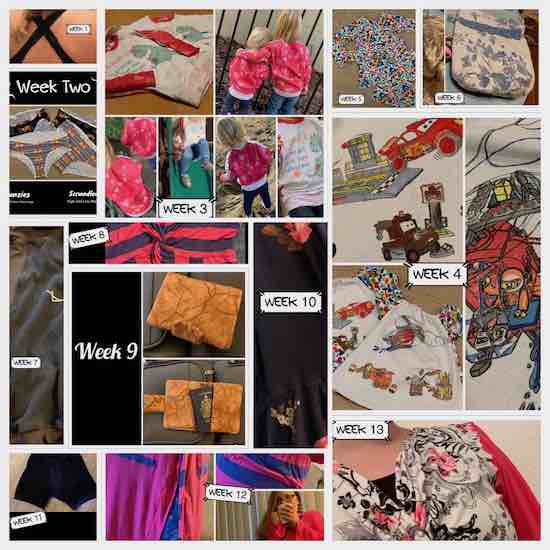 Second Quarter
Week 14 – March 1st to April 7th
Mend Something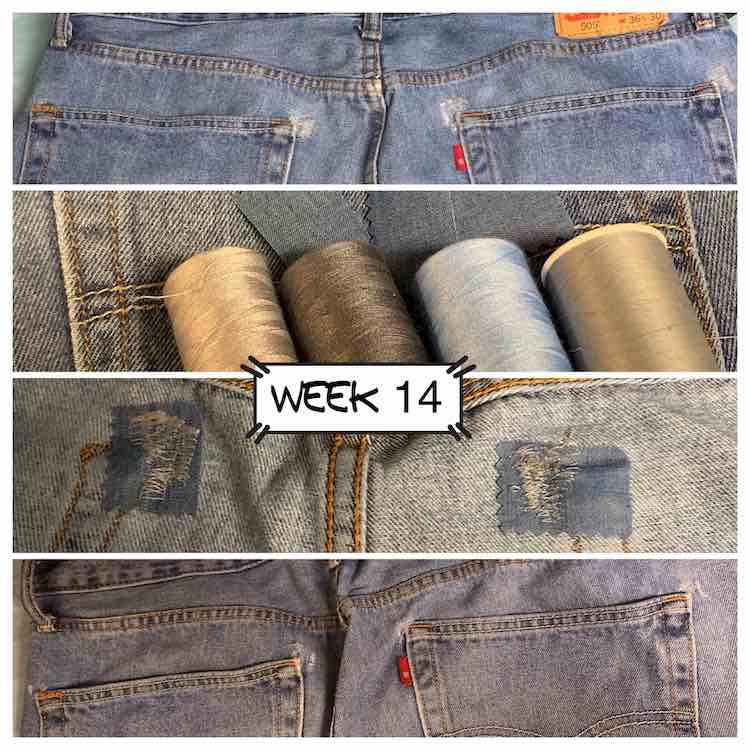 My husband, luckily, had some jeans that needed mending so I was able to accept this weeks challenge. I ordered the patches online through Amazon and once it was time to sew realized I didn't have the perfect matching thread color. The kids didn't want to go to Joann's so I chose to pick the best shade from what I had on hand and patched the holes while we had a great home day.
Week 15 – April 8th to April 14th
Sew Something From a Paper Pattern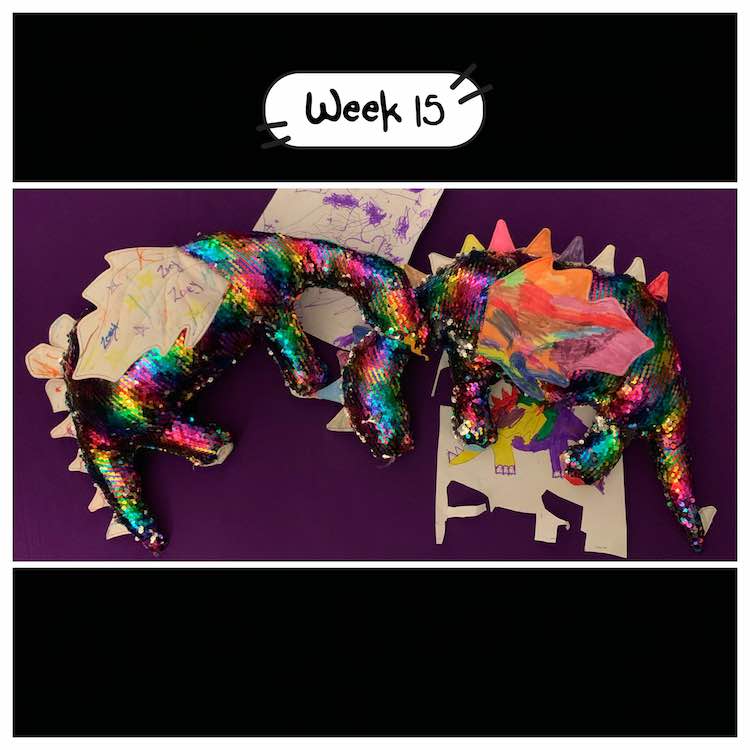 Going into this year's challenge I regretted skipping the paper pattern challenge last year and had planned to make a point of doing it this year. Time, however, got away from me and I hadn't bought an actual paper pattern yet and I was signed up to sew the new dinosaur dragon pillow that Rebecca Page was coming out with. It was the first week I felt bad rejecting this year but I chose to instead focus on creating the kids perfect pillow with their design help. Originally I was going to have the kids color the whole thing but I remembered I had bought sequin fabric I hadn't sewn yet so instead the kids colored all the optional attachments they chose and then I had them help place them before I sewed them on. I blogged about this sew before if you want to learn more.
Week 16 – April 15th to April 21st
Sew a Bathing Suit Or Undergarment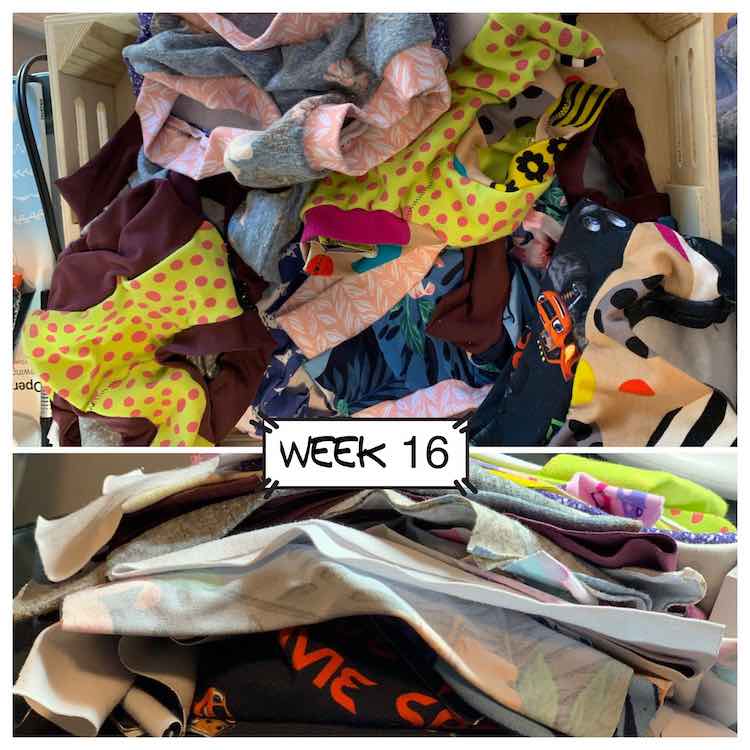 Looking ahead to this week I had planned to sew up a swimming suit but when moving to a new home fell on this week I instead unpacked my sewing machine and jumped into the stack of kids' underwear I had cut out a while back and left accessible during the move. I ended up sewing nine pairs so challenge accepted anyway.
Week 17 – April 22nd to April 28th
Sew a V Neck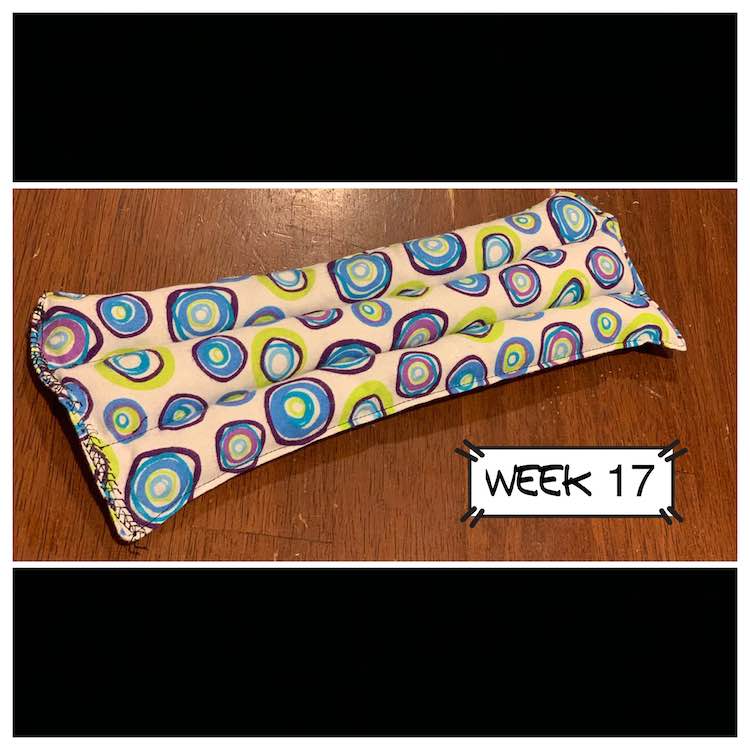 I rejected this week's challenge. I knew I didn't have a lot of time to sew this week so I looked up quick projects online so I could still submit something within the time frame. I found a free DIY Lavender Eye Pillow on Joybilee Farm and decided to make it. I stuffed it with rice and left out the essential oils. It was a quick and simple project that I sewed up in one evening. The hardest part was filling the channels in the pillow with rice especially if you aren't sure where your funnel is.
Week 18 – April 29th to May 5th
Sew Your Newest Fabric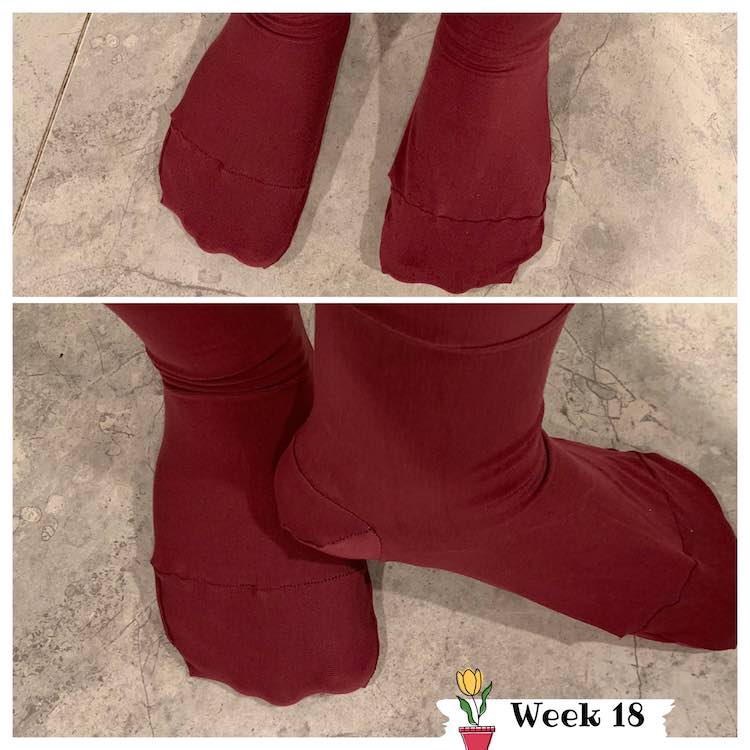 Challenge rejected. I had dry feet and wanted to be able to Vaseline them before bed for a couple nights without the Vaseline getting on the sheets. I chose to use the opportunity to buy and sew my first pair of socks. I bought the unisex adult Going Rogue socks through The Wolf and The Tree. They weren't the prettiest when done and I never tried them on with shoes but I did finally make my first pair of socks… and then went on to not make another the rest of the year. Maybe next year I'll make another pair.
Week 19 – May 6th to May 12th
Sew a Button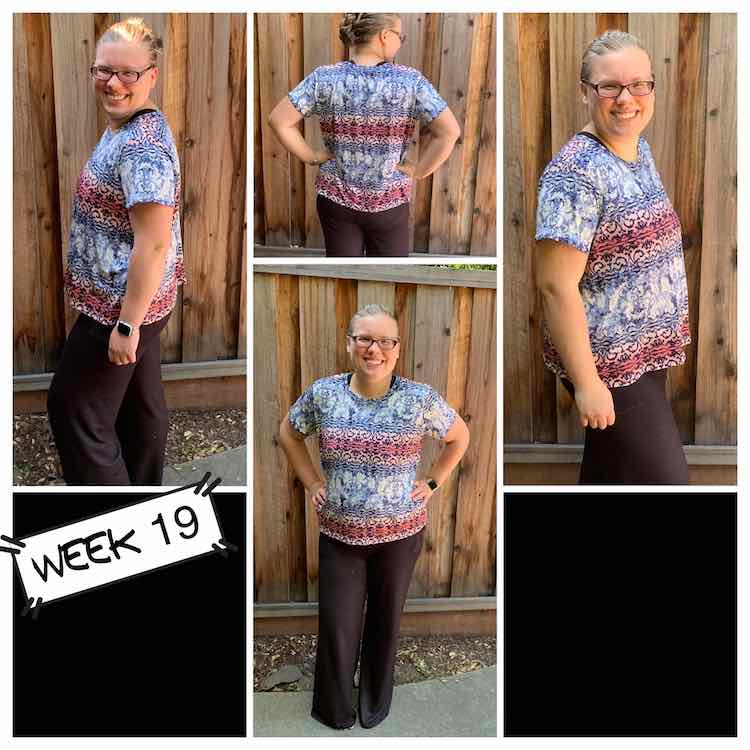 Rejected the challenge to sew up the new Toronto Tee through Rebecca Page. I saw the pattern was a bit oversized which isn't my normal style so I chose to use the opportunity and grabbed the ITY I recently bought through a mystery box from So Sew English. I absolutely love how the top drapes and feels.
Week 20 – May 13th to May 19th
Sew a Kid Or Baby Pattern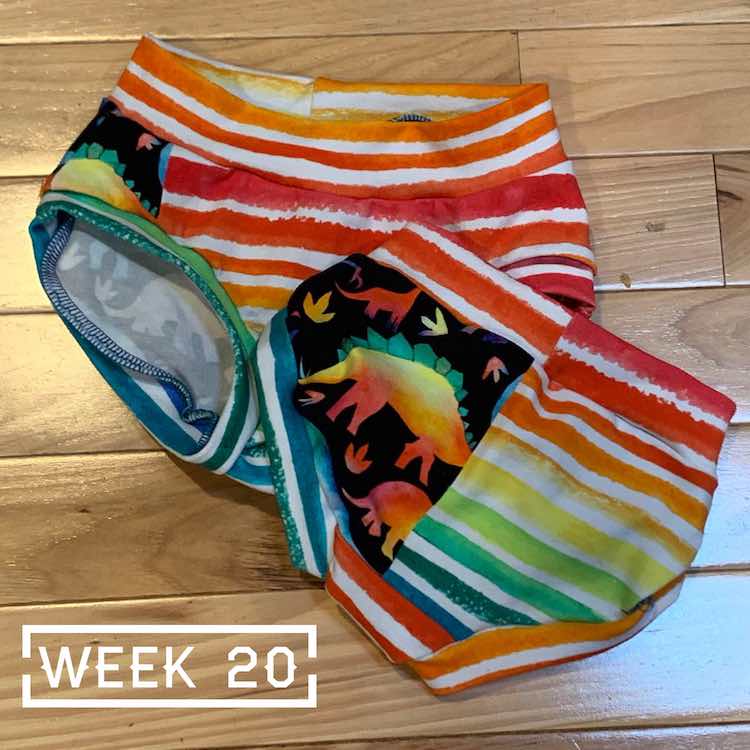 Challenge accepted! I chose to sew more Scrundlewear to try out my new serger. I used up the last of the dinosaur stripes remnant I had on hand from making Zoey a dress back in August last year (2018 – week 35).
Week 21 – May 20th to May 26th
Sew a Dress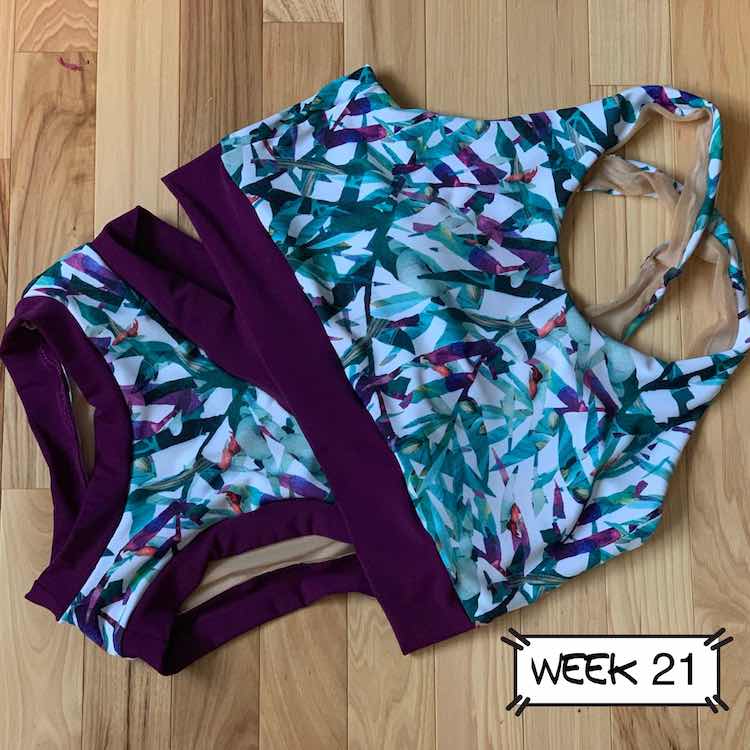 Challenge rejected to finally use the swim fabric I bought a year ago from Raspberry Creek Fabrics although I had to jump online and purchase the  swimming lining and bra cups from Boho Fabrics first. The swimming suit top was an unaltered Brazi bra while the bottoms were either a slightly hacked Scrundlewear or Bunzie all of which were purchased through Stitch Upon A Time. For the underwear I left off the liner and cut an extra back and front piece from the swim lining. I then basted the lining to it's matching piece before following the rest of the directions as written.
Week 22 – May 27th to June 2nd
Sew Something Soft/Warm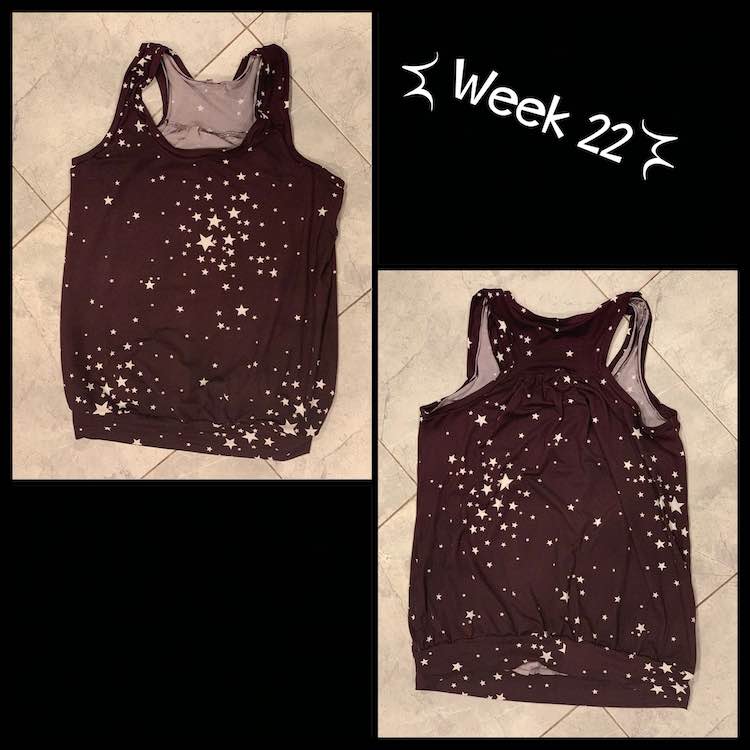 Decided to sew up my first Spoxxy Top through Stitch Upon a Time. Since the fabric was soft and cozy I decided to mark this challenge as accepted.
Week 23 – June 3rd to June 9th
Sew a Rainbow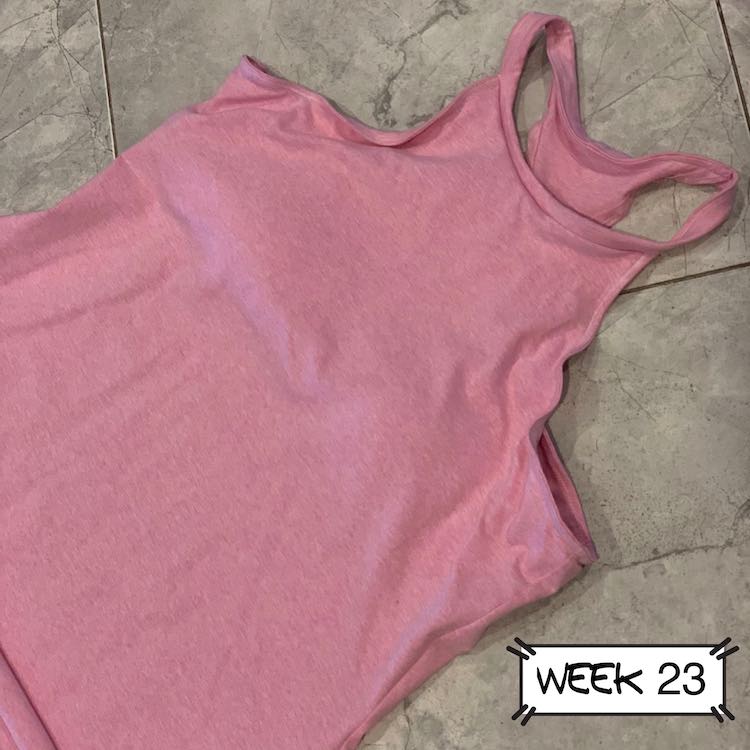 Rejected this challenge to sew up a new top for myself. I wanted to try out the Titania top through Stitch Upon a Time as it comes with an optional shelf bra. I stretched out the arms while sewing it up and but still love wearing it inside the house for my Pilates workouts.
Week 24 – June 10th to June 16th
Sew from your Fabric Stash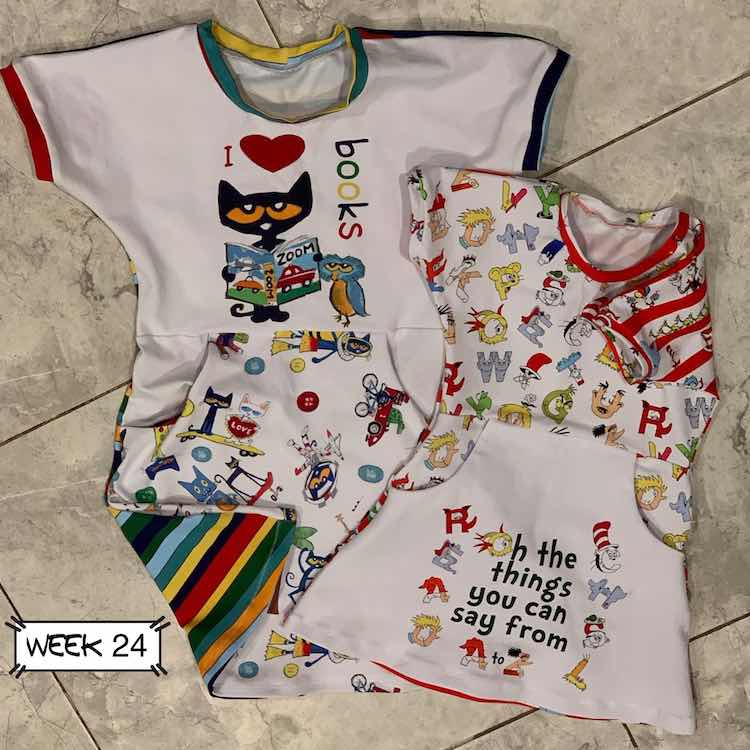 I bought this fabric through a preorder on Whimsy and it arrived about a month ago. So basically I've had it long enough to be adopted by my fabric stash so I chose to accept the challenge. I used the magnolia pattern through Stitch Upon a Time.
Week 25 – June 17th to 23rd
Sew a Pocket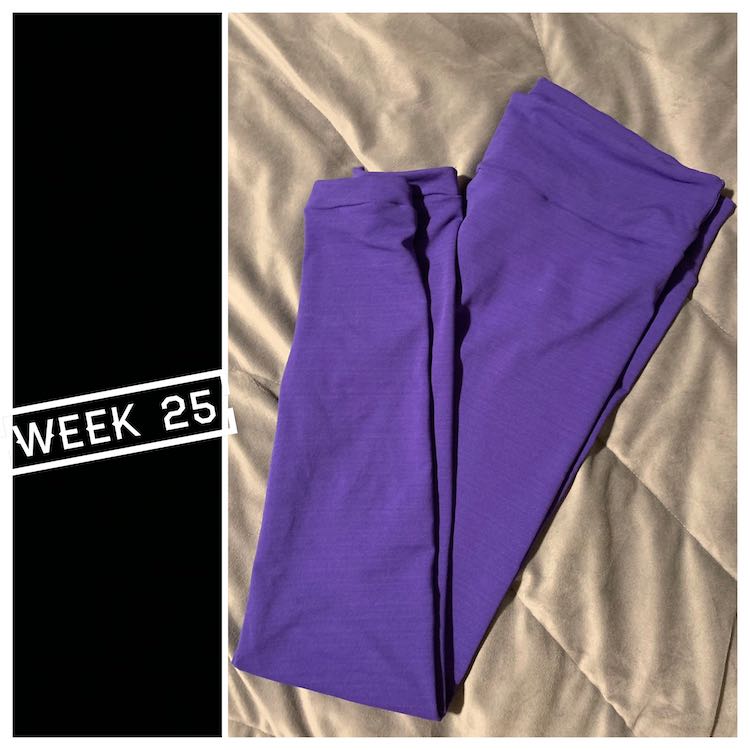 I decided to sew up the new Lily Leggings by Rebecca Page that does include a pocket. Since this was my first time sewing this pattern I chose to instead keep it simple and reject the challenge.
Week 26 – June 24th to June 30th
Sew Something with Stars or Stripes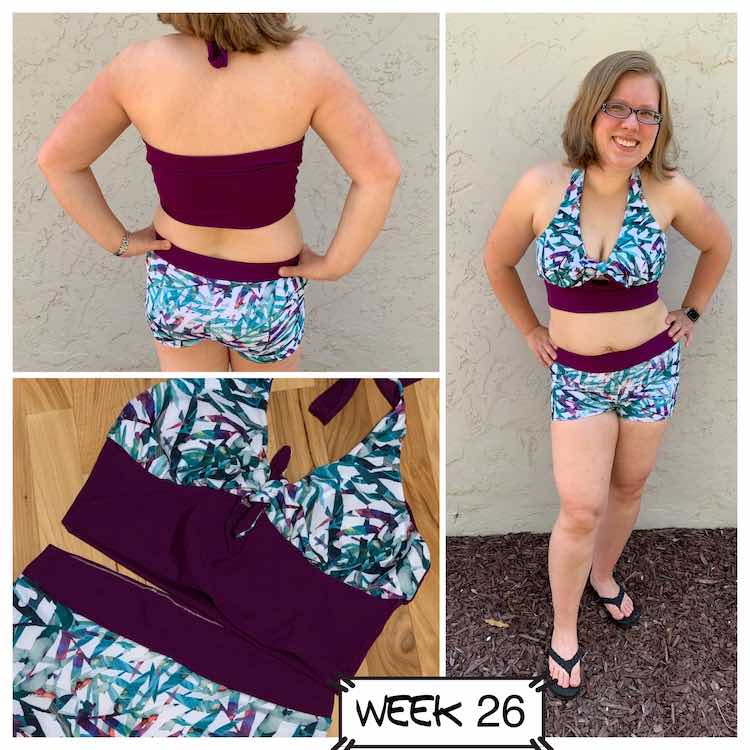 Rejected the challenge, once again, as I instead sewed up the Bondi Bikini through Rebecca Page. I used the same fabric as week 21 (Raspberry Creek Fabrics) so I could have a mix and match bikini set.
Second Quarter Ends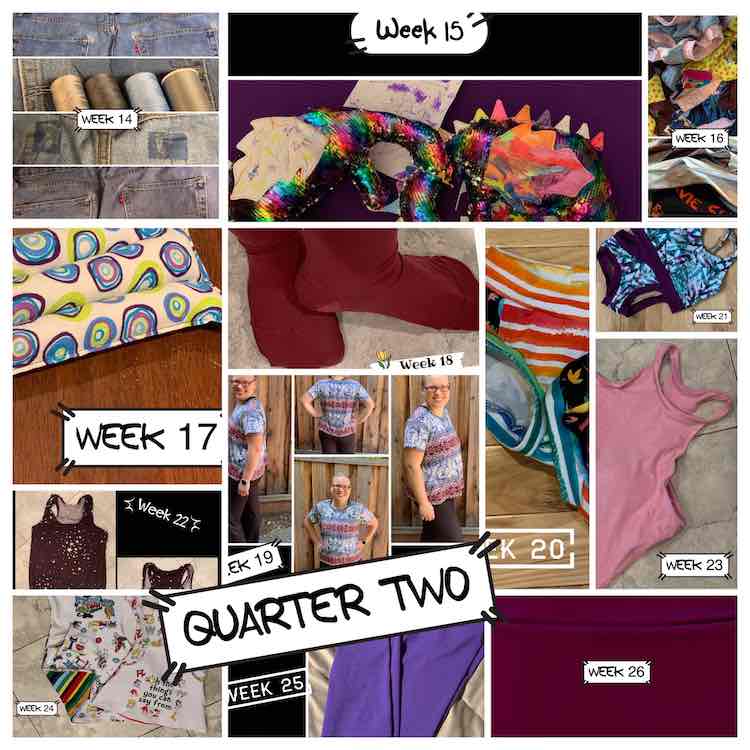 Third Quarter
Week 27 – July 1st to July 7th
Sew a UFO (unfinished object)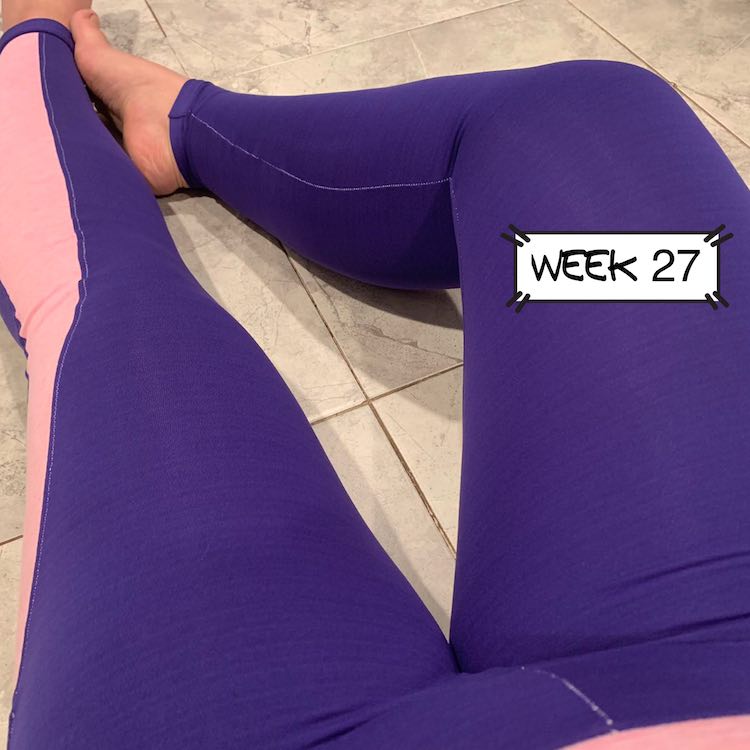 Challenge accepted. I had cut out another pair of Lilly Leggings about a week ago and then set them aside. This time around I chose to add a back waistband pocket and side stripes.
Week 28 – July 8th to July 14th
Sew Your Ugliest Fabric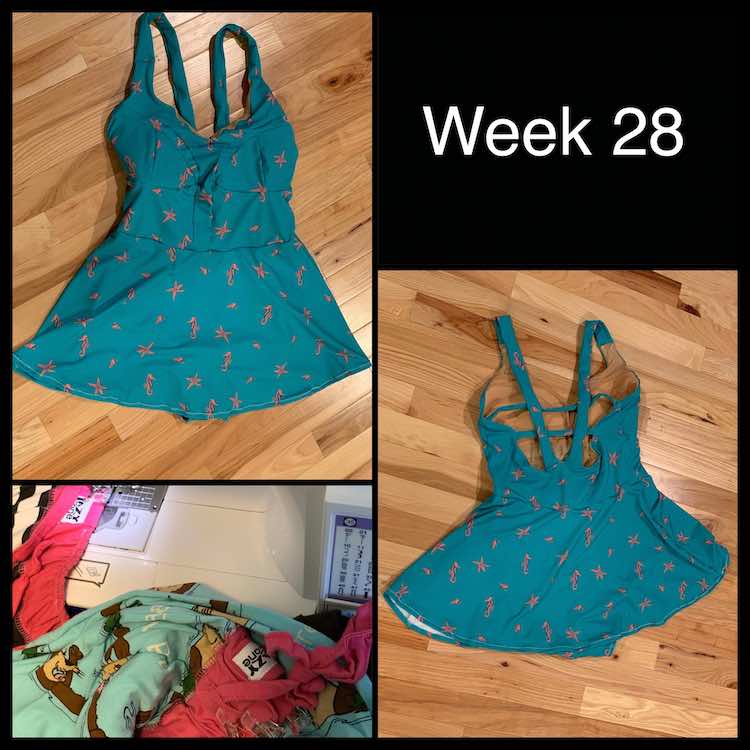 I was sewing up another swimming suit through Rebecca Page this week, the Savannah ladies swimming suit, and wanted to use my nice fabric in case it fit. It ended up not fitting and I haven't tried the pattern again although I could see it being a great base if you want a one piece swimming suit and are willing to make the fit changes required. In that regards the challenge was rejected although I did have some pajama pants where the elastic was twisted up so I untwisted them and zigzag stitched over the elastic to hold it in place. A couple of the pajamas (not pictured) could maybe be considered ugly so maybe the challenge was actually accepted?
Week 29 – July 15th to July 21st
Sew a Free Pattern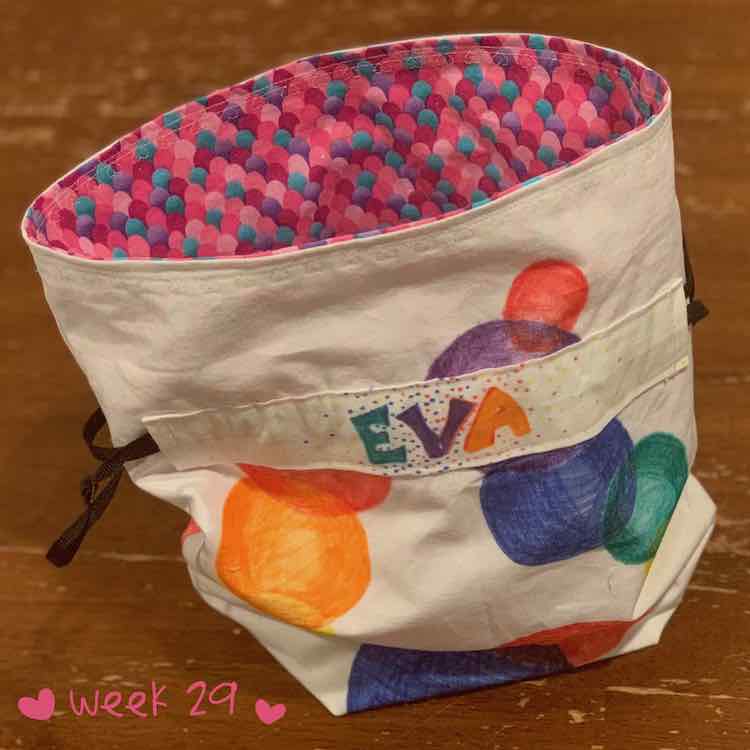 Challenge accepted. I loved the previous flat bottom drawstring bags I'd made and used the challenge topic to justify starting one of our birthday presents early. The accompanying gift was rainbow colored counting  bears so I limited the fabric markers to the color of the bears and wanted to make a color mixing theme to go with them. I was originally going to show primary colors mixing to make secondary colors but ended up with a variety of overlapping spheres of different hues instead.
Week 30 – July 22nd to July 28th
Sew Something With Woven Fabric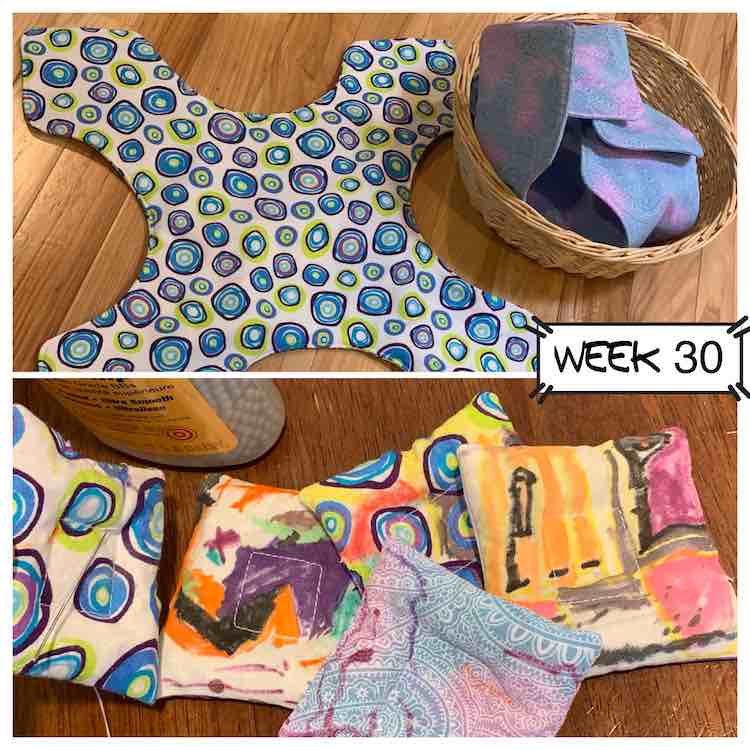 I've been wanting to make a fabric napkin bread warmer ever since I heard about them for my BreadIn5 buns. I finally found a pattern which happened to be free on the Tried and True blog. I didn't have Solarize so I went online and bought some Insul-Bright instead. The woven fabric used allowed me to accept the challenge with just this; however, this same week I was also planning on sewing some free pattern weights through Rebecca Page which also needed woven fabric. For the pattern weights I chose to have my kids color them so while they colored I was able to work on the bread warmer and ended up having time over the week to sew them all up. I blogged previously about these pattern weights along with some other styles I've used if you're interested in reading more.
Week 31 – July 29th to August 4th
Sew a Hood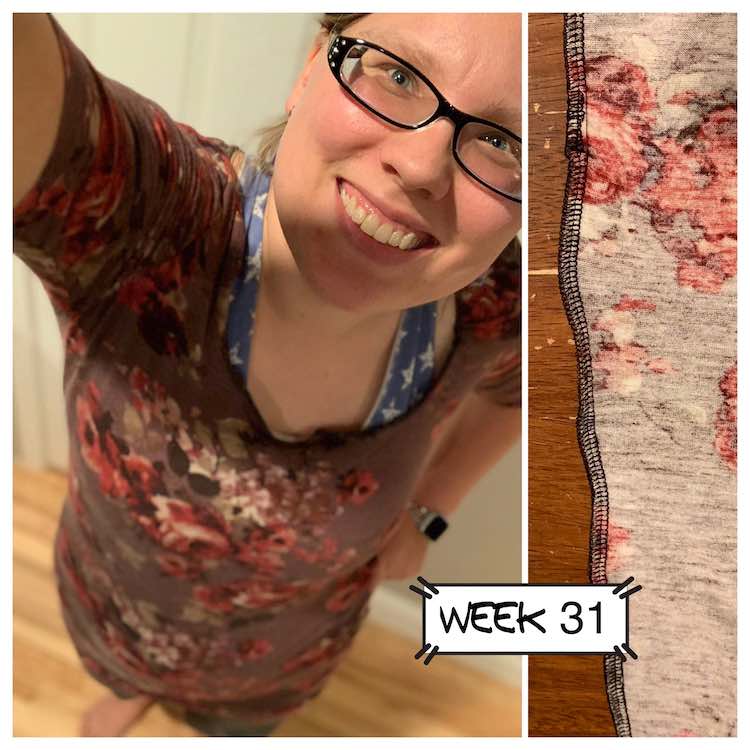 Challenge rejected. I got my serger back from the shop last week and wanted to pull it out of the case to try it out again. I grabbed a simple pattern I also wanted to try out (I believe it was a Choose Your Own Adventure (CYOA) fitted through Rad Patterns) and cut some knit fabric from a mystery box. After fighting and pleading with my serger I kept thinking I had it stitching properly on the scraps just for it to skip stitches once I started sewing the top again. I got more and more frustrated as I realized how much quicker this would've been on my sewing machine. Once I realized I needed knit binding for the neckline, that I didn't have, I decided to serge the neckline, had trouble, and then declared it done with the sleeves unhemmed, the neckline unbinded, and the facing at the bottom missing. Overall, I still counted sewing this week as a win even though it wasn't officially completed as I still worked on it until it was wearable around the house.
Week 32 – August 5th to August 11th
Sew Something By Hand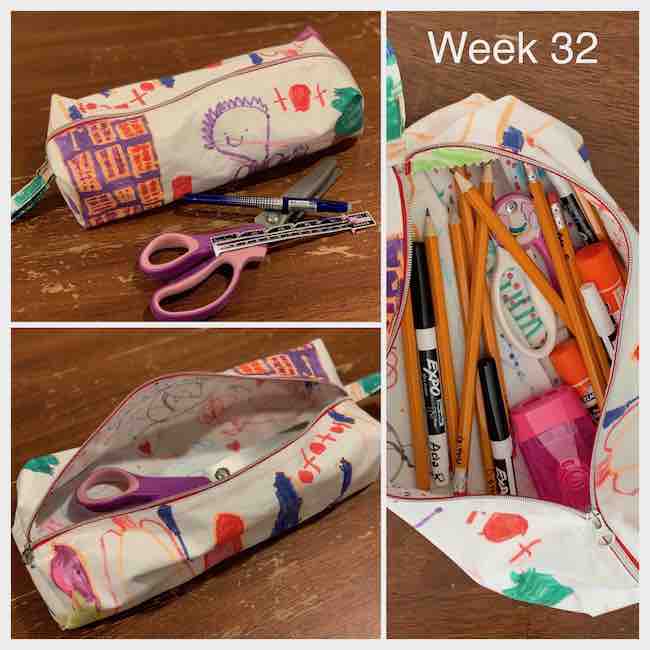 Challenge rejected although my daughters did "hand color" it before I sewed it up. I found a free pencil case on Crazy Little Projects and loved the resulting pencil box for when my daughter starts school. I also hacked it to be slightly longer to work with the zipper length I had. The idea of this was to have Ada color most of it and then Zoey and I color part of the inside. This way if Ada got lonely at school she could look at her pencil case. Once school started I realized, however, that the students had shared supplies so this was quickly switched to be a small lunch pouch so she could still have it sometimes at school and I can easily throw it in the wash if it gets mucky.
Week 33 – August 12th to August 18th
Sew Something With Interfacing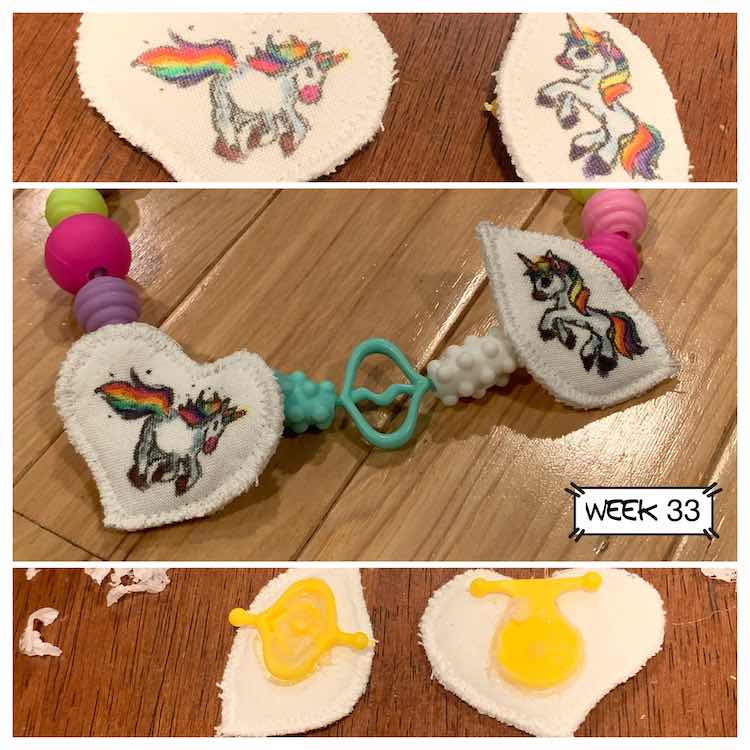 Forgot my daughter had asked for a "white unicorn with rainbow hair, horn, mane, and tail" necklace as part of her birthday present when buying said present so I decided to make my own. I used two layers of interfacing (attached to front and back) to make the pendant more "bubbly" before sewing around the outside and hot gluing it to her snap beads. I blogged about this before in case you also want to make your own pendant for your own snap beads. The project is small enough that you could technically hand sew it closed or use felt and glue if you don't want to sew. The use of interfacing to thicken the pendant meant the challenge was accepted.
Week 34 – August 19th to August 25th
Sew Something with FOE (Fold Over Elastic) Or Bias Tape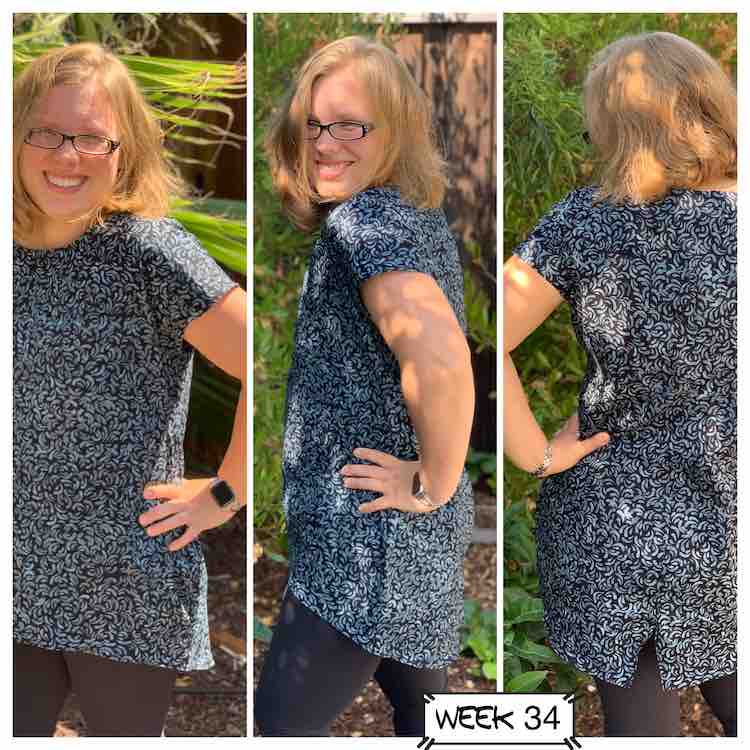 I sewed up the new Laura top from Rebecca Page and didn't have time to sew up something else with fold over elastic or bias tape so I rejected the challenge. I was able to use up some of the quilting cotton in my stash (from Fabric.com) that hadn't been used for it's intended project.
Week 35 – August 26th to September 1st
Sew Something Teal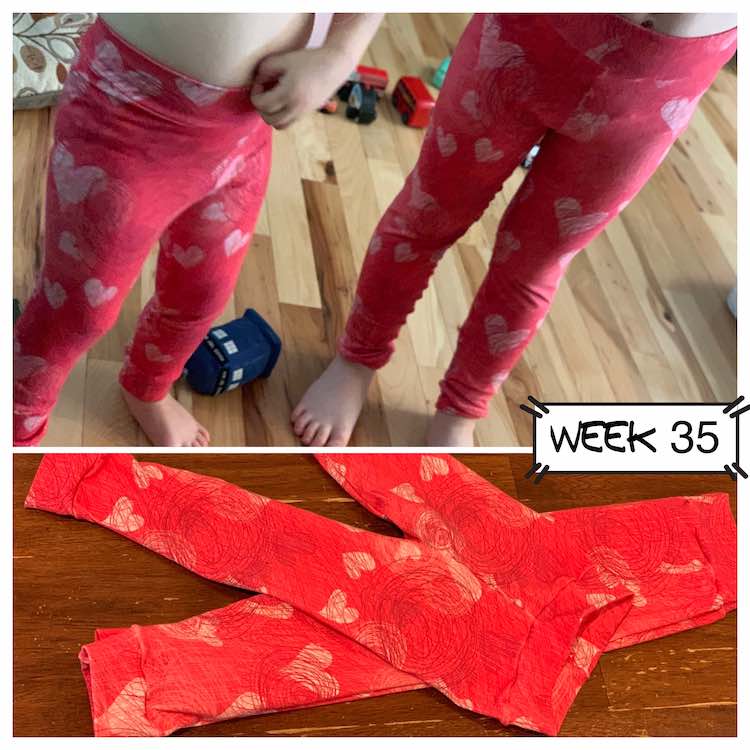 I bought the new MyFit Leggings by Apostrophe Patterns when they first came out but other than sizing and printing the pattern I hadn't gotten a chance to sew them up. I didn't have any other sewing plans this week and didn't want to have to reprint the pattern so I jumped on it before the kids could grow out of their current measurements. I wanted to test the leggings with the custom cotton lycra I've been buying from Whimsy Baby Customs so I grabbed the heart fabric as I had more of it. Ada later wore them with the Dreamy Drape top I sewed her back in week three that used the same fabric and they were so adorable paired together. I absolutely love how great the leggings fit and absolutely adored that I was able to measure the rise from their belly buttons down to make sure they went up higher than store bought pants. Challenge rejected because there was no teal on the fabric.
Week 36 – September 2nd to September 8th
Sew a Zipper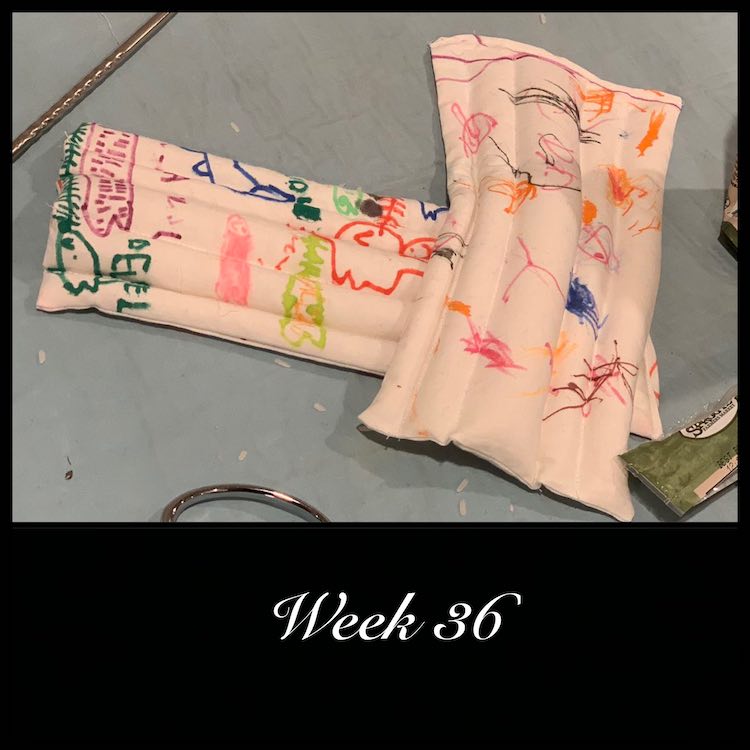 Challenge rejected as I chose to surprise my kids with rice packs instead of sewing something with a zipper this week. I chose to use the same pattern as week seventeen, the free DIY Lavender Eye Pillow through Joybilee Farm, and wanted them to design it themselves. To carry this off I cut out the pattern piece using white woven fabric and then after reminding them about the seam allowance they colored it with fabric markers… and had no idea what it would be when done. After they finished and had later gone to bed I set the ink, sewed up the heat packs, filled them with jasmine rice, and sewed them closed. I ended up surprising them by waiting until they were about to go to bed the next day, heating them up, getting the kids to close their eyes, and placing the warmed heat packs in their laps. Before this they'd been using a hot water bottle so now they could take the warmed rice pack to their beds with them instead of coming out for them.
Week 37 – September 9th to September 15th
Sew a Men's Pattern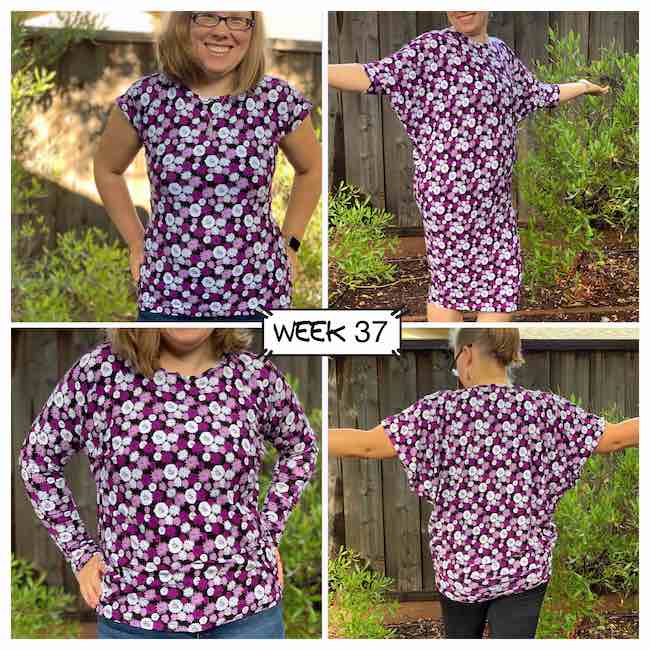 I was pattern testing the new ladies Dynamite shirt and dress pattern from Ragamuffin Patterns and was too busy to fit in sewing up a man's pattern too so I rejected the challenge again this week. I did end up sewing three versions of the top using the same fabric to better compare the styles. You can read more about it in it's blog post.
Week 38 – September 16th to September 22nd
Sew Something With Pleats Or Gathers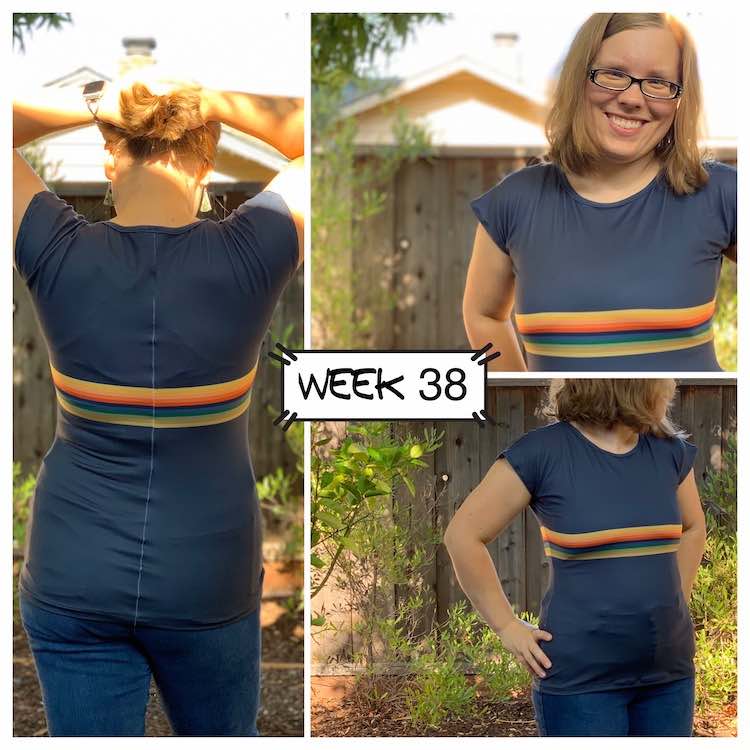 Rejected the challenge once again to finally cut into my custom Doctor Who fabric, that I'd been saving to sew up, to create another Dynamite shirt before the pattern was released. Like last week you can read more about it here.
Week 39 – September 23rd to September 29th
Sew Something Pink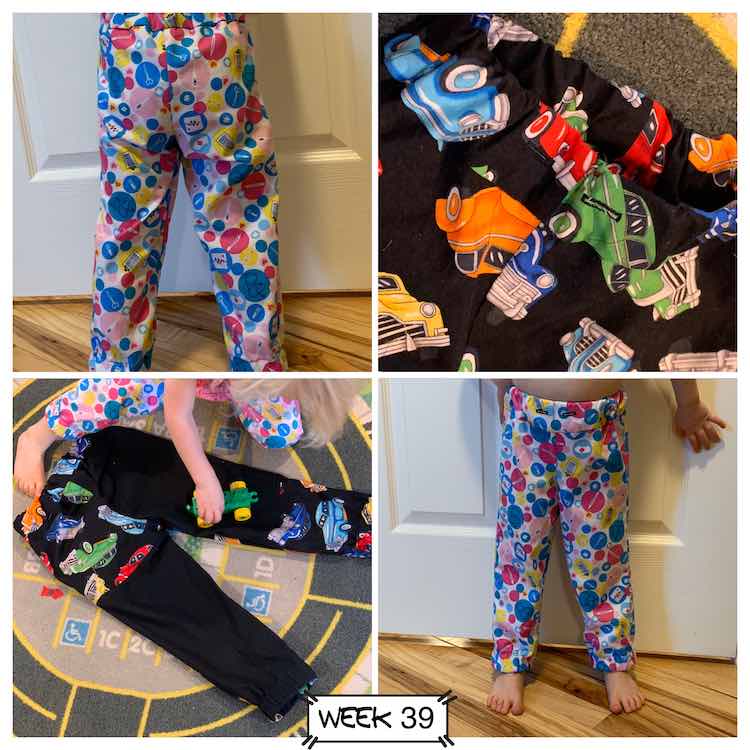 I sewed up two patterns that weren't released yet this week with one of them being the Rebecca Page Children's Celine Trousers. The one pair of pants had pink on it so the challenge got to be accepted once again.
Third Quarter Ends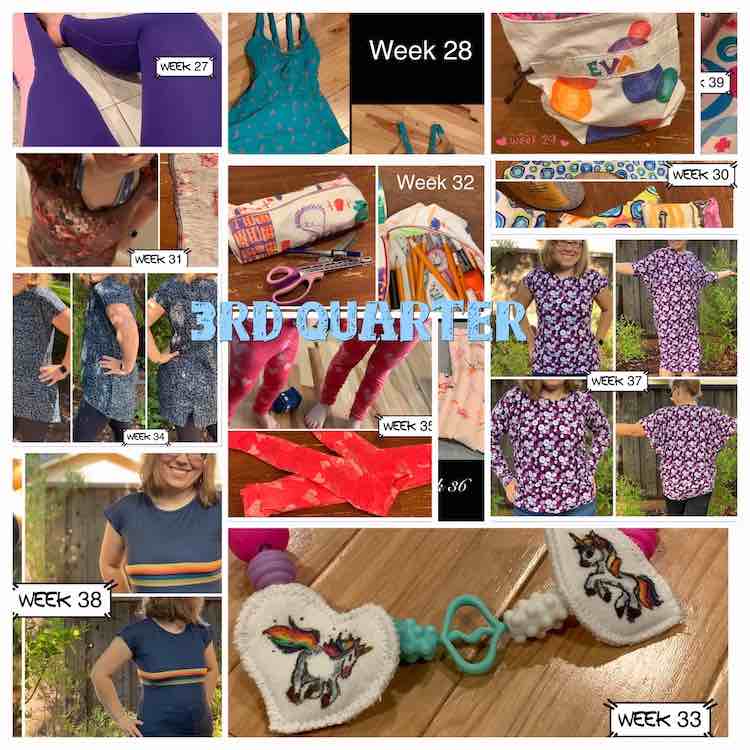 Fourth Quarter
Week 40 – September 30th to October 6th
Sew a Costume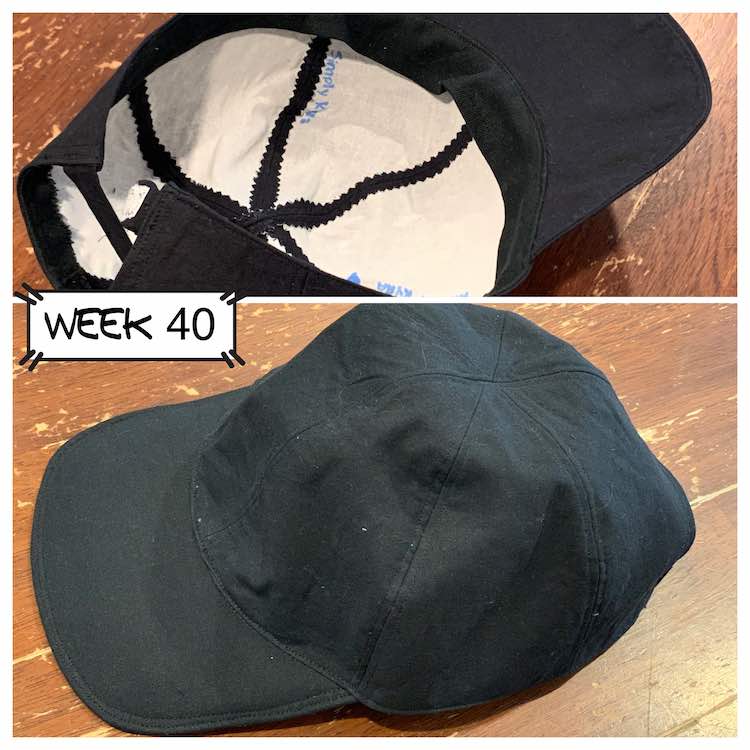 I hadn't started my Halloween costumes yet but my husband lost his baseball cap so I asked around in the PDF Patterns Sewing and Promotions Facebook group and ended up buying the Phat Quarters Colorado Cap & Visor. I used a milk jug for the brim and it ended up a bit crooked but otherwise I'm happy with my first, and so far only, attempt. I was currently sewing up dinosaur Firecracker dresses for the girls and prepping my kids' Halloween costumes so overall it was a very sew-y week.
Week 41 – October 7th to October 13th
Second Chance Week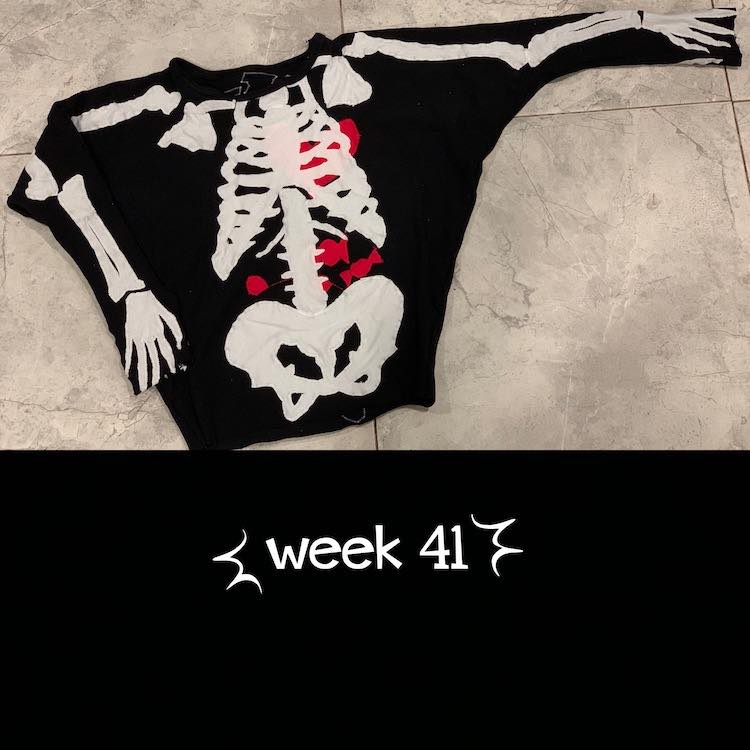 This year they started a second chance week and some people were taking older outfits they'd sewn and redoing them into something they liked more. I loved that idea; however, I had to get started on the kids Halloween costumes as I was afraid I'd run out of time so challenge rejected. I cut and sewed white knit skeleton bones onto my black pre-cut pattern pieces before sewing them up to make a skeleton top for my five year old. I couldn't resist using some red woven fabric to add a heart in her chest and some candy in her stomach.
Week 42 – October 14th to October 20th
Sew Something With Snaps Or Grommets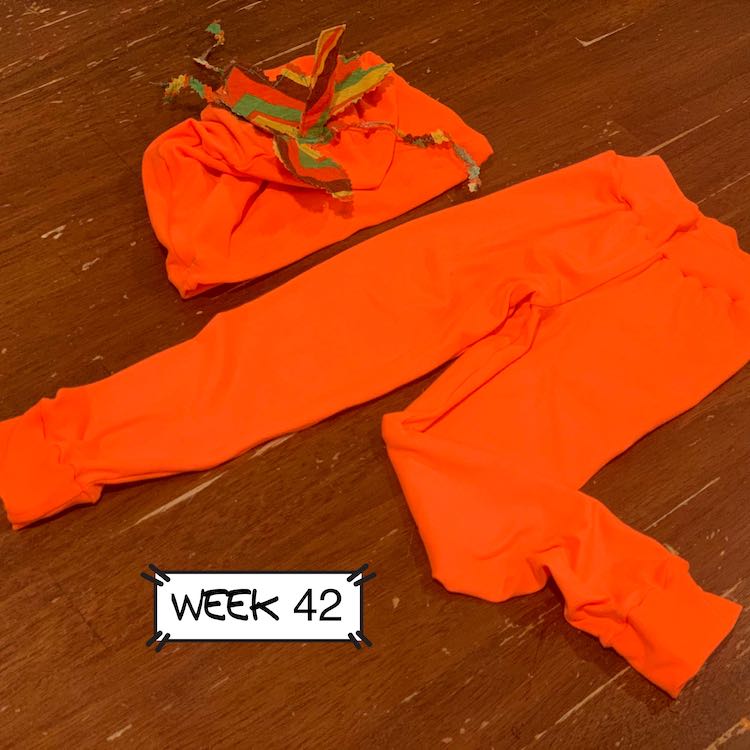 Challenge rejected as I wasn't sewing anything that needed a grommet or snap right now. I did sew up a pair of orange leggings, through Apostrophe Patterns, and an orange beanie, the Brighton Beanie through Peek-A-Boo Pattern Shop, for my daughters pumpkin costume. I used scrap woven fabric from last Halloween to add some leaves and a stalk to the top of the pumpkin beanie.
Week 43 – October 21st to October 27th
Sew Something For The Home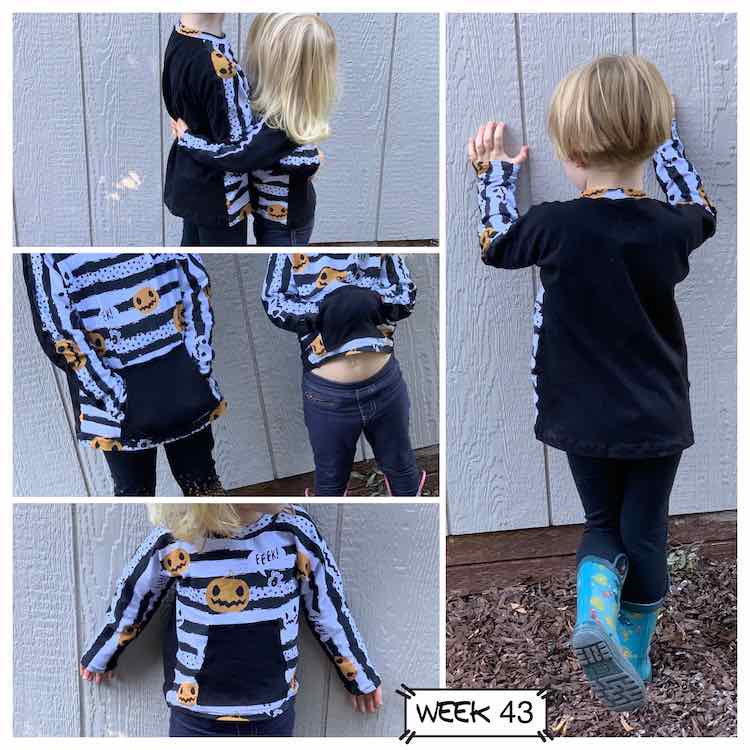 When I saw this week's challenge I wanted to make Christmas tree ornaments but I realized I had to order some more supplies and once it arrived I didn't have enough time to work on it. In the meantime though I had worked on a couple tests including the Kaboom hoodie through Ragamuffin Patterns, pictured above, and the Men's Toronto Tee through Rebecca Page. I chose to reject the challenge and submit the kids' Kaboom tops instead.
Week 44 – October 28th to November 3rd
Sew Something From An International Pattern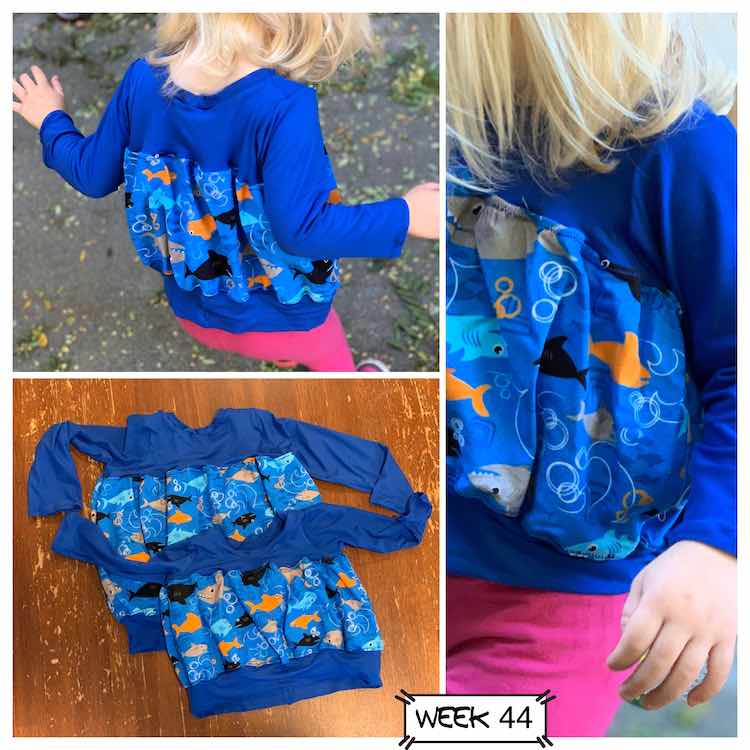 I had these Tulip tops from Ellie and Mac cut out and waiting to be sewn for the last month or so and figured I had to sew them up before they grew out of them so even though I've sewn international patterns before I had to reject this challenge.
Week 45 – November 4th to November 10th
Sew An Undergarment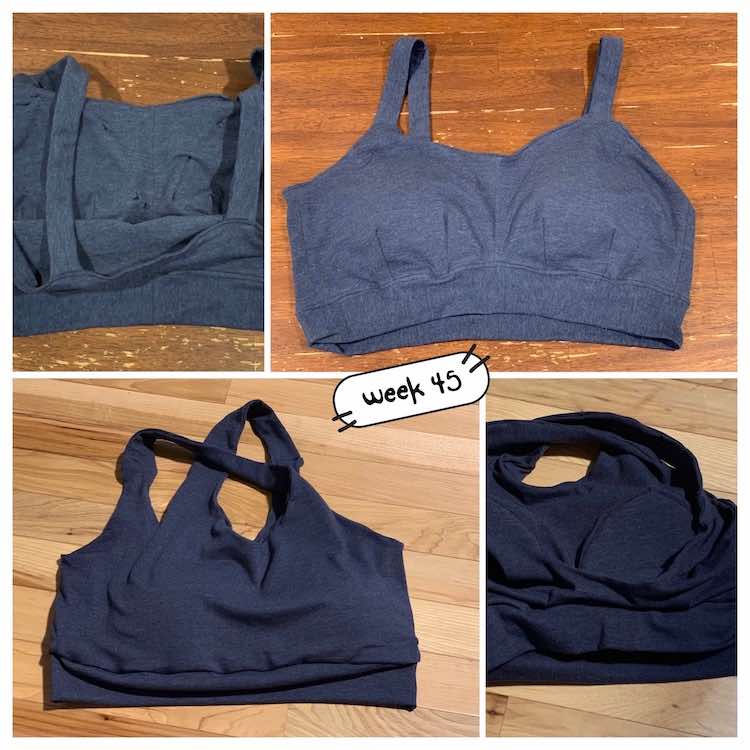 Challenge accepted! I've been meaning to sew up another Stitch Upon A Time Brazi (bottom images) and am so glad this challenge came around so I couldn't put it off again. I finished the Brazi midweek so I used the challenge as an excuse to finally try the George and Ginger Lovesick Bra (free through their Facebook group) I'd also been putting off for awhile.
Week 46 – November 11th to November 17th
Sew Something From Your Scrap Bin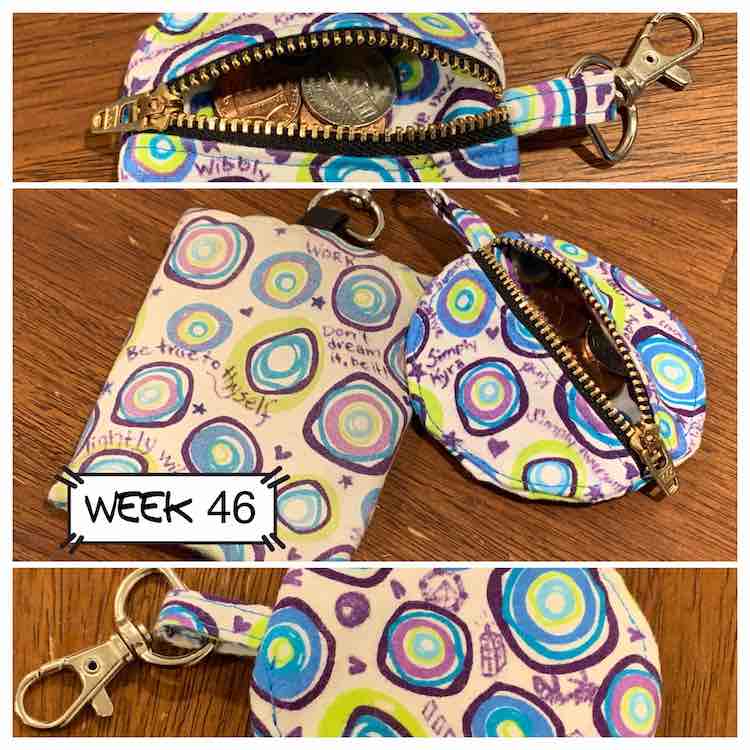 Challenge accepted again! I wanted to test out the new Zip Ornament through Rebecca Page and I knew the small size would be perfect for a change purse on my keys. I'd made a wallet for my cards and had been looking for a change purse idea for a while so I knew immediately when I saw it that I wanted to make it match. Luckily I still had more of the same fabric and I doodled with a purple fabric marker to make it match more. I used a key chain hook to make it simple to attach to my keys so I could easily remove or attach it based on where I'm going and my pocket size. The wallet was sewn in the last week of last year's challenge "sew a gift for yourself".
Week 47 – November 18th to November 24th
Sew a Holiday Outfit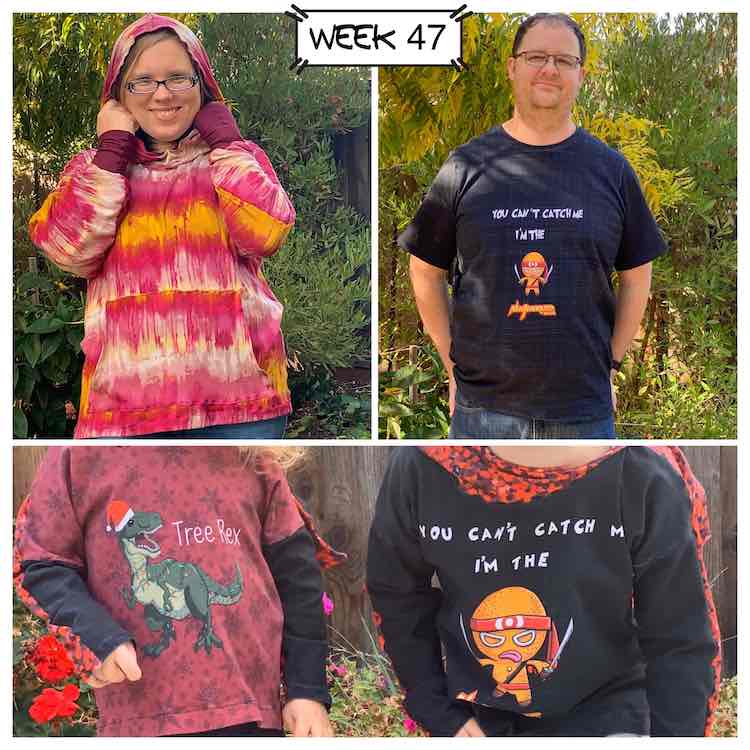 Challenge accepted as I made holiday outfits for my daughters and husband along with a sweater that I decided to call holiday-ish based on when I made it. Both mine and my daughters' hoodies are the Kaboom Hoodies through Little Ragamuffin Patterns which I've posted about previously. My husband didn't need a hoodie and I had already sewn up a Toronto Tee (Rebecca Page) for him before so I altered his pattern pieces for a more custom fit to make him his holiday top. I bought the Christmas fabric through Whimsy Baby Customs on preorder and mistakenly only bought one Tree Rex. I wasn't able to get another one, but luckily I had ordered a child size of the Ninjabread man for myself so Ada was easily convinced to match daddy so Zoey got to keep the Tree Rex for herself.
Week 48 – November 25th to December 1st
Sew a Gift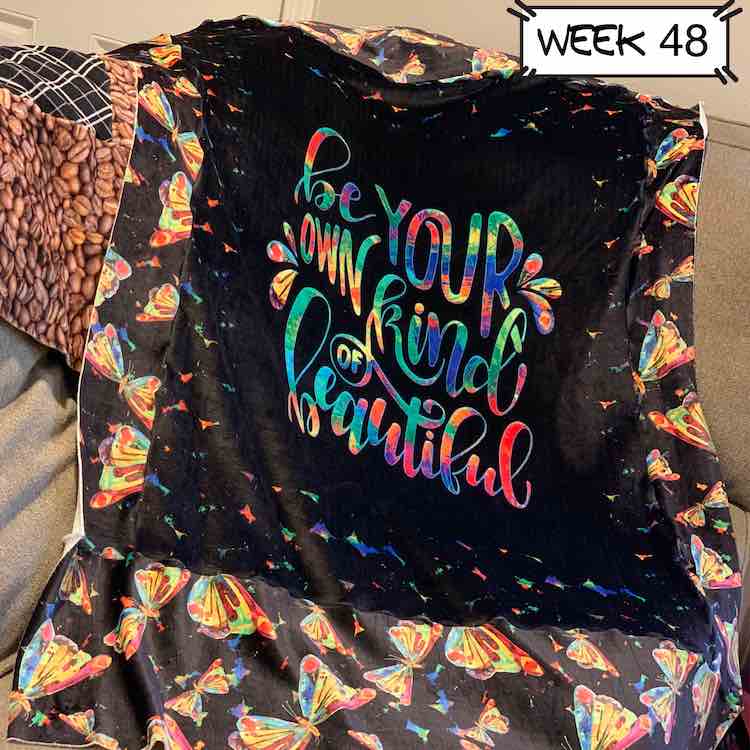 During the last sale through Fabriculous I suddenly realized a throw blanket would be perfect for my nanny (grandma) for Christmas. I chose a gorgeous butterfly toddler topper and ordered it right away. This week, using the same hack I used for my coffee blanket, the toddler topper was made into a throw.
Week 49 – December 2nd to December 8th
1 Hour Or Less Project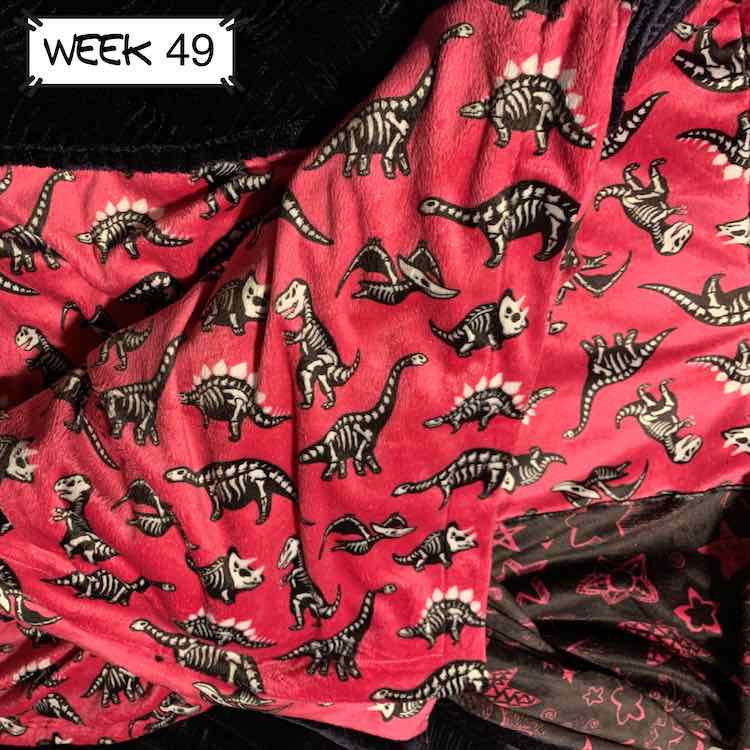 My girls have been using crocheted blankets my friend made them when they were babies for their blankets. The blankets are gorgeous but Ada's been getting a bit too big for hers for a bit so I've been meaning to buy or make them a new one. A couple weeks ago I came across a sale through Moon Beam Textile Company and this week I finally sewed it together and attached it to a Costco throw so both girls could get a warm blanket for Christmas. I thought I'd be able to accept this week's challenge but as I sewed I swiftly realized that I'd have to reject it as it was taking much longer than I'd planned.
Week 50 – December 9th to December 15th
Sew Something From a Newly Purchased Pattern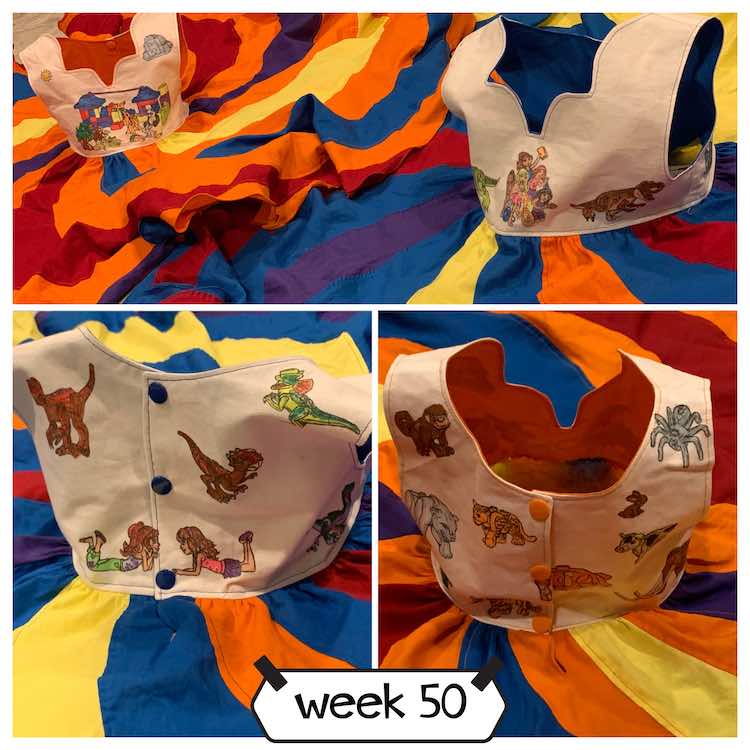 I'm proudly rejecting this challenge to submit the peppermint swirl dresses I made for my girls. This is the third time (fifth and sixth individual dresses) I've made with this pattern over the last two years so there's no way I could count this pattern as new. I love how I was able to ask my kids what their favorite LEGO® was and I could make it happen. Ada chose LEGO® Friends and dinosaurs while Zoey surprised me by telling me she liked animals so we hunted down LEGO® animals together without talking about why I needed these (I love this age). I posted about the peppermint swirl back when I sewed my first one up if you're interested in reading more. The LEGO® characters were coloring pages traced onto white pre-cut bodice pieces which I also did at the beginning of this year for our previous LEGOLAND® trip if you want more information.
Week 51 – December 16th to December 22nd
Sew Something for Yourself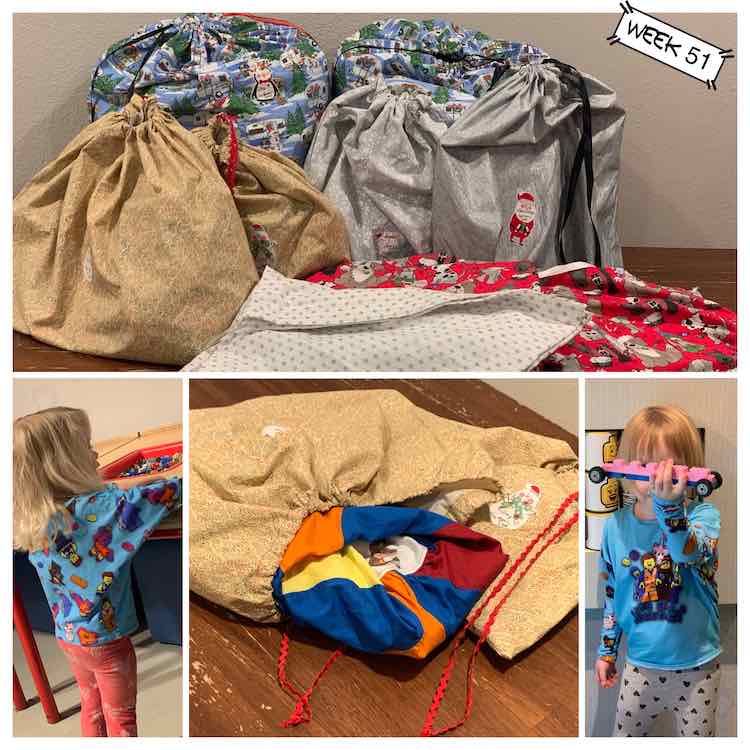 With Christmas approaching I decided to sew up several fabric gift bags which I had been debating making for a bit. I used leftover Christmas fabric from presents I had made along with Christmas themed remnants I found at Joann's. This ended up being kind of like sewing for me since the kids gifts were so quick to wrap once I finished making them so challenge accepted. I ended up using the one set of bags on the girls about three or four times so it really simplified wrapping already this year and I get to use them for future Christmases too. As the end of the week and our LEGOLAND® trip approached I realized that Ada had grown out of her LEGO® shirts from earlier this year, and I didn't want to throw the surprise by having Zoey try hers on, so I quickly whipped up two replacement tops for the girls using fabric I bought through retail at Geek Garden Fabrics and the shirt length firecracker dolman that I already had printed and cut out from a month or two ago. I love the tops and had to redo the image I submitted to Facebook to show them in this blog post.
Week 52 – December 23rd to December 29th
Sew Something With Batting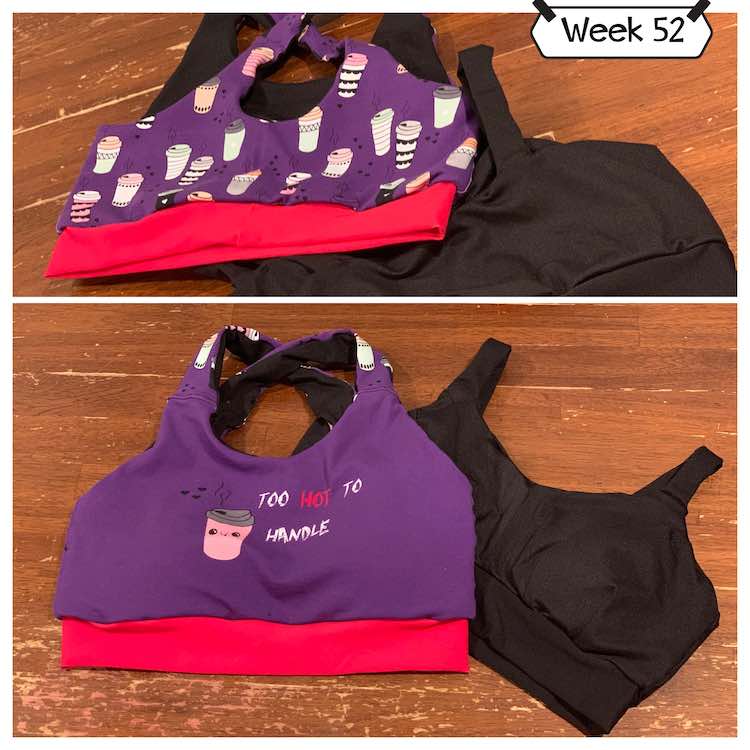 I had cut out two different bras about a month before Christmas and got as far as adding bra cups to them before setting them aside to work on Christmas presents. I found myself mid-week debating what to sew to finish up the challenge before remembering these. I love how I started and ended the 2019 sewing challenge making bras. I can't remember where I got the black fabric from but the other fabric is an adult underwear rapport I bought from Whimsy Baby Customs and the bras are the Stitch Upon A Time Brazi and George & Ginger Lovesick Bralet. Last year I also took an underwear panel and used it on the Brazi if you're interested in doing the same.
Fourth Quarter Ends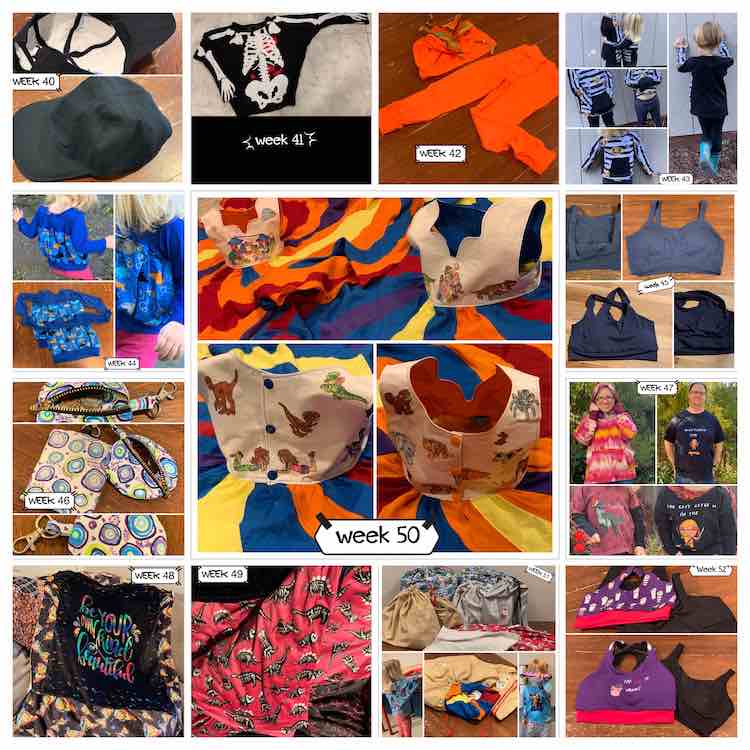 And the fourth quarter bites the dust! I love how this challenge helped to push me to sew consistently and I can't believe that I sewed something (or more) each week this year. I didn't even have to makeup a week this year! If you're looking for a push to learn more I highly recommend joining the sewing challenge for 2020. Even if you don't want to sew every week it still gives you a group of people to learn with, ask for recommendations, and find other sewing groups and fabric sources. I'm so glad I came across the group for 2018 and kept with it during 2019.
This week I'm going to attempt to put my sewing space in order because it absolutely needs it and that's the first week of the 2020 52 Weeks Sewing Challenge. I also want to tackle more sews especially as I have two tops cut out from before the Christmas sews started that I really want to try. After that for the rest of 2020 challenge I'm not sure what will happen but I'll take it a week at a time for now and listen if I need to change my personal challenge later in the year.
I hope you had a great 2019 whether you sewed yourself, accomplished a different challenge, or started planning what you want for next year. I hope your 2020 is amazing for you. Feel free to share your goals in the comments below, on my Facebook page, or through Instagram. I hope you have a great year!