The Year of Our Small and Simple Birthday Parties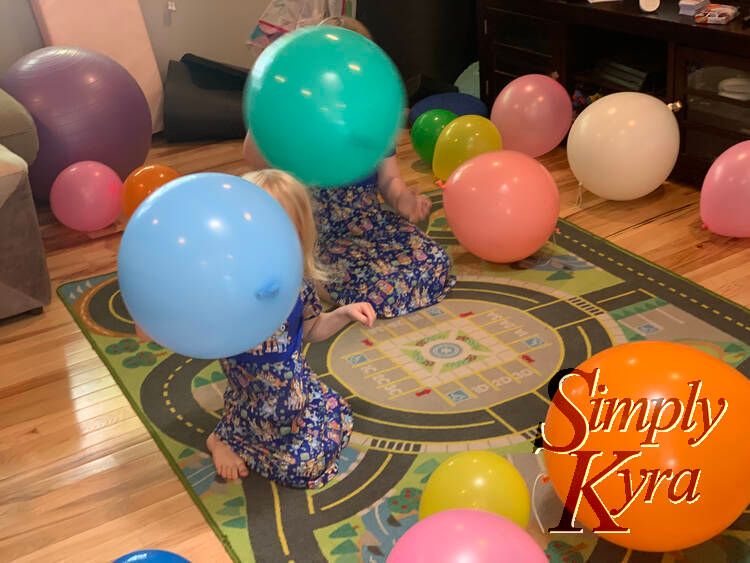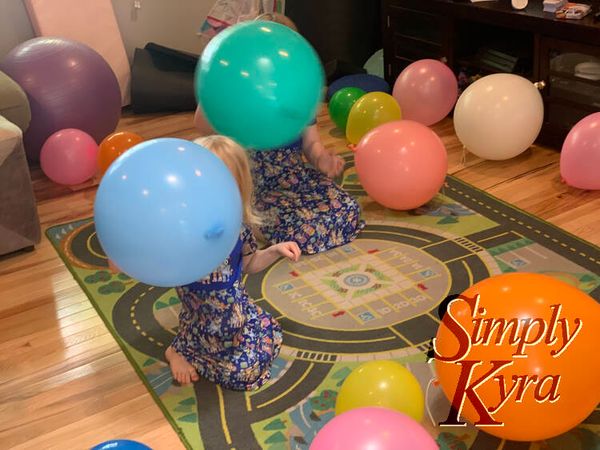 After the virtual parties of 2020 we decided we needed to have an actual party for the girls last summer. With Covid; however, we didn't feel comfortable with crowds so we decided to keep it within our bubble so we didn't need to worry as much. This meant the guest list was small so we were able to justify spending a bit more on the treat bags while also choosing to keep it simple and easy so the adults could have a chance to visit while the kids were having fun. The parties turned out great; however, as there wasn't something drastically unique about them I put off posting about it. Lately I decided I still wanted to share and thus combined both girls' party into one post with links included to our previous parties.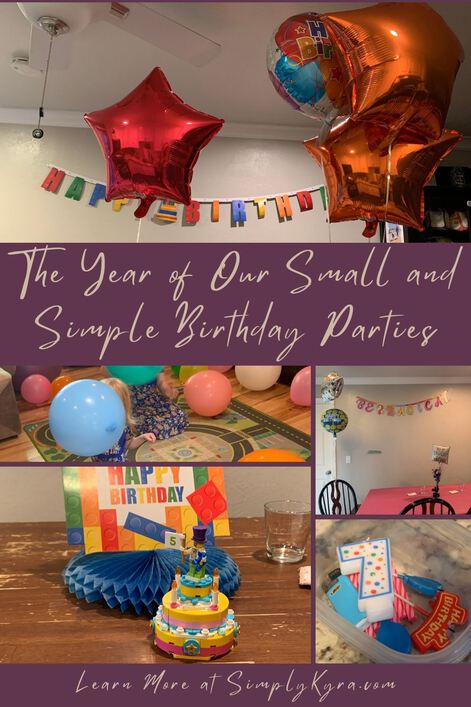 ---
Before posting the girls' parties I wanted to share what we did previous years in case it helps you out so:
And so without any further ado here's what I did for their birthday in 2021!
---
Decorations
Like in previous years the month of the girls' birthday had their painted Happy Birthday canvas hung outside so they can see it whenever they came home. In addition, the day of their birthday or party, whichever comes first, I try to surprise them with helium balloons and decorations put up above the table. This year I used our LEGO® themed banner, from the previous years, for Zoey while for Ada I found the perfect unicorn banner at the Dollar Tree when getting the balloons. Both worked perfectly with their current interests.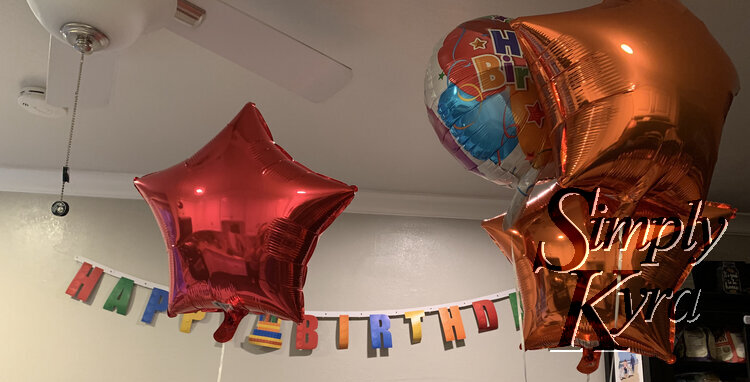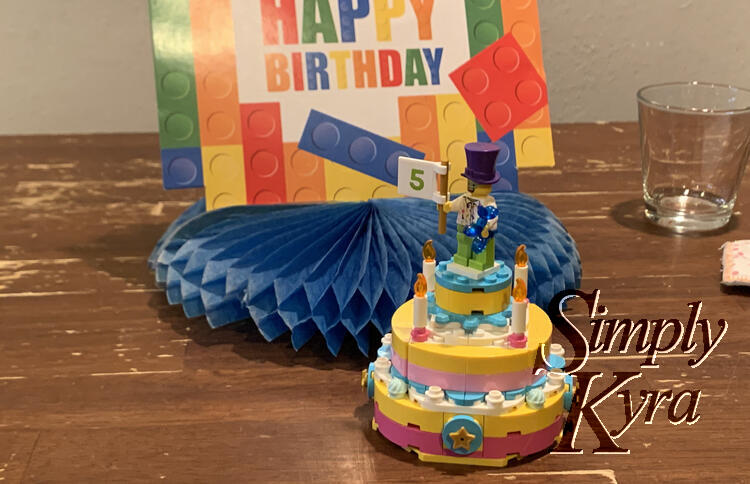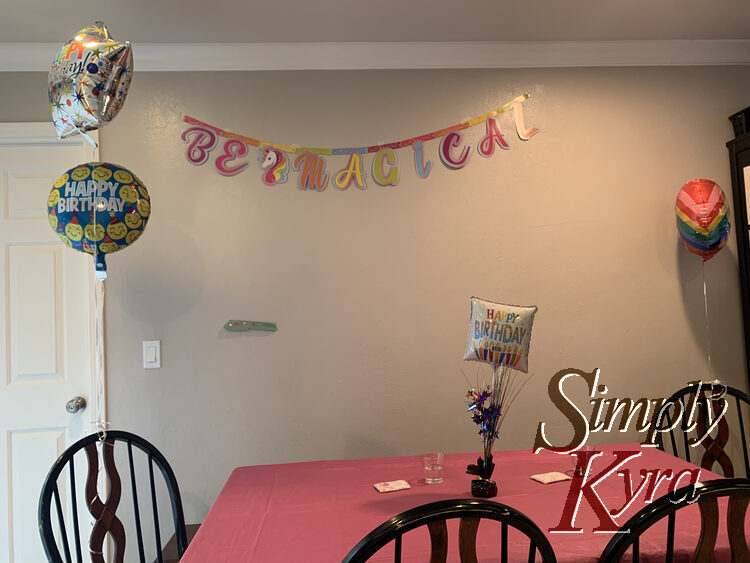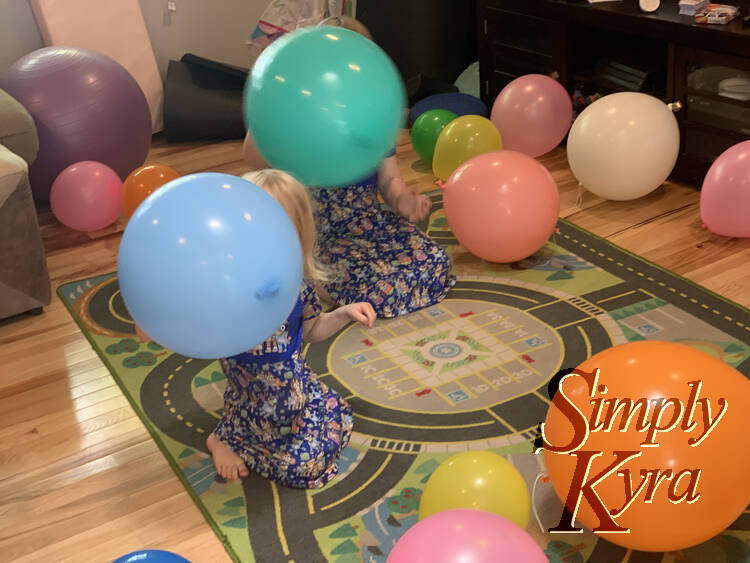 ---
Dance Party
Given that this is both a decoration and activity I gave it its own section. Anyway, the girls' friends have dance parties at their home where they pull out a really cool strobing light which my girls love. They wanted the same activity for their party and so their grandma bought them a strobe light.
Zoey and Ada has been loving the orange crepe paper leftover from Zoey's party the year before so they started decorating their bedroom orange a month early. That lead to the idea to hang crepe streamers from the roof so I made sure to buy more orange ahead of Zoey's party so Matt could make it happen! We repeated the idea for Ada's party but this time used pink and purple streamers to go with her theme. I can't remember if I shopped at the local Dollar Tree or Walmart but the pink streamers came in a pack of two in the baby shower section while the purple and orange rolls came individually wrapped with the rest of the birthday party stuff.
Leading up to their party I also sat down with the birthday girl and we created an epic playlist of their favorite music. It was cute as they got to pick their favorite songs, I took a photo of them for the cover on my phone, and they heard me say the description out loud as I typed it up. We still have the playlists on my account although we've played them less and less as time went on. In total Zoey's playlist consisted of 136 songs that lasted 4 hours while Ada's was 128 songs that lasted 4 hours and 13 minutes so there wasn't really an opportunity for repeated songs. In case you're looking for fun song ideas these mainly included The Kiboomers, Parry Gripp, Raffi, The Laurie Berkner Band, KIDZ BOP Kids, Peter and Evynne Hollens, and some soundtracks from the Disney movies, My Little Pony, and Gabby's Dollhouse. For the Happy Birthday song itself I grabbed some from Mickey Mouse and Thomas & Friends in addition to searching for songs using different spelling variations of their names. For Zoey we found an album by White Cats Music labeled Happy Birthday Zoe that was just different versions of the same song. Ada didn't have as much selection but the Birthday Songs musical group in the app did have one for her.
Matt decked out the ceiling of their bedroom the morning of either party and found it much faster the second time around after he developed a system. The system was basically cutting and attaching tape to a whole batch of crepe strips before getting on the chair and sticking them to the ceiling. Right before the party I turned on the playlist with shuffle and repeat all turned on, turned off the ceiling light, turned on the strobe, and left it all going the whole entire time. The kids then had the choice of going in and out depending what they felt like.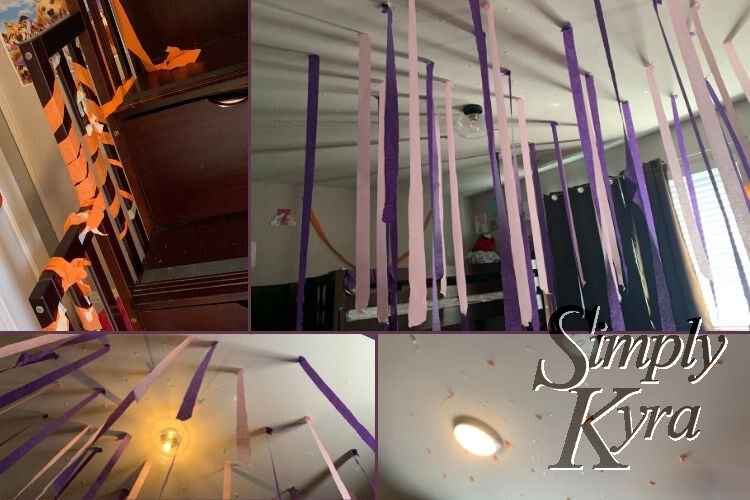 ---
Activities
In addition to the epic dance party going on in the bedroom I tried to set up stations outside and in the living room so the girls and party guests could switch back and forth based on how they felt. Inside I kept it simple so the adults could easily chat and just pulled out their bins of vehicles, dinosaurs, and other similar toys. I kept the rest of the activities outside.
Before Zoey's party I bought a small plastic drink dispenser from the Dollar Tree that I marked up with my black oil-based sharpie pen and filled with bubble mixture. I laid it on a small table beside plastic cups for bubble mix, random bubble wands to dip in the cups, and some other bubble-y items. The girls had a blast with this and I made sure to refill it for Ada's party. That said, if you have a party of younger kids and want something more spill proof I did once tape the bubble wands to our deck so the kids could use them but not spill the mixture as easily. Just a heads up before doing it… first think of how you'd refill it and protect it from rain if you're leaving it up long-term. I once came out to see them full of rain water and over time had difficulties pouring more bubble mix in them. Eventually the kids got tired of it and I pulled them all down.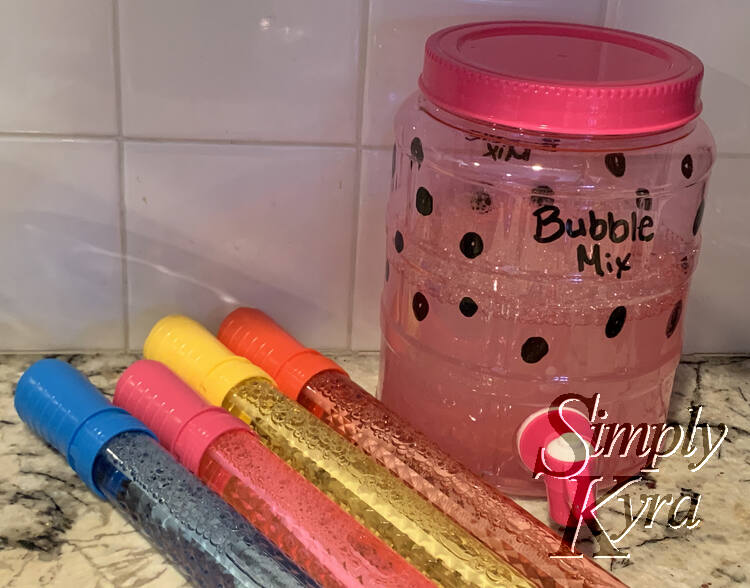 Also we used what we had, including a Jungle Jumparoo that we bought at peak Covid when we wanted the kids move more. Near to it I laid out hula hoops, jump ropes and other movement based fun items and decided to call it the jump zone or at least something similar.
I also considered pulling out my trusty dyed ice for Zoey's party but when the day rolled around it wasn't quite as hot as I had thought it would be and they were left in the freezer for the kids to play with at a later time. I've used these silicon molds in the past to make crayons, frozen oobleck, color mixing oobleck, and these simple ice shapes. I've also used washed out plastic containers to freeze toys in ice so there are many different ways you can cool the kids down if having a summer party.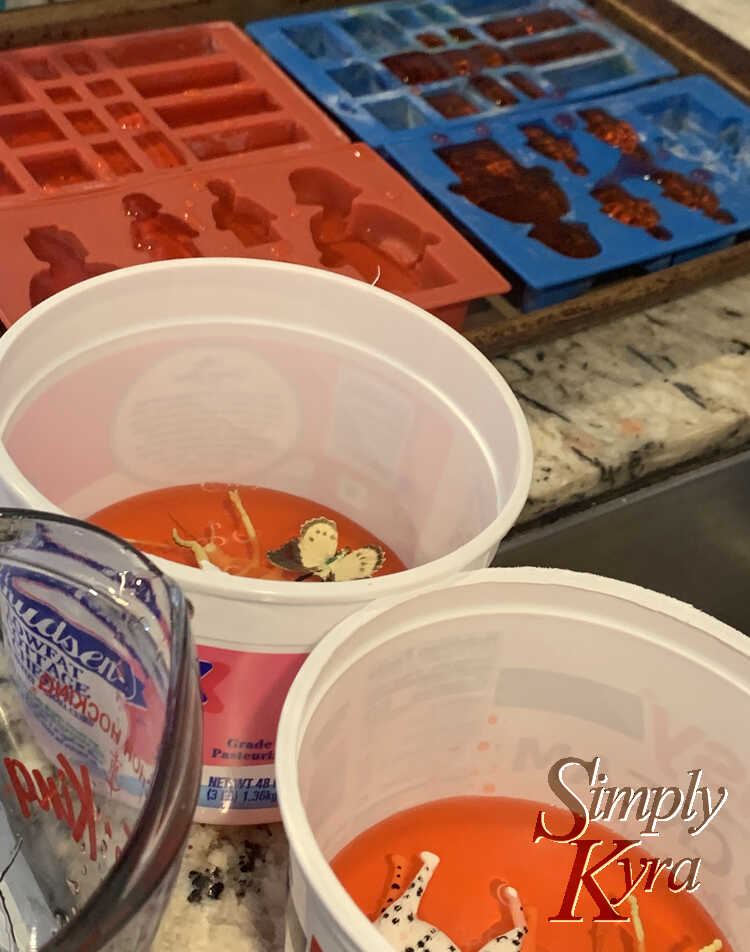 Sometime between the two girls' birthdays I came across a video on Instagram from Maggie Tompkins (@JetPlaneMommy) where she showed cookies with an outline that the kids could decorate themselves. I immediately had big plans to purchase the cookie cutters, from Cut It Out Cutters, to make my own that the kids could then decorate, as their birthday party activity, and then either eat it instead of a birthday cupcake or bring it home in their treat bag. After emailing the owner of Cut It Out Cutters I ultimately decided to keep the party simple and skipped this although the owner did message back right away. That said, although we didn't end up doing this I had spent some time debating whether I should so I decided to include it here in case it helps you and to also remind me about it in case I choose to use it for a future birthday party idea.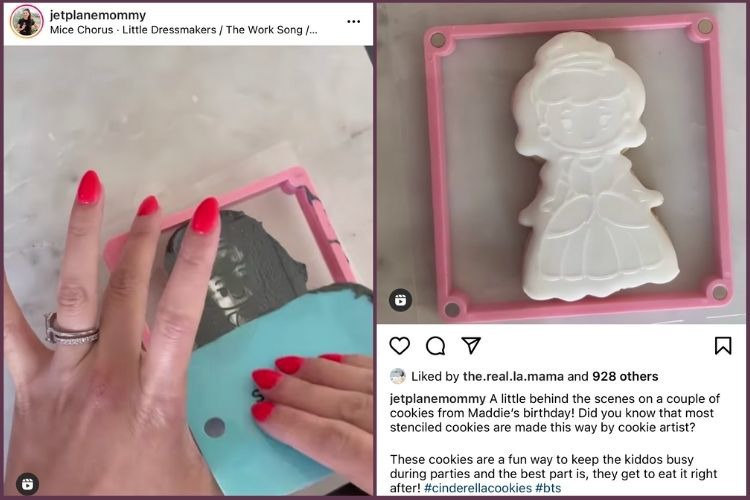 ---
Food
Before their birthday I made sheet pan pancakes and froze the leftovers. This meant the morning of the party I could easily spread Nutella on top of a frozen pancake, microwave them on a plate, and quickly dish them out with sprinkles to make an epic birthday breakfast with hardly any more trouble on my part. The kids loved it!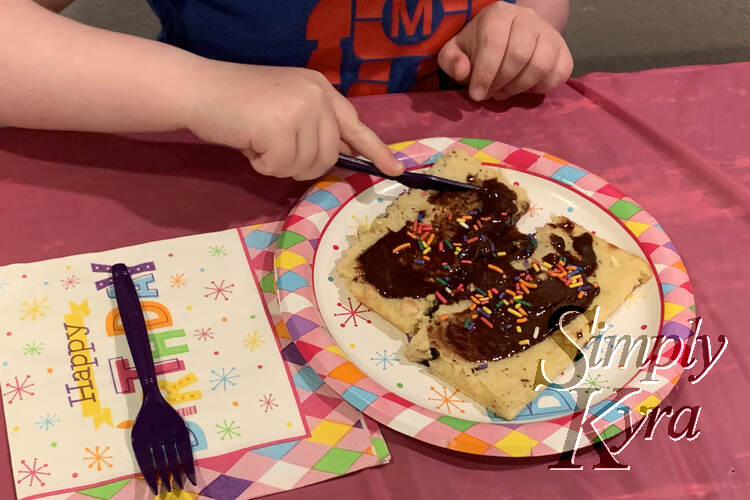 For the party itself I kept it small and wanted more time for the adults to visit so I decided to keep the food simple to optimize our time. I can't remember exactly what we had for the main meal but based on my notes from then it was something like easy to order pizza, salad, snack food, pre-cut fruits and veggies, juice boxes for the kids, and maybe homemade tzatziki for the veggies and pretzels. Basically, things that would be easy to make in advance, dish ahead of time, or order through an app. I vaguely remember barbecued sausages and weiners for hot dogs but I can't remember if that was for both parties or if we ordered pizza for one of them instead.
---
Dessert
I've realized in the last couple years that I've always made cupcakes for the girls birthdays as it's simpler to dish and hand out in a rush along with being cleaner as the girls can just blow on their own cupcake. I figured this year was no different and went with cupcakes yet again.
Zoey had an orange LEGO® theme yet when I asked what she wanted for her birthday cupcake she asserted that she needed strawberry cake with rainbow sprinkles on top. That made me remember the Jell-O cakes we had as a kid that were super simple to make so I made the Jell-O cake in a cupcake form using boxed white cake mix and strawberry Jell-O. To go with the theme we dyed whip cream orange and topped it with little candy LEGO® bricks I bought a previous year. I blogged about the cupcakes here.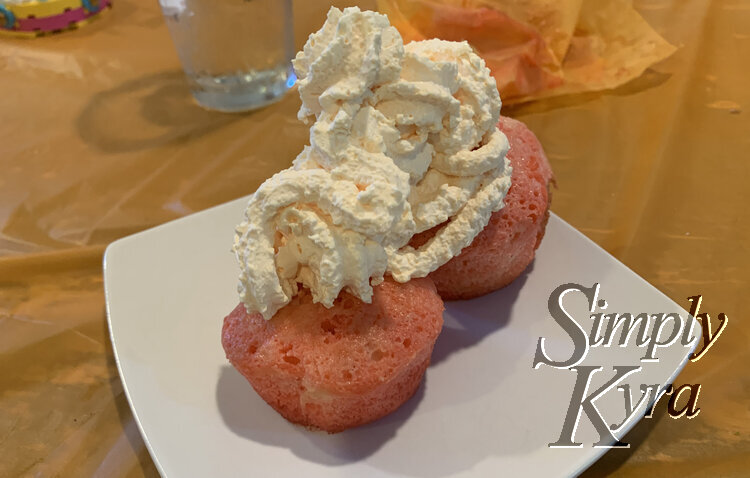 I didn't get any good photo of Ada's cupcakes but we made the brownies from the No Fuss Cookbook I had reviewed earlier in the year. Actually, we doubled the recipe and may have rushed it and overanalyzed it thus making it a bit more complicated than the previous time I made it. That said, it tasted incredible! We topped it with whip cream and sprinkles and everyone loved it! If you want a simpler brownie we have made the Ghirardelli box mix in the past and experimented by adding canned pineapple. I've blogged about the cake form and the experiment we did with the cupcakes in the past. Oh, also to go with Ada's unicorn theme, and because I wasn't sure with Covid if the party would go ahead, I found a shop on Etsy called MKCraftHouse that had adorable unicorn themed cupcake and cake toppers. I ordered both and almost completely forgot about them. The cupcake toppers were remembered just in time and the everyone loved them. The cake topper was to go on the wall above the table but I surprise Ada with it after the party and she to put above her bed instead.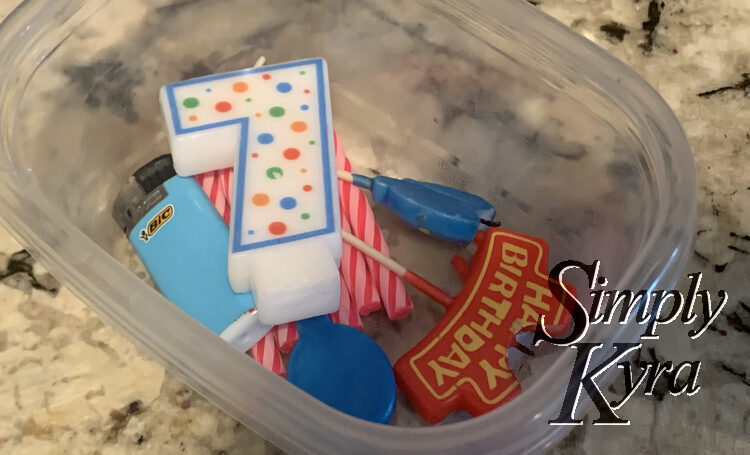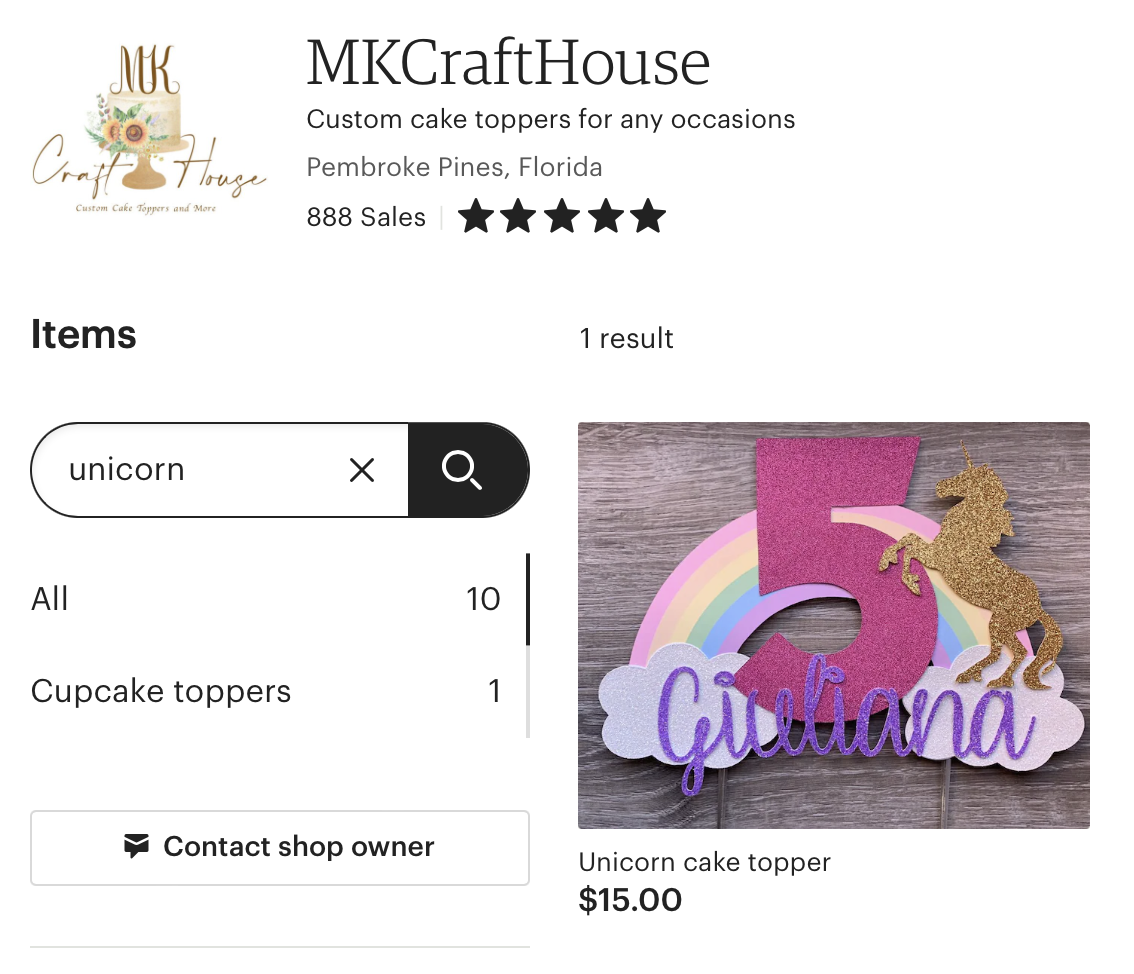 That said last year the girls were incredibly excited with the idea that they could have actual cakes on their birthday rather than just cupcakes. I didn't realize it was a big thing they were lacking. As such, this year, I knew I needed to give them a cake on their actual birthday so I went out and bought a simple Tuxedo cake for Zoey from Costco. She adored it!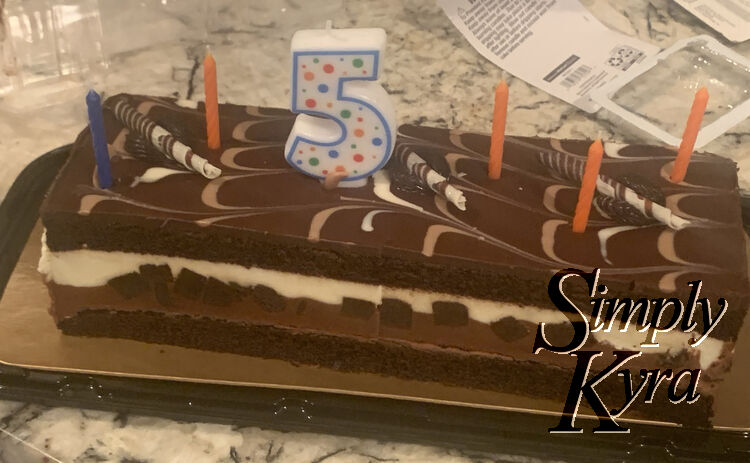 When Ada's birthday came along I wanted to surprise her with a cake too but when asked she didn't know what she wanted. I ended up going with the simple cheesecake, also from Costco, and then wondered if it might seem disappointing after Zoey's. I ended up making homemade caramel and chocolate sauce to drizzle overtop and she loved it! I posted about it here if you want more details.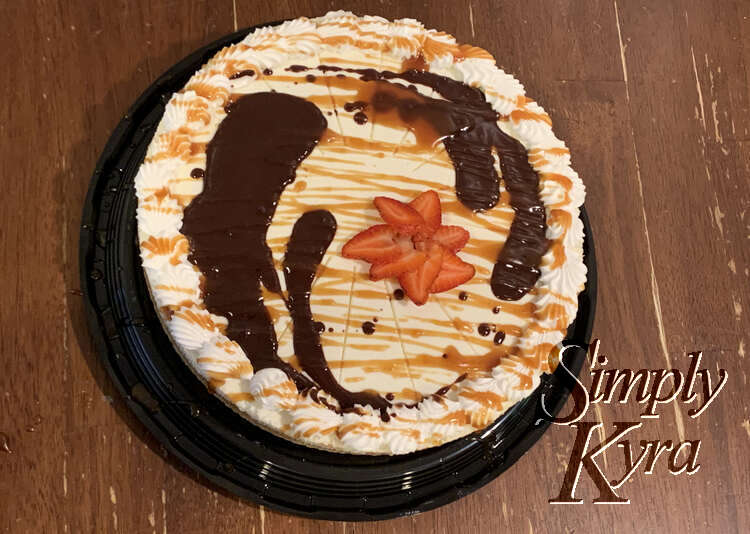 ---
Treat Bags
Each year I grab white paper bags, mark the names of the kids invited, and have the girls decorate the bags. We did the same this year but let the non-birthday girl draw on her own bag so they could decorate bags together.
With Zoey's party orange themed I gravitated to the idea of including some of my homemade playdough in the treat bags. I considered adding flavor extract to it and so asked Zoey what it should smell like… she wanted pumpkins yet we didn't have a pumpkin extract. After a quick search online and consulting Natural Beach Living for their recipe of Pumpkin Pie Playdough I decided to alter my current playdough recipe by adding pumpkin pie spice to the dry ingredients. With the playdough made I decided to take it on step further and shaped it into pumpkins before wrapping it up.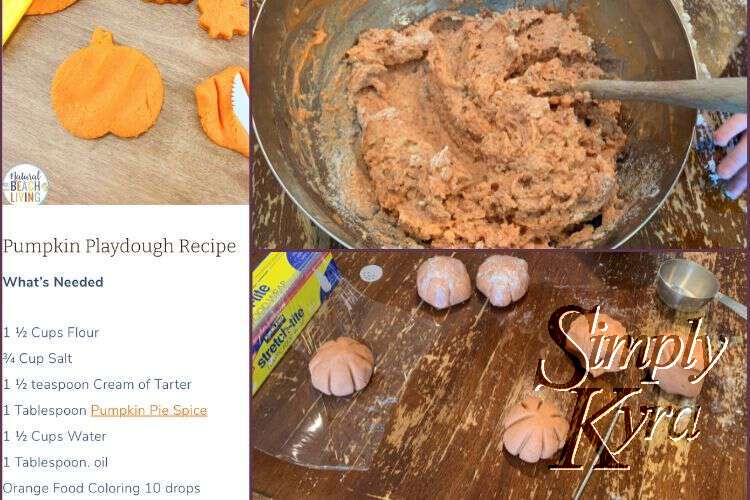 Before Zoey's party, when looking for birthday gift ideas, we found the LEGO® centerpiece, above, and a set of LEGO® cupcakes (#41926) that I figured would be perfect for her party. I didn't tell her we had them as leading up I debated whether I should use them as an activity during her party or save them for Ada's. With so few kids invited I finally decided to put them in the treat bag along with the pumpkin playdough making the bag's contents match her party's orange and LEGO® theme. When I opened the box of LEGO® I was pleased to find them all individually wrapped and all I needed to do was cut apart the directions and split up the stickers.
As Ada's party approached I hoped to find another party kit for her treat bags but could only find the cupcakes one. After talking to Matt we decided to keep her treat bag simple and purchased a small LEGO® kit (LEGO Friends Cubes or a Minecraft kit) for each guest. Ada had a blast picking out which kit should go to who when ordering and all the guests loved bringing it home to build. I'm so glad we went ahead with the LEGO® products.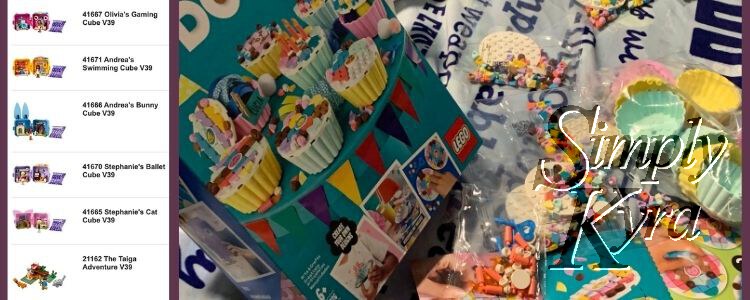 ---
And with that the girls parties were over. We kept it simple and had an absolute blast!
I hope you're having a great week and something in this post helped you out. Feel free to reach out!
---
If you're interested in getting any of my future blog updates I currently come out with a new one every Wednesday and share them to my Facebook page and Instagram account. You're also more than welcome to join my email list located right under the search bar or underneath this post.