Science Birthday Party Favor Bags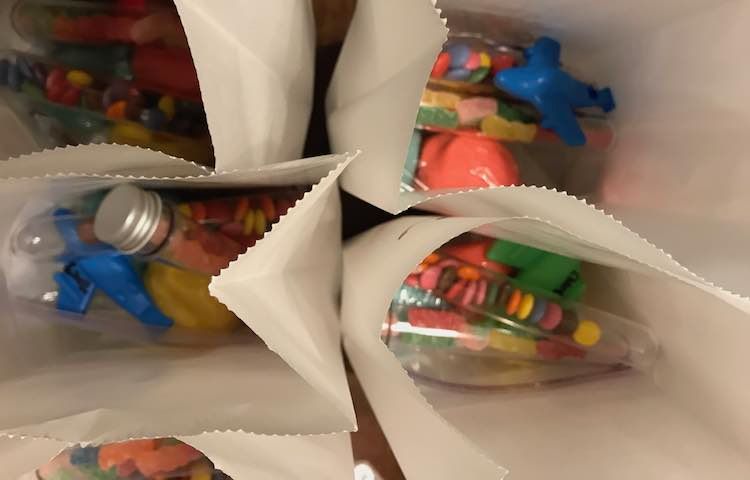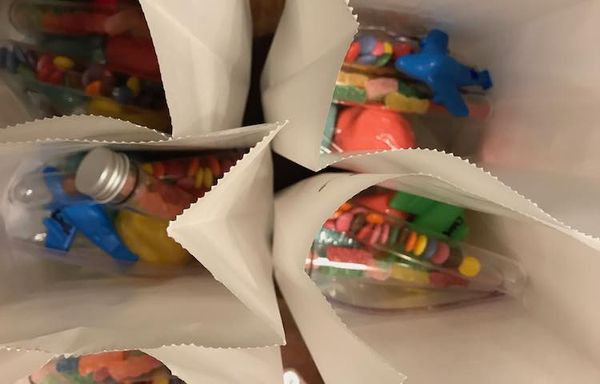 Ada's fourth birthday had a great science-theme going on and I wanted to extend that theme to her favor bags. I made this happen by purchasing plastic food-safe test tubes on Amazon to hold the treats while also including homemade playdough in the three primary colors for fun at-home color mixing.
---
I bought white paper bags to bring the treats home in so I had Ada decorate the bags ahead of time. I used a black Sharpie to mark each child's name on the bag and then Ada colored a bit and added stickers.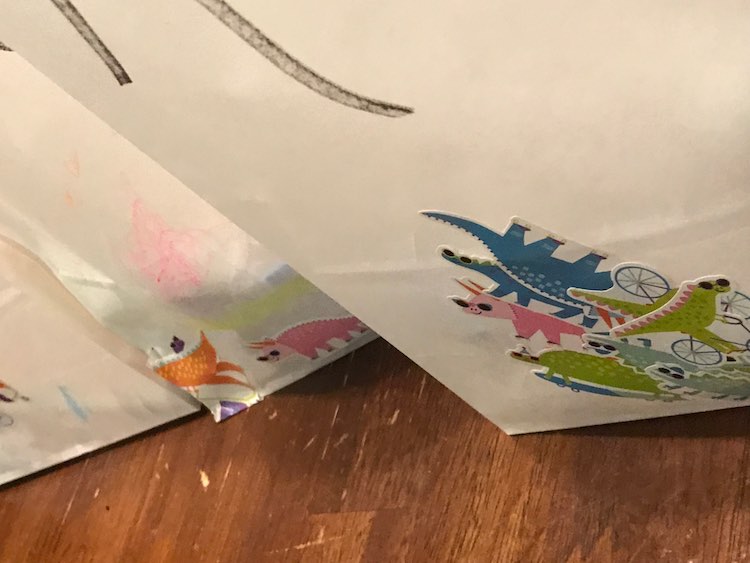 I bought some food-safe test tubes through AmazLab on Amazon that I washed and dried ahead of time. At the time of Ada's party she was loving sour candy and we had bought extra smarties when we visited Canada so the night before I filled a test tube up of sour bears and watermelons and then another of Smarties for each kid. Just make sure the candy is small enough to fit when you buy it. Later we had a slight bit of trouble removing Ada and Zoey's sour candy but it wasn't too bad.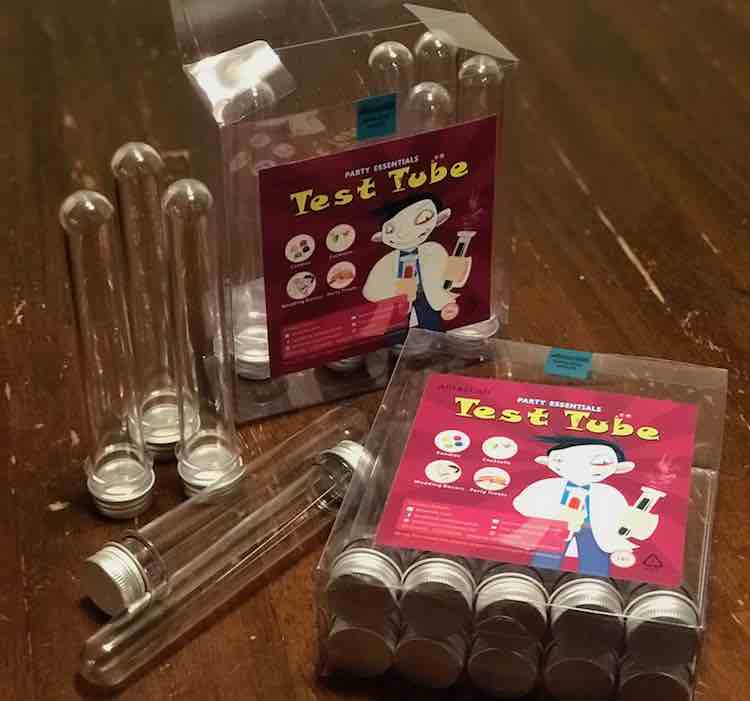 I had made a big batch of blue, red, and yellow playdough with the idea that later the kids could mix different colors if they wanted to and it would extend our science color-mixing theme from the party. During the party they had been able to mix colored vinegar and baking soda to make explosions and checked out frozen oobleck and attempted to mix colors there too so this was a natural extension. I had considered including playdough during the birthday party instead of in the bags but I didn't want to include too many activities to overwhelm. We had also included playdough at Zoey's birthday party (Dinosaur Footprints) and Ada had grown concerned when the top of the playdough hardened in the sun so moving the playdough the bags made sense. I had some leftover unused airplane whistles from Zoey's party that Ada loved so I also included those in the bags too.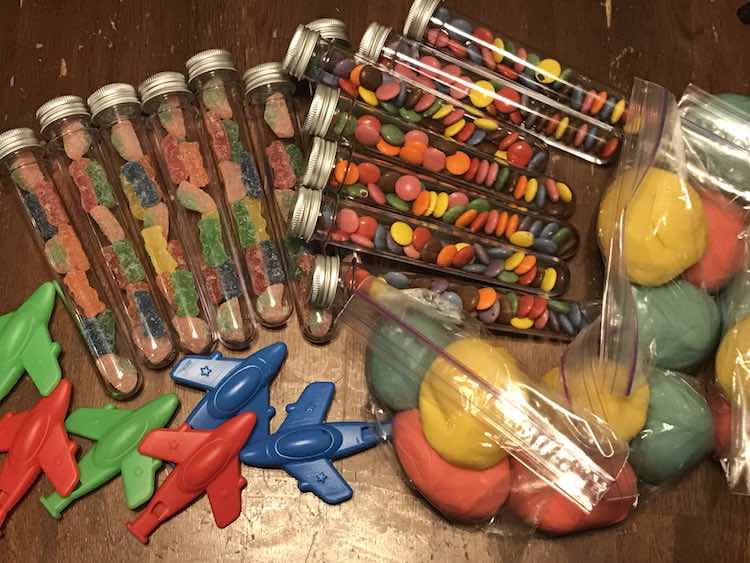 Ada knew about the playdough but not about the candy so I waited until after she went to bed to bag these up so they'd stay a surprise. I kept them visible during the party but still out of the kids' reach so I wouldn't forget to hand the bags out when it came time for everyone to leave at the end.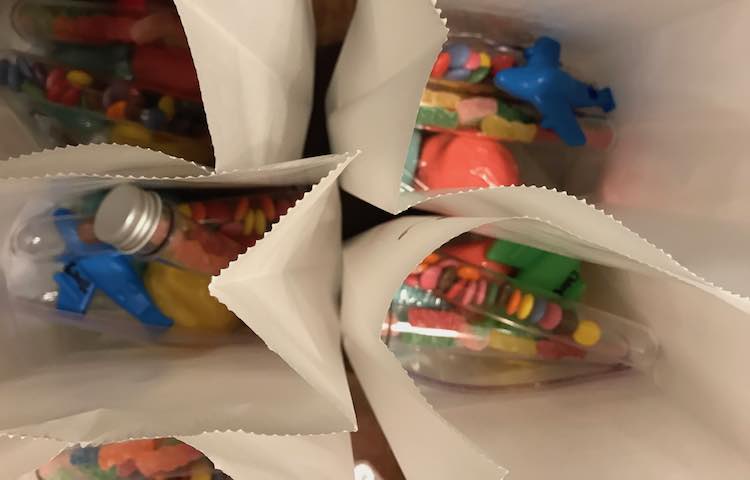 After the party was over and Zoey had quiet time I let the kids eat the goody part of the bag outside before playing with the leftover sensory activities still set up on the deck.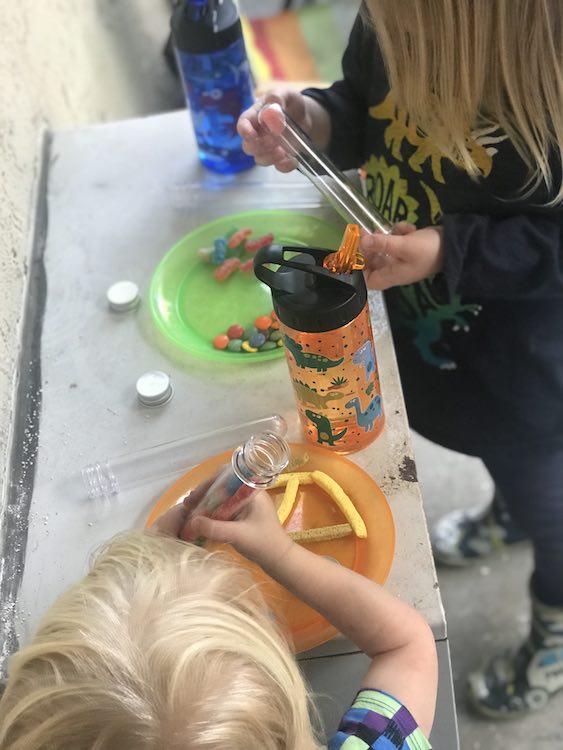 ---
I hope this helps you if you're trying to come up with something to hand out at the end of your science-themed party. I can also see test tubes full of candy or something else edible being a great edition to the table at your party too. How have you kept the good-bye bags related to your party? I'd love to hear from you in the comments below, on my Facebook page, or through Instagram. I hope you have a great day and have an amazing party!