Leftover Mashed Potato Casserole - Tastes Like Perogies!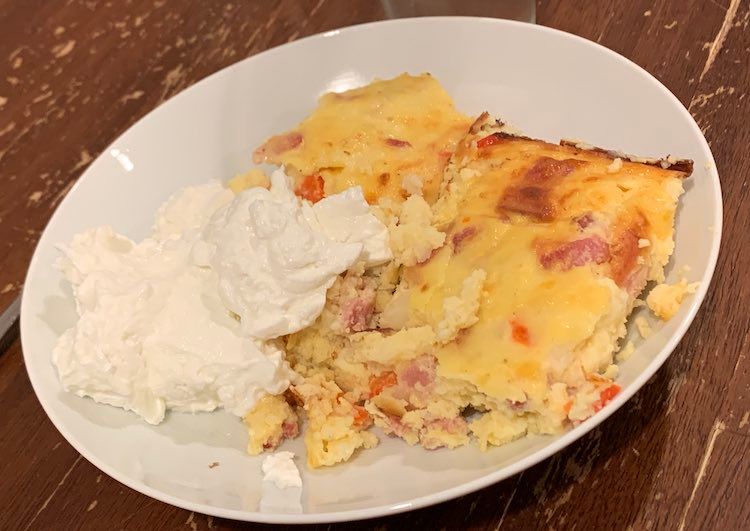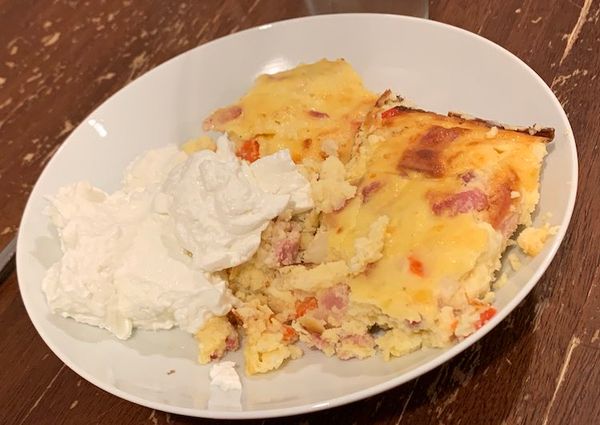 Are you craving European perogies and can't find any where you are and don't want to make your own? Do you have leftover mashed potatoes? Why not make a mashed potato casserole so you can get your fix. Right before Christmas, in the 52 weeks sewing challenge, a member  mentioned teaching her family to make homemade perogies and since then I've been wanting to have some. In case you want to make legit perogies she did refer me to King Arthur Flour's Homemade Pierogi recipe, which I've been meaning to try, but a couple days into January I found myself with a container full of leftover mashed potatoes and a package of bacon so I got my fix an easier way with this casserole. The kids, officially, didn't like it as they've decided they don't like potatoes but Zoey kept picking at hers, while listening to Ada's complaints, so I count it as a soon to like. That said my husband and I loved it and had no leftovers.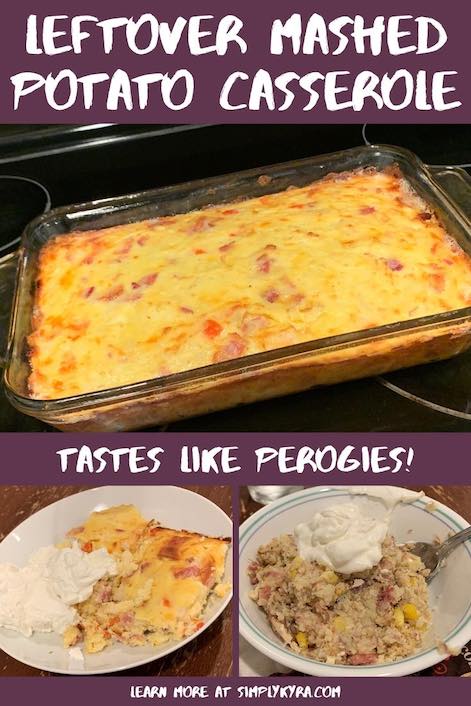 First a little backstory. I grew up in Red Deer, Alberta, Canada where we could find bags of perogies easily in the freezer section at the grocery stores. I grew up eating the mashed potato and cheese ones (though I didn't like the hint of onion they had), but the perogies that stand out where the yearly Ukrainian ones we bought freshly boiled with a dollop of sour cream on them. They were amazing! It was actually a Canada Day tradition at our local man-made ponds, Bower Ponds, where the Red Deer Cultural Heritage Society hosted. The perogies probably started as a the perfect food for picky children amidst all the food booths but as the years went on I kept picking the perogies to eat because they were so amazing and you could only get them once a year. I remember we always followed up with the pastries from the Denmark booth afterwards too. I'm not sure what the food selection is like now as I haven't been in years, but as I grew up I remember there being less and less booths each year. After moving to Edmonton I discovered the Servus Heritage Festival during the August long weekend that was way larger and took place for three days over the August long weekend but I remember the Red Deer one fondly. Since moving to the Bay Area, California, there's been minor things I've noticed I can't get down here including perogies. Over the last couple years I've come up with this casserole although each time I make it a bit different as it's thrown together each time based on what I have leftover and in the fridge each time. This last time I wrote down the ingredients so I could share it with you along with a version I made awhile back so you know how to throw your own together if you're interested.
When I've made this in the past I've previously baked my bacon in the oven on a cookie sheet at 400° Fahrenheit (link to The Kitchn) and then cut it up after it was done. This time around I had started cooking some peppers, to later add egg and spinach too, for lunch and decided to fry up the bacon first so I didn't have to dirty a cookie sheet. I cut the stack of raw bacon across the end, making small rectangles, before throwing it in the pan with a the diced peppers. After they were done I removed half of them for the casserole before continuing with lunch. I love that I was able to spend a bit more time on lunch and ended up with a simple 'throw in the oven' supper.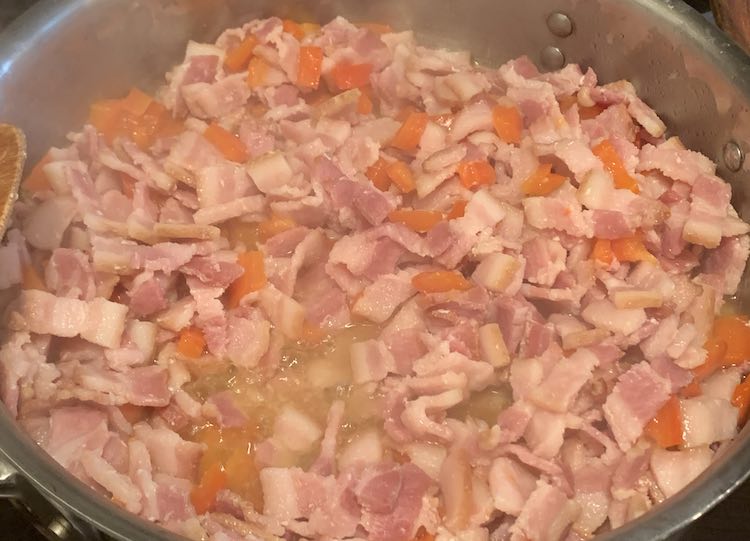 Once the bacon was done I tossed half of it into a large bowl with the leftover mashed potatoes, grated cheddar cheese, and eggs. I then stirred it up, and since it was only lunchtime, wrapped it and placed it in the fridge. If the mixture looks too dry you could always add more eggs or some milk to it.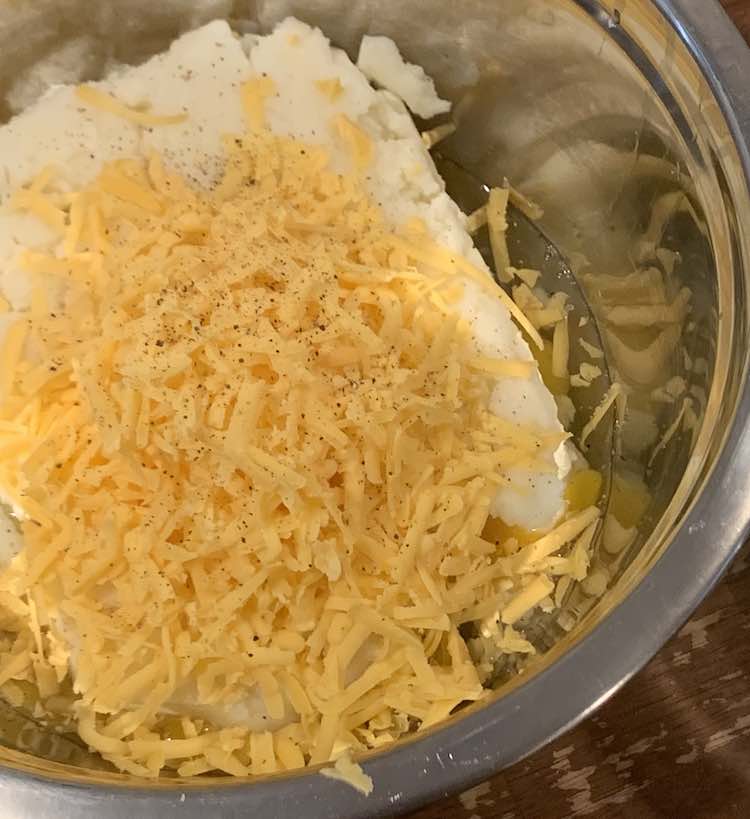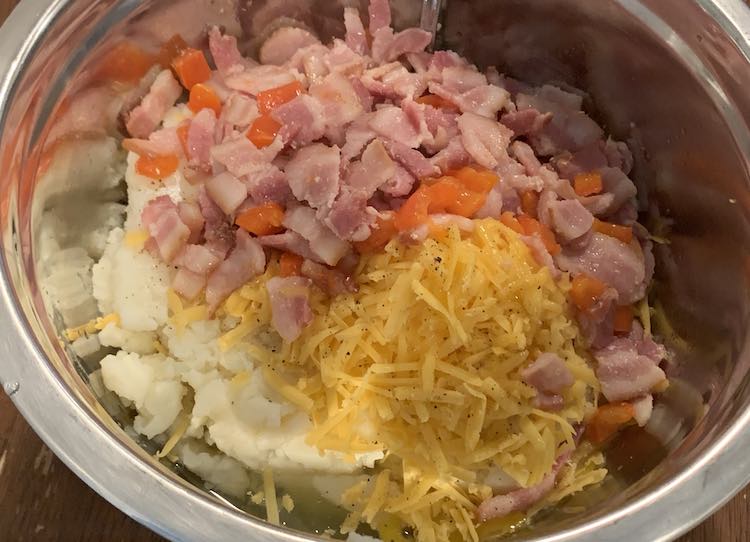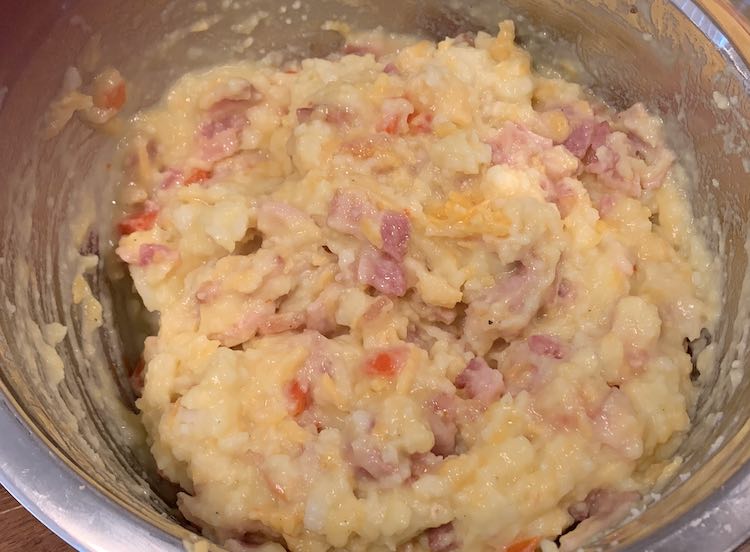 About an hour before supper I preheated the oven to 375° Fahrenheit before taking the mixture out of the fridge and pressing it into a casserole dish. I left the top unadorned this time but you could add more seasonings, bread crumbs, cheese, or anything you want to heat up and, potentially, melt. I then threw it into the oven until it's heated through. I normally test if it's hot enough by taking a regular knife, sticking it in the middle making sure it doesn't touch the bottom, holding it in for ten seconds, removing it, and testing if the metal is warm. At this point if it's hot enough but not browned you could always switch the oven to broil and keep an eye on it while the top browns.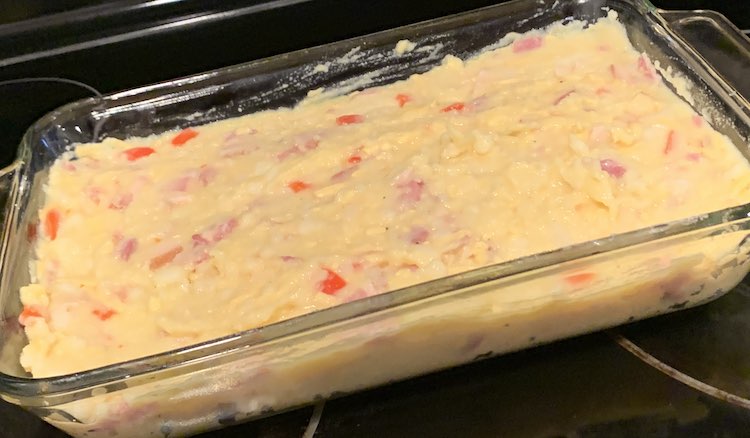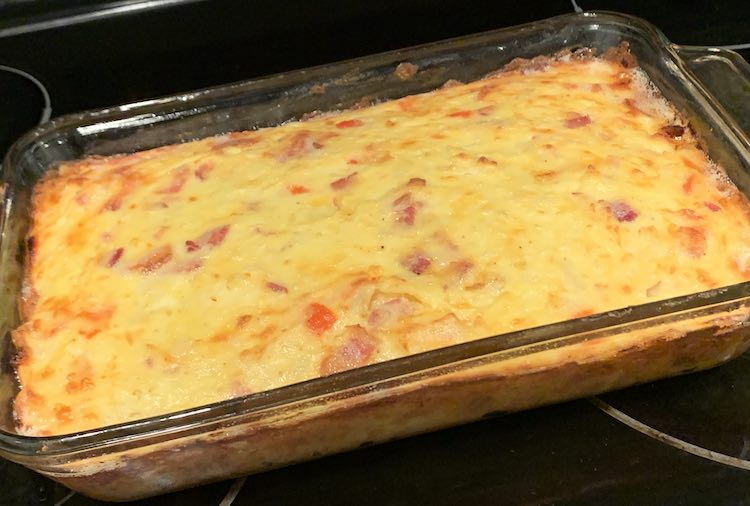 Once it's done all you have to do is dish it alongside any toppings. I, personally, think plain Greek yogurt is a great replacement for sour cream so I add a dollop of Greek yogurt to mine but, I'm assuming, you could also use anything you'd normally want to top your perogies with including sour cream, more bacon, or chives.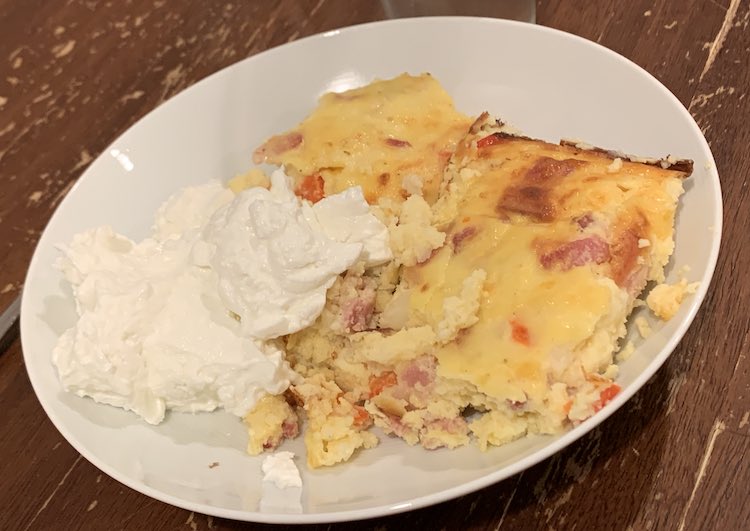 If you aren't feeling like making a casserole you could always cook it up in a pot. The one below was made with bacon, mashed potatoes, eggs, milk, and leftover frozen corn. I believe I started by cooking the bacon and then added the rest of the ingredients to the pot where I kept, occasionally, stirring it until it was heated through as there was egg added that need to cook through. Again I topped it with Greek yogurt.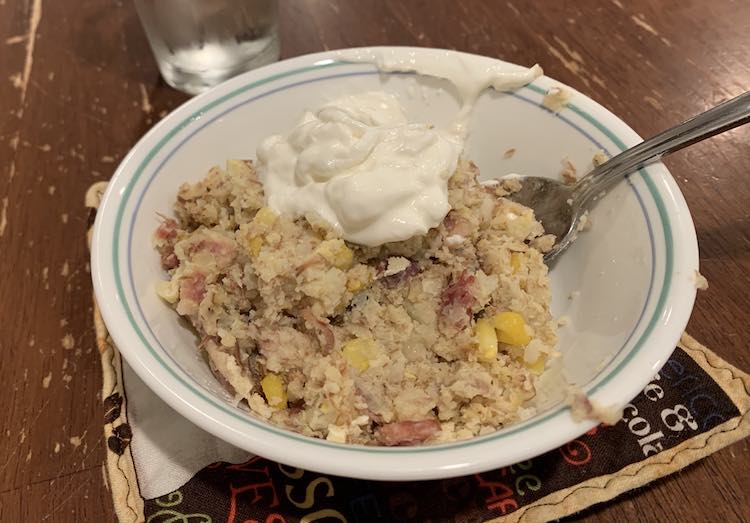 ---
Leftover Mashed Potato Casserole
A simple casserole that can be thrown together easily. Perfect when you're craving some perogies, can't find any, and don't want to try to make your own.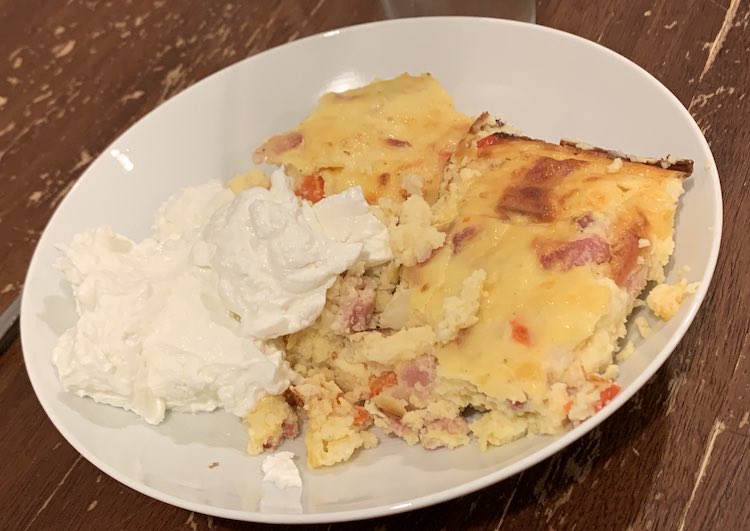 Lunch, Main Course; Oven
Prep Time: 20 minutes
Cook Time: 1 hour
Total Time: 1 hour 20 minutes
Servings: 4 People
Ingredients
Mashed Potatoes Leftovers originally made with milk
Eggs
Bacon Diced and cooked
Cheddar Cheese Grated
Optional
Milk
Garlic Powder
Onion Powder
Crushed Red Pepper Flakes
Red Peppers Diced and softened
Toppings (Optional)
Greek Yogurt
Sour Cream
Chives
Instructions
The base of this recipe is mashed potatoes so you'll either need enough leftover mashed potatoes from another meal or make some specifically for this recipe. To make mashed potatoes peel potatoes (I normally use russet) and cut them smaller if you want it to cook faster. Add water, bring to boil, and simmer until they're tender enough to pierce with a fork. Drain the water off and return the potatoes to the pot. Add milk and mash until smooth. Optionally, you could season it with butter, pepper, salt, garlic powder, or onion powder.
Diced cooked bacon is another ingredient needed. One way to make it is to lay it out on lined cookie sheets and bake it in a hot oven before cutting it into small pieces. Another way is cut it smaller, while raw, and then use your frying pan to cook it. Either way you'll want small cooked bacon pieces. If you want to add onions, diced peppers, or anything else that needs precooking you can add it to the bacon while it's cooking to save a step.
Grab a large bowl and add together the leftover mashed potatoes, diced bacon, eggs, grated cheddar cheese, milk if it's too thick, and any seasonings you need like garlic powder, onion powder, or crushed red pepper flakes. If you want to top the casserole with anything (additional cheese or bacon for instance) you'll need to keep some back. Once everything, except the toppings, are added you can mix it together and either go onto the next step or seal it in the fridge to cook later that day if you're prepping earlier.
Once you're ready to bake the casserole preheat your oven and dump your casserole contents into a casserole dish. After you flatten the casserole it's either ready or you can add any additional toppings like more bacon or cheese. A cooler oven means you'll have to cook it longer and a hotter one you'll want to keep more of an eye on it. If you don't want the top to cook quicker than the rest you can cover it in tinfoil and remove it for the last fifteen minutes. I normally bake mine at 375° Fahrenheit for about an hour. If it's ready and not browned enough you can always turn on the broiler, casserole uncovered, to finish it off.
Once done dish and serve. I always top mine with Greek yogurt (tastes just like sour cream) though you can use anything you'd normally serve on your perogies.
---
And that's it. So yummy and I'm assuming so much easier than making your own perogies… though I should eventually try that too… maybe. I hope this helps you out whether you have a craving for perogies that you just can't fix, have extra mashed potatoes hanging around that you need to find a use for, or are looking for a new recipe. I hope yours turns out amazingly and I'd love to hear about it in the comments below, on my Facebook page, or through Instagram. Hope your week is going great.