Easy Saint Patrick's Day Themed Shamrock Sheet Pan Pancakes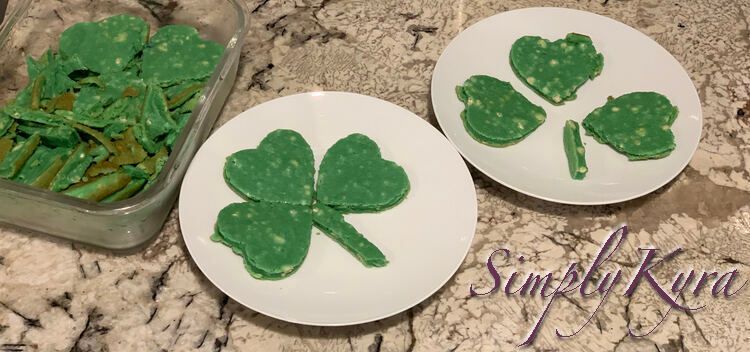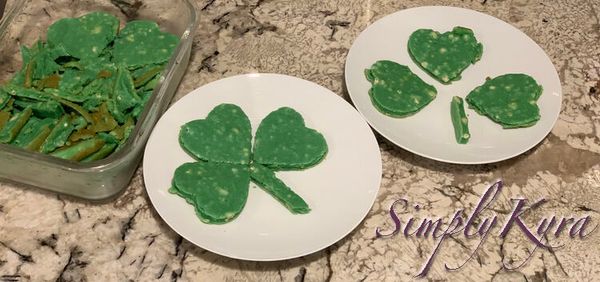 A while back I posted how I've changed up a regular oven pancake recipe to make it my own. This involved the pancake preparation, mix ins, add ons, toppings, and how I dealt with the leftovers so it became a rather large post. I wanted to talk about another pancake-related idea as St Patrick's Day is now coming up and I have the perfect pancake if you choose to celebrate. Although we don't normally celebrate St. Patrick's Day last year my daughters wanted something special to mark the occasion. I was able to come up with simple shamrock-shaped pancakes for the girls using my go to oven pancake recipe with no extra trouble on my part. In fact I was able to surprise the girls the day of in addition to making them the weekend before so there was minimal effort on my part on that day. I knew I needed to share them with you in case you're looking for something similar this year.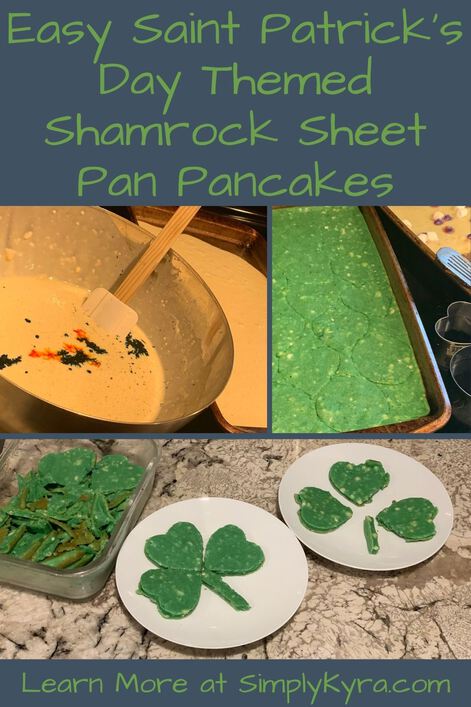 ---
The previous year, in Kindergarten, Ada was introduced to leprechauns and the whole Americanized idea of the holiday. Last year, while doing school from home, Ada wanted to do something for the occasion and I didn't want to let her down. The weekend before St. Patrick's Day, while scrolling through very involved ideas online, I came up with the idea to make simple green shamrock-shaped pancakes and knew, from experience, that I could make them ahead of time and serve them reheated on St. Patrick's Day without having to get up earlier that morning to make it happen. As such I chose to surprise the girls with pancakes the following day, on Sunday, so I could ultimately prepare the main surprise for St Patrick's Day. I'd been making two separate batches of pancakes each time so I knew I could make one green pan and one pan of some other type for the girls to eat fresh. Although the girls saw one pan was green and could, maybe, guess that it was for St. Patrick's Day they didn't know exactly what I had planned so nothing was given away. And so, without further ado, this is how I made my shamrock-shaped pancakes:
I started making a regular doubled batch of my go to pancake batter and, after pouring half into a greased sheet pan, added some yellow and blue water-based food dye to the bowl. I mixed it all up and, once I was happy with the color, poured the green pancake batter into the other greased sheet pan.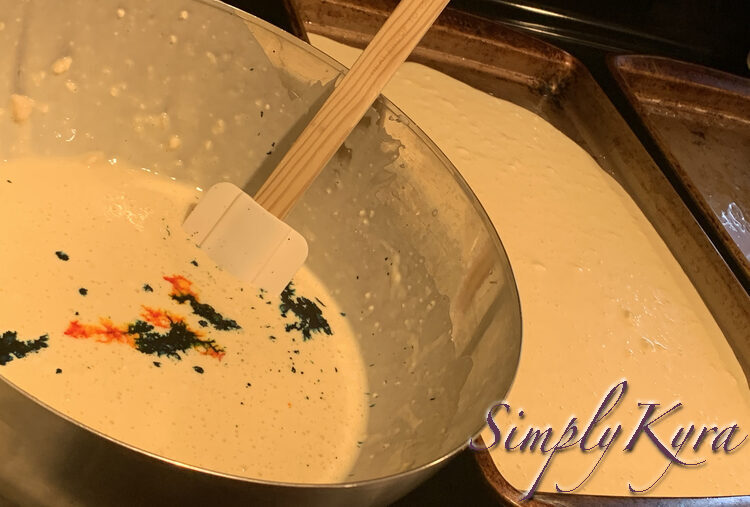 I then tossed the filled pans into my preheated oven for the regular bake time. Once they were ready I topped the plain pan of pancakes with marshmallows and colorful chocolate chips and heated it a bit longer in the oven. As I didn't want the girls to eat the green pancakes just yet I decided to make the girls' favorite pancakes on the other pan.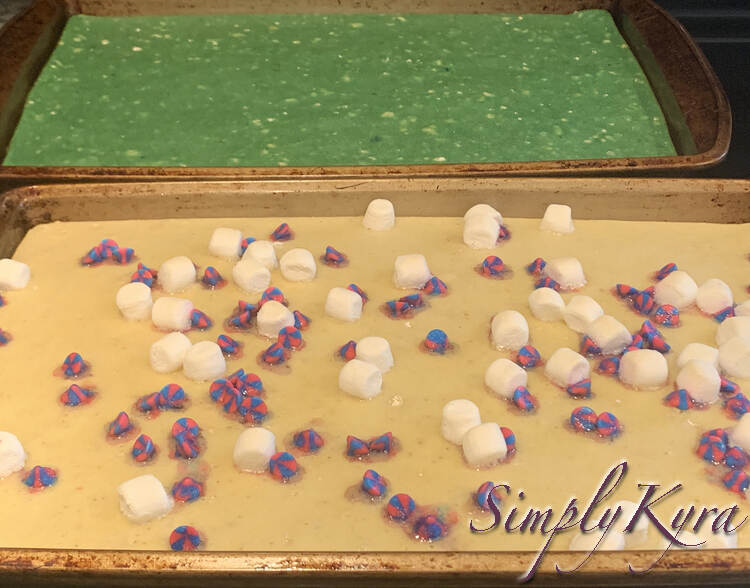 I let the pancakes cool while the girls ate breakfast and waited until they had left the room before I went onto the next step. I normally cut my pancakes into squares or rectangles before packing them away. This time around I did something different. I had seen online that you could make a shamrock shape by combining three hearts and a single small rectangle for the stem. As such I grabbed a medium metal heart cookie cutter and attempted to get as many hearts as possible cut into the sheet pan of green pancakes. Once they were all cut I used my metal flipper to get them out and stacked the hearts in a container for later. I then took the larger pancake remnants and attempted to cut them into small rectangles for the shamrock stems. Those went into the other end of my container.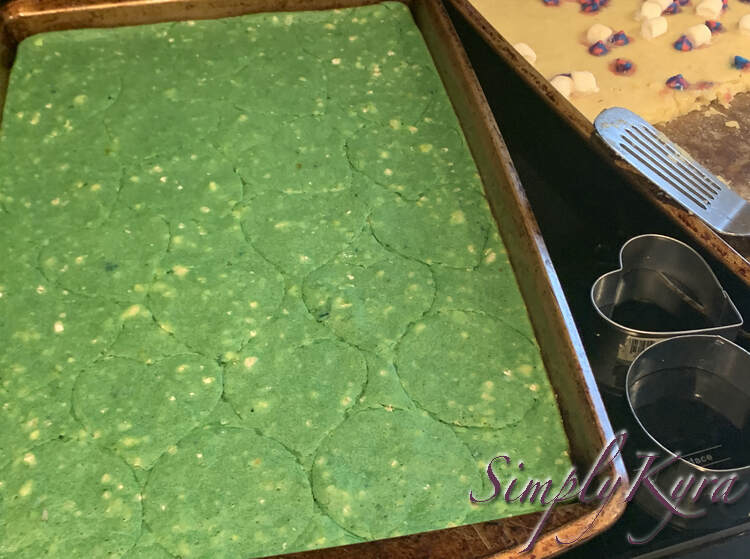 With the hearts on one side of the large container and the pancake remnants on the other end it was time to stick them in the fridge and wait a couple of days for St. Patrick's Day to come around. If it was any later I would've froze these hearts on a Silpat lined baking sheet and then transferred them into a Stasher bag so they'd be easy to remove and microwave, from frozen, the morning of St. Patrick's Day.
Anyway, the morning of I popped the container out of the fridge, grabbed two saucers, and assembled a shamrock pancake on each of them. To make the shamrock I took three hearts and laid them together with their points and sides touching. On the open side I put a skinny rectangular piece of pancake as the shamrock stem. Once assembled I microwaved them and drizzled syrup on top. The kids absolutely loved them!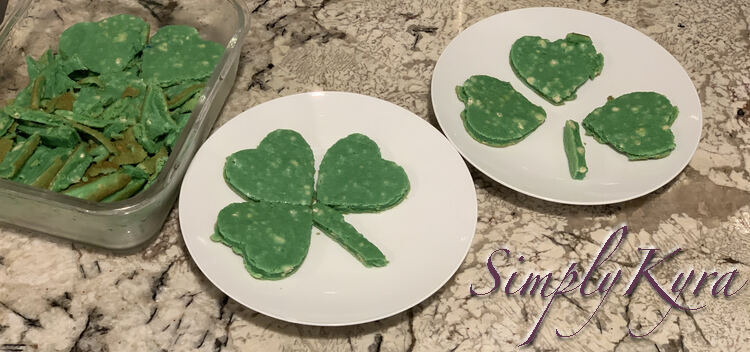 I love that I was able to mark an occasion that the girls wanted to celebrate with items I already had in a way that wasn't too much extra effort on my part. They absolutely adored the green shamrock pancakes and I could see surprising them with it again this year. Who knows maybe they'll ask closer to the day this year too.
Have you made specially shaped pancakes for holidays before? If so I'd love to hear about it. Are you planning on making these shamrock shaped pancakes this year? I hope it goes spectacularly and I'd love about it in the comments below. I hope your week is going great.
---
If you're interested in getting any of my future blog updates I currently come out with a new one every Wednesday and share them to my Facebook page and Instagram account. You're also more than welcome to join my email list located right under the search bar or underneath this post.