Dolly Sleeping Bags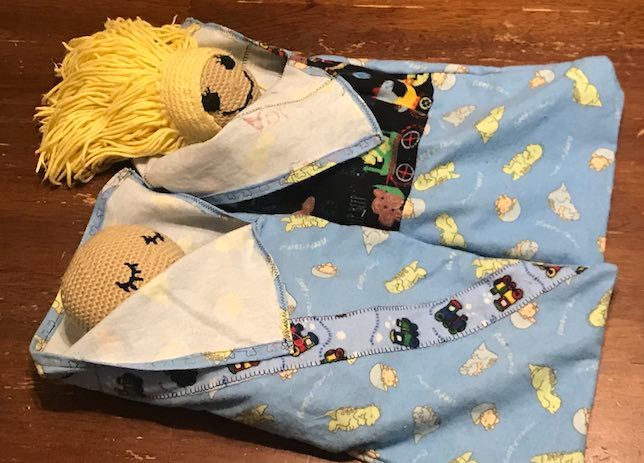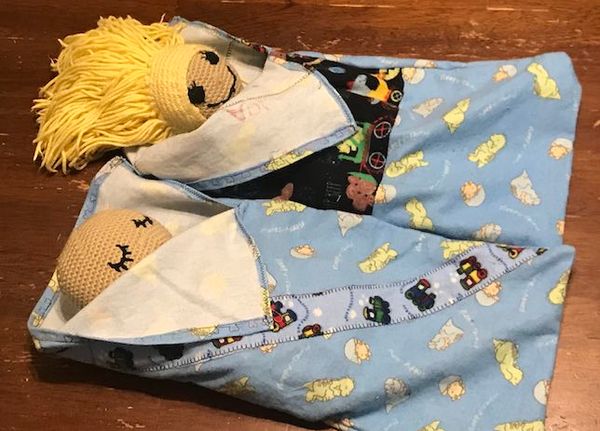 I made these dolly sleeping bags almost a year ago. Since then the kids have temporarily forgotten they existed for awhile and have recently rediscovered them. Ada even threw hers in the wash recently and then told me how she was planning on tucking her doll into it when she went to bed later. I love how simple they were to make and since I used fabric and scraps I had on hand it didn't cost extra to make them.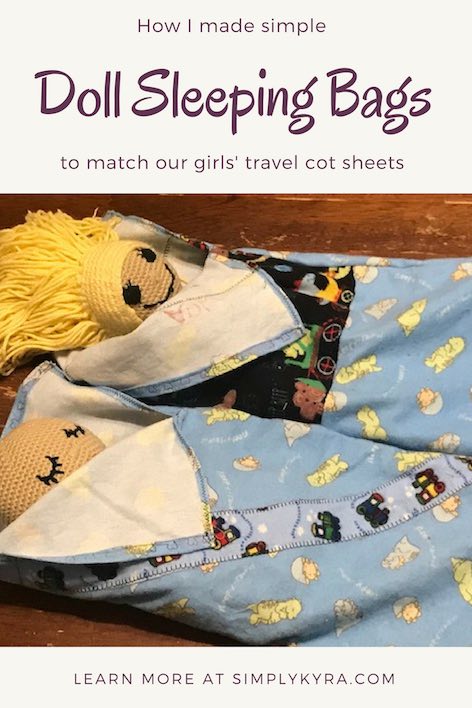 ---
These sleeping bags were designed and created while I was making custom sheets for Ada and Zoey's travel cots as I had a yard of really adorable sleepy-saurus fabric (from Joann's) that I hadn't used yet. While the kids were picking out their preferred fabric for their sheets I knew we'd be taking the kids' crocheted dolls with us on vacation so I came up with the dolly sleeping bags, a perfect opportunity to use 'the perfect fabric', and quickly sewed them up making them match the travel cot sheets.
I ended up having a large enough width of sleepy-saurus fabric that I decided to fold it over at the base of the sleeping bag so it ended up being twice as long and folded at the end. I made sure the width would fit either crocheted doll (and the seam allowance on either side) before cutting into the fabric. Each rectangle ended up being eight inches wide and 33.5 inches long.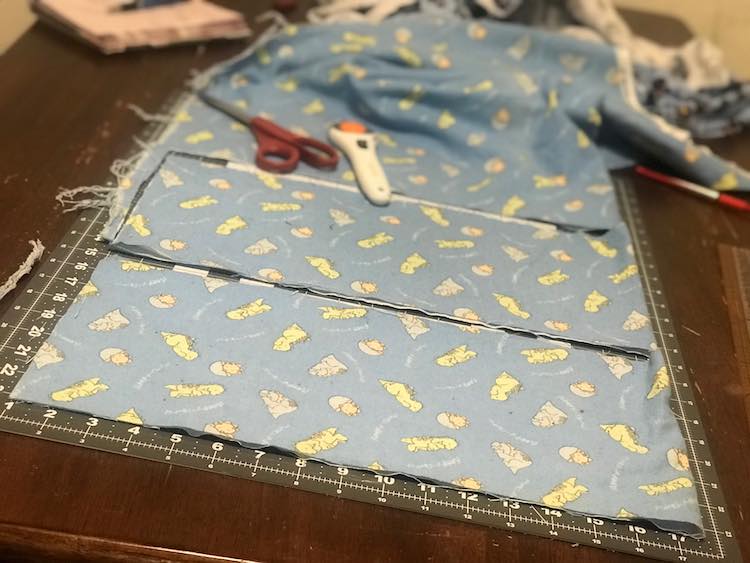 I wanted the sleeping bags to match the coordinating sheets and I also wanted each kid to have a little patch of their sister's chosen fabric in case one of them changes their mind in the future so I could show them that they also got that other fabric. I did this by taking the scraps leftover from their sheets and creating patches, or overlays, on each sleeping bag. Since I hadn't sewn the edges of the sleeping yet I didn't have to worry about sewing the raw ends of the strips. I was careful to not attach the scrap fabric over the center as you'll need to later fold it over to make the bottom of the sleeping bag later on and I didn't want it too thick there.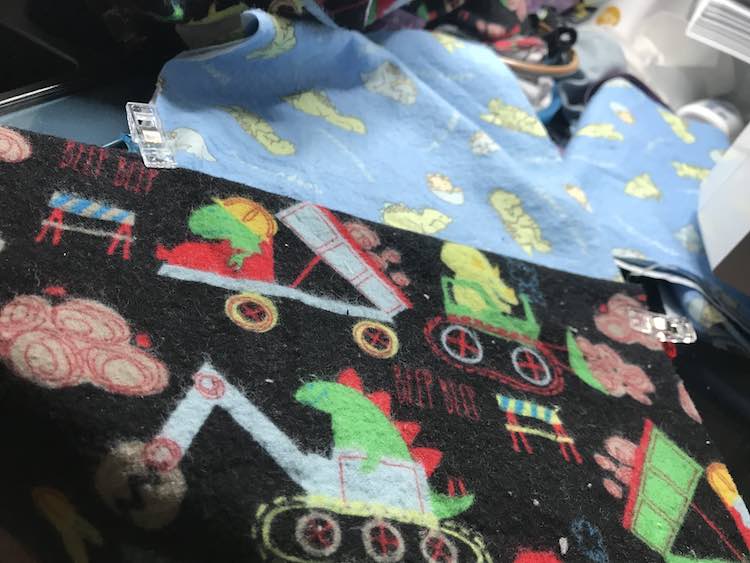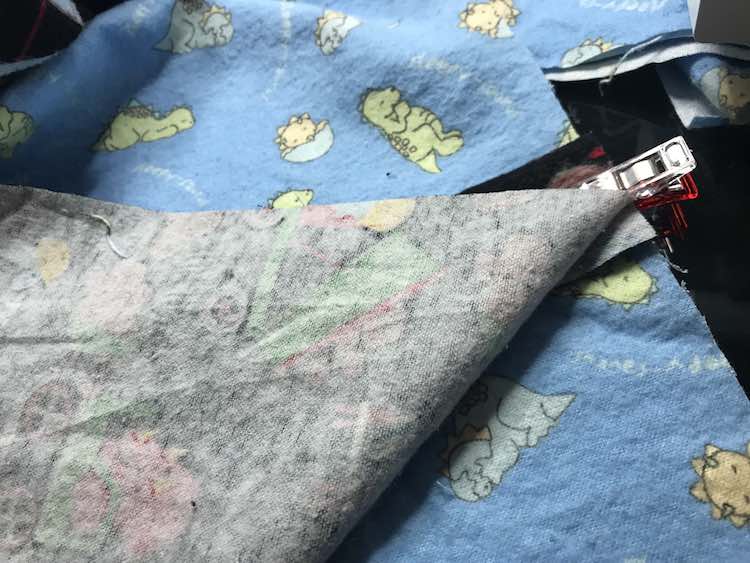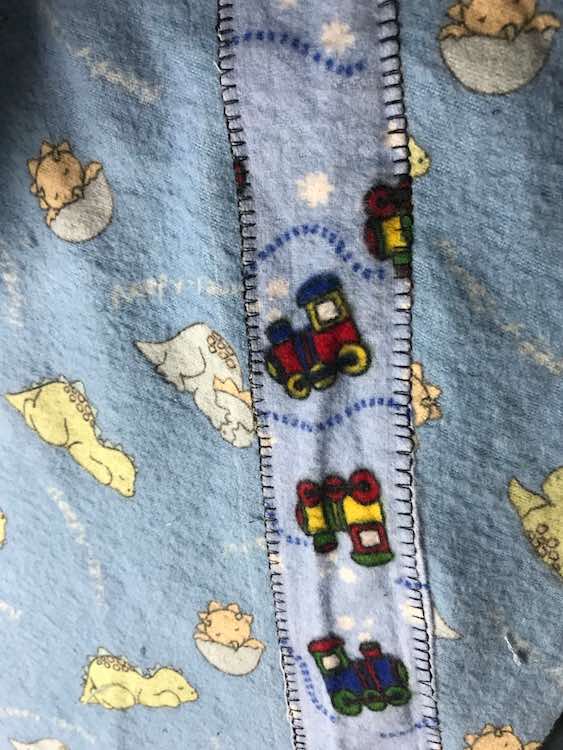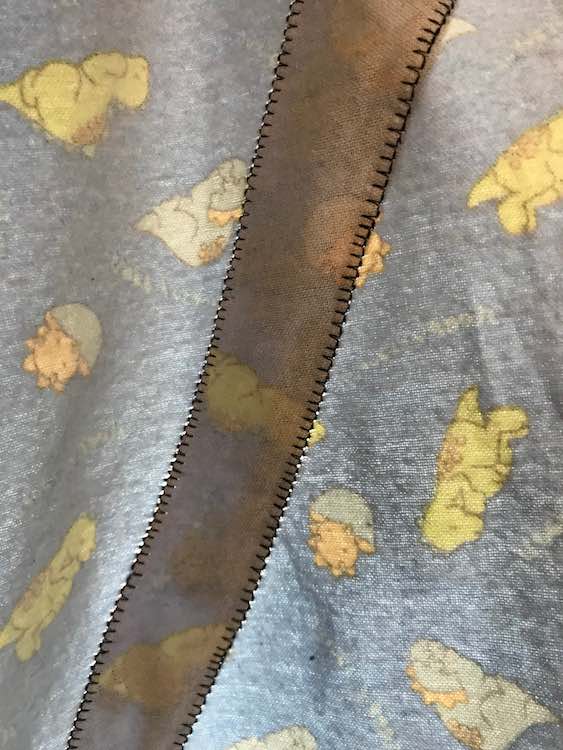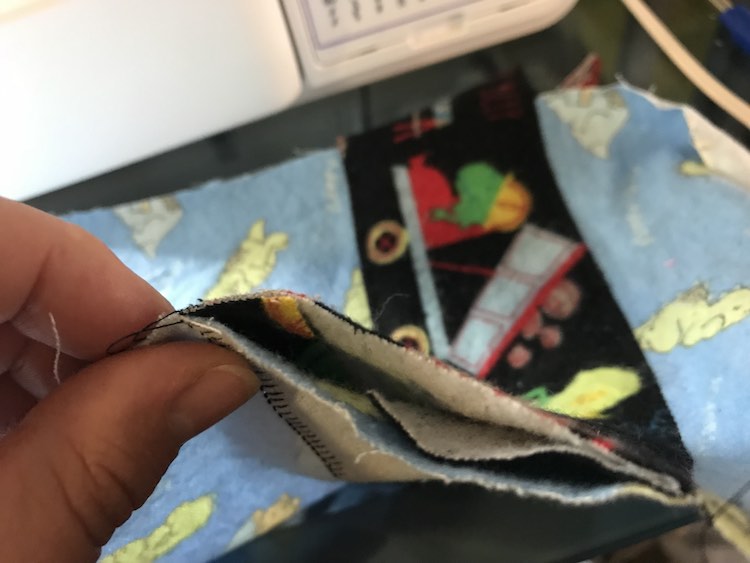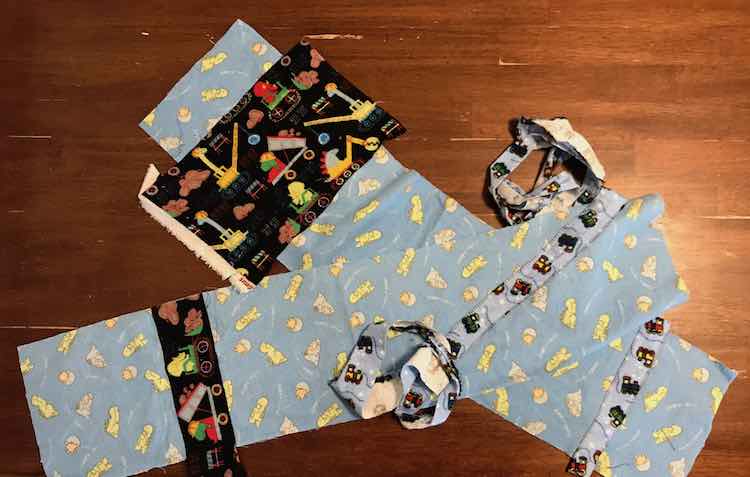 I wanted it to be obvious whose sleeping bag was whose so I decided to add their name to it. I used fabric markers and set the ink with an iron once I was done.

Since I wasn't adding a zipper to the side of the sleeping bag and I wanted it to be easy to insert and remove the doll I ended up folding over and topstitching a hem for the first couple inches on either end of one side of the rectangle. This meant later when the rectangle was folded in half the two side ends, on the one side of the opening, would be finished.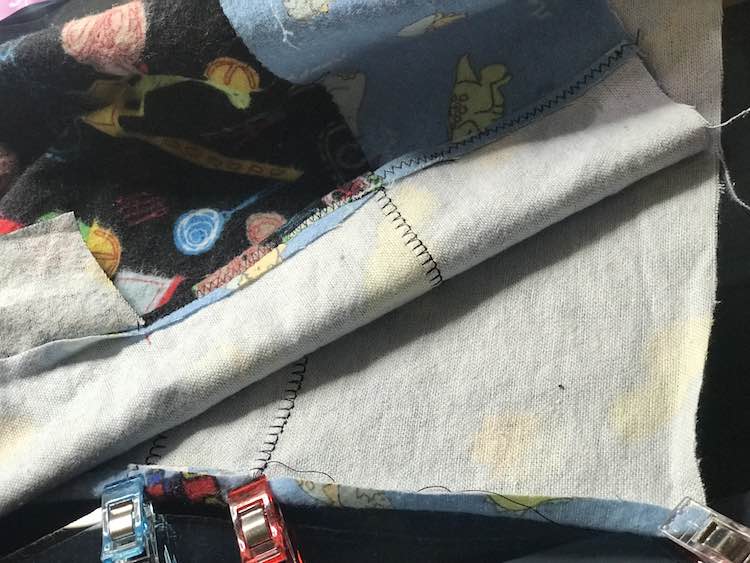 Now for the side seams. I folded the rectangle in half, with right sides facing, and sewed up either side making sure to leave the slit on the one side open.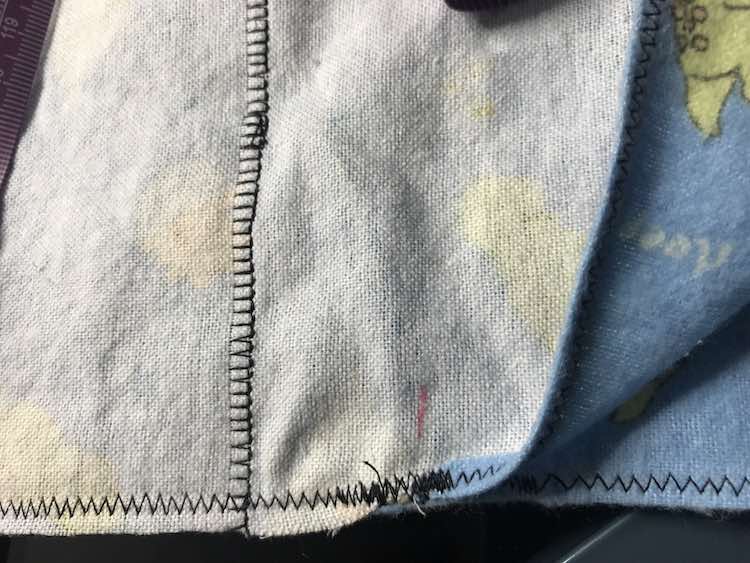 I then folded over the top of the bag and topstitched it in place. Finally I only had to turn it right side and you could, optionally, iron but I left it as it was. And you're done.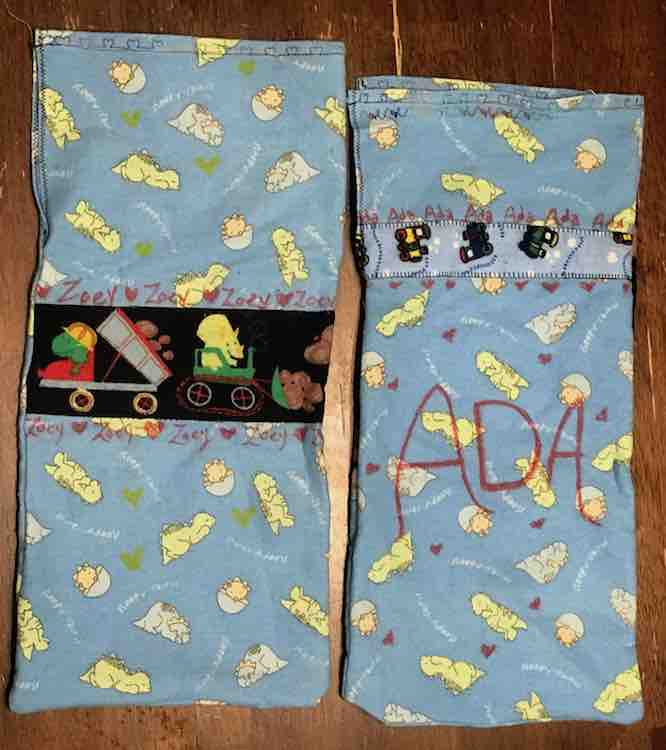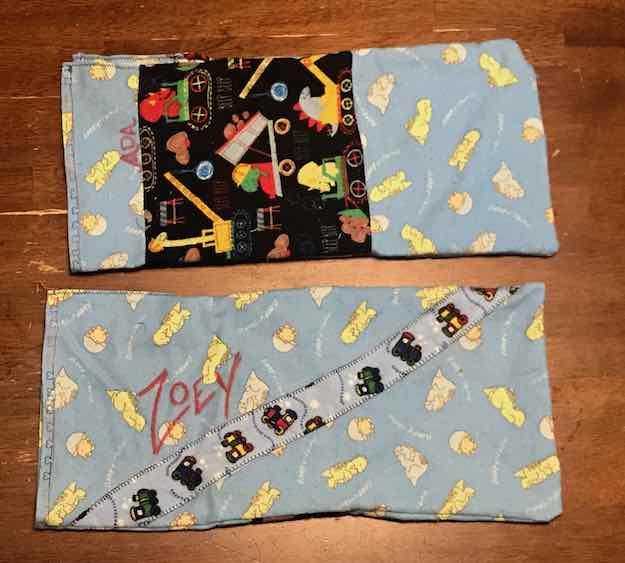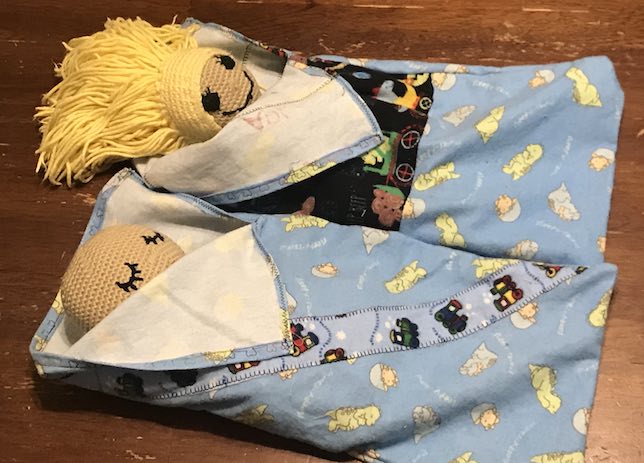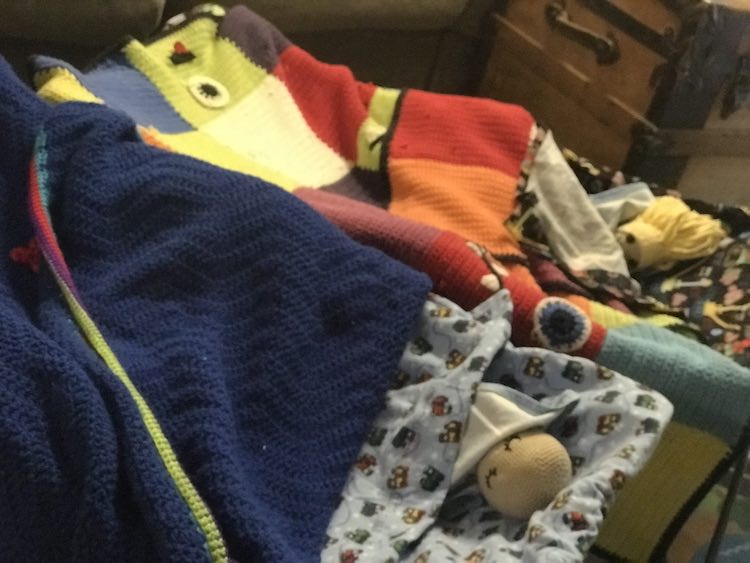 The sleeping bags were an added detail to the travel cots whose purpose was more so I could use the adorable sleepy-saurus fabric than for the kids themselves but I'm glad I made them. My kids are more into vehicles and dinosaurs than dolls but the sleeping bags were still used on the trip and they're still around for them to choose to play with now. I could see this being a perfect project if your child is into dolls and so simple to customize.
Let me know if this inspired you to make a dolly sleeping bag. How did you customize and/or personalize it? Was the recipient overjoyed or more ho hum like my kids? Feel free to share in the comments below, on my Facebook page, or through Instagram. I hope you're having a great week.