Zoey's Random but Fun Sixth Birthday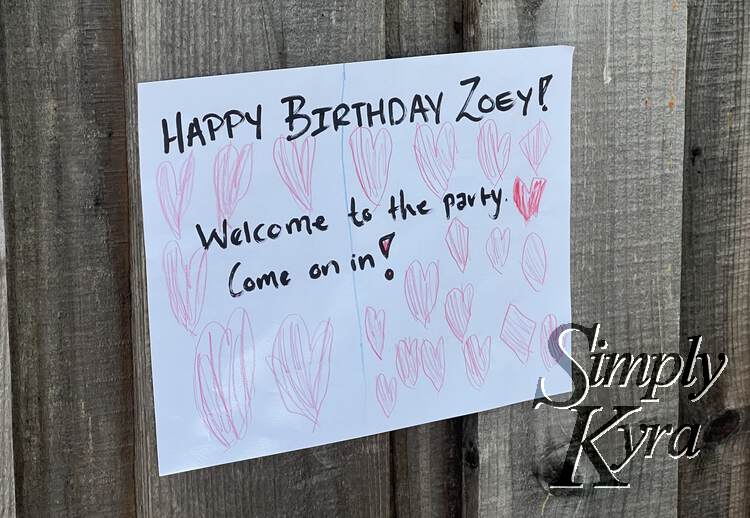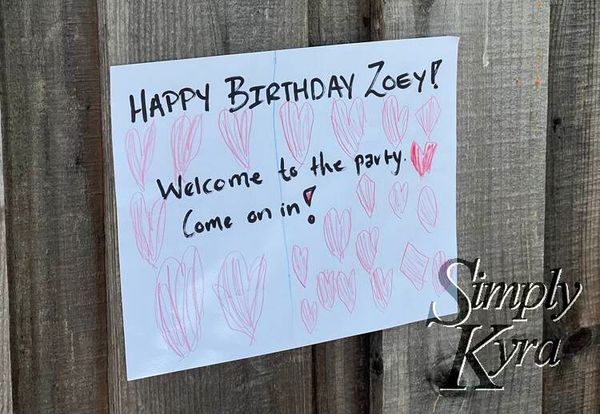 When I started this blog I wanted to share the girls' birthday parties as I loved the super simple sensory activities and themes I chose to use. Once COVID hit I shared how I found a simple solution to host a party while still sheltering in place. Since then sharing the parties have also became a way to store and share a memory of the day… and without further ado a glimpse at Zoey's slightly random but still really fun sixth birthday party!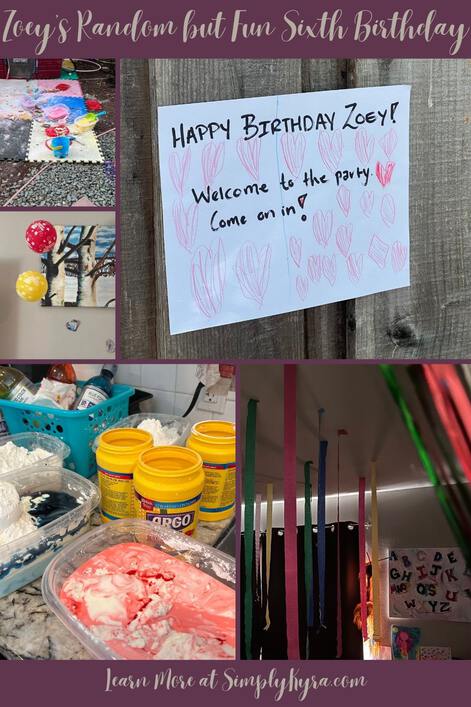 ---
As Zoey's birthday approached this year we debated what to do and even considered taking Zoey somewhere big instead of hosting a party. Then she was invited to two parties both the weekend before AND the weekend after her birthday and we worried she'd be excited to do something big at first but later be disappointed to not have a party with friends so we decided that we'd host a party.
When asked what she wanted to do for her party she kept telling me dance party as last year the girls were gifted strobing dance lights for their bedroom which Zoey wanted to use again with friends. She was adamant about the dance party portion and over time I added oobleck and a general rainbow theme to the party which she approved of. With the general plan decided we picked a day and time and sent out the party invitations.
Party Preparations
Treat Bags
A week or so before the party I grabbed some white paper bags, used a black paint pen to write the names of the guests, and had Zoey decorate them. Ada wanted to be a part of the action so she asked to decorate Zoey's treat bag. Once they had finished I made some playdough, bought and gathered up some treat bag stuff, divided them out, and stuffed them all into the bags.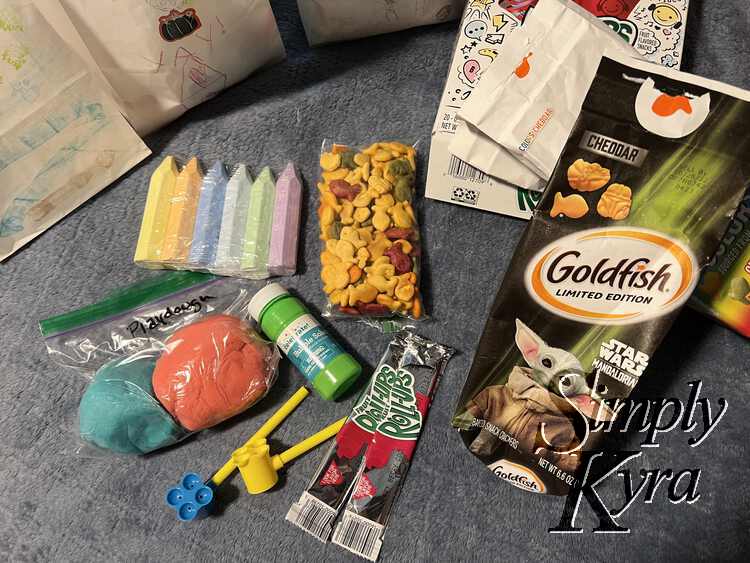 Food and Dessert
While planning the meal we decided to take it easy and order pizza the morning off. Looking back I'm so glad we did as the power went out right before the party started and we didn't have to worry about cooking anything. To go with the planned pizza I had decided to cut up some raw veggies and toss together a fruit salad recipe I had ogled in the The Secret Ingredient Cookbook but hadn't gotten a chance to make yet. I cut and assembled it the morning of the party and it didn't disappoint. In fact the fruit salad was still amazing days later… as I had multiplied the recipe and made a big batch.
We ended up having a full house of parents and kids so, for drinks, we decided to grab a cooler and fill it with a selection of drinks so everyone would feel more welcomed to grab whenever they'd like. This included juice boxes, waters, flavored waters, ice, and otter pops (by Zoey's request).
For the dessert Zoey wanted angel food cupcakes again and so the day before I mixed up a box mix of angel food cake and added some food dye to match the rainbow theme. I shared them here if you're interested to learn more. The colorful interior colors, the rainbow themed paper plates and utensils, and the rainbow sprinkles against the white whip cream created a subtle rainbow theme.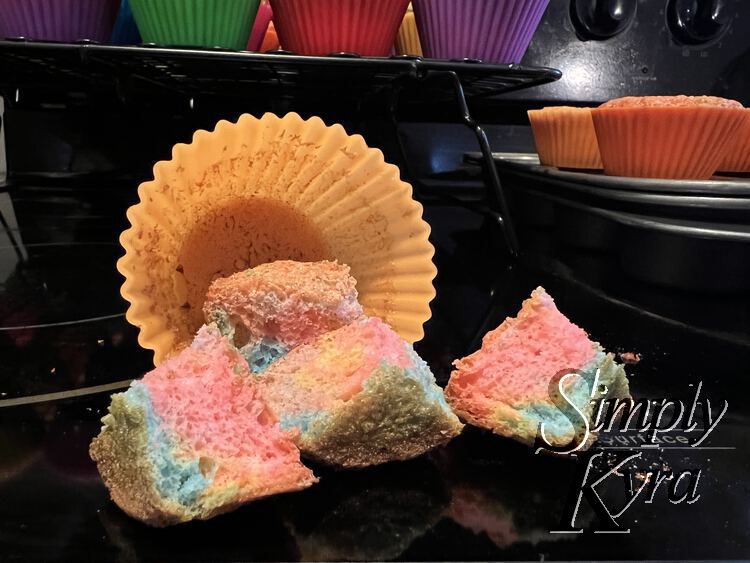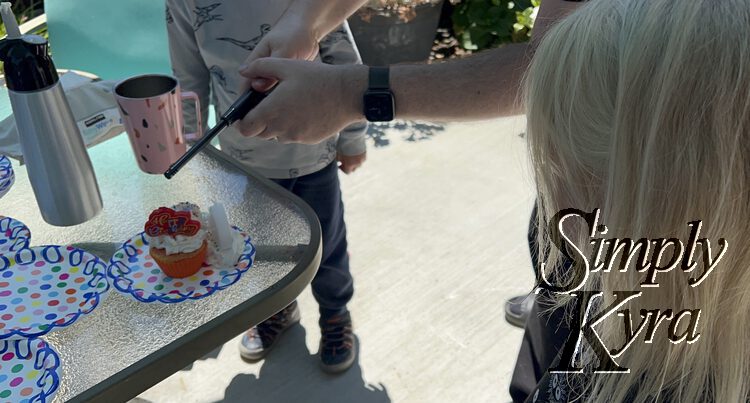 Decorations
The night before the party I grabbed a piece of computer paper and a back paint pen to create a sign for outside our gate. I left it on the table so the kids could decorate it before we taped it outside. I loved the simple and last minute sign.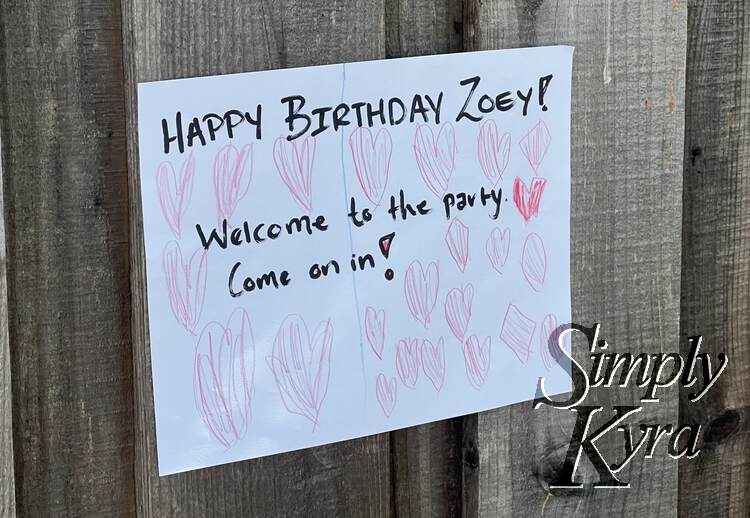 While I handled the kitchen prep and the final activity setup outside Matt entertained the girls and set up the epic birthday party room. Last year we used one or two large crepe streamer rolls to decorate the ceiling while this year I bought a multipack of small crepe rolls to go with the rainbow theme and added a tinsel doorway curtain. If you do the same Matt got about six streamers per each roll of crepe.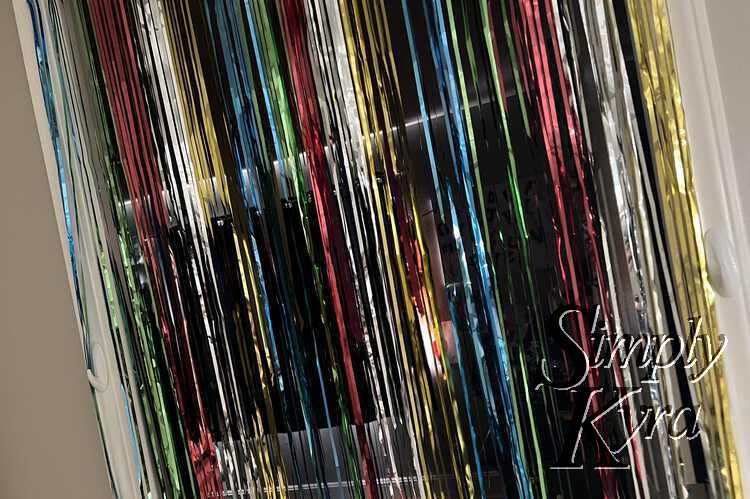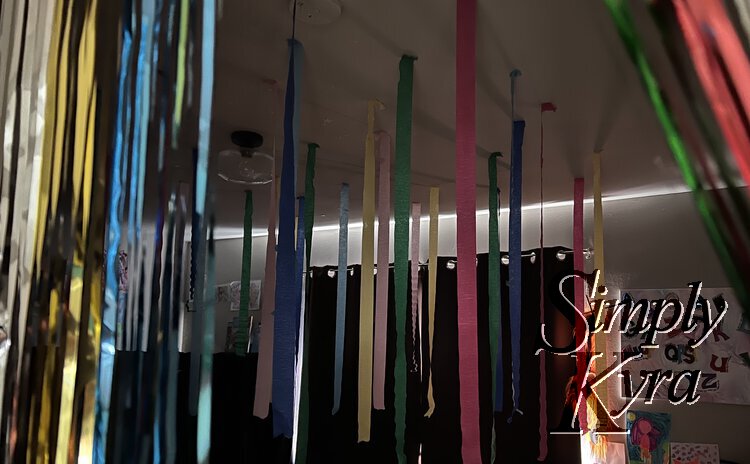 Matt did an amazing job! Which was mostly for naught as our power went out right before the party though the kids did have fun jumping around the dark bedecked room.
Activities/Stations
In addition to the dance party we planned several more activities that the kids could cycle through whenever they wanted. I'm so glad we did as the kids all had a blast outside and even came inside to play within the dimmed rooms.
Our main idea was to create oobleck for the kids to play with. Previous years we used to make it in a flat large storage bin but over the years they became brittle in the sun outside and broke. This year I decided to instead buy four cheap plastic containers and made the oobleck in them. The plan was to reuse them for Ada's party later on but the girls are still playing with the resulting dried out oobleck outside so we'll see if the containers last. If you want to make your own I shared about it here along with several variations we've tried out over the years. In all this took about six one-pound packages of cornstarch along with the water and food dye.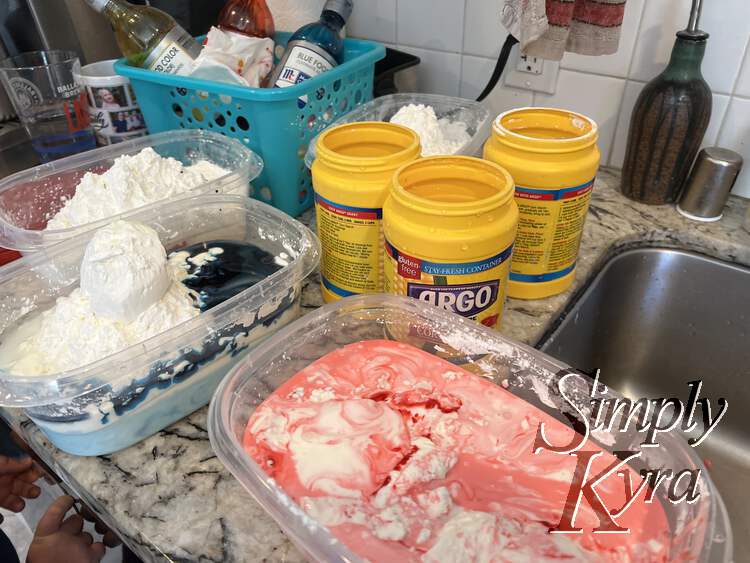 Another activity I set up outside was bubbles. We had somehow lost our bubble wands over the years but this idea came together when I saw a party pack of individual bubble mix and bubble toys at Walmart. The wands and dishes created a bubble station in the backyard while the small bottles of mix and bubble pipes (germ hazard if shared) were put into their treat bags. For last year's parties I bought a plastic drink dispenser to hold bubble mix along with a gallon jug of bubble mix to fill it with. Over the year somehow the dispenser had broken and I couldn't find either the dispenser or the gallon size bubble mix in the stores. Instead I decided to buy smaller bottles of bubble mix and a package of disposable cups. The bottle was small enough for the kids to use themselves, if needed, and I wrote each kids name on a cup so they could control their own bubble mix whether they were at the station or not. Plus with a larger party they could see their name and not have to memorize a cup color like I did last year.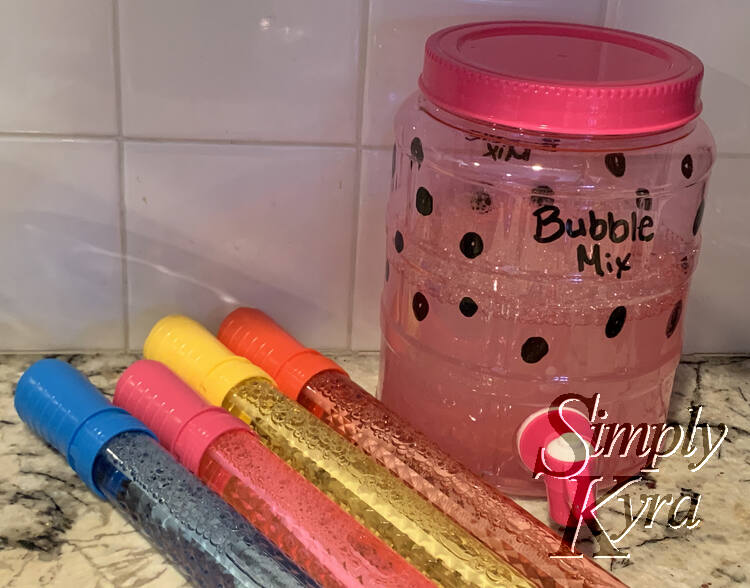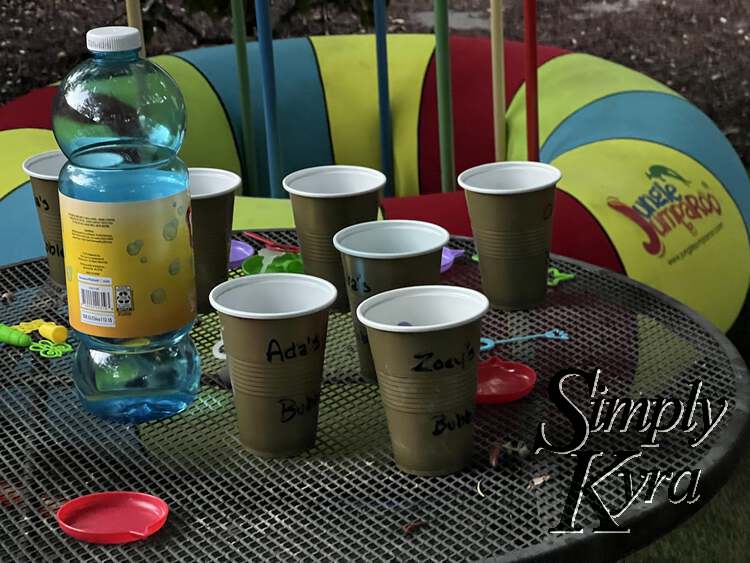 In addition to the fresh oobleck and bubbles I created several more activities or stations around the backyard based on what we already owned. I tidied up the backyard and set up these stations with Ada's help a couple days before the party and it was perfect as it was less stress the day of the party. We gathered all the toys to a cleared off space, moved the chalk closer to the sidewalk, put the hula hoops and skip ropes by the playhouse, and made sure we had a space for picnic blankets for the kids to eat outside. We also made sure there were fun vehicles in the living room if people wanted to play inside. I didn't; however, get any photos of this until hours after the party but here are some shots of the aftermath: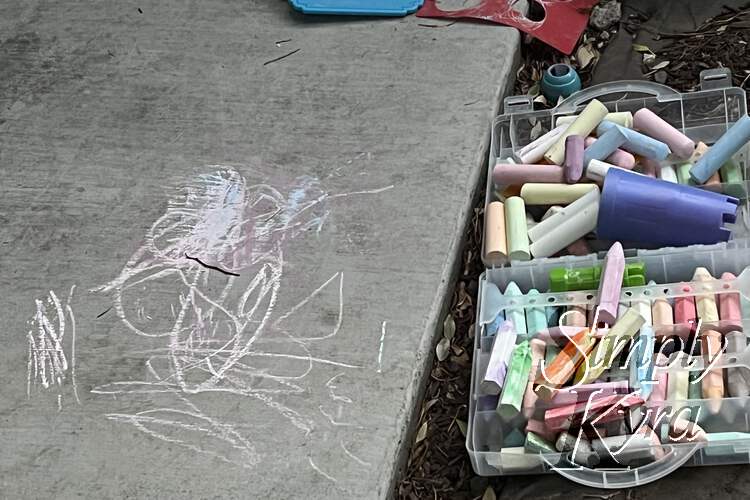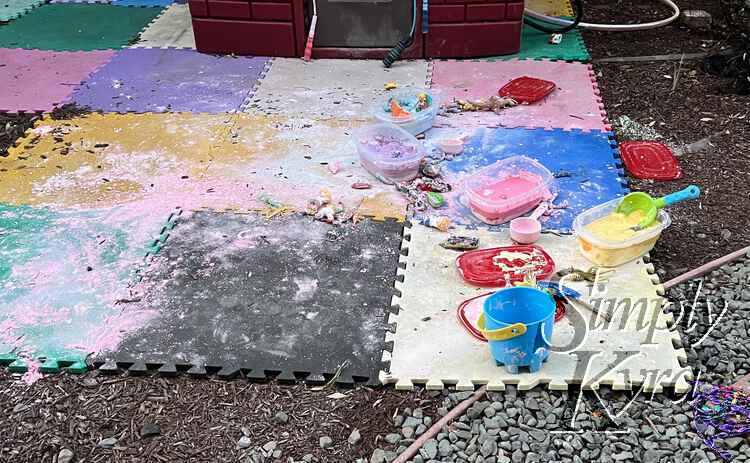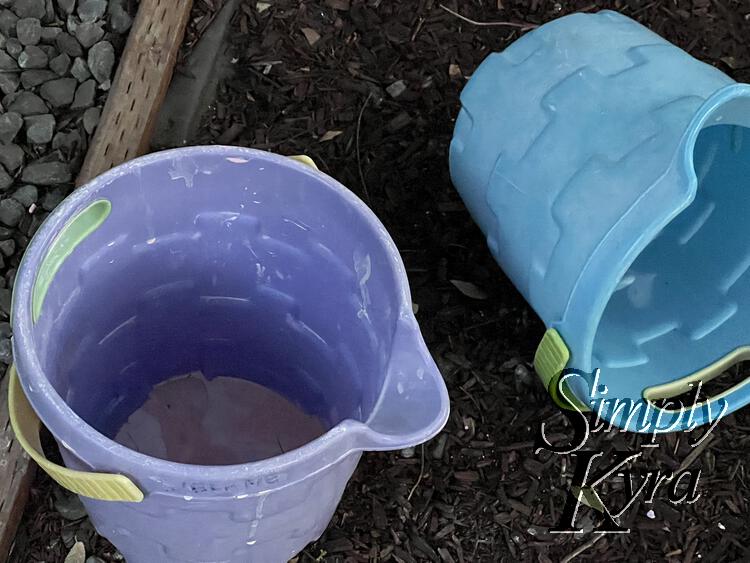 ---
Zoey's Birthday
We hosted the party before Zoey's birthday so we could enjoy the day without worrying about hosting anything. The day before her birthday I took the girls to Costco and planned to visit Dairy Queen for Zoey's requested ice cream cake. When faced with the cakes at Costco; however, Zoey changed her mind, several times, and finally settled on the same one as last year as she remembered how amazing it tasted. Rather than worry about it in the trunk I carefully belted it into the front seat and snagged some photos with the girls when we got home.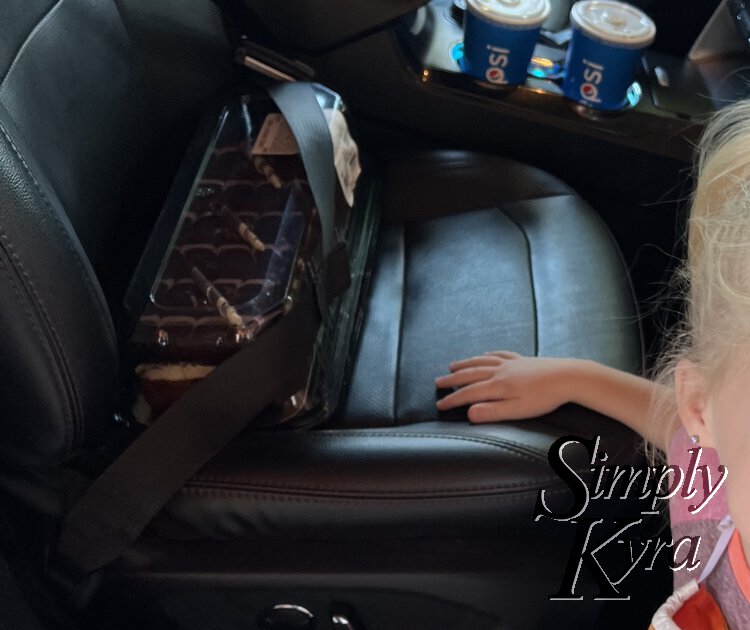 We had bought a boogie board for the wall so I used it to write an extra special message to Zoey to go along with the balloons, Zoey's choice of meals, presents, and the Zoey's choice outing the next day.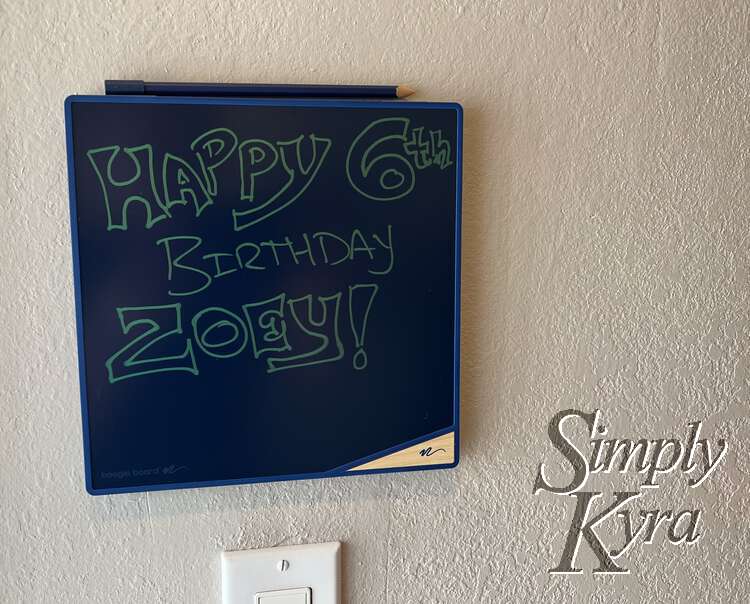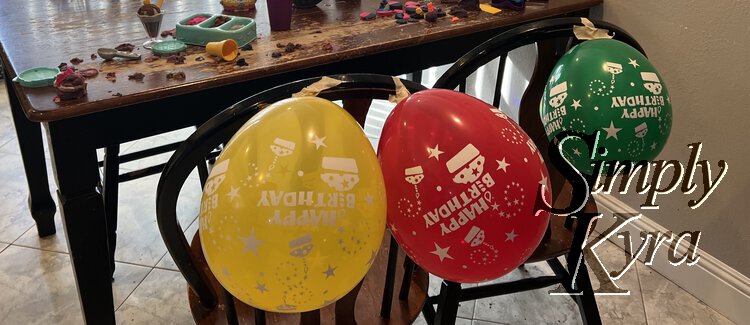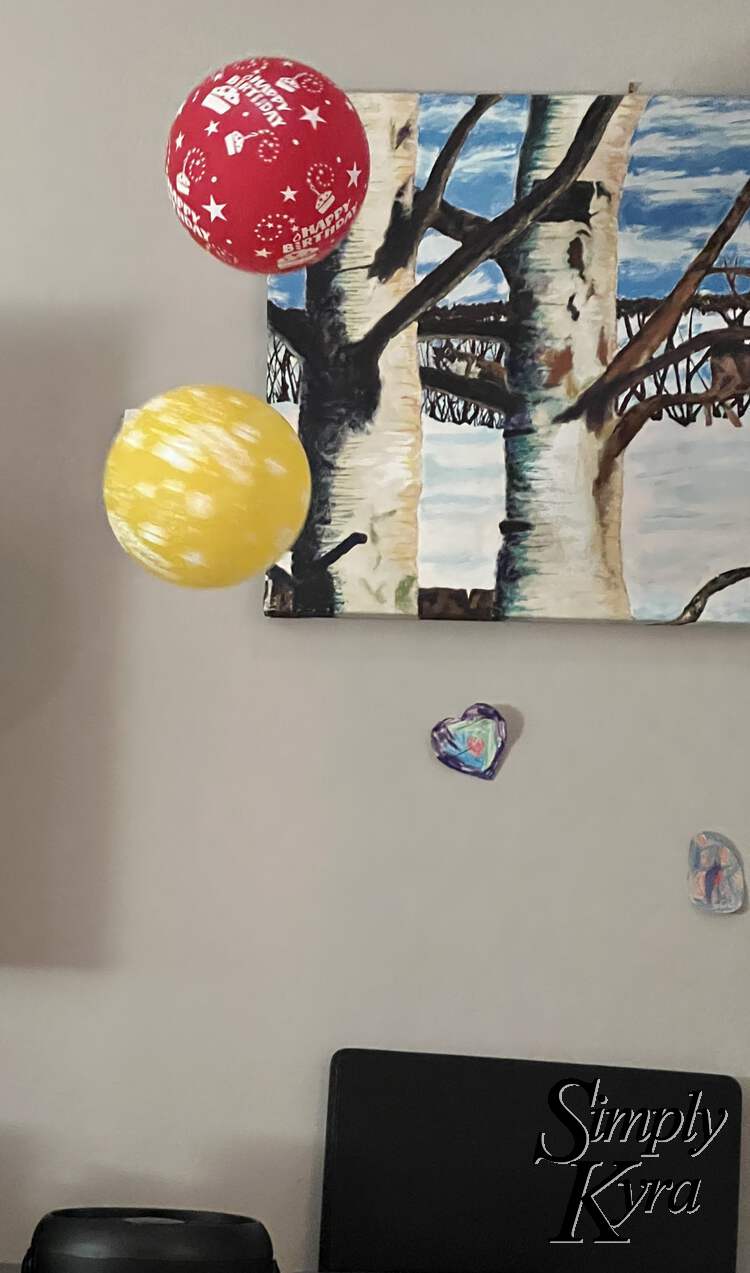 ---
Overall Zoey had an awesome birthday party and loved her birthday!
I'd love to hear if any of these ideas helped you plan your own party. Feel free to let me know if it did in the comments below. Hope you're having a great day and have an awesome party.
---
If you're interested in getting any of my future blog updates I currently come out with a new one every second Wednesday and share them to my Facebook page