Valentine's Day "Loved" Handprint and Footprint Door Sign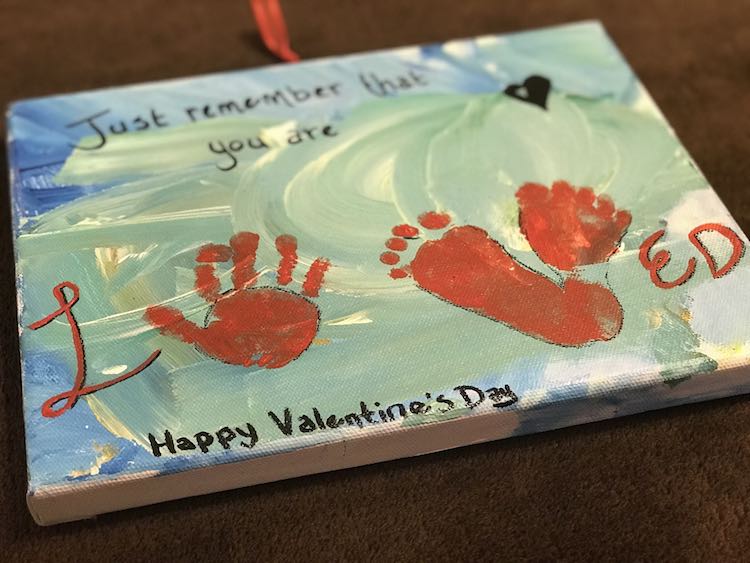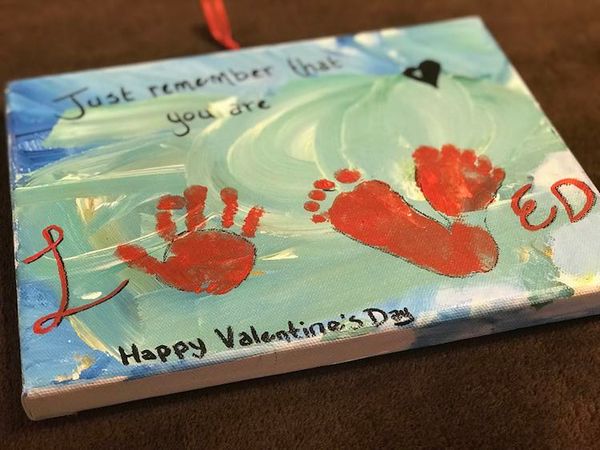 This craft was created last year, but the pictures were taken this year.
---
Last year we made a Valentine's Day hanging canvas and I wanted to share it with you. Instead of going ahead with characters like before: ghosts, turkeys, snowmen, trees, or reindeer I decided to go with something different. While researching hand or footprint ideas for Valentine's Day, as you have to save those little prints, I kept coming across images where they made the word "LOVE" either across the page or in a 2 by 2 grid. I decided to go with the "LOVE" but made it my own by adding it to a sentence: "Just remember that you are loved".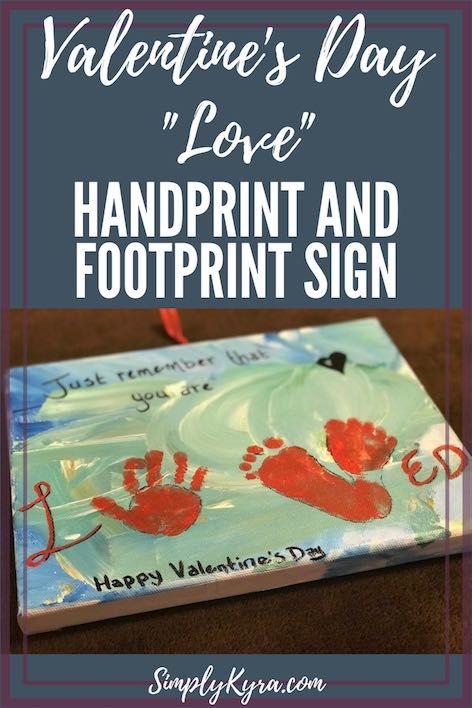 ---
Materials You'll Need
Canvas, light wood board, or anything that's light enough to be hangable
Acrylic paints
red for the 'LOVED'
miscellaneous colors for the background
Oil-based paint pen: text and if you want to go around the prints
(optional) Glow paint
(optional) Mod Podge
Ribbon or string to hang the canvas with
Hot glue gun
Hot glue sticks
Command Hook: to hang it if you haven't set anything up
---
The first step of creating your canvas is to paint your background. I did this by picking several colors of acrylic paint and letting my toddler, Ada, paint it. If you do this choose colors that aren't going hide your front design, the black pen and red paint in this case, and aren't going to clash. I love having Ada design them as I loved seeing what she comes up with and it's a good way to distract her last year so I could have a coffee while Zoey napped. I love seeing which color she ends up choosing to become the main color. If your child doesn't like painting the entire canvas, but you still want their mark on it you could always start by painting the canvas a single color (maybe with a color wash), letting it dry, and then having them paint overtop so there aren't any blank spaces with the canvas shining through. If you do a color wash start by picking one color, mixing some water in with the acrylic, and painting the entire canvas: front and sides. Just a heads up this drips easily off the canvas so you'll want to do it over something to protect your work surface and maybe prop up the canvas as it dries.
After the background dries you can go on to create the O and V. You'll want one handprint for the O and two footprints, with heals touching, for the V. Leave room on the left side for the L to be added later and leave another space on the right side for the ED. If you want tips on how to do the hand and footprints I go into more detail on my Halloween Ghosts Footprint Door Sign (and I also have a Thanksgiving and Christmas sign). I was careful not to overlap my handprint with the left footprint but ended up with them spaced further apart than I had wanted. I also noticed in some places on my footprints I can see through to the background a bit so depending on your background and the opacity, thickness, and color choice for the prints you might also be able to see through the hand and foot prints in places.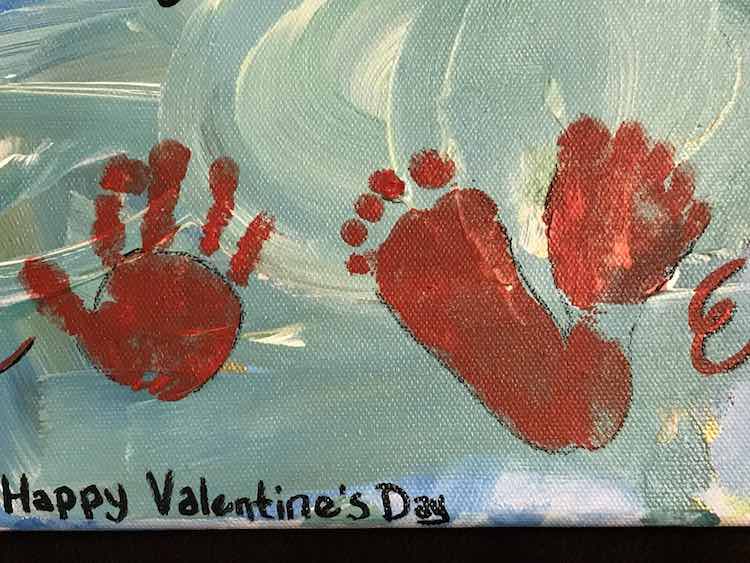 Since the L, E, and D aren't touching anything you don't have to wait to add the rest of the letters if you're impatient. Just be careful not to smudge if you charge ahead. I decided to use the red paint to finish the letters in "LOVED" and do the rest of the text with the black paint pen. Once the paint dried I went on to outline the L, E, and D so they'd be more obvious. I also outlined my foot and handprints though I'm wondering if it would've been better to leave it as is. I also added the rest of the quote ("Just remember that you are") above the prints, "Happy Valentine's Day" below the prints, and added a heart.
In previous door signs I've outline the main text with glow paint. If your sign is hanging in a dark area you could always add glow paint to the sign.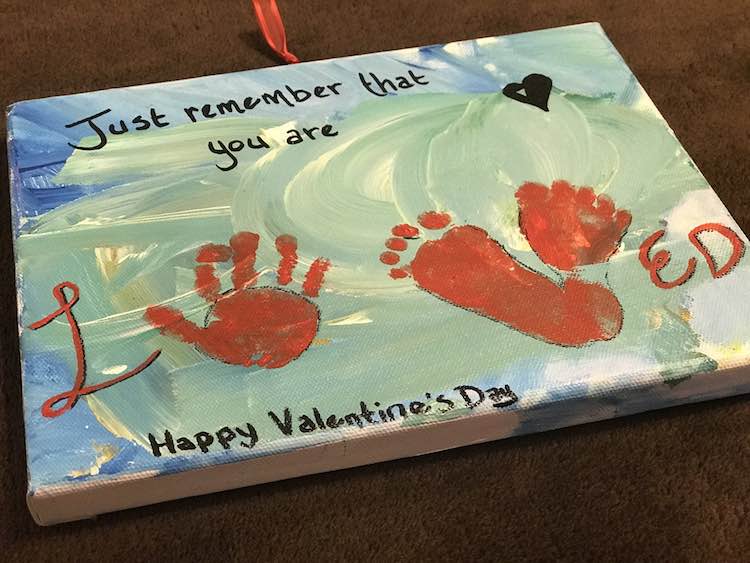 Once you are done and the paint is fully dried you can flip it over to add the ribbon. I choose a red ribbon so it matched the paint on the canvas. You just trim the ribbon to size, fold it in half, tie a knot so there's a loop on one side, center it above the canvas, and then use your hot glue gun to attach it. Since I was using a stretched canvas I chose to have the ribbon reach down to the bottom corners so there would be more surface area to glue it to. I also jotted down the current ages of Ada and Zoey and the date on the back.
I hung my canvas on my front door on a command hook. If you want more information about hanging the command hook you can check out my Halloween door sign post. I've also created a Thanksgiving and a Christmas door sign before.
I would love to see what you end up creating.  You can tell me in the comments below, post on my Facebook page, or connect with me on Instagram.