The Olivia Top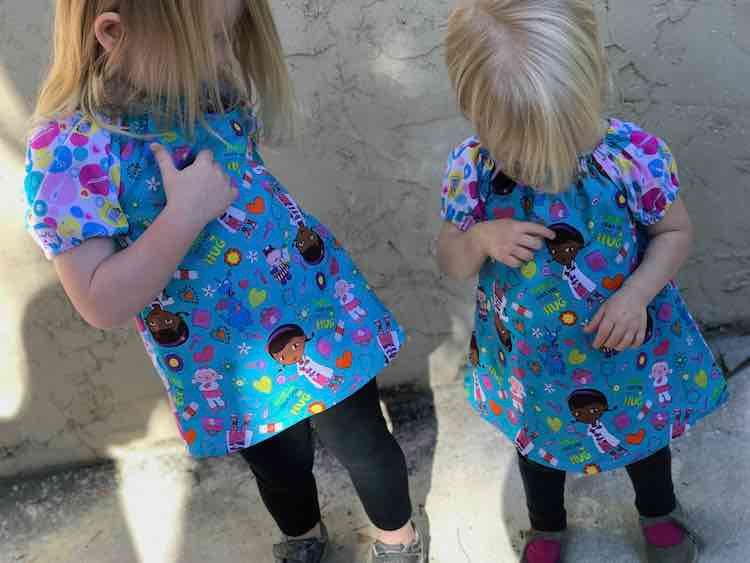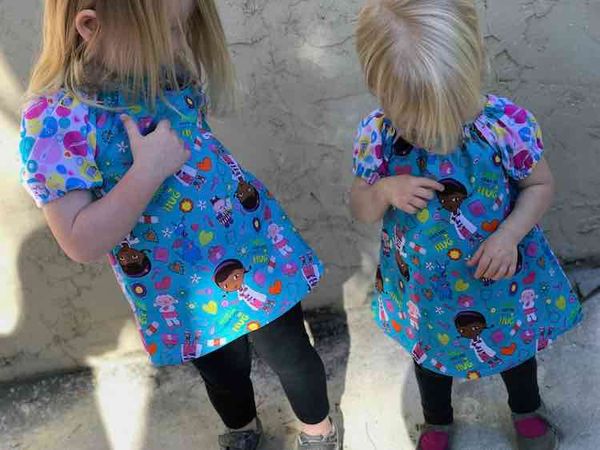 I sewed up the Olivia top through Rebecca Page back in September for both myself and my girls yet hadn't gotten around to sharing it with you yet. I've since made Ada and Zoey another version of this top back in December and am debating making yet another one this month. I love that you can sew this top with a lightweight knit, which I used for myself, or use a woven fabric like quilting cotton. I enjoy patterns that work with quilting cotton as I can then have my kids pick their favorite fabric at JOANN's letting them see and touch the fabric in person instead of just through the computer screen online. I love how this simple shirt includes Rebecca Page's impeccable seam finishing without having to worry about zippers, snaps, or buttons while sewing or later when your kids are get dressed later.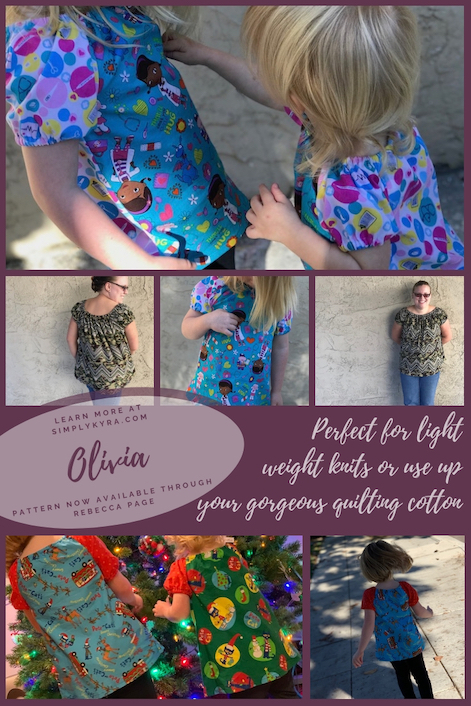 ---
Like all of Rebecca Page's woven patterns the raw edges impeccably hidden and she walks you through each step so it's really simple to follow along. If you only have a sewing machine and want to make the Olivia in knit you can follow the serger directions using a stretch stitch instead of doing the french seams. This sewing pattern can be purchased for girls (newborn to 12 years), ladies (XXS to 5XL), or you can bundle the two together for, potentially, matching mommy and me shirts.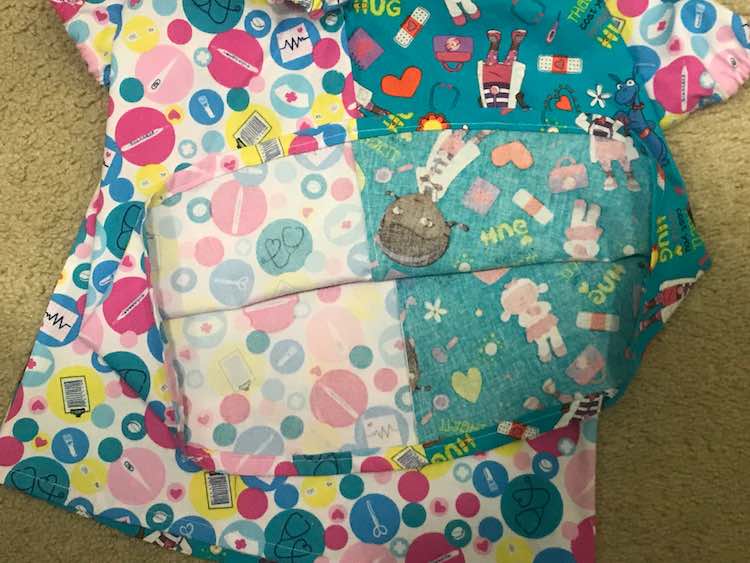 ---
Ladies' Olivia Sewn In Knit
This pattern works with both lightweight knits and woven fabrics so I chose to sew my version up with some lightweight knit I received in a mystery box through Elevated Fashion Fabrics. I love how the fabric draped with such a flowy knit (double brushed poly). Just be careful not to use too heavy of a knit fabric as the next one I attempted ended up looking more tent-like and has since been set aside until I figure out how to alter it.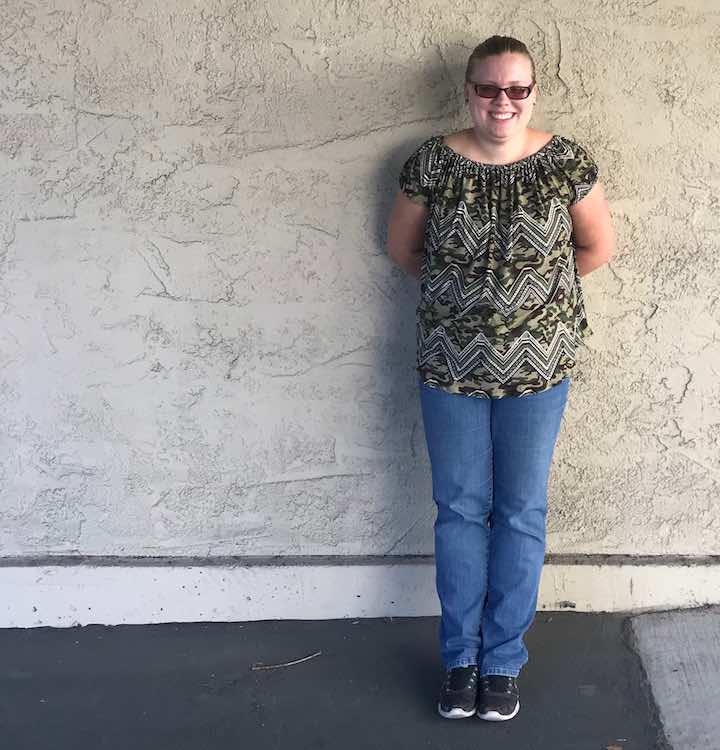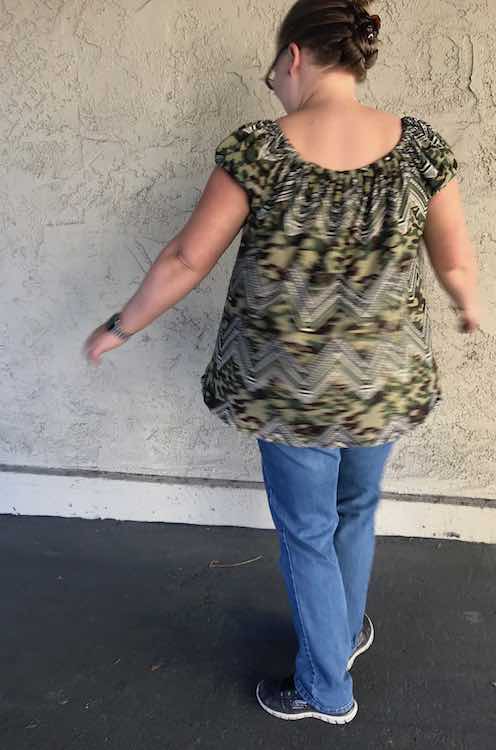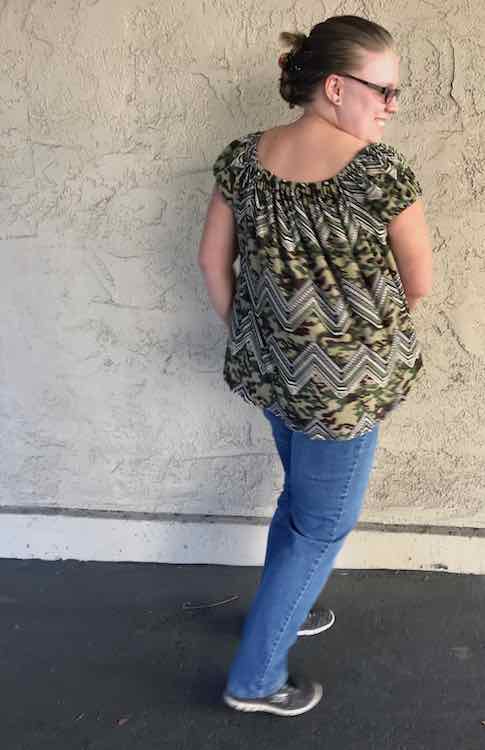 ---
Kids' Olivia in Quilting Cotton
I wanted to use my Doc McStuffins quilting cotton I bought from JOANN's fabrics while she was still popular with my kids. I decided to minimize the amount of Doc McStuffins used by pairing it with a medical tools-related fabric found in the clearance section of JOANN's. The french seams are clean and it was simple to create the elastic casing to thread the elastic through.
The kids absolutely loved getting another Doc McStuffins garment and I liked how if they choose to wear it backwards it still looks good. It's a shirt that looks great leaving the apartment while at the same time being simple enough that it doesn't matter how messy they are while wearing it and is comfortable enough to be paired with pajama pants around our home.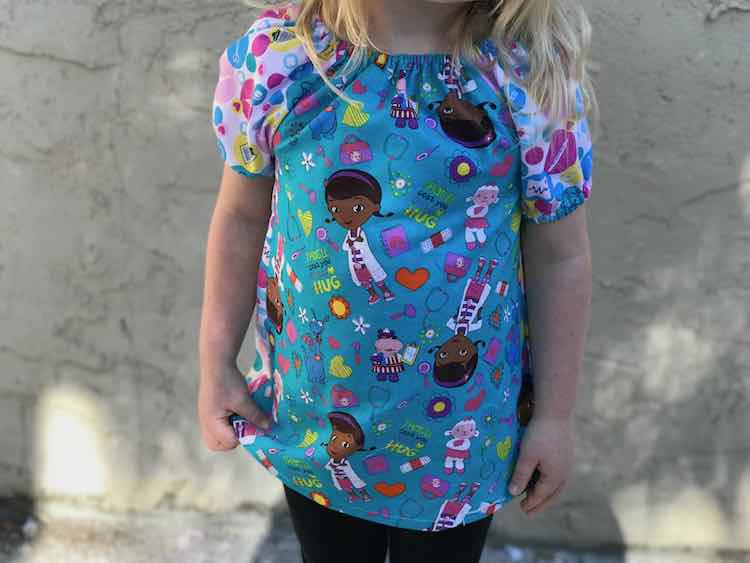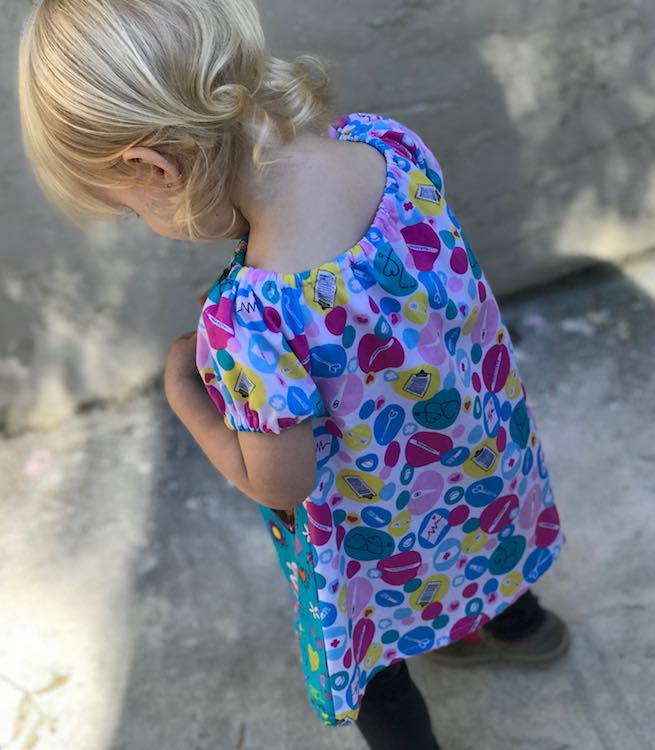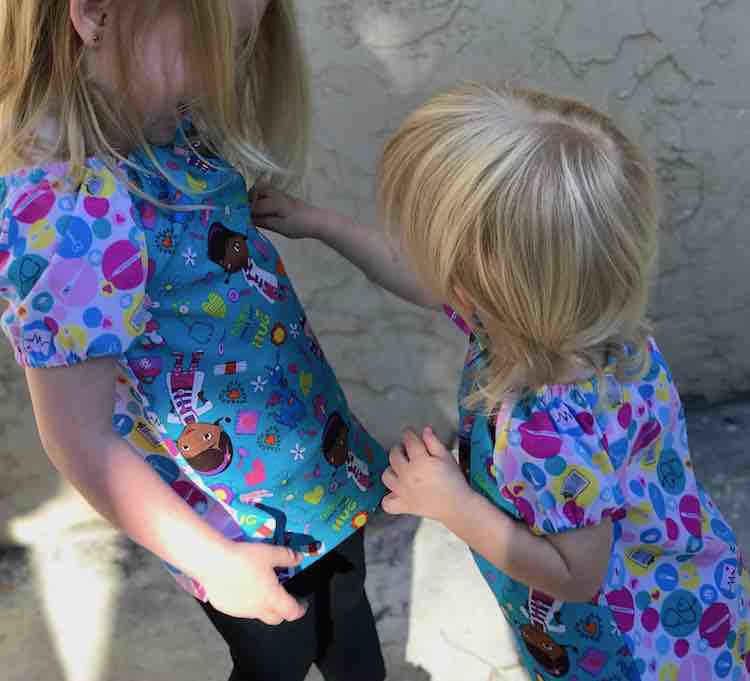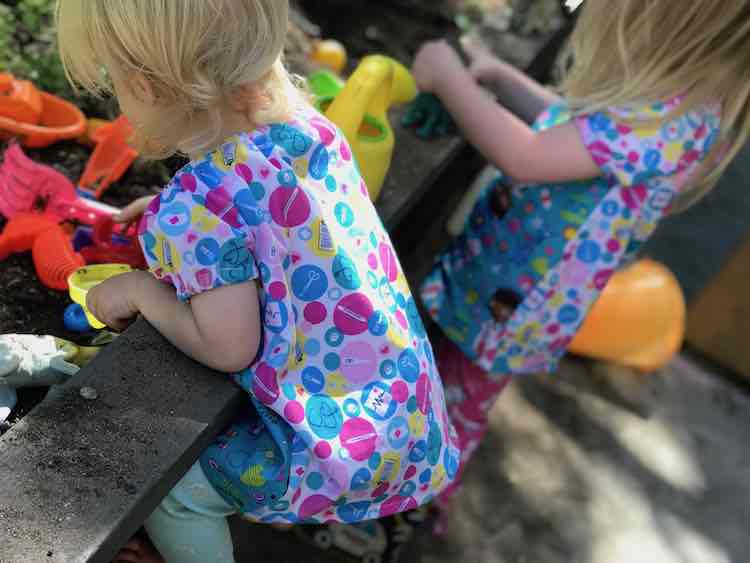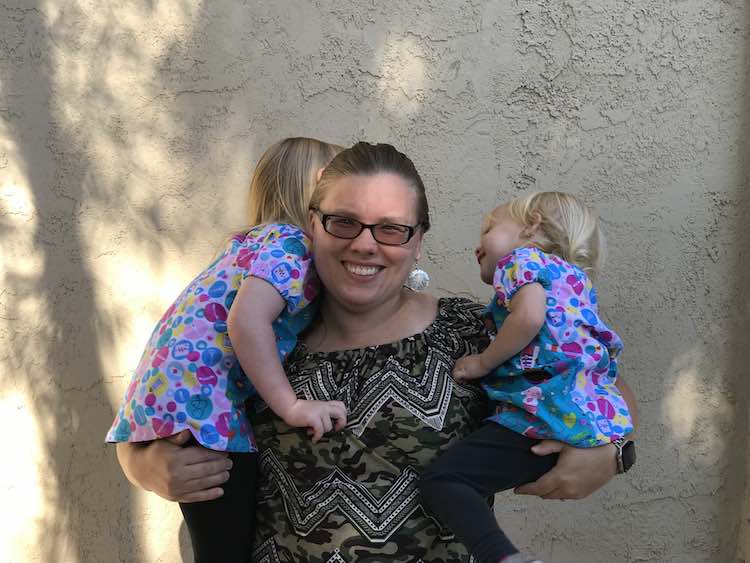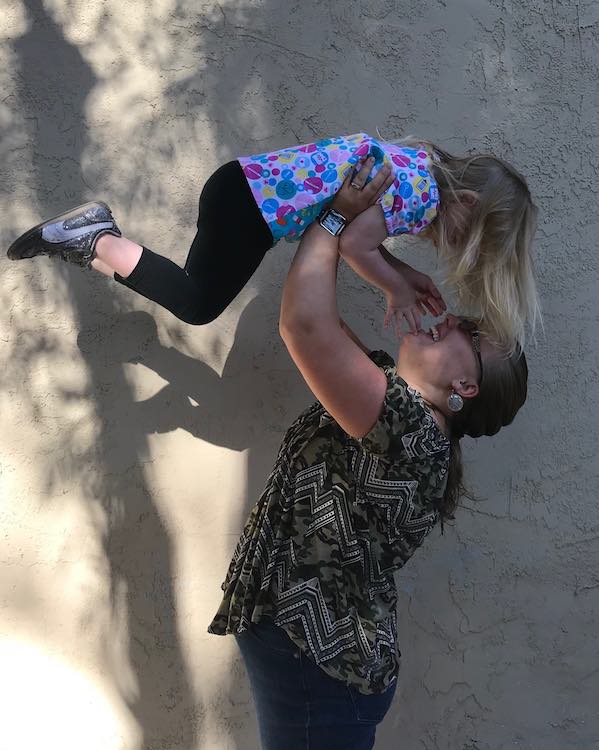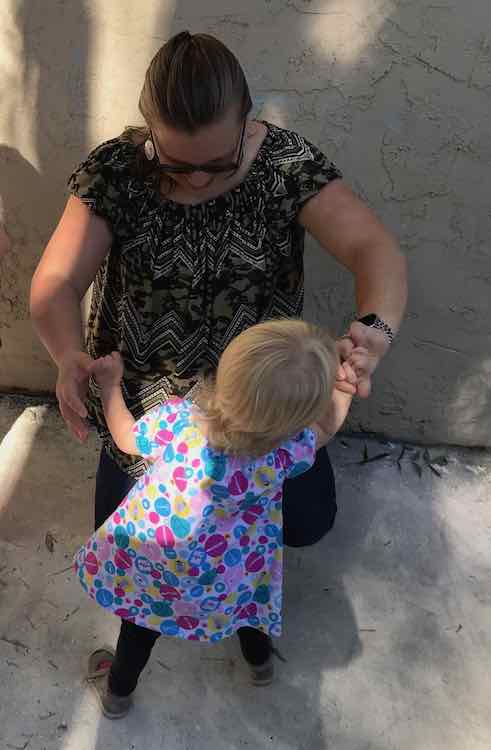 ---
Christmas Shirts
At the beginning of December I went on Fabric.com to go looking for solids for their upcoming Christmas dresses. Ada was in the room with me when I stumbled across Pete the Cat… so of course we HAD to get it in both Christmas versions along with the matching coordinate (it had both their favorite colors on it). With how simple the Olivia is to sew and how much the kids love their first version it was an easy choice to sew up again for their Christmas shirt. Since I sewed it up in December I made it the present in their advent calendar the morning immediately after finishing the shirts. In their advent calendar drawer I included an image of a face with closed eyes so they had to close their eyes while I pulled out the bagged shirts for them to open.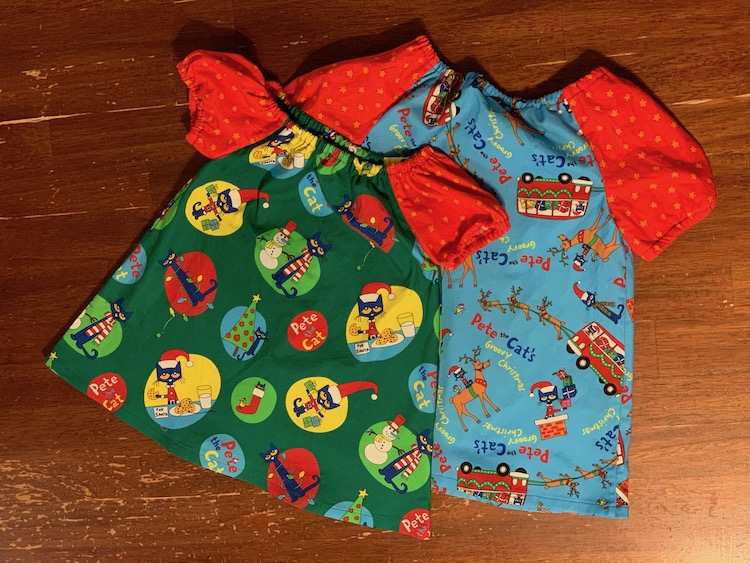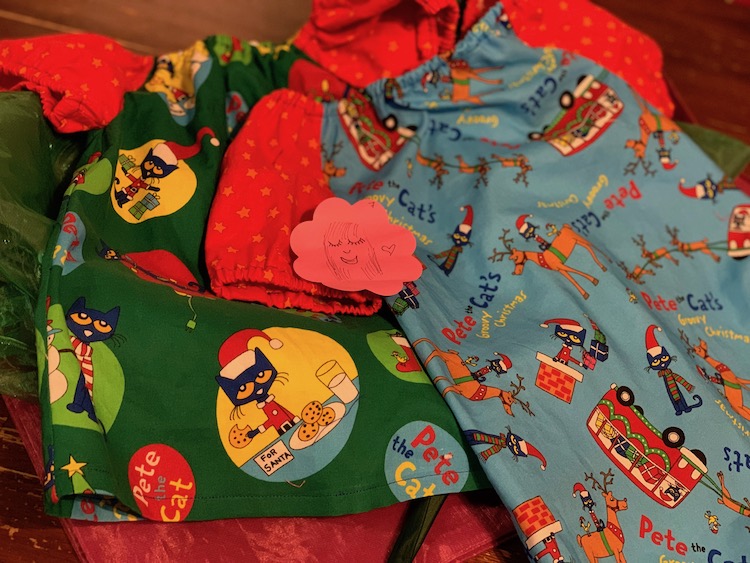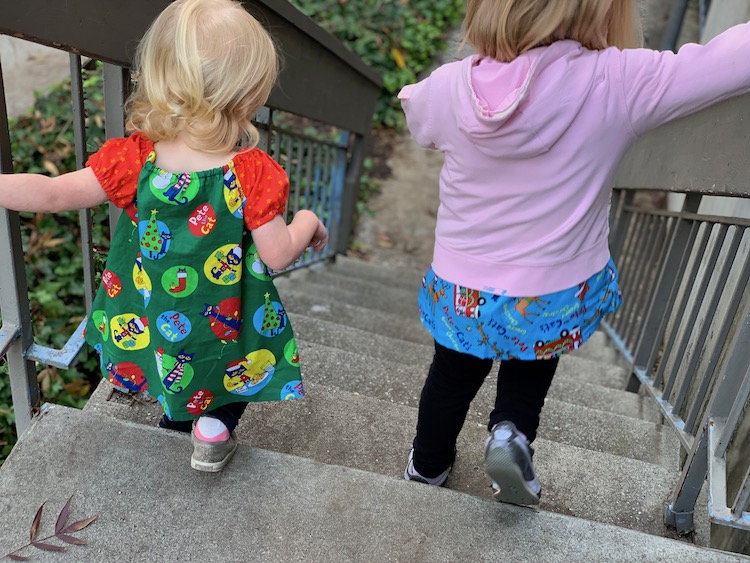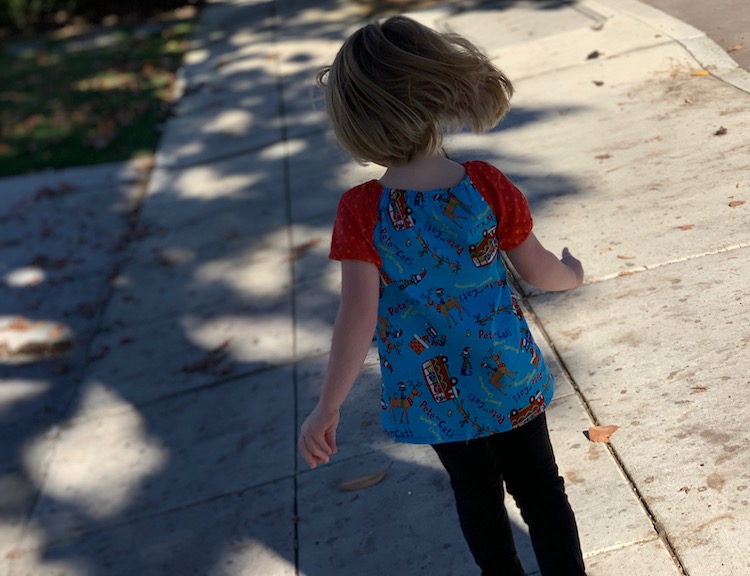 ---
With how great these shirts look and how simple they are to sew I've already cut out a third version to sew up for them. It works with woven or lightweight knits so there are so many fabrics you can use to sew up this top. You can find the patterns for the girls' Olivia (newborn to 12 years), ladies' Olivia (XXS to 5XL), or a bundle of both patterns together at these links. If you'd like there's even the option to add bow or ribbon detailing on the kids' version. I can definitely see this being a staple in our home.
Feel free to share your creation in the comments below, on my Facebook page, or through Instagram. Hope you're having a great day!