The Chloe Camisole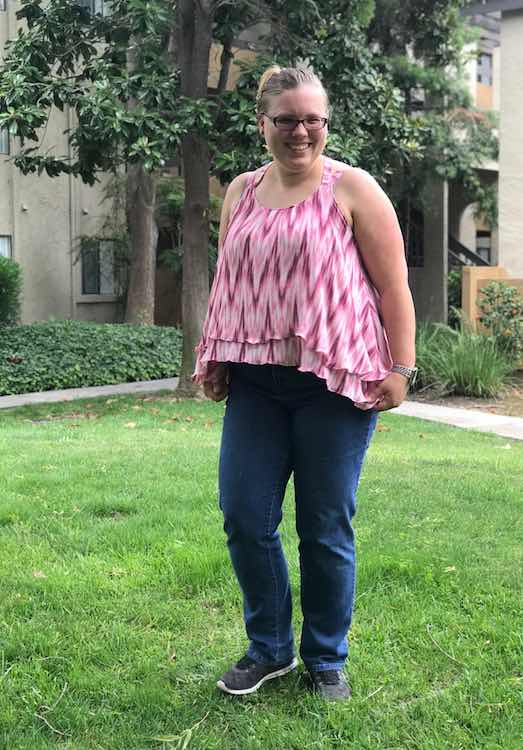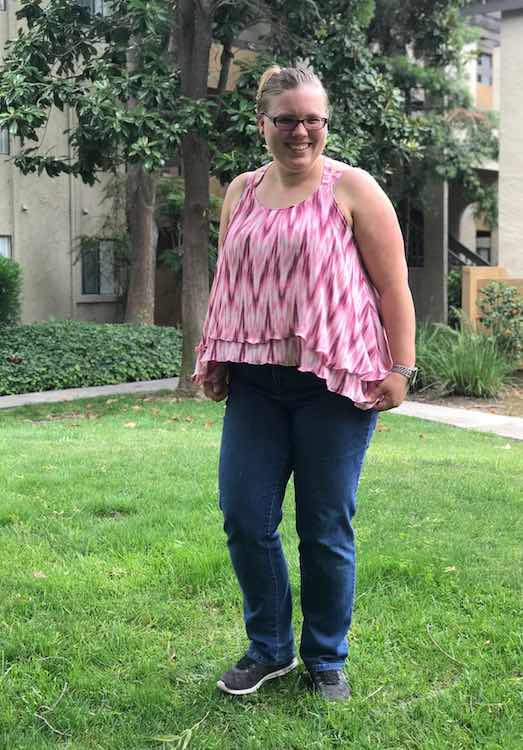 When I first saw the Chloe Camisole I didn't think it was my style. I'm so glad I gave it a chance! The first time I sewed it up I used light-weight crepon and loved it so much that I sewed it up a second time, within a couple of days, with my chiffon I had leftover from sewing the Brielle Blouse.
The camisole comes with multiple style choices to help you get a custom camisole without being too overwhelming in choices. There are two lengths you can cut your camisole to. The short layer is a crop length that ends around your belly button while the longer length comes to the top of your hip bone. The pattern is drafted for a 5 foot 6 person and there are directions on how and where to shorten or lengthen the camisole if you're shorter, taller, or just want to tweak the style. You can have single straight straps or add a second set of straps for either a double straight top or a straight and crossover back.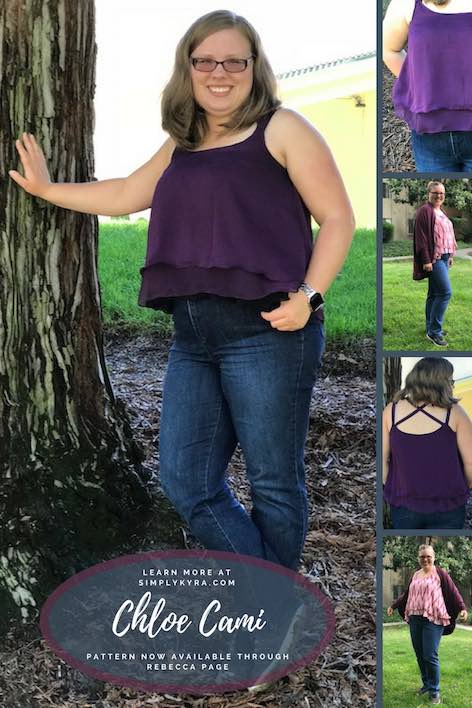 ---
What you need to get started
Chloe Cami Pattern
Light or medium weight woven fabric
Fabric with more drape will be softer and give you more folds and movement at the bottom – like the crepon (Sly Fox Fabrics) and chiffon (Fabric.com) I used
Fabric with more body (like quilting cotton) will give more structure to your camisole yet may give the camisole a more boxy or oversized look
Complementing thread
Tools used – sewing machine, scissors and pattern weight, rotary cutter and cutting rulers, tape measure for sizing, and/or pins or clips.
---
I decided to finish off the bottom of my Chloe Cami with a rolled hem on my sewing machine instead of a folded hem. The only issue I came across was when sewing over the french seam on the side of the camisole the seam got caught in my sewing machine's rolled hem foot and wouldn't let me continue until I pried it out. I found it worked great if I trimmed off the bottom of the french seam at an angle before hemming it. Since the chiffon unraveled a bit as I sewed the rest of the garment I had minor strings in places that I went back and hemmed from the rolled hem when I was done.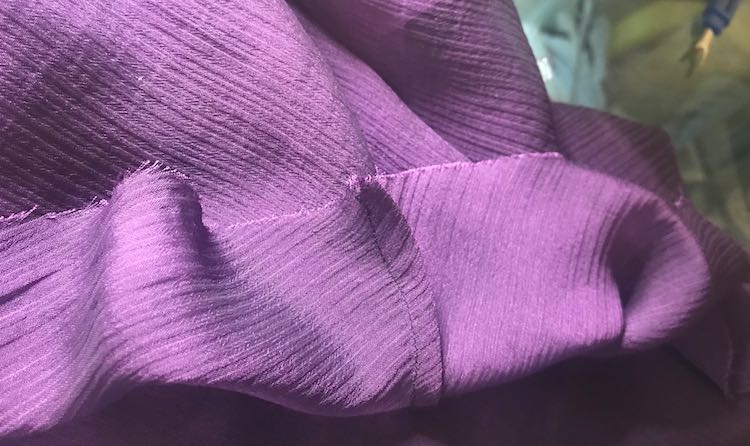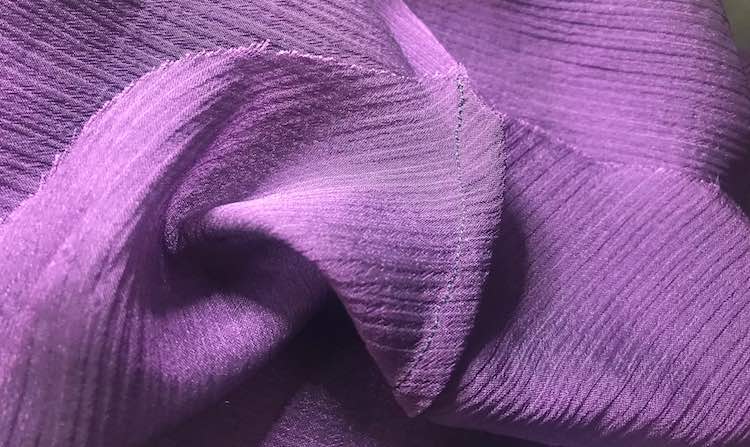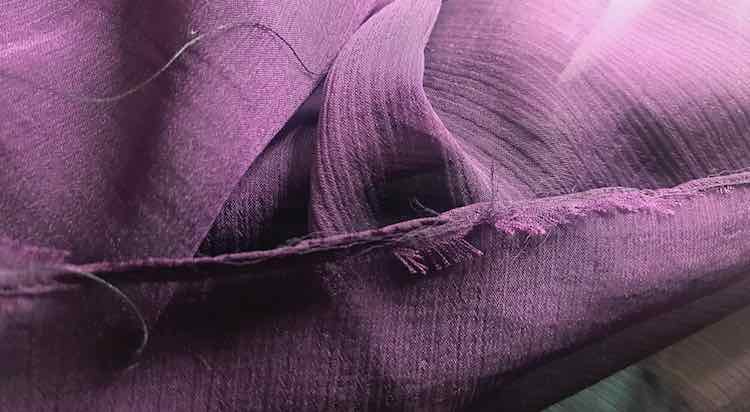 Additionally, since the chiffon was rather see through I ended up making my purple camisole with three layers instead of the default two. I layered a short layer of purple chiffon over two long layers of (purple and then black) chiffon. An easy way to make your camisole perfect for you and your fabric choices.
---
You can get the bundle including ladies, childs, and dolls sizing or get them individually: ladies (XXS-5XL), girls (newborn to 12 years), and the 18 inch dolls.
---
Since the bottom hem of the camisole was a bit high I was worried I would have to go shopping before I could wear it. I found that the camisole works perfectly with the Gloria Vanderbilt jeans I've been buying lately from Costco though. I love how I can pair the camisoles with jeans to be a bit more dressed up while going to the farmer's market or having a picnic with the kids.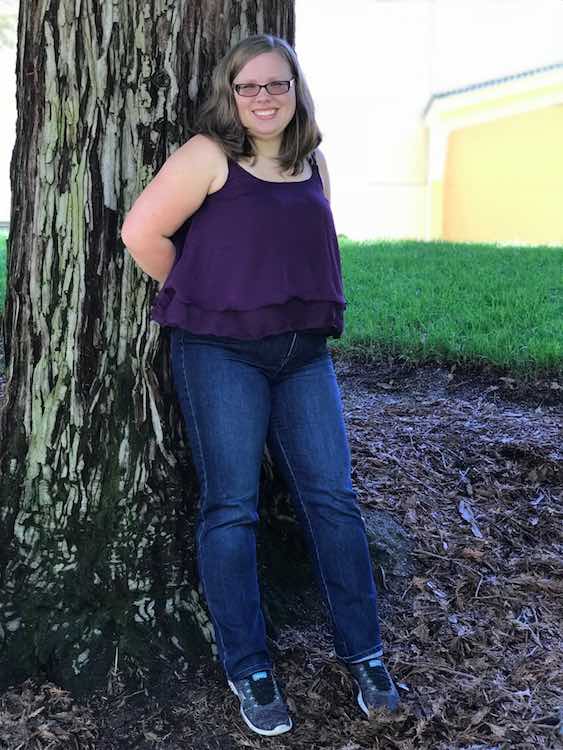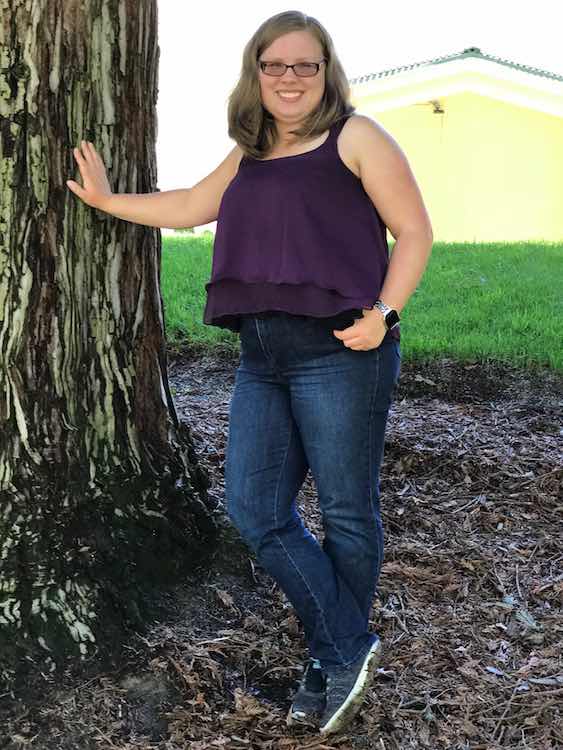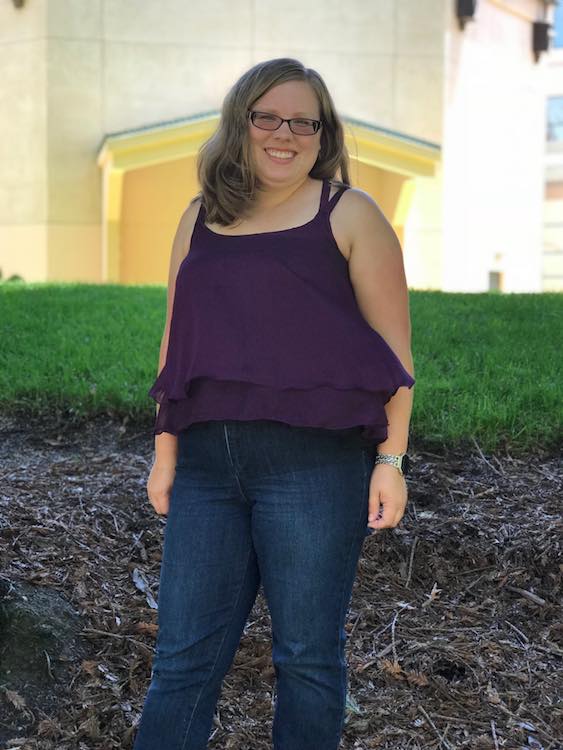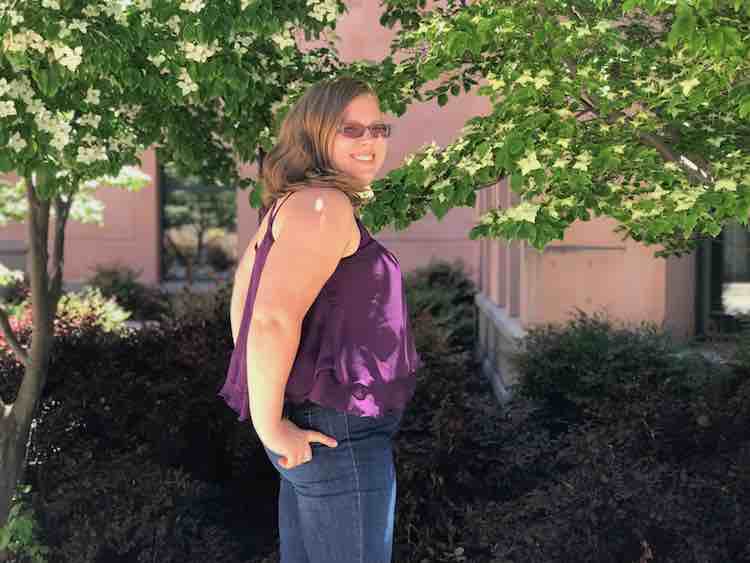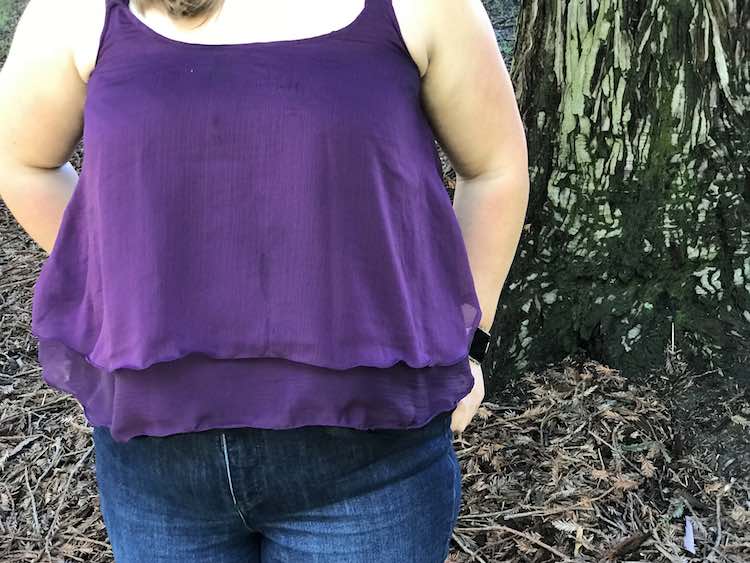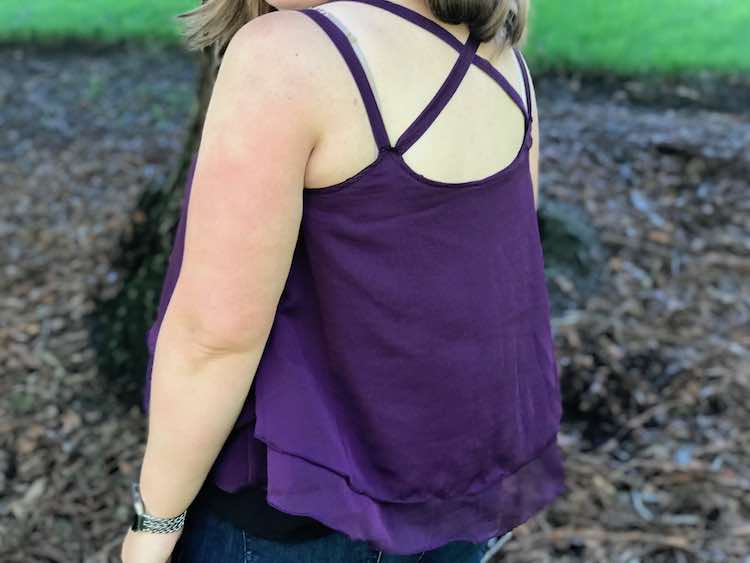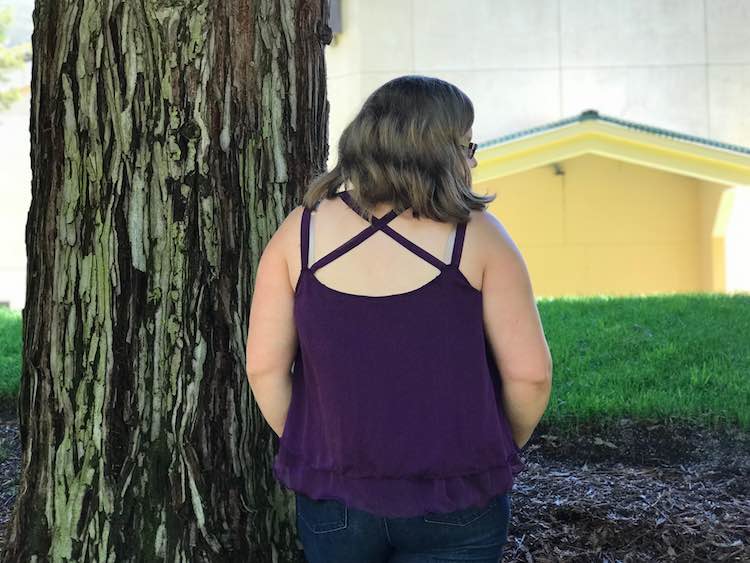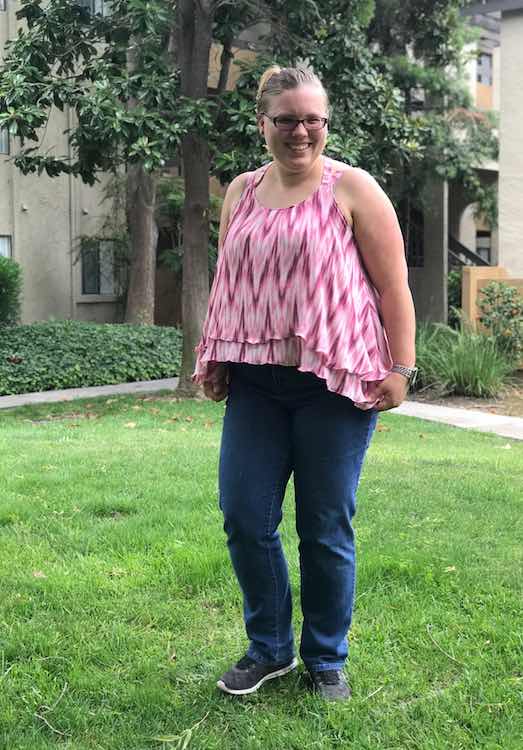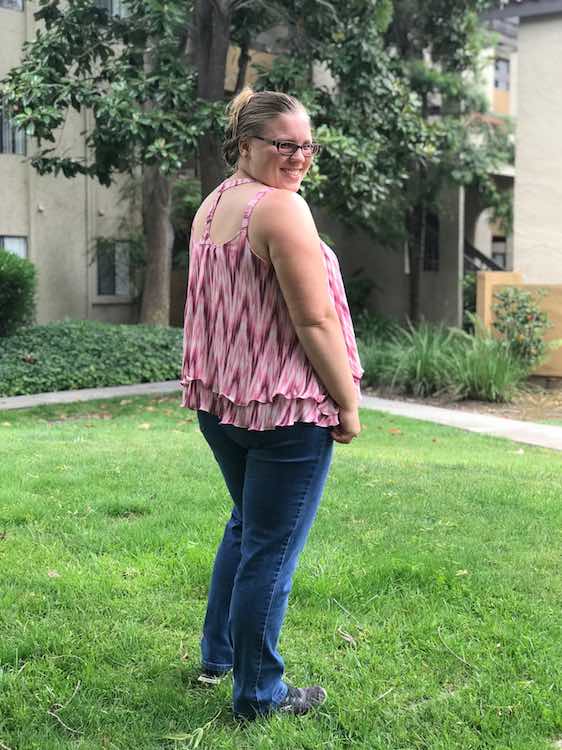 The Chloe Cami also pairs up beautifully with the Cora Cocoon. Both items are really quick sews so you could have them both sewn up in one (or two if you're constrained by kids' nap and bed times) days.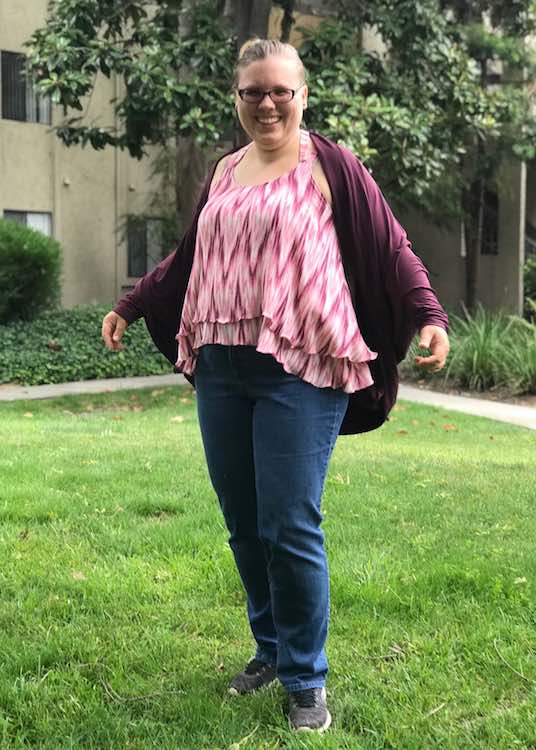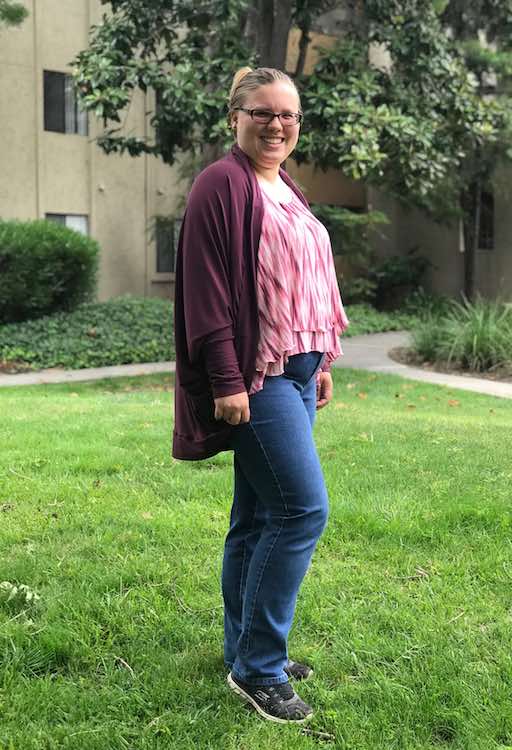 I was even was able to wear the camisole with my backpack diaper bag… though it did wrinkle the back a bit since it was made from chiffon.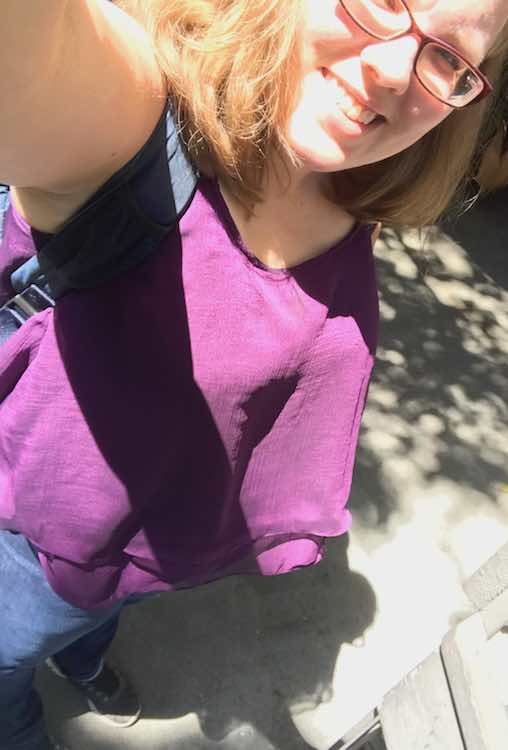 The Chloe Cami also offers a large enough range of movement to be able to go about your day as normal… including all the kid lifts.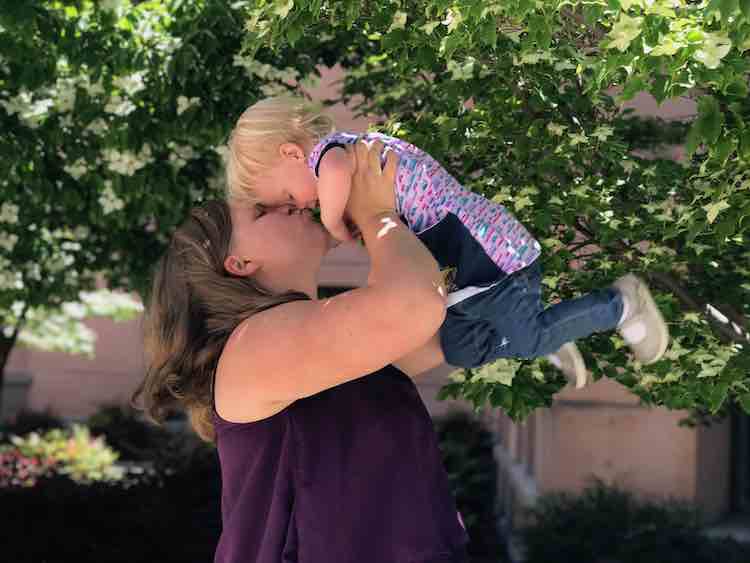 And of course the kid climbs that always occur when you go lower down.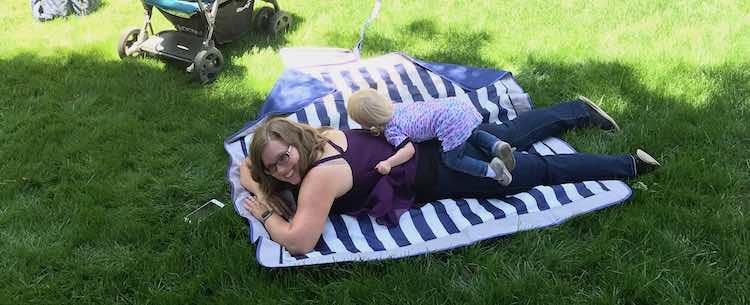 ---
I'm so happy with the two Chloe camisoles I sewed up. I can see making many more in other types of fabric. I hope you enjoy the Chloe Cami too and I'd love to hear from you and see your sews through the comments below, on my Facebook page, or through Instagram. If you want to sew the Chloe Cami up I've included the links again for you convenience. Available though Rebecca Page is the bundle including ladies, childs, and dolls sizing or you can get the patterns individually: ladies (XXS-5XL), girls (newborn to 12 years), and the 18 inch dolls. If you choose to sew this up with chiffon like I did I have a blog post about making chiffon bias tape. Hope this helps.