Simple Buckle Play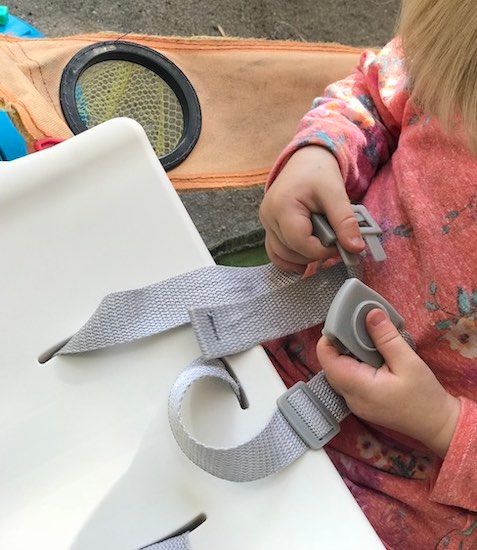 Both my girls went through a stage where they loved the challenge presented by the simple buckle. To be honest I think they kept returning to the buckle multiple times.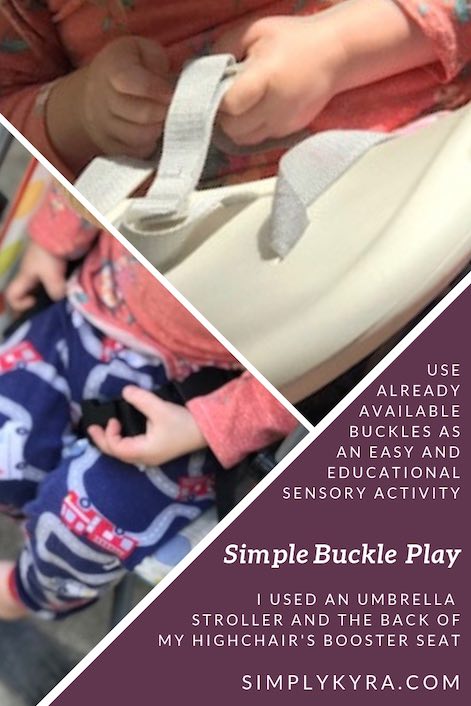 To try to give them more opportunity to test buckling, and other skills, we bought Ada and Zoey a Melissa and Doug puzzle with a buckle, zipper, button, and other basic skills they need to learn. I also created a quiet book page that included a buckle to hide and show the butterfly underneath. Neither item gets looked at very often although the puzzle does get picked up a bit more lately. My sister also gave us backpacks a while ago that I added buckles to so I could keep the stuffed animal attached to the backpack while traveling so it wouldn't be lost. Overall the most frequently used buckles are the ones you didn't expect to become toys.
We bought our umbrella stroller when we first moved and didn't have access to most of our stuff including our bigger stroller. After we received our stuff I almost never used the umbrella stroller so it lived on the deck… and became a toy for both kids. When Ada was little she spent so much time sitting in the stroller buckling and later unbuckling herself as her skills developed. As Zoey came along and grew bigger she also started sitting in the stroller to play with it… when Ada wasn't trying to push her around.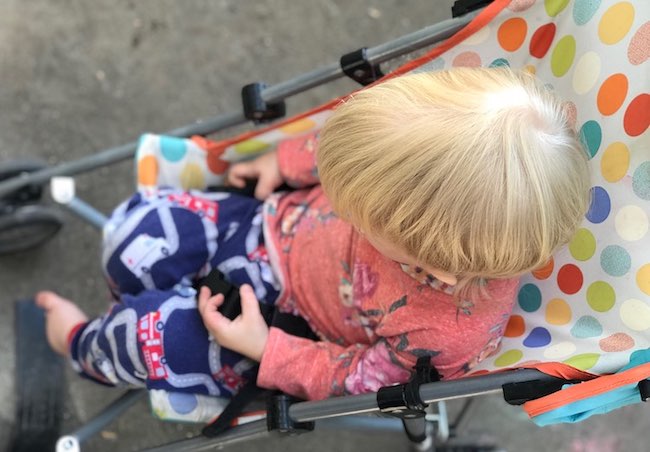 Another buckle system we used a fair amount considering it took no time to make was the extra piece of our old booster seat. The booster seat came with our highchair that we've had since Christmas 2014. When we finally got around to using the booster seat it didn't work very well with our chairs. When we finally decided to get rid of the booster seat I ended up using the strap that attached the seat to our chair for the quiet book page and the accompanying removable backrest hung out in our living room and then later went outside on our deck for a second life.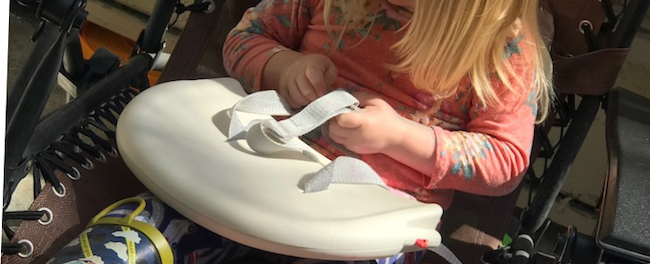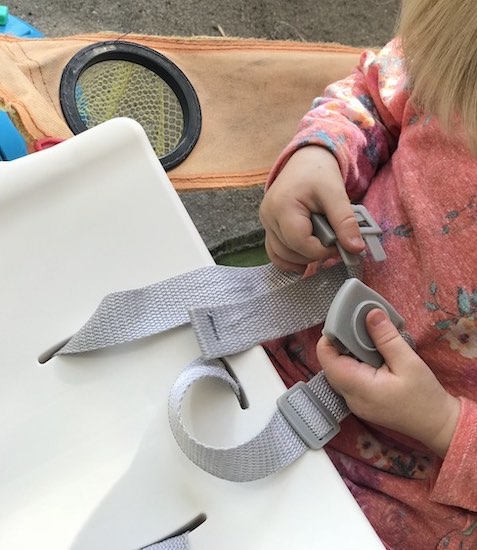 I just wanted to share as some of the favorite toys have been found in the most unlikely of places. What random things have you come across or have your children found that have since become favorite items… or at least recurrent use toys? I'd love to hear about it in the comments below, on my Facebook page, or through Instagram. I hope you have a great day.