Sausage in a Blanket (a.k.a. Hot Dogs) with BreadIn5 Dough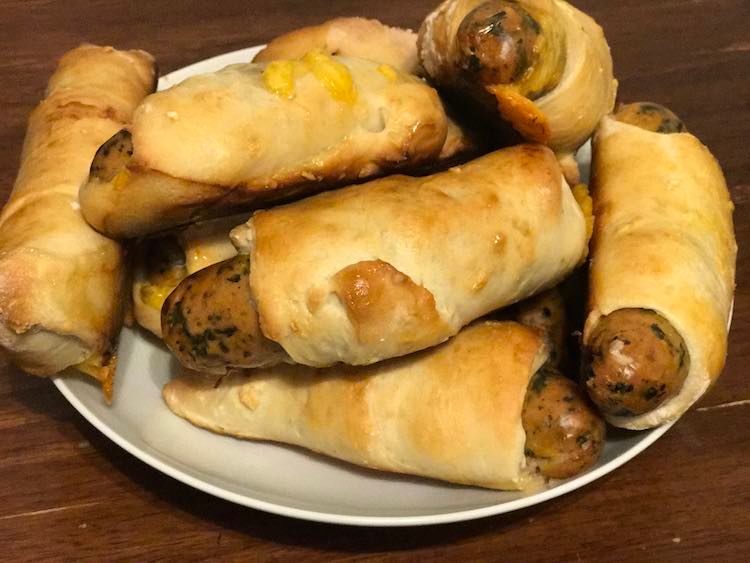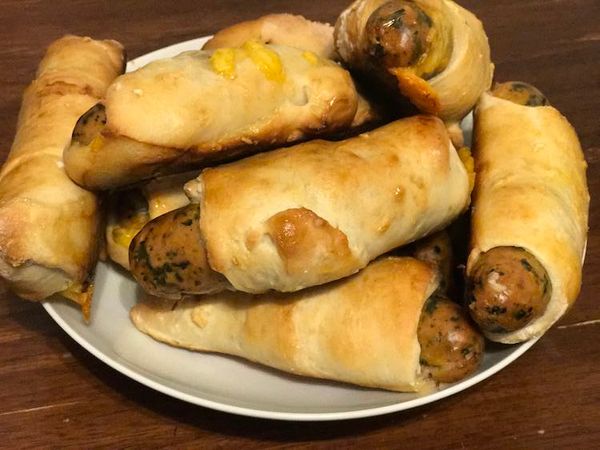 I've posted awhile back about the BreadIn5 cookbook I love. I have since gone on to use the bread dough for several different things, including, transforming a simple sausage or hot dog wiener into something divine. I've only made these with precooked sausages or wieners so I don't have to be completely sure that they're fully cooked through though each time they came out piping hot throughout so I'm not too concerned. The cooked bun insulates the meat inside and keeps it hot for awhile so I sometimes cut the kids hot dogs in half lengthwise so it cools quicker for them. When I first started out I made the hot dogs complicated by adding condiments and swiss chard, before adding the sausage, to the rolled out dough and then rolling them up together. Over time I've since simplified them by  adding the sausage to the plain dough and leaving out all the condiments and fillings. This way the kids can choose, last minute, which condiments they feel like and dip however much they want to use themselves. Once you have the bread in five recipe down this becomes so simple to make and so easy to customize so I had to share it with you.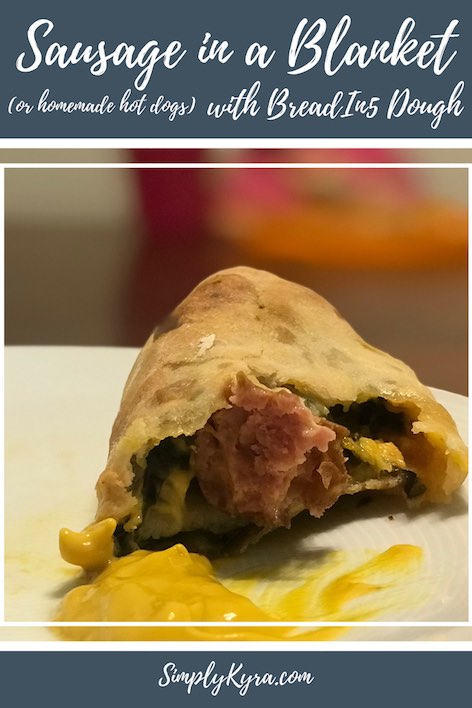 ---
I've gone through so many iterations of these yummy treats. My favorite is wrapping the sausage up with cheddar cheese and my easiest leaving it plain. If you aren't adding anything to the hot dog then you don't have to worry about covering the whole sausage as nothing will come spilling out. If you're adding condiments or fillings (like ooey gooey cheese, swiss chard, or condiments) you may want to fully enclose it in the bread dough so it stays contained. Either way whether you're using cheese or not I suggest using silpat liners, or something similar, on your cookie sheets as the buns and baked cheese come off so much easier than when they're directly on the cookie sheets.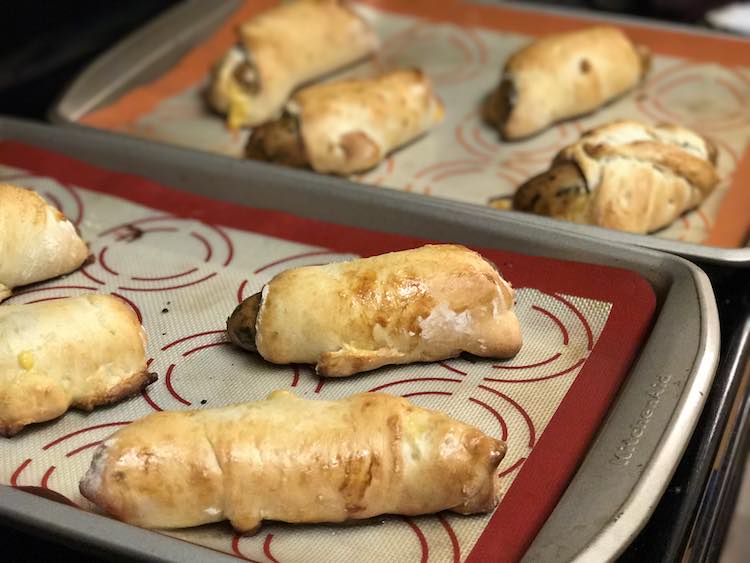 To make them you start by gathering your already mixed up bread in five dough (though I'm assuming another recipe could also work), your sausages or wieners, and any fillings or condiments you might want to add. The photo, shown below, included ketchup, grated cheddar cheese, and sliced swiss chard. I left off the mustard as only Zoey and I like it and it was simpler to dip the finished buns in the mustard than remember which was whose during the process.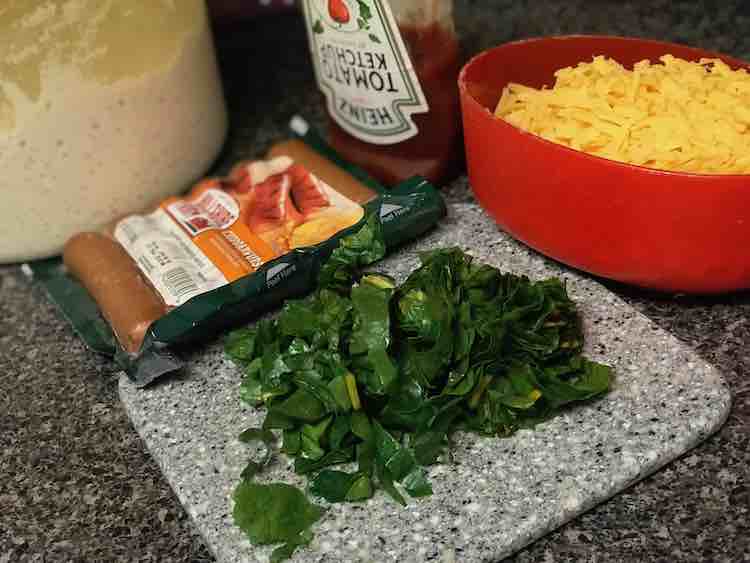 Once everything was assembled I grabbed a hunk of bread dough and, using flour, rolled it out. Once it was flat I cut it into sections (easiest was cutting it into triangles) before decorating each piece with ketchup then topping it with swiss chard, grated cheese, and then the sausage. I finally carefully wrapped them up. At first I tried to fully enclose each one but over time I started running out of dough and found it simplest to leave the ends open. Even if you fully enclose the interior there's a chance the bread will split and the fillings will ooze out so it isn't a sure thing.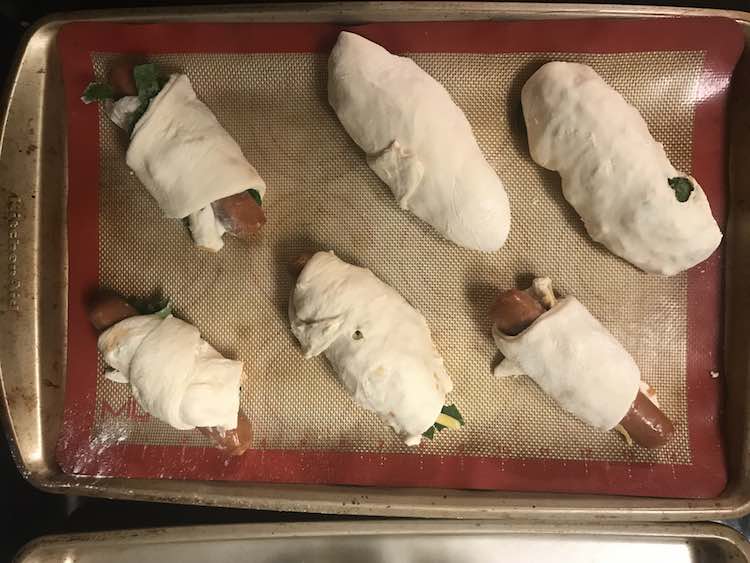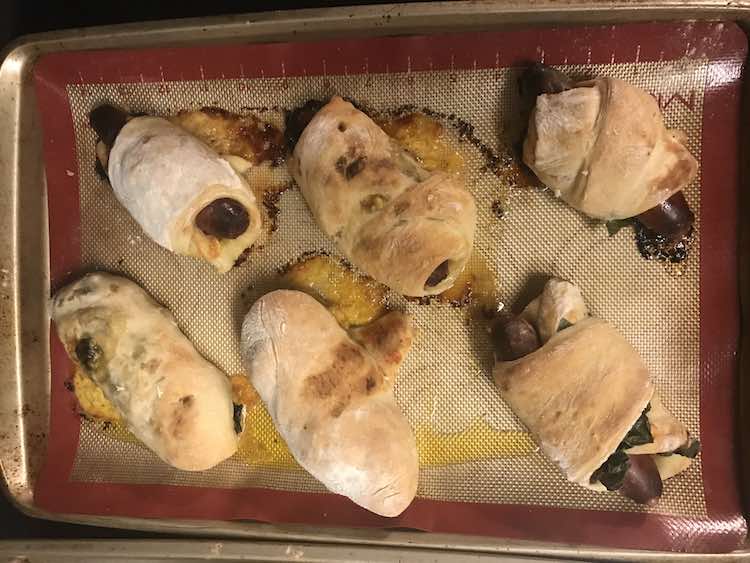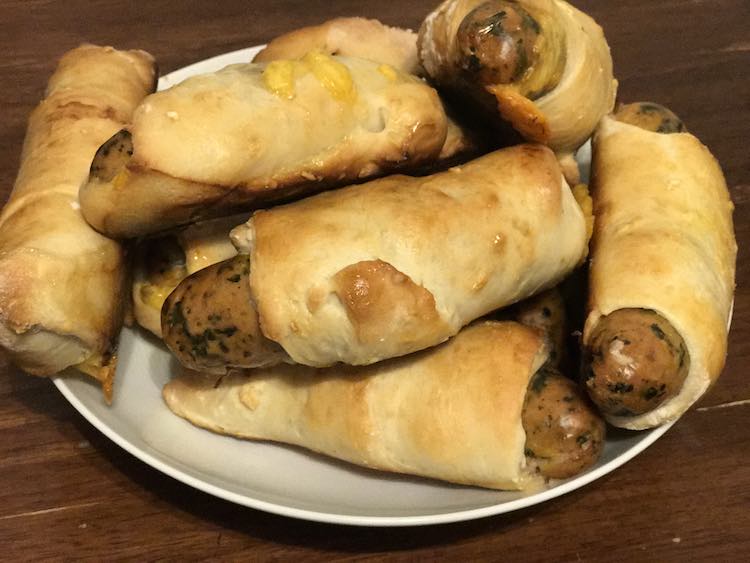 I baked the hot dogs in a 425 degree Fahrenheit oven until they were fully browned and baked through. The baking time depends on many factors. like the amount of dough you used and your oven. but, for me, this took about 30 minutes.
I've made the hot dogs with both white and whole wheat bread in five dough before. The last time I made simple hot dogs I, again, cut the dough into triangles, and fully wrapped the sausage up in the dough. Since they were fully wrapped and had no filling it was so easy to clean up after they baked.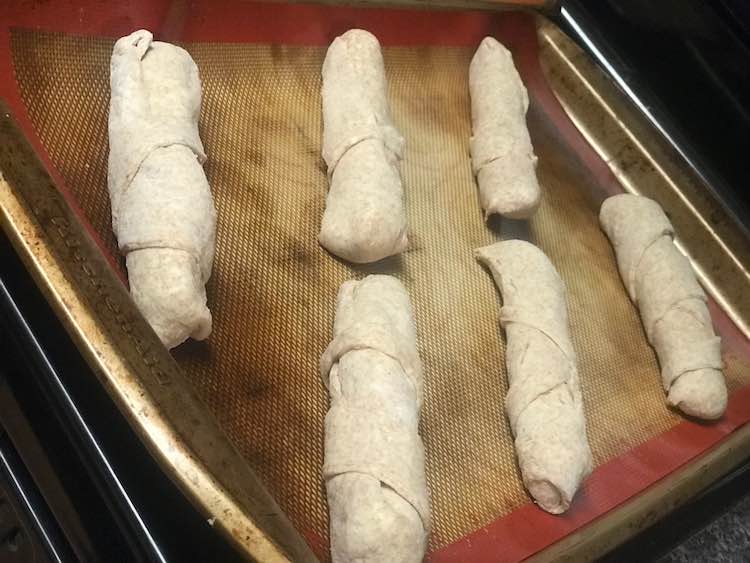 I've kept this simple so many times and served them with only condiments to dip in. If you want it to feel more well-rounded without any extra effort a simple packaged salad can finish it off nicely. If you need a snack or side I can see cutting the sausages into halves or quarters before wrapping them up though I haven't tried that yet.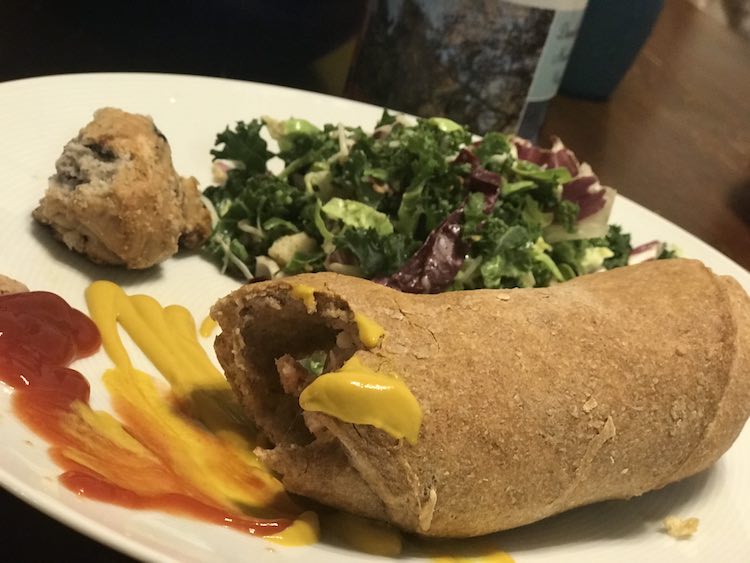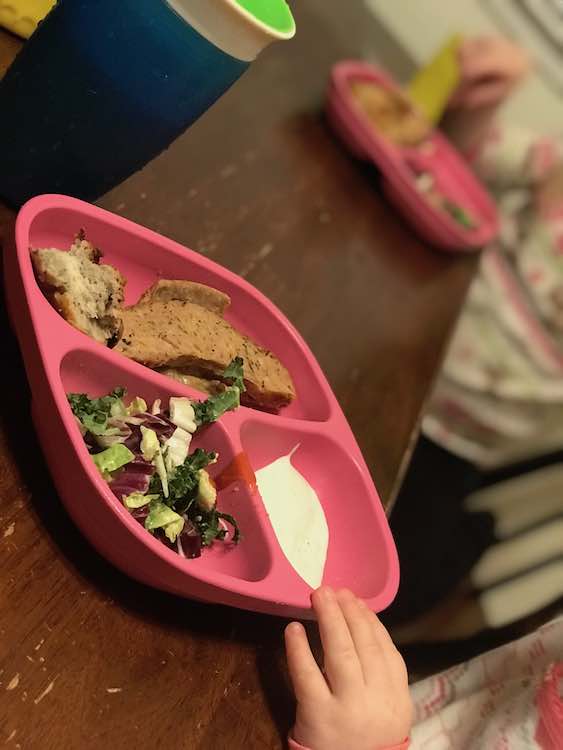 Lately I've gone even simpler than that. I still make the bread dough like before but instead of going to the trouble of wrapping each one up carefully I simplified it by rolling the dough into a long cylinder, kind of like a snake, and then wrapping it around the sausage. Since I didn't include filling I didn't have to worry about any open spaces since nothing could fall out. The first time I made them this way the kids started laughing because they saw the "butt of the hot dog". If I want to use this method but I also want to include a strip of cheese I make the 'snake' longer so I can slightly overlap the dough each time around. Once done I can smooth any remain holes to enclose the sausage and cheese completely.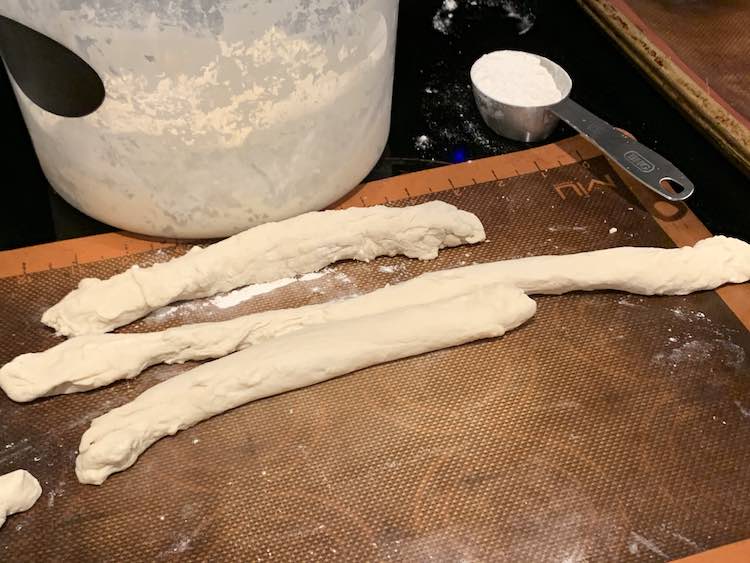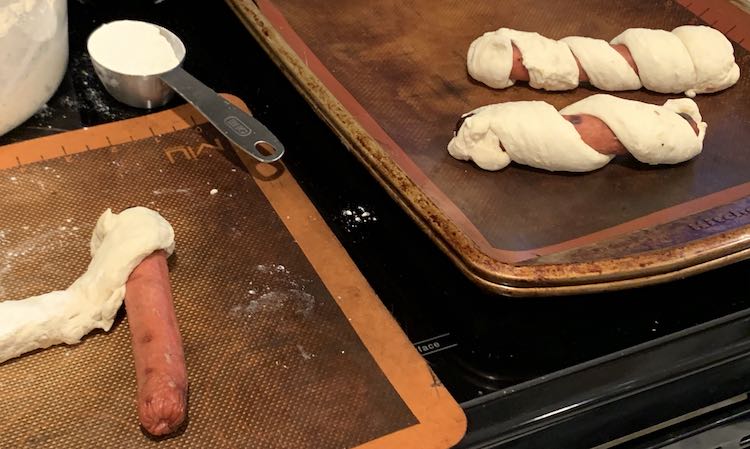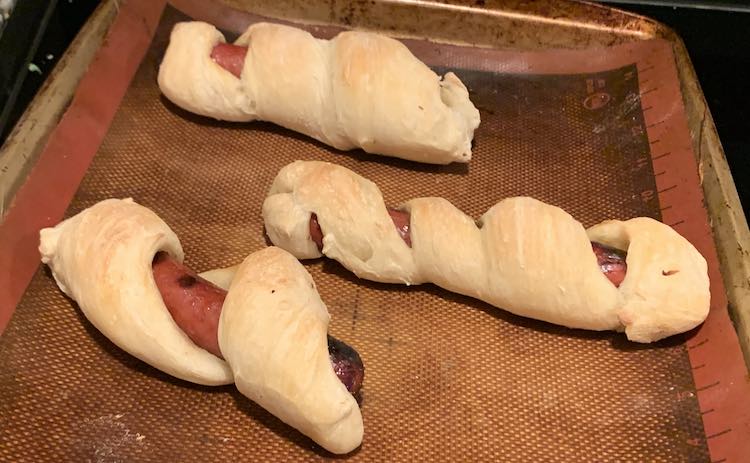 I love how they turned out. My kids normally prefer the bun over the sausage but this made for a welcome change. They sort of remind me of mummies so I can see this being a great choice for a Halloween party.
I've been trying to downsize my bread consumption so we haven't made them as often lately but I used to make a large batch at a time, freeze them, and then the night before an outing I took out enough for all of us and they were perfectly thawed and so yummy by lunchtime. Writing about them I can totally see making another large batch of both sausages and hot dog wieners for lunches… once I clear some room in our freezer.
---
Sausage in a Blanket (Hot Dogs) with BreadIn5 Dough
Use your homemade bread dough to wrap sausages (or hot dog weiners) to make epic and amazing hot dogs. I love how simple these are to make and they taste so great. I love to make a large batch and freeze them as they're so simple to toss in the fridge the night before to thaw for lunches.
Main Course; Bread Dough, BreadIn5, Hot Dog, Oven, Sausage
Prep Time: 30 minutes
Cook Time: 35 minutes
Preheat and Rise Time: 20 minutes
Total Time: 1 hour 5 minutes
Ingredients
1/4 - 1 batch BreadIn5 (or alternative bread recipe)
1 package Sausages or hot dog weiners precooked
Toppings: cheese, spinach, or swiss chard (optional)
Condiments: ketchup, ranch, or mustard (optional)
Any other heatable toppings (optional)
Instructions
Preheat the oven to 450 degrees Fahrenheit either now or you can wait until after you make the hot dogs if you want them to have time to rise later.
Make your bread dough. I used the bread in five dough which can be made a week in advance but needs to be a minimum of two hours ahead of when you want to use it.
Lay out your baking tray and, optionally, cover it with a silpat or some parchment paper.
Flour your surface. You can either grab a ball of dough, roll it out, and cut it into triangles, with a pizza cutter or pastry cutter wheel, leaving them large enough to be able to wrap your around sausage. Alternatively, you could grab a piece and roll it out like a snake if you want to wrap the sausages up like a mummy.
At this point the bread can be left plain or spread with condiments and topped with cheese or something else.
Add your sausage or hot dog wiener to the bread and wrap it up. If you have trouble getting the bread to close you could always use a dab of water, or the escaping condiments, to wet the bread enough to glue it together. Once you wrap it up place it on the cooking tray with the opening facing down to keep it from opening.
Once you finish making all of your hot dog rolls you can either throw them in the preheated oven or cover them up with a clean and lint-free kitchen towel so they have more time to rise. Also perfect if you happen to forgot to preheat your oven.
Bake the rolls for 35 minutes or until done. Make sure to check occasionally in case yours are done sooner than mine.
And enjoy! They are really hot so be careful while eating them.
---
I hope you enjoy this recipe. I'd love to know whether you tried it and if so did you use bread in five dough or some other recipe? Feel free to share with us in the comments below, on my Facebook page, or through Instagram. Hope you're having a wonderful day!