Rebecca Page's Simple and Boxy Toronto Tee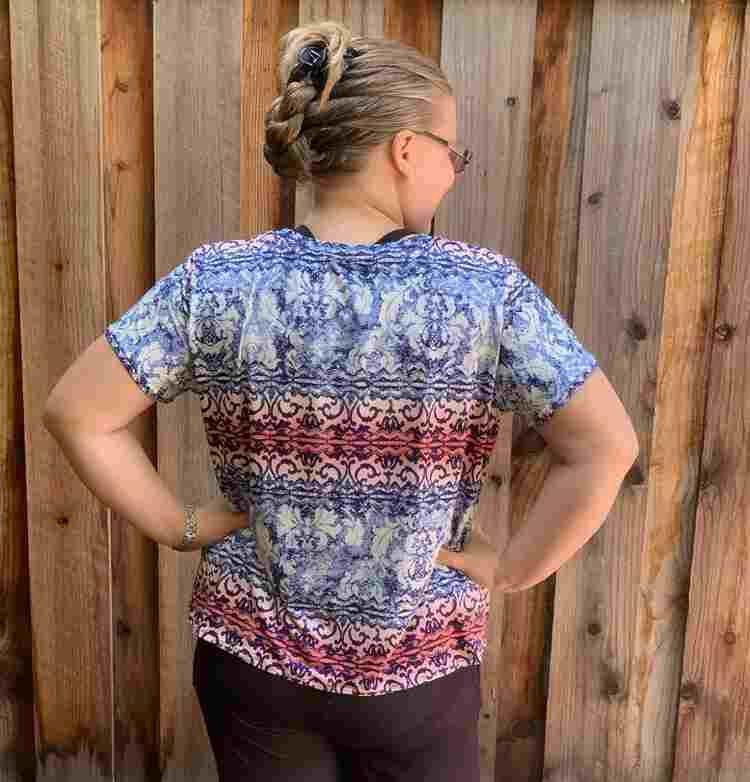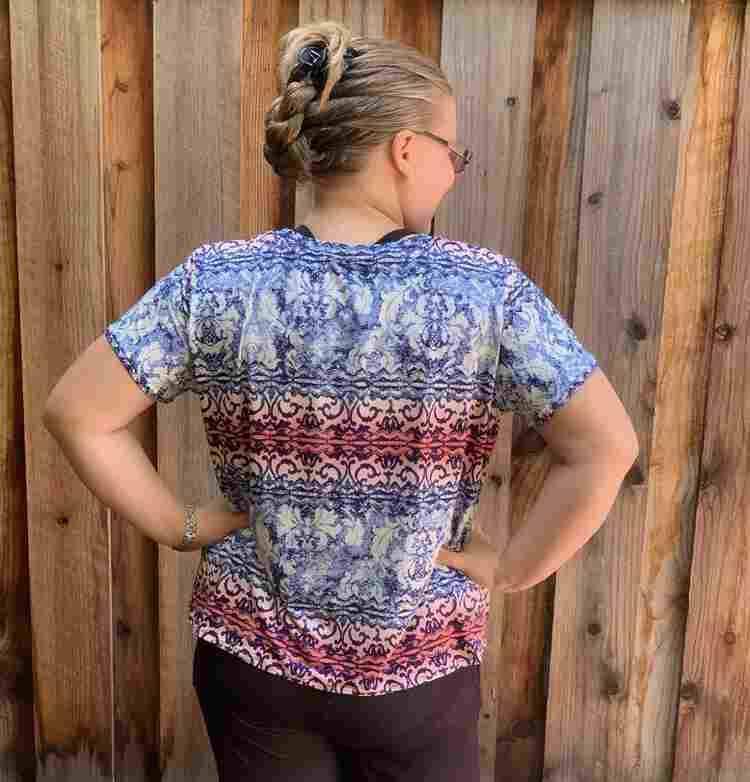 I came across the Ladies' Toronto Tee sewing pattern, by Rebecca Page, back in May of 2019 when I tested it before the tee was released. At first I was vaguely disappointed with the pattern as I don't normally wear boxy tees. That said, I find that I keep reaching into my closet and grabbing this tee more frequently than I had expected especially as I absolutely adore how it drapes on me. Since sewing it up I've meant to share it with you repeatedly but each time I keep putting it off as I want to wait to sew up a second shirt and never get around to it. I figure no point putting it off any longer as I need to share this pattern with you now! And did I mention that there's a Men's version of the Toronto Tee too? I've sewn it up for Matt, my husband, and he loves it too.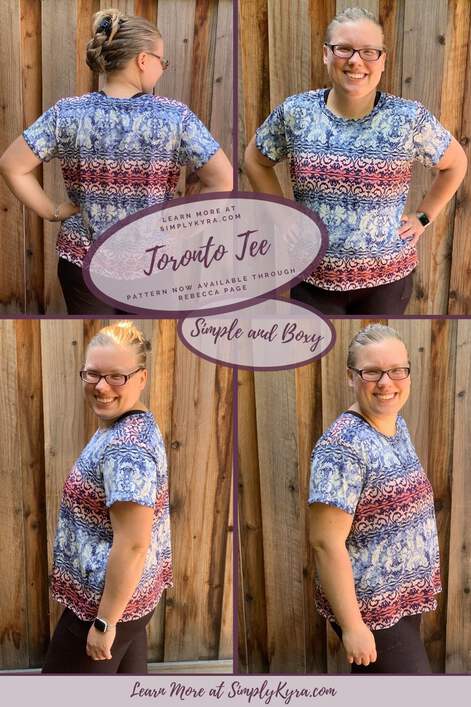 ---
Just a quick aside. Currently, when I write this (in May of 2021) the Ladies' Toronto Tee is free if you have an account on the Rebecca Page website. The Men's Toronto Tee is a subscriber exclusive freebie so you'll need to become a subscription member to add this pattern to your stash.
---
I quickly realized while looking over the line drawing and measurements for the Toronto Tee that the resulting shirt was going to be boxier and more oversized than I was used to wearing. I debated making it at all but then decided to go with a lightweight fabric so the tee would flow rather than result in a too rigid silhouette. I had ordered a mystery box of fabrics from So Sew English which had an interesting ITY in it so I decided to go with that. After measuring myself I rounded my measurements down a hair to go with the slightly smaller size to help account for the boxy appearance of the tee. Before deciding to round down I did compare my measurements with both the pattern's size chart and the final garment's measurements. I then carefully cut out my pattern pieces from the slippery fabric, used sewing clips to keep the seams together, and followed the directions to create my new tee. I ended up loving the flow and drape that my ITY fabric had and loved the resulting silhouette of this pattern.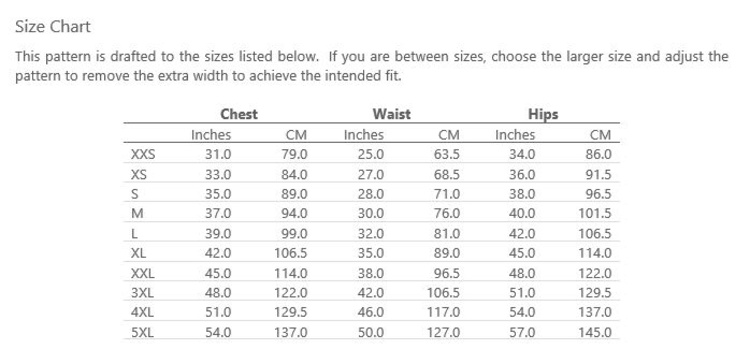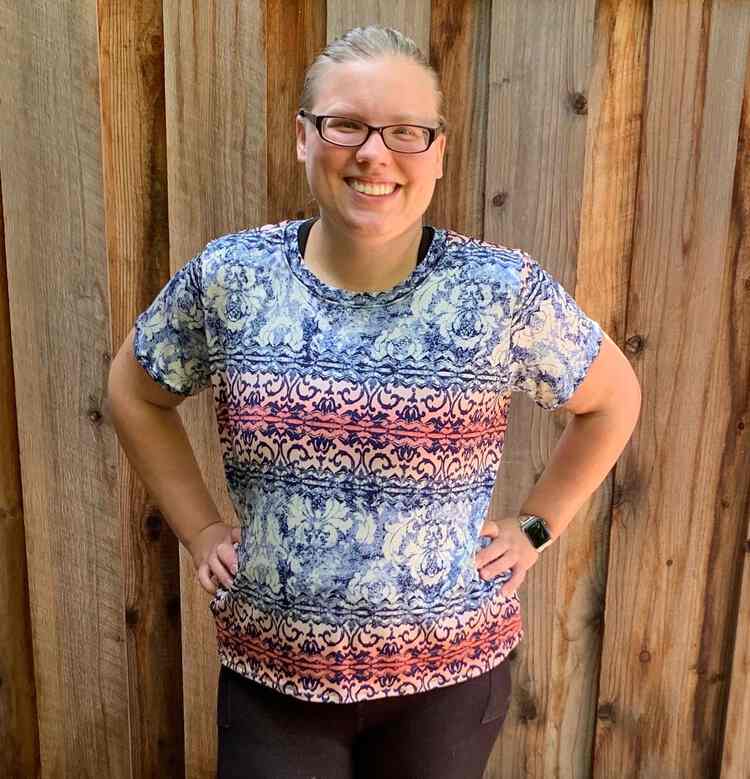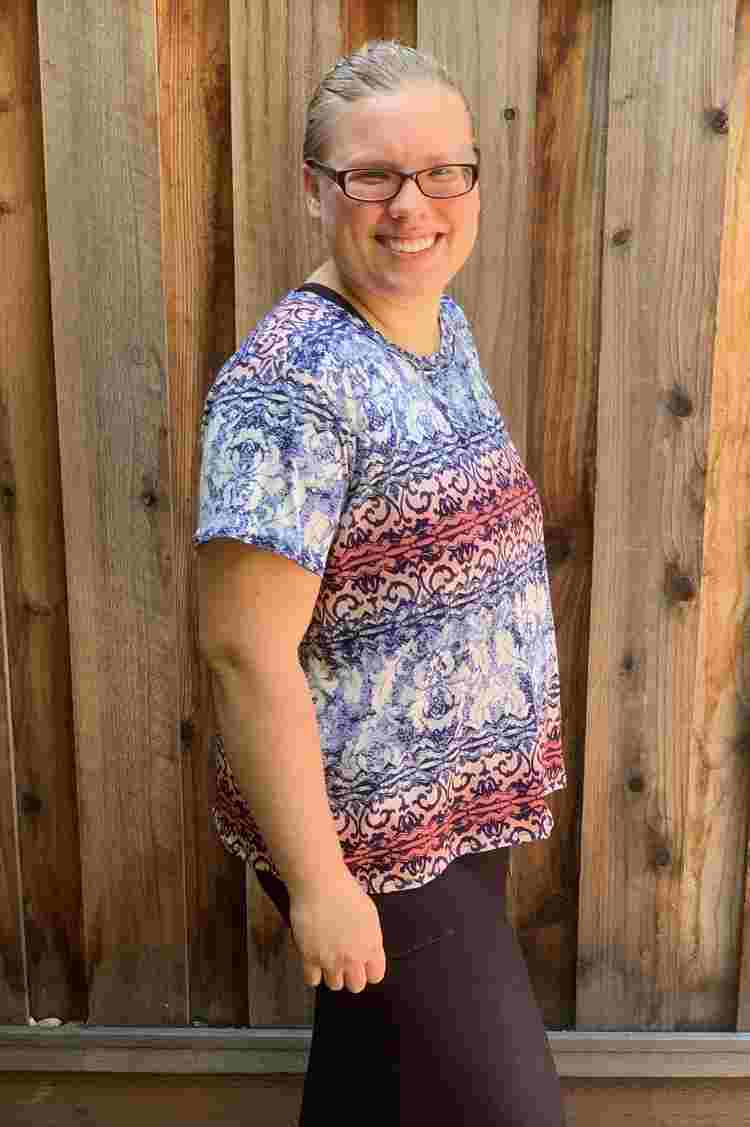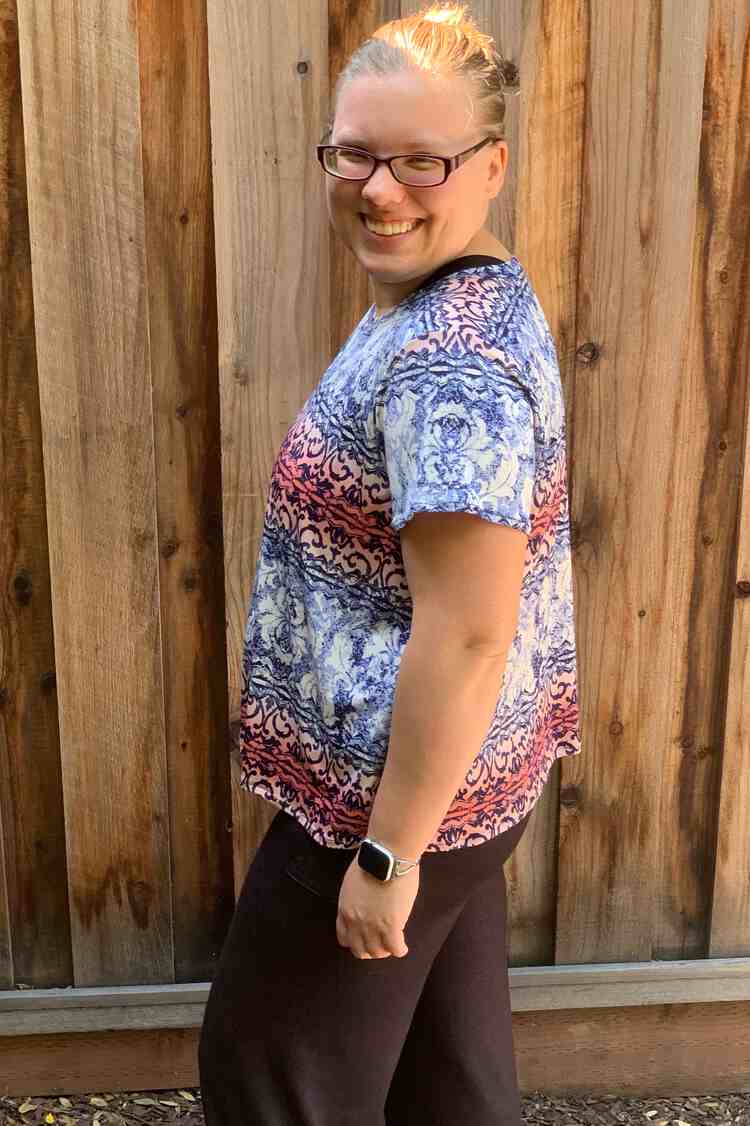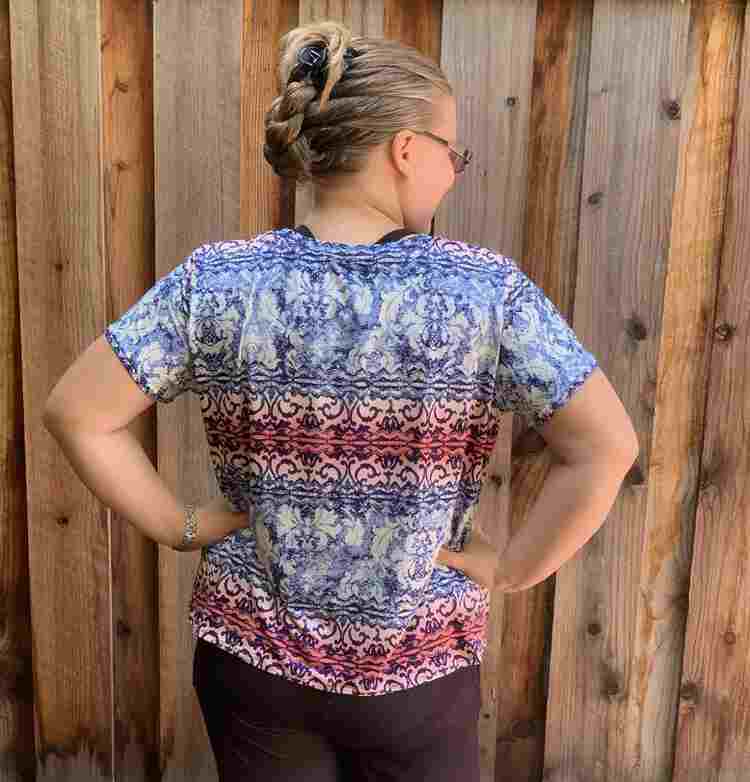 Although I haven't sewed any more Toronto Tees for me I do enjoy wearing the tee and I know that this pattern is on the list to sew in the future.
---
In addition to the ladies, the Toronto Tee also comes in a men's version which I first sewed up in October of 2019. My husband loves his plain shirts so I knew that I needed to sew him one too. Overall, he liked the finished tee but we then decided to make adjustments to the pattern pieces to fit his specifications in the future. Thus over the last several years I've sewn him several, slightly changing, versions of the Rebecca Page Toronto Tee and haven't switched to a different men's tee pattern yet.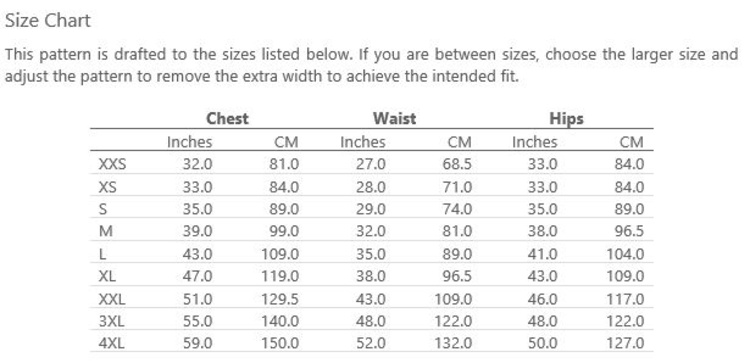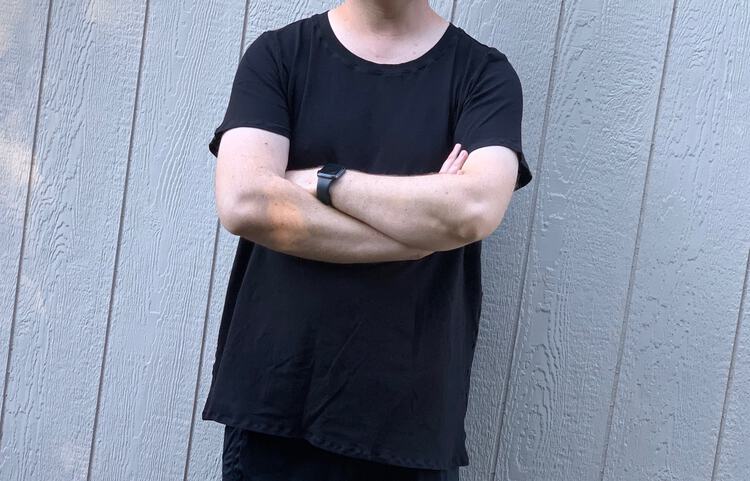 ---
I had meant to share Rebecca Page's Toronto Tee (both the ladies' and the men's version) with you long ago. Back when I was finally about to start a post Rebecca started a sewing pattern subscription membership and the Toronto Tees were shuffled around. I wasn't sure if I wanted to share the pattern if it was behind a membership paywall but have lately realized just how much I love my tee and how much Matt loves his shirts and figured I had to share it with you in case you were also interested. As of right now (May 2021) the Ladies' Toronto Tee is free if you make, or have, an account on the Rebecca Page website. That said the Men's Toronto Tee is a subscriber exclusive freebie so to add it to your pattern stash you'll need to first become a subscription member.
Have you sewn either of the Toronto Tees before? If so how did you like them and what, if anything, would you change about them? I'd love to hear from you in the comments below. For me both tee patterns come with an optional pocket but I haven't added one yet and I'm not sure if I'd want to. Still it's great to have the option.
I hope you're having a fantastic day!
---
If you're interested in getting any of my future blog updates I currently come out with a new one every Wednesday and share them to my Facebook page and Instagram account. You're also more than welcome to join my email list located right under the search bar or underneath this post.