Potty Training Products That Make My Life Just a Little Bit Easier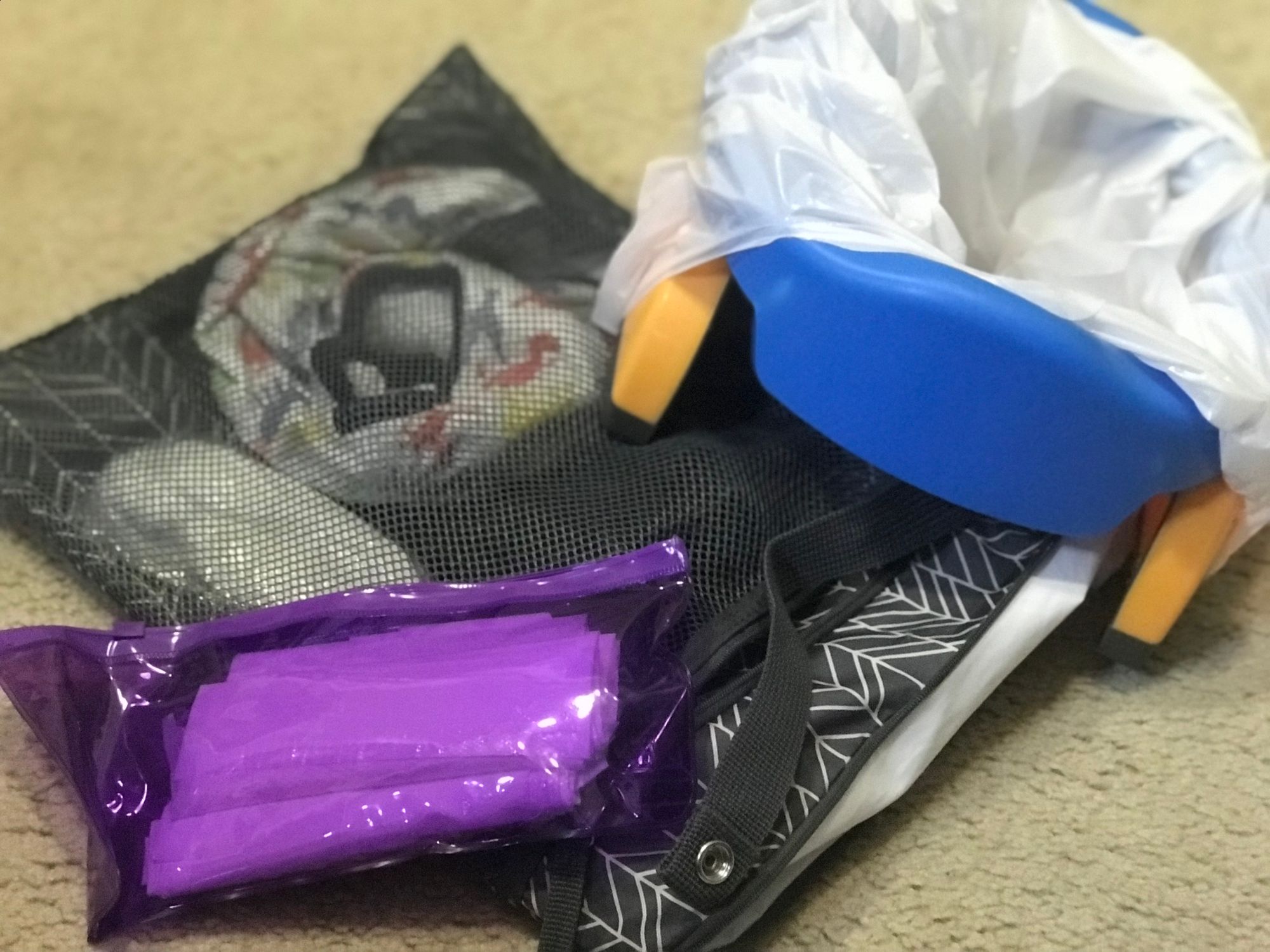 This is not an ad. These are just products that I've come across that I feel may make life easier for you.
The links have since been removed but kept the post and it's text here in case it's helpful.
---
No one said that potty training was easy… and if they were they must be kidding. I feel like potty training is a journey full of happiness, ughs, regression, and oh crap moments. I wanted to share some potty training products, some obvious ones and some that may be more obscure, in the hopes that it may help you on your journey.
At Home
When we started we bought two pottys for the house. The more portable one was a little white chair with an insert that popped out to toss out the pee. I read a bunch of blogs before starting and gave Ada stickers to decorate it. I hated that potty. Ada wanted to be independent so I was constantly making sure it didn't spill on our carpeted hallway, which it didn't, as she carried it precariously from our kitchen to our bathroom to dump the contents in the toilet. What did spill was her flinging technique when she got to the toilet. As soon as possible we retired the potty to use in only potty emergencies when the main bathroom is occupied. Though as we can use our outside portable potty on the second toilet I think it's going to get thrown out after Zoey starts her own potty training journey. The potty was helpful for the first month when we wanted it in the kitchen or outside on the deck so we weren't stuck in the bathroom.
Our potty that we absolutely love is our First Years seat. This toilet seat is sturdy, light, and makes it really difficult to fall. There's a pee shield in the front in case your kid is sitting crazy, soft grippy handles on the side, and a hook on the back for easy hanging when not in use. I attached a command hook to the wall beside the toilet, next to the toilet paper, for easily accessible hanging storage.
We added a two tier step stool for easy toilet and sink access that's easy to move. Lately our one year old has staked claim to this and sits on it while brushing her teeth so it's a favorite item for both kids. I also wanted a faucet extender and after following a DIY to make my own I was disappointed to see how cheap they were online. I was pretty happy when it broke so I could go on Amazon and find a prettier and easier to use faucet extender.
I found this leaf one and love it. My three year old is capable of pulling the leaf off if she so desires and went through a minor stage of not wanting it but it's so easy. The extender grips the faucet with rubber so if I want more access to the sink I can push it back a bit and flip the leaf down without having to completely remove it. The only minor issue is water sometimes collects on the leaf after use but that's probably because of our faucet design… just be careful to not flip it and splash yourself or the mirror. I especially love the added detail of the little ladybug on the leaf.
If you want an easy place to store your potty books we looked into getting a basket for over the toilet tank. It puts the books out of the way, won't make the books fall into the sink, and is easily accessible by your toddler. The only issue we came across was from her younger sibling when she realized she could pull the the books out from it while safety ensconced in the bathtub, but if you have a larger space between your toilet and bathtub I don't see any issues.
If your toddler has difficulties with door knobs and you have to keep the bathroom door closed because of littler siblings you could always get door grips. The ones we bought have a hard plastic glow strip inside the door knob cover so you can even see it easier in the dark for night-time training… eventually. Just a caution our toddler quickly discovered how to open doors easily because of these so we had to upgrade the inside of our front door with a door knob cover to stop her.
Out and About
Hands down my absolute favorite purchase we have is my *cough* my child's, portable potty. It gives us so much freedom.
We bought it in blue and yellow over a year ago and haven't had an issue at all with it… which is unfortunate as the pink and purple version is adorable if we had to upgrade! It's perfect on road trips when you just need to pull over and have them go beside the car. When my husband drives I keep the potty bag in the front seat so I can easily put it in the seated position and attach the bag so it's ready to go when my toddler forces us to quickly find a spot to pull over. It's also perfect at a playground. I've pulled it out in a Costco parking lot once when the sight of our car made Ada realize she had to go now; it was simple to let her use it tucked beside the cart and the car as I loaded the groceries into the trunk. I've also found myself pulling it out when there is a bathroom a little ways away at the playground as it's easier for her to go beside us than to pack up our picnic and her sister or deal with a dirty bathroom stall. The only downside to this product is you won't be visiting bathrooms as often and won't have them mapped out as well as you would otherwise which is only an issue when you have to go. The first time Ada used it she said it was tickly since it has a plastic bag insert, but quickly grew to love it too. Another reason it's great is I use it as a changing spot after the kids get wet at the playground or spray park as it's a perfect way to keep Ada still while changing her into dry clothing and to force a potty moment. All these facts are ignoring the second part about the potty chair. If you put spread the potty legs out instead of down you can place it on top of a public toilet. This makes all bathrooms seem safe and makes it so you don't have to worry as much about dirty toilets. The only minor issue is the legs lock when in the seated position, for safety, so when you go to collapse it the legs sometimes pop out but they're incredibly simple to snap back into place… just surprising the first time to an unsuspecting user.
These are my favorite refill bags for the portable potty. I started out using a different brand but my friend discovered these (thank you Devan) and they're so much thicker and sturdier than the ones I used previous. They also make for a handy garbage bag when you're packing away your picnic after you're done with the potty.
What makes my portable potty so easy is the Skip Hop Grab & Go Wet/Dry bag I bought to hold the potty.
I first carried the potty around in the Onxy Tile design and have since upgraded to the Grey Feather. The potty fits perfectly in the main area… and in a pinch there's room to toss a wet fabric diaper in with it. I love the dry pocket on the outside as I use it for replacement underwear, pants, socks, a few refill bags, hand sanitizer, and my keys and some money if I leave the whole diaper bag behind in the stroller. The outer pocket is mesh so you can easily see if you have everything with a quick glance. The bag doesn't fit in my backpack easily but it has a single snapable strap so I can attach it to my diaper bag strap, the stroller handle, or my baby carrier for a no hands carry. It's also washable for when the potty gets dirty and I've even put it through the dryer on low heat often.
My first bag, that I had for over a year and has survived a lot of abuse, finally had the inside plastic separate from the outer area because of the zipper. I was able to hand sew the plastic back onto the outer fabric and continued using it. I only upgraded when I saw another Skip Hop bag design that I preferred and really wanted a new one.. for Ada (cough cough). The old one was still usable and I've since put it in the trunk of our car for when I need an emergency wet bag.
If you're worried about your car seat when you're out and about I found these car seat piddle pads to protect them. I bought a set of two and kept one on the car seat and one on Ada's stroller seat. When she no longer had a normal stroller seat, when we upgraded to our sit and stand stroller, I was able to throw the second piddle pad in the trunk so I wouldn't go without if I had to wash the first one.
Favorite Books
If you want general books for when your toddler is on the potty I found buying cheap dollar books from the local Dollar Tree perfect as you could just toss them out if they got wet.
Our Potty Book for Girls is a perfect introduction when you want to start potty training. The author also came out with The Potty Book: For Boys which I'm assuming is laid out similarly. I found I've loved all of the Leslie Patricelli books I've seen so far and figured it was a safe bet when I saw she has a potty book out. Potty goes over the question of where the main character goes potty: he doesn't want to go in his diaper, sees where the dog and cat go, decides on the potty, and then has to wait on the potty for a bit for anything to happen… which it does. Of all the books I think my favorite, as it doesn't get old as quickly, is Duck Goes Potty. It isn't as educational but it's fun to read and you can add in the quacking sound effects depending how you're feeling.
Video
This video by The Kiboomers (The Potty Training Song) is my preferred YouTube video as it's always fun and not as annoying as most of the others once you've heard it several times. Just a heads up when the kid in the video switches from going potty to washing his hands Ada likes to copy him so be prepared for a video pause and/or a quick transition.