Playdough Coloring Alternatives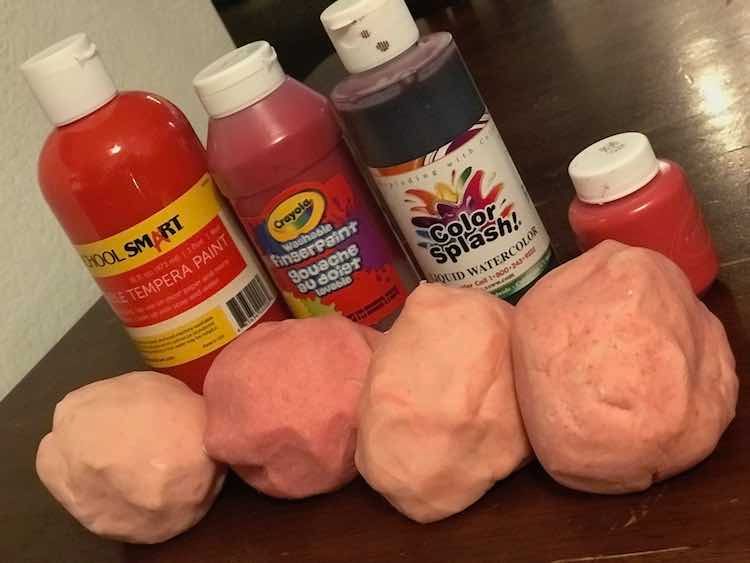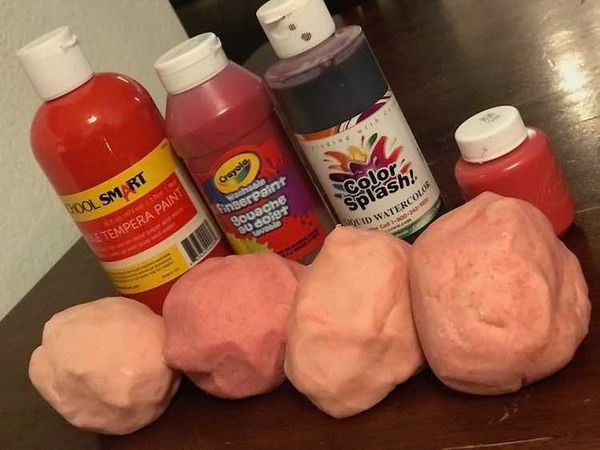 If you have a kid that still likes to taste their playdough you may want to look into the paint you're using to color your playdough before making it. My main recipe uses food dye so then I'm not too worried.
---
Update: If you're having trouble making playdough I've since posted a video on how to recover your playdough if you've made it too wet or too dry.
---
One of my friends (Hey Maryam!) asked about coloring my playdough with something other than food dye. The question wouldn't leave me alone. When my kids were last feeling under the weather I decided to make lavender scented playdough for them (using a couple drops of essential oil thrown into the dough). After Ada was quickly bored with it I decided it was the perfect time to answer this burning question and test out alternative playdough coloring options with the paints I had on hand while Zoey enjoyed the first batch. I wanted to show my results with you as it could be useful in case you want to make playdough and are out of dye, want to try something different, or the child-requested color would be simpler out of a paint bottle than from the main food dye options.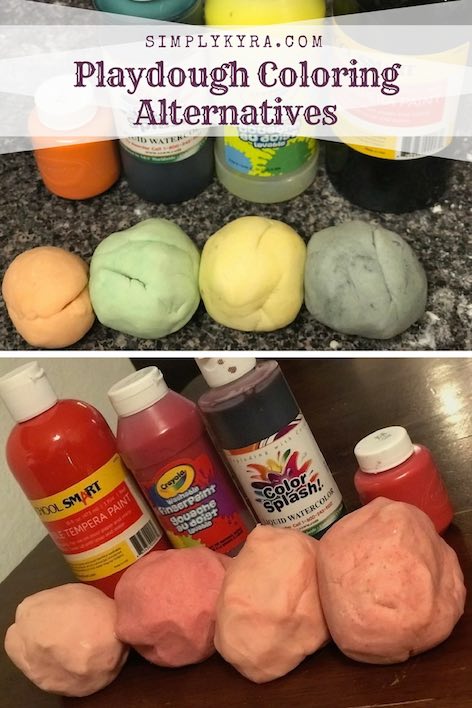 The paint brands I had on hand were:
Color Splash! Liquid Watercolors
Non-Toxic Washable Tempera Paint
Crayola Washable Kid's Paint
Crayola Washable Fingerpaints
---
I wanted to see if it was possible to dye the playdough with kids paint but at the same time I wanted to give Ada and Zoey playdough colors they wouldn't normally get to play with. At first I was going to try out my watercolors to get three distinct colors but instead chose to separate the playdough into four and use one of each type of paint I had in the cupboard to try out and compare how they'd dye the playdough. Ada helped me choose what colors we'd use (choosing one from each paint type) and we ended up with green liquid watercolor, black washable tempera paint, yellow washable paint, and orange washable finger paints. I noticed when mixing the paint in that I needed a lot of the tempera paint, but that may have just been because I was expecting it to be more black and not grey. I've seen you can buy black food dye, although I haven't tried it yet, so that may be the way to go if you want a true black. All the paint I used ended up making playable playdough and as most of them were washable (with the exception of the watercolor) they didn't stain my counter.
Each time I mixed a color I started with a  ball of plain playdough, pressed a divot in, dribbled some paint, sprinkled some flour as the paint was wet, and then kneaded it together over a flour sprinkled counter or table. If the playdough is too wet you can always add more flour. If you add to much flour and it's too dry you can add more paint or a bit of water. Overall it was the same steps I followed making my main playdough recipe but as the paint colors were less concentrated than food dye I had to add more of them and thus more flour to keep it the right consistency.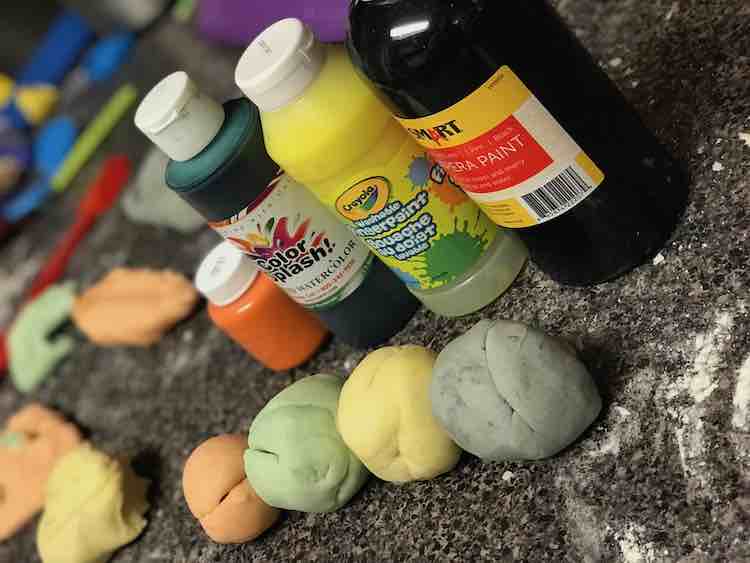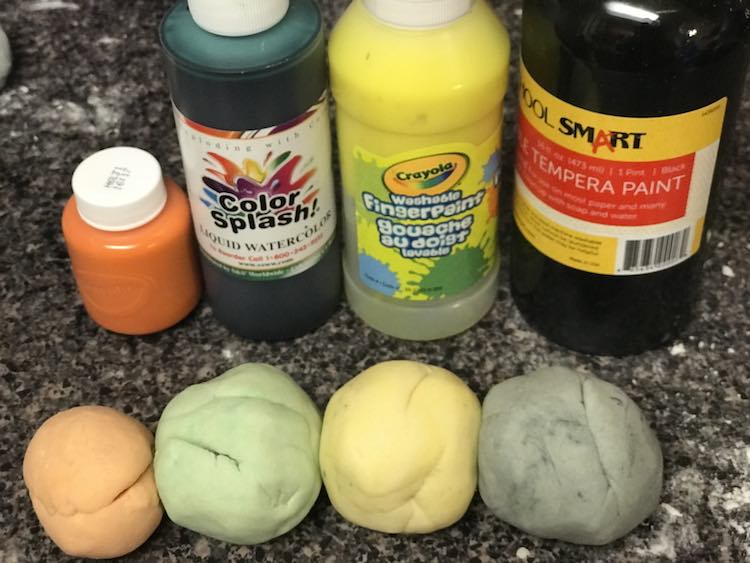 As it was hard to do a direct comparison between the different paint types I decided to make another batch of playdough and this time only use one color. Again I divided the resulting white playdough into four portions before coloring it with the paints. I used the same paint brands as before (liquid watercolors, washable tempera paint, washable kid's paint, and washable finger paints) and ended up choosing red as all the paint brands I had included red and it was easily reachable. Like before I added the paint color and kneaded it together with flour whenever it was too wet.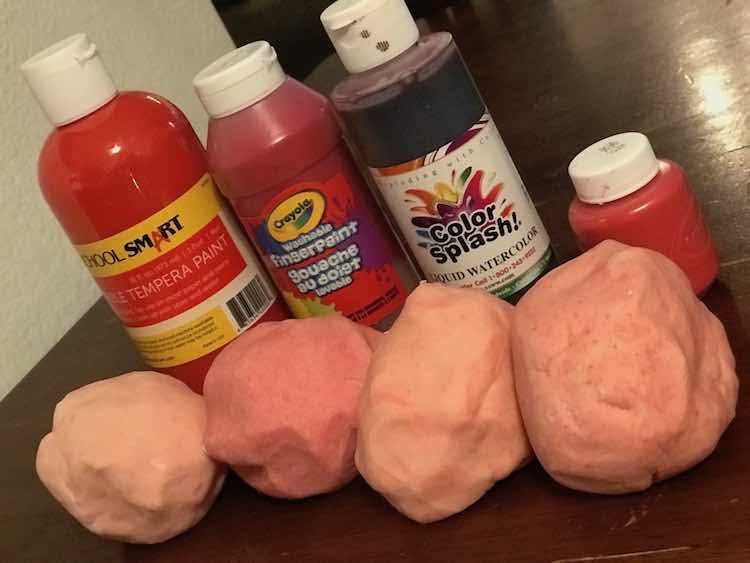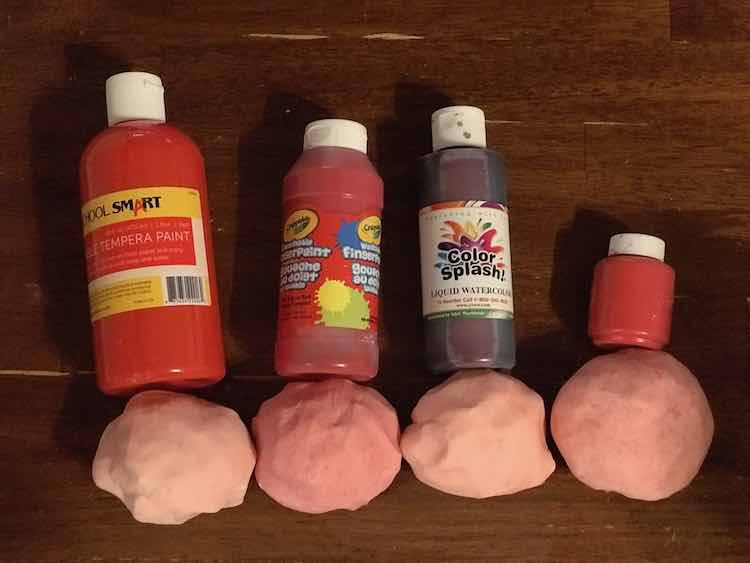 I used different amounts of paint for each color as some came out fast and some, like the concentrated watercolor, didn't need too much color. I'm glad I tested out using the paint as an alternative to food dye because it's an option if I run out of food dye. I can also see using paint if I want a more complicated color than is easily made with the primary colors that food dye comes in; especially if I'm making it for kids that understand not to taste the playdough.
Good luck in your playdough making adventures! I'd love to hear how it turned out in the comments below, on my Facebook page, or with a tag on Instagram.
---
Update: If you're having trouble making playdough I've since posted a video on how to recover your playdough if you've made it too wet or too dry.