Picnic Essentials with Toddlers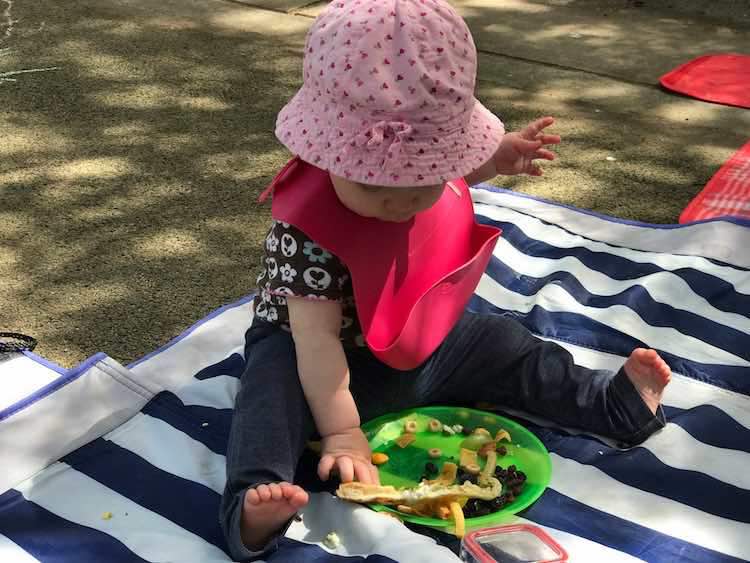 This is not an ad. These are just products that I've come across that I feel may make life easier for you.
The links have since been removed but kept the post and it's text here in case it's helpful.
---
We love getting out of the house. And I love when we go out staying out until the kids get grumpy or it's almost the littlest one's nap. No point gathering everything up and getting out of the house to go back right away and then do it again later. For that reason I love bringing our lunch, and sometimes some toys, with us when we go to the playground, children's museum, and outside events so when everyone gets hungry you just need to lay out your picnic blanket, have some food, and then play some more.
This gets a bit difficult if you live somewhere that gets snowy but with it being February I figured I'd post this for anyone whose starting to plan your spring/summer adventures. And if you get a Chinook or have a really warm day and find yourself picnicking on the snow let me know how it goes. With Ada being almost one when we moved from Canada we never attempted an outside snowy playdate picnic.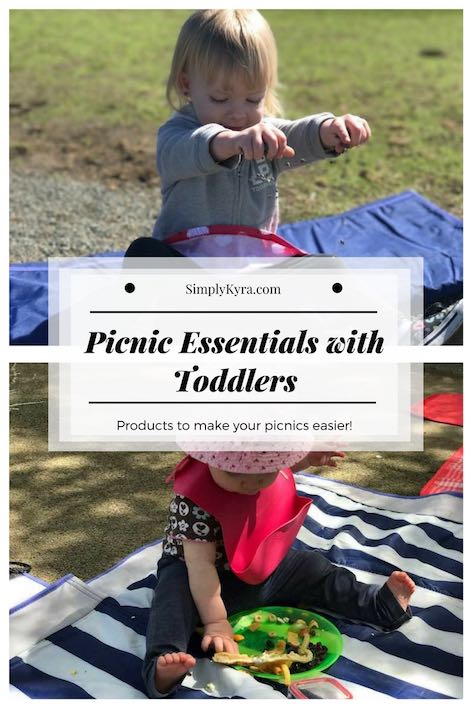 ---
Picnic Blanket
A picnic blanket is perfect especially if it folds up with a carry strap and is waterproof in case your grass is wet. I bought mine through Costco Canada and then later through Costco in the United States. If you're out of season and there aren't any at your local Costco you could search on Amazon. Since moving to California we've been using ours all year long and bought a second one for the odd occasion where you need two (we were debating a playground birthday for Ada's third birthday at one point) or if the first one ever breaks. When Zoey was younger and less mobile the picnic blanket was a perfect place to lay her down with her toys. Now the picnic blanket is a place to eat before running off and playing. The blanket folds down with a carrying strap that can go over my shoulder, over the stroller handles, or it can be laid out under the stroller. It fits perfectly in our Joovy double tandem stroller.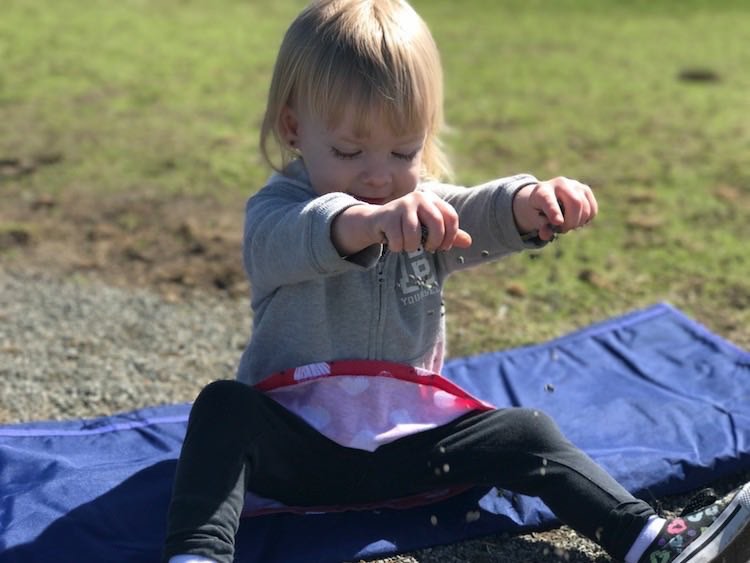 ---
Food Carriers
I keep my food in plastic containers (if they don't come with their own wrapper like granola bars) and throw it in a fabric bag (room temperature snacks and cutlery) or in a cooler bag. I started by switching between using a mostly emptied picnic backpack and a small cooler bag that came from our hospital when Zoey was born. The small cooler bag was commandeered a while back by Ada as her 'blue backpack' and she now must be the only one to carry it if we use it…. unless it's heavy and we ask. I then upgraded my cooler bag back in August/September when Costco had their back to school lunch bags. It's the perfect size for the girls and my lunch. It has two ice packs that are thin enough to not take up too much room in the freezer and they zip into the top and bottom of the bag so it doesn't take too much room in the bag either. There's also a zipper along the side to extend it's height or shorten it depending on the amount of cold food you bring.
You could also use some divided containers. My friends have some pretty adorable bento boxes that they've found. If this doesn't fit into your cooler bag you could always use it for room temperature snacks (cheerios or crackers) or food you don't mind getting warm.
I was able to get away with bringing cold or room temperature food for our picnics for the longest time (cold leftover pasta anyone?), but before Christmas my kids started ignoring it. After seeing a friend's hot pasta in a thermos container with a spoon I finally broke down and bought some lunch thermoses that worked great. This morning I filled them with boiling water while making Annie's Macaroni and Cheese. When the food was ready I dumped the water and filled them up with the pasta. Several hours later at lunch, after we removed half the pasta, the MIRA thermos was still steaming. I forgot plates and ended up emptying one of our smaller containers of food and moved some pasta into it for a bowl for Zoey and had Ada eat out of the FIREKI brand thermos directly. She loved it and was excited to get hot pasta. It was the perfect size for Ada to eat out of. Once I got home and had a chance (1:05 p.m.) I tested them out by pouring boiling water into them (cold and dirty from the pasta), checked their temperature (194°F/90°C), and waited. After supper, over 5 hours later at 6:26 p.m., they were still hot at 148°F/64.4°C (46°F/7.8°C drop)  for the MIRA thermos and 121°F/49.4°C for the FIREKI (73°F/22.8°C drop). The MIRA stayed hot longer but I'm still planning on buying another FIREKI thermos for Zoey (she picked coral) as it's easy for them to eat out of (shorter and squatter) and if they last awhile the lid looks like it would be easier for them to open themselves.
When my kids were younger I always brought their Munchkin 360 sippy cups with me when we went out. Unfortunately, as the rubber top got older they frequently leak if placed on their side so I now keep the cups at home and upgraded Ada to a Skip Hop water bottle six months ago and then upgraded Zoey a couple months later when I fell in love with them. Now we always use our water bottles. If they get dirty while out and about I handwash them that night and keep them filled with water in the fridge so it's a simple thing to grab and throw in my backpack/diaper bag on the way out the door. My bag actually has a cup holder spot on either side so I can easily put both water bottles, and sometimes also stuff in my skinny bottle, into the two spots on the outside. Once we get to my stroller I transfer them into the stroller cup holders so Ada can easily access her water bottle. The only downfall to the water bottles I've found so far are the pictures came off quickly while washing them (I handwashed them only) and Zoey needs me to open and close her bottle for her for now. Otherwise I absolutely love them!
If you want you could always forgo all the above stuff and get a picnic backpack that comes with the dishes. I had an old backpack where the bottom was an cooler bag that opened and the top half contained dishes. It was technically a two-person picnicking backpack (dish amount) and had a hole between the top and bottom compartments if you were bringing along wine. I frequently removed most of the dishes (keeping the plastic plates and cutlery most times) and threw the my water bottle and non cold items in the top half. I since got rid of it since I have a diaper bag backpack so I wasn't able to carry it like a backpack and it was an awkward size compared to my cooler bags.
---
Getting Everything There
I absolutely love my Joovy tandem stroller. The only cons I have with it is the space between the back seat and the front seat is small so it's hard to get larger items into the bottom carrier. I also used to fill the bottom too full so I ripped the bottom a bit; though I was able to fix it by taping it up with Gear Aid Tenacious Tape. The back area is a sit/stand area for your older child. The seat moves back and forth so it doesn't get in the way when your child is standing. The seat also comes with three-point straps to hold your child in but I took them off as Ada saw it as more of a game (doing it up and undoing) and didn't need it while the side straps got in the way of using the bottom carrier. I've used this stroller as a highchair for Zoey on many occasions when she was younger including at ice cream shops, outside art and food shows, and with a bedtime snack at a hotel. I ended up buying it when Zoey was about nine months old. Before that we used the single stroller we bought for Ada and I wore Zoey with my Baby Bjorn and then with my ErgoBaby carrier when she got to be bigger (we bought it a the Canadian Target closing sales and didn't have the infant insert).
For my diaper bag I used to use a large purse and occasionally a Skip Hop diaper bag. With two kids my old purse was too small to use for a diaper bag and my attempted replacement purse was gorgeous but too heavy even when empty. I had bought too large of a Skip Hop bag so ended up using it for overnight trips (when it was just Ada) and loved it when we moved, but it was too large and looked like it was getting damaged with frequent use. Since then I've bought two backpacks that I've loved.
The first bag I bought was a purple lightweight hiking backpack that collapsed into a pouch on the bag. It was perfect when Zoey was a baby as when I went out I wore Zoey and the backpack on my back didn't weight too much in conjunction with Zoey. The bag held a lot. The only thing was because it was lightweight and collapsible you sometimes found the contents of the bag digging into your bag while you walked. I learned over time to put my changing pad in the back of my backpack (against my back) to buffer it.
I wanted a sturdier and comfortable backpack so I upgraded on Prime Day last July with this HYBLOM bag. I love it! At first it took a bit to get used to as it felt warmer than the first one as it's bigger and more cushioned on the back. I love all the cubbies. The front pocket has insulated pockets for bottles or sippy cups… which I turned into an easily accessible spot for distraction toys for restaurants. The pockets are perfect for separating the little toys (cars, dinosaurs, etc) yet I can still put larger items (small magnetic drawing pads, mini coloring books. etc) inside the main pocket in front of the little pockets. The side cup holders are perfect for my Skip Hop water bottles and if I leave the zipper on the one side open I can combine my skinny water bottle with the kids' water bottle if the inside isn't too full. The backpack doesn't fit through to the bottom of my stroller but since it's a tandem stroller if Ada is walking I put my backpack on it's side on the back seat and loop the top strap around the back of Zoey's chair and I don't have to carry it. Unconventional but it works.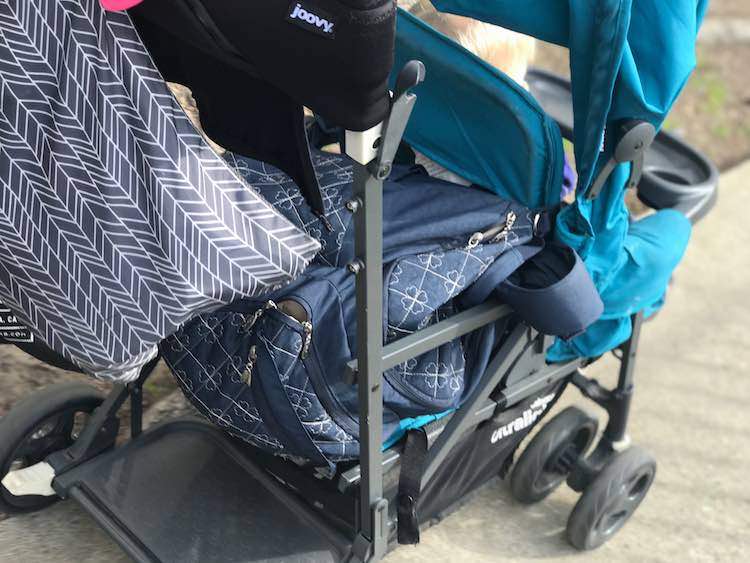 ---
Wet Clothing
This last summer we lived at playgrounds that had water spouts. Most of the time the kids got soaked. As we cloth diaper during the day I really appreciated the wet bag I had on hand. We had a couple wet bags that I bought with our cloth diapering, but over a year ago I bought a Babygoal wet/dry bag that I absolutely love. I haven't had any issues with it in the laundry and it foldes up thin to put in my diaper bag. It's perfect to throw your wet and sandy clothing in and then you can empty it directly into the washing machine when you get home with the bag. The Skip Hop one we bought for the portable potty also works but I find the plastic on the inside gets damaged over time in the laundry and it doesn't fold as small so I keep it as a potty bag only.
---
Potty Training
The number one essential is easily my portable potty and potty bags. If you're interested in other essentials I wrote about my at home and on the go potty training products I used in my previous potty training post.
---
I hope this article was helpful. If you have a product that you can't live without for your picnicking enjoyment let me know. Anything that would make our outdoor adventures easier or funner sounds great. You can reach out in the comments below, on my Facebook page, or through Instagram.