Peek-a-Boo Television Characters Quilt - Part Two of Two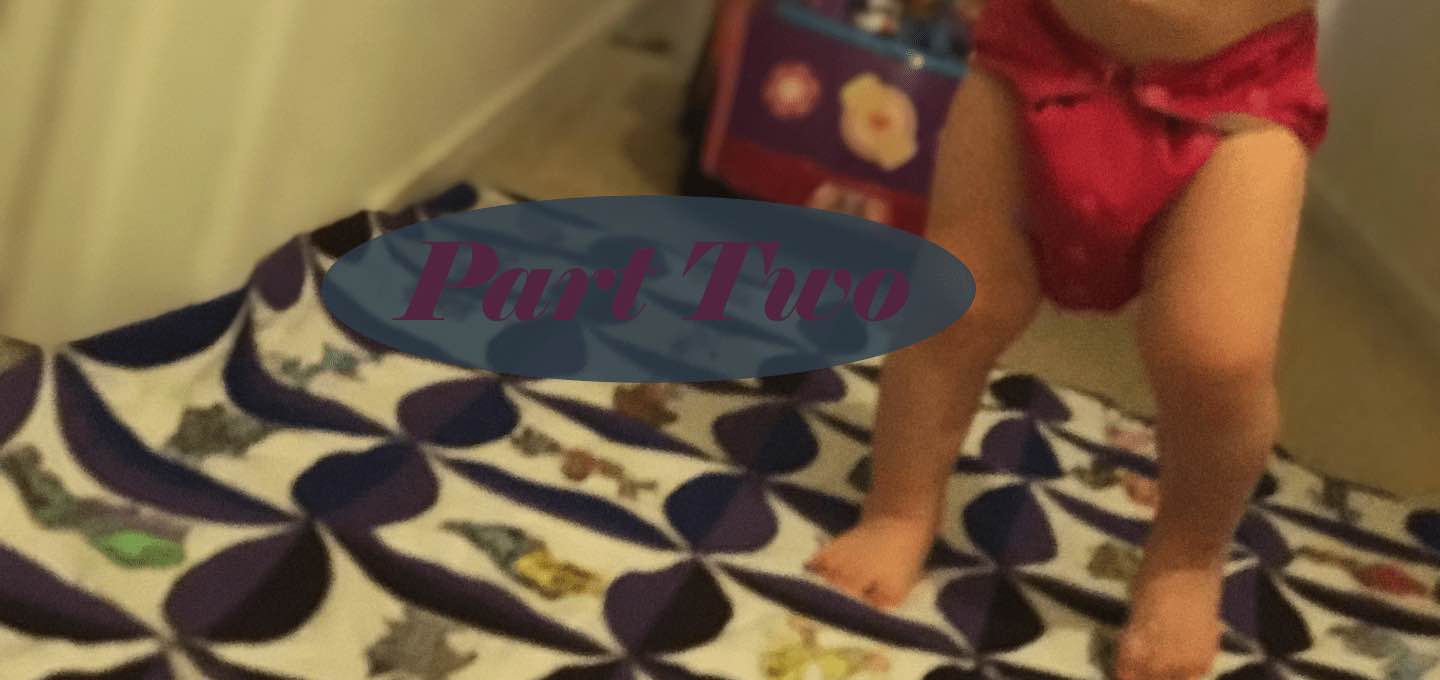 This is a continuation of my previous Peek-a-Boo Television Characters Quilt post that came about when I found a Peek-a-Boo quilt pattern while looking through a library book "Scrap Quilts" by Judy Martin, I had immediately pictured a television watching quilt with favorite characters peeking out at you from the quilt windows.
This post will go into the individual character squares chosen and how I created them. Some shows were easier to find coloring page printables for, like Doc McStuffins, while some were more complicated based on what I wanted, like Doctor Who, and some, like Word Party, seemed impossible.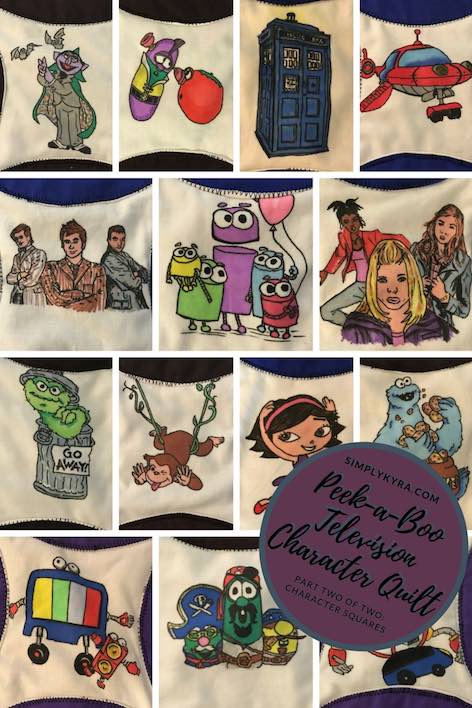 After cutting the white cotton squares and printing the coloring pages to the right size I ended up using a child's light box I stole from my toddler to trace the images onto the fabric. I sandwiched the coloring page printable between the lightbox and the fabric square and made sure the printable was directly centered to the fabric. I then traced the printable onto the fabric using a black fine tipped fabric marker. If the image was too faint to show through properly I attempted to get all the details I could and when I wasn't quite as sure I dotted the fabric rather than drawing lines as it would be easier to correct if I was wrong. I then removed them from the lightbox and attempted to copy the image as best as I could. If you want to see more about how I did this you can check out my Chuggington Onesie Costume post where I followed similar steps when I added Chuggington's Koko to the butt of the baby onesie. After outlining all the images, I set the black ink with my iron so the black wouldn't smudge and then colored the images using googled reference images to help with the color choices. Once I was done coloring all the images I once again set the colors with my iron.
---
My Characters
When choosing my characters it was generally easier to find television shows that would fill the longer diagonals and then go on to the shorter diagonals. Below are the chosen shows and characters in order of how long the diagonal was.
Peg + Cat
Since I only needed one square for Peg + Cat I found a coloring page where the titled characters were close together and ignored the background details. We have yet to watch this show.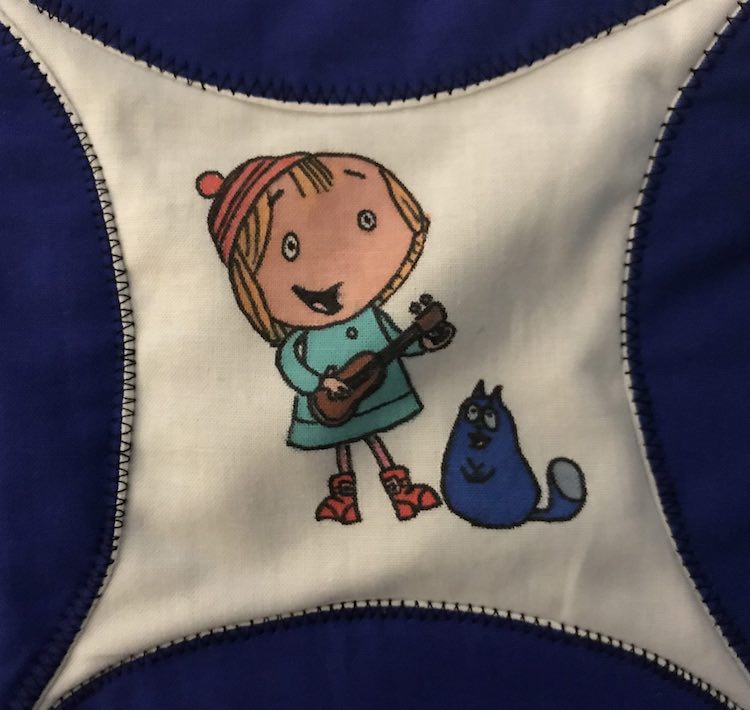 Storybots
When researching the potential television shows to add to my quilt I came across Storybots. We watched the pilot episode and I thought it would be a perfect show for when the kids were older. When looking for coloring pages for Storybots, I came across a free birthday printable on their website and found a group shot of the main characters with balloons. Since I had already filled up which shows would be on the longer diagonals this group shot was perfect and let me chose a single square diagonal to put it on.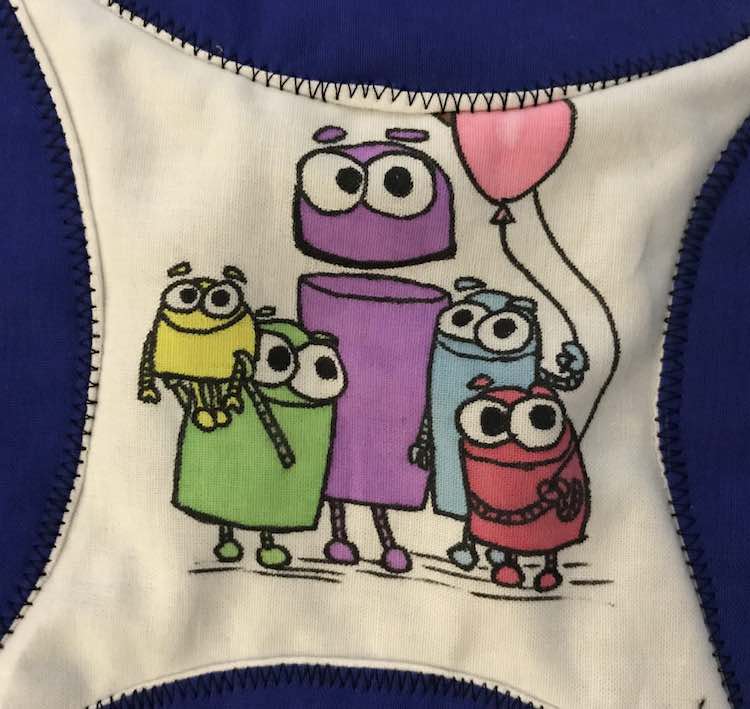 Berenstein Bears
Though the Berenstein Bears are a book series, I decided to include them as they are also a show. After looking through the available coloring pages online I decided to split them into two squares: one for the parents and one for Brother and Sister Bear.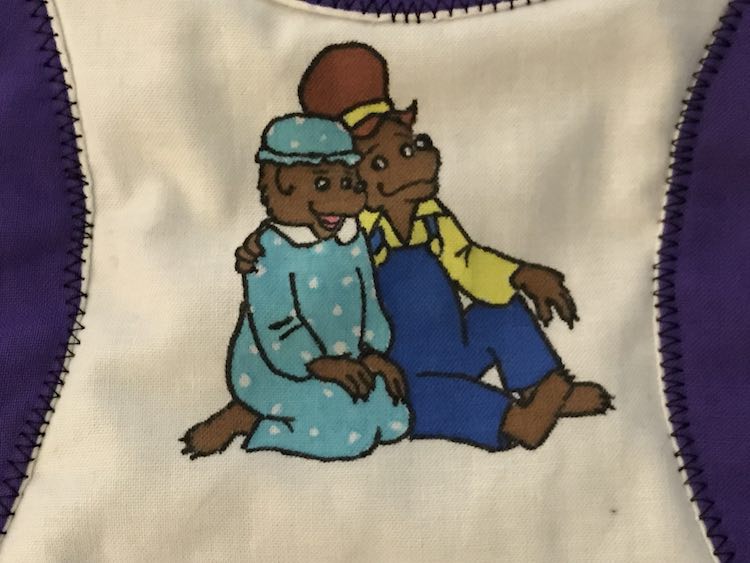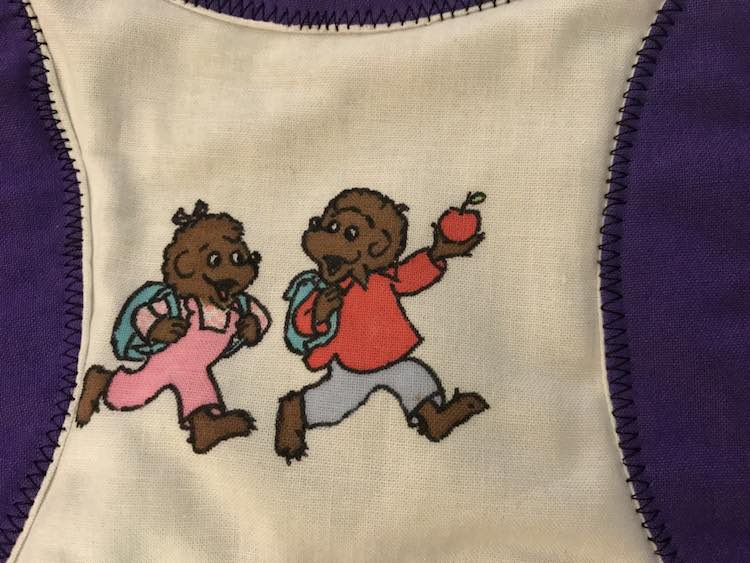 WordWorld
In my pursuit of finding coloring pages for Word Party, listed below, WordWorld kept popping up. I hadn't heard of the show before but as I was having difficulties filling up my other two-square diagonal I decided to pick the two coolest looking characters out of the online coloring pages I saw and use them.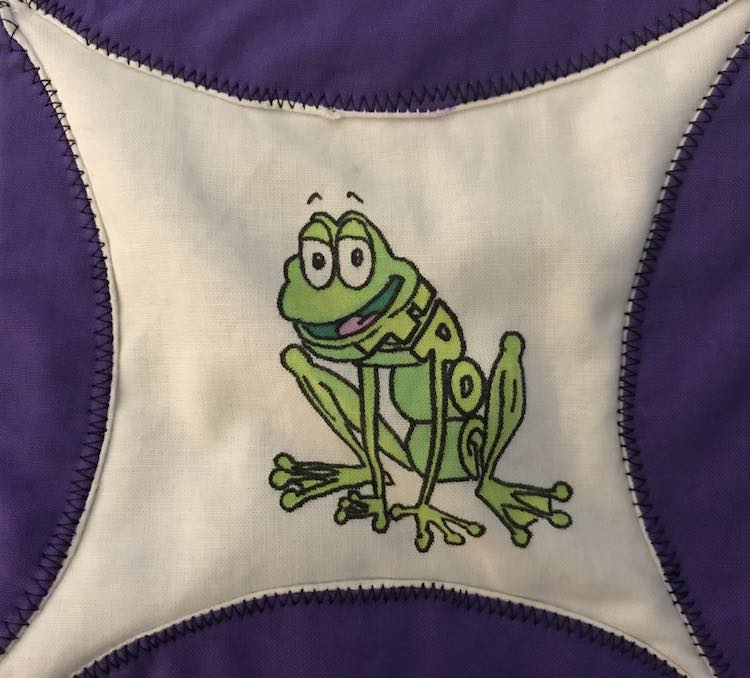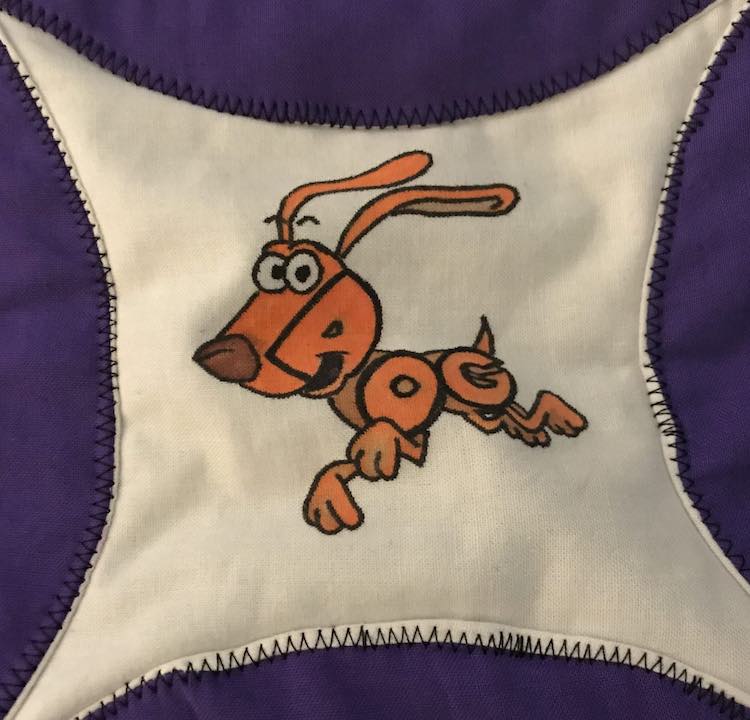 Curious George
Like the Berenstein Bears above Curious George is also both a book series and a show. How could I not include such a cute little monkey. At first I debated doing a one-square group shot or two-squares for both Curious George and the Man in the Yellow Hat; but I ended up including Curious George twice and put them on a three-square diagonal.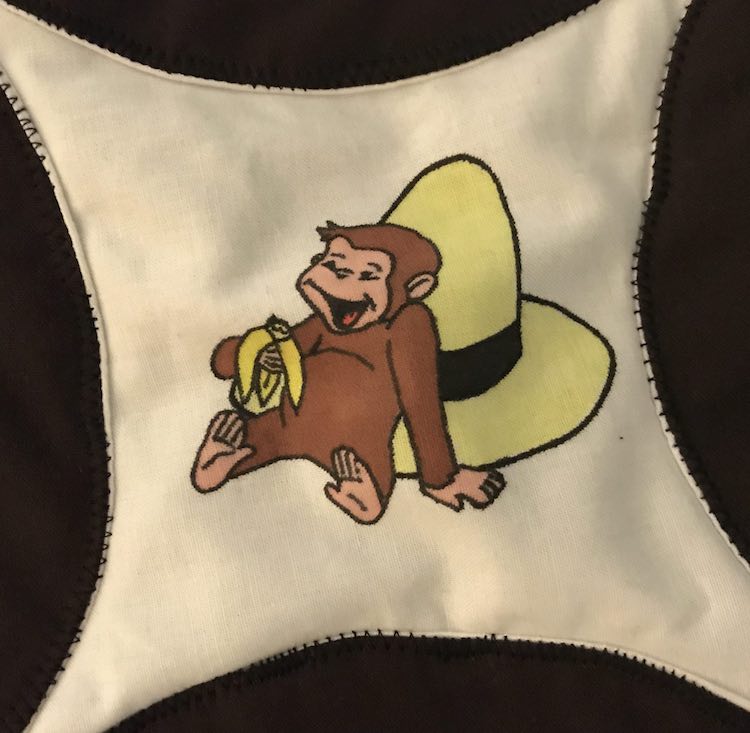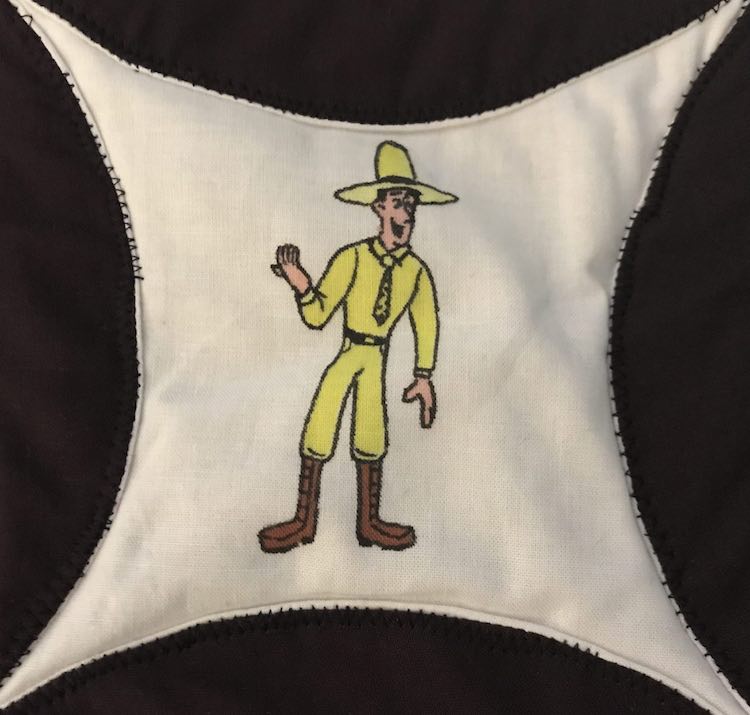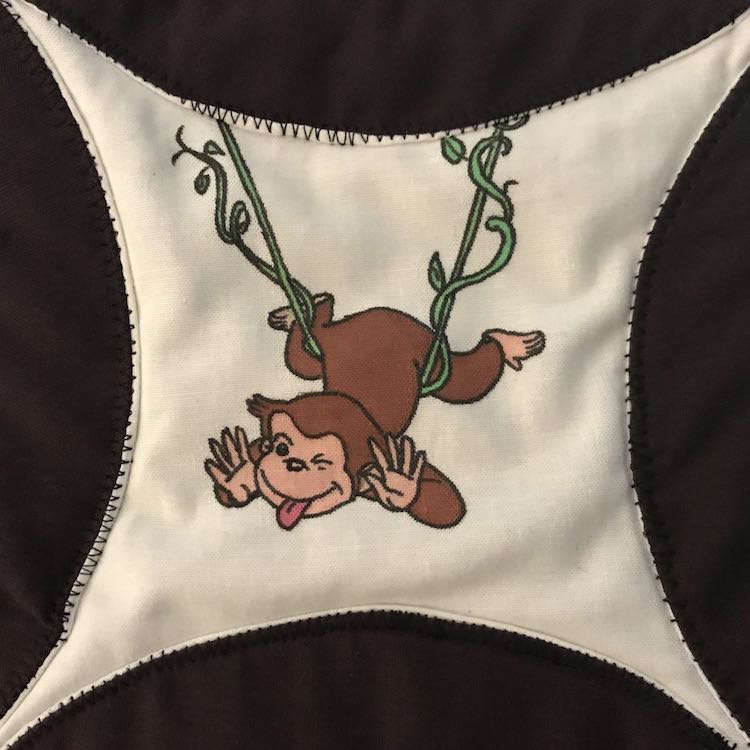 Veggie Tales
I grew up watching these vegetables and just had to include them. I decided to work with group shots so I could include more of them and went on to choose my favorite sets. This meant The Pirates Who Don't Do Anything and LarryBoy needed to be included and then I rounded the set out with a group shot of the main cast.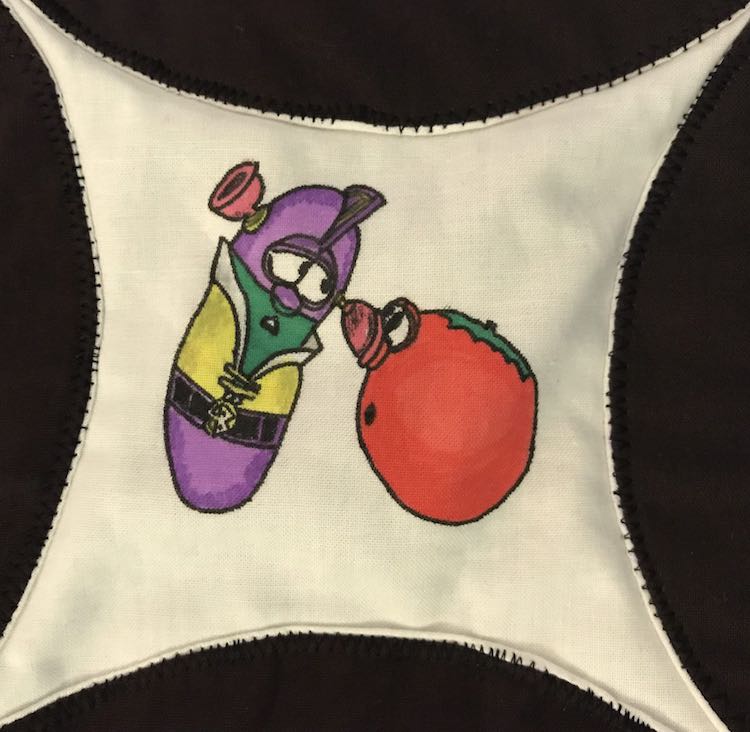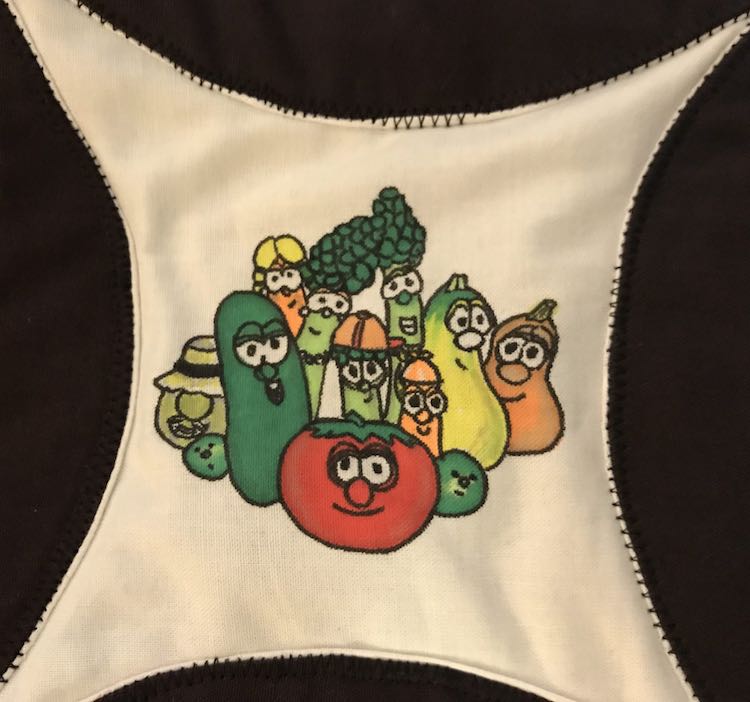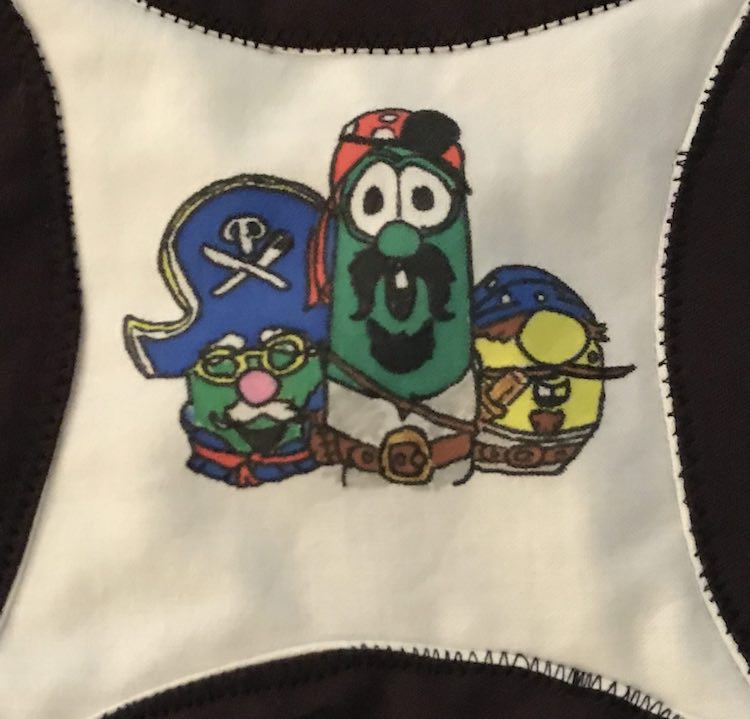 Doc McStuffins
Though we haven't started watching Doc McStuffins yet I know it was a show I'd love to include. I knew I was going to use the show to fill up a four-square diagonal but other than the titled character, Doc McStuffins, I wasn't sure what other characters needed to be included. I looked up the cast list for Doc McStuffins on IMDB to find out who the most common characters where by looking at the number of shows credited to each actress or actor. Luckily the cast at the top of the list weren't credited to multiple characters each so it was easier to pick out the most common ones. Fun fact Lambie had the most credited episodes at first glance until you scrolled down and notice that they had changed the actress voicing Doc McStuffins at some point during 2014 and 2015.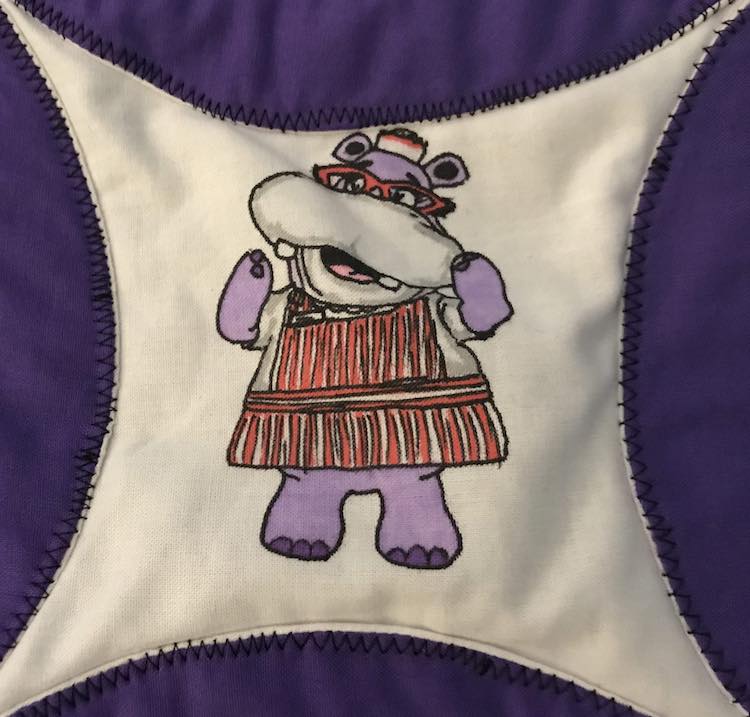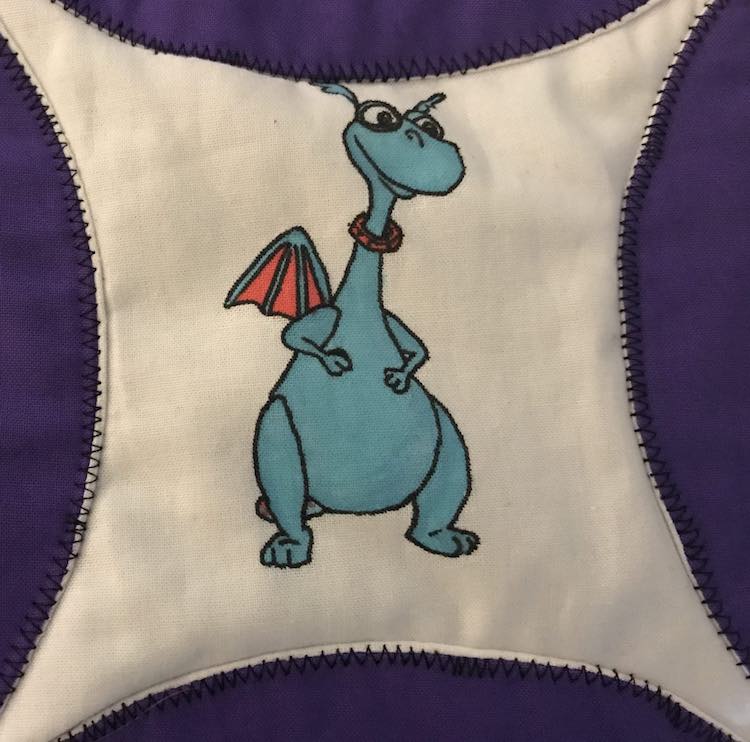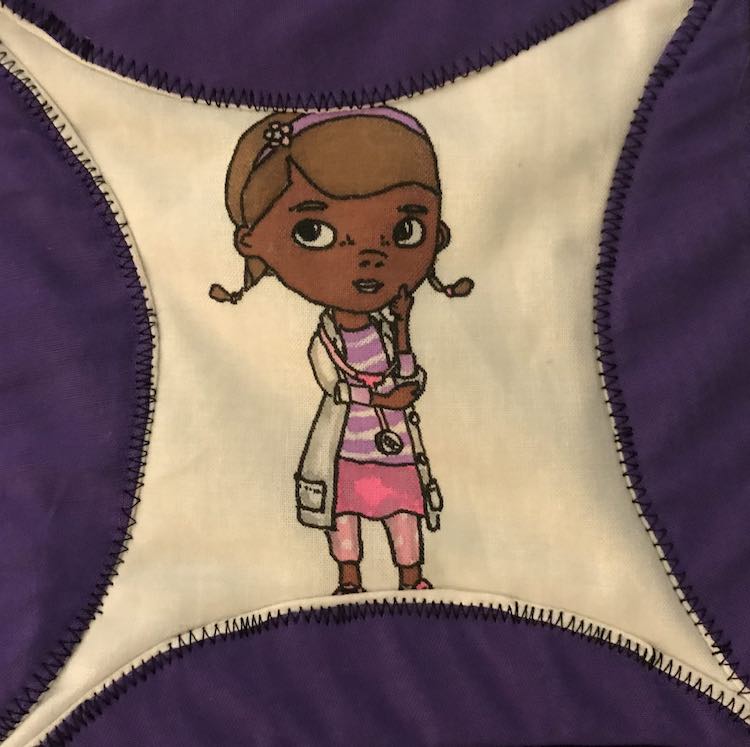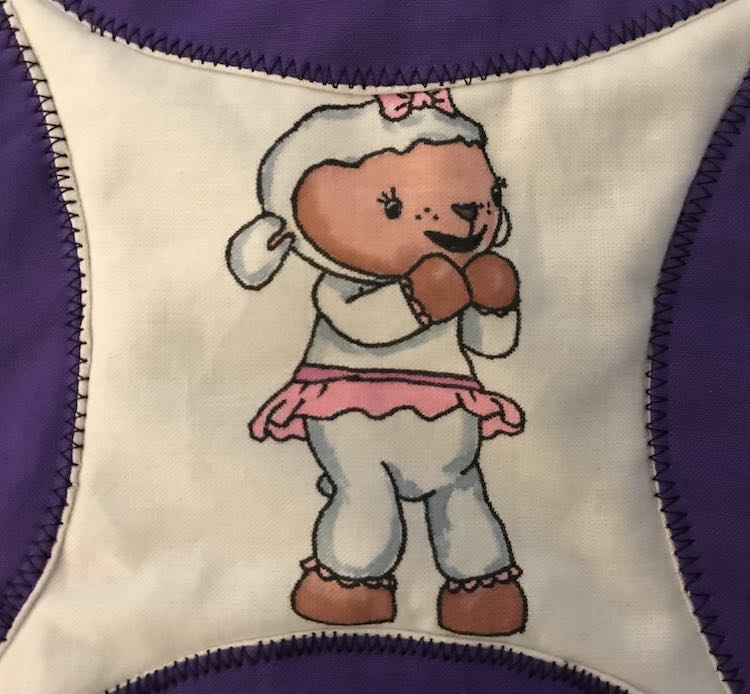 Super Why
Super Why was another show I came across, and watched the pilot of, during my television show research. The four main characters made it an easy decision to include them on a four-square diagonal.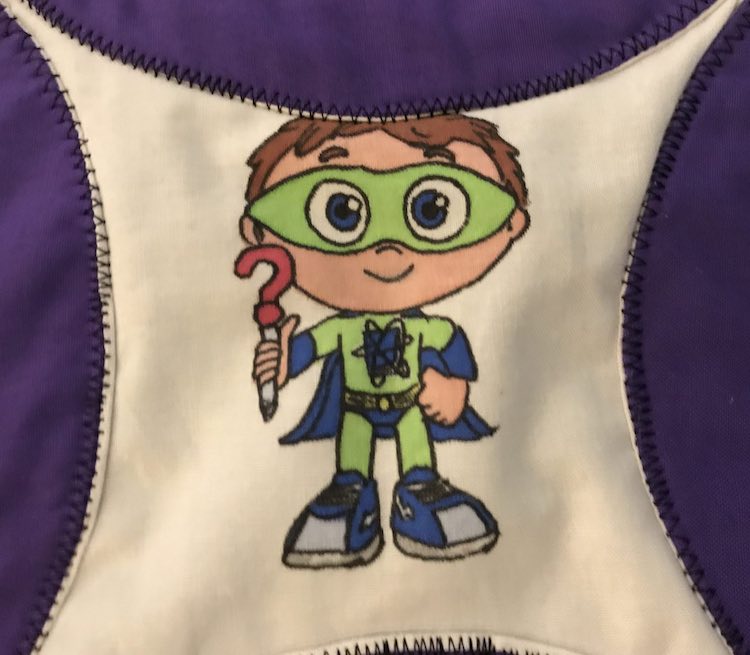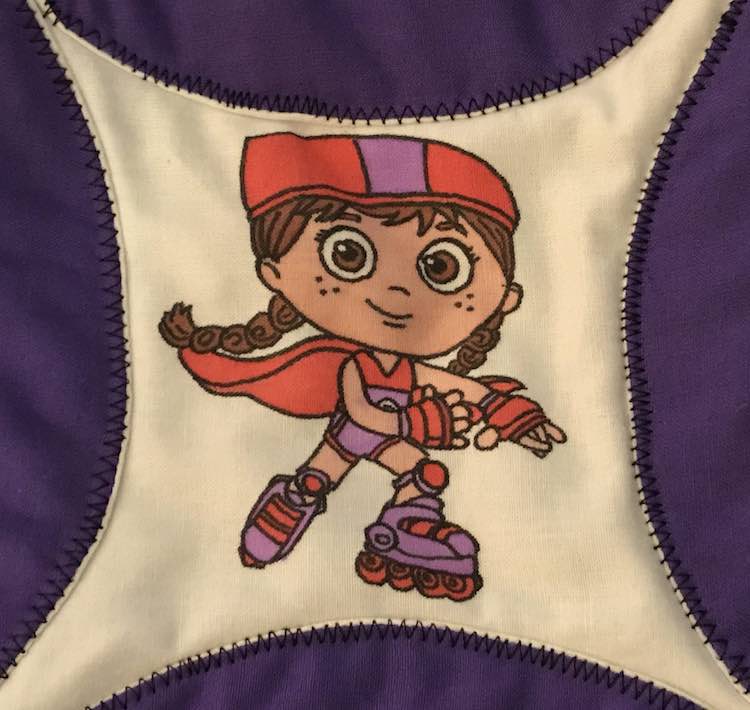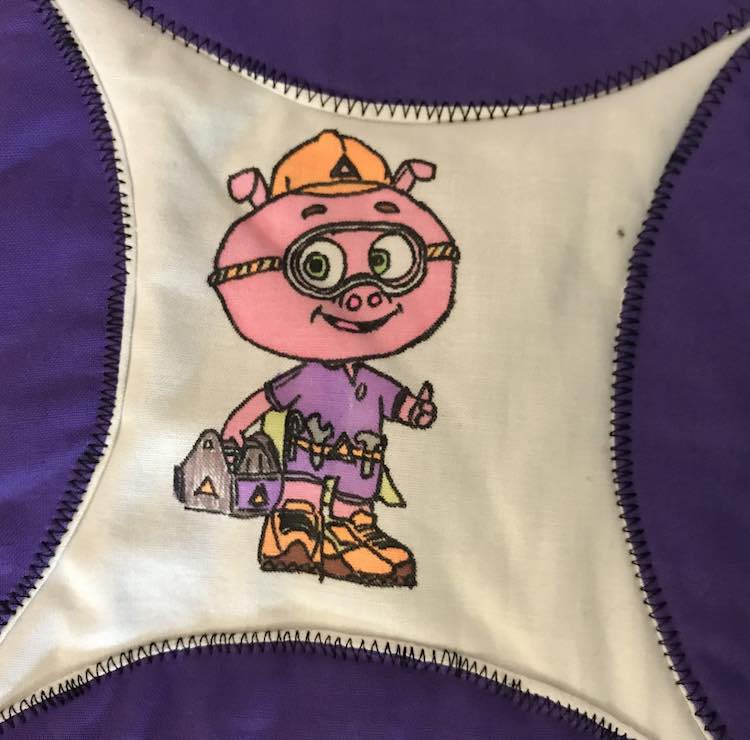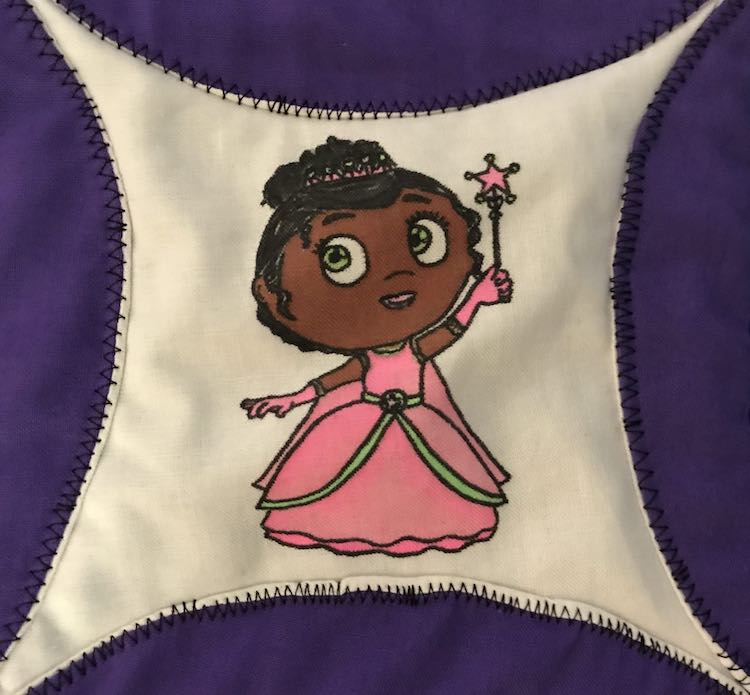 Doctor Who
I knew that I wanted to include Doctor Who on the quilt. It's not a child's show like the rest but I figured this diagonal was a sure-fire show to add for Matt and I, while also including a show they could look forward to in the future. This show was more difficult to find images of as I pictured something that wasn't as readily available online. The two hardest squares were my Doctor and my companion squares. As the Doctor and the companions are played by several different actors/actresses I wanted to show multiple characters on one square. For the Doctor square I was able to find some user art online, through NYWESTIERESCUE, that I liked and included three different actors. For the companions I ended up finding three separate coloring page images of Martha, Rose, and Amy online. I went on to resize them, printed them off, adjusted their sizing and printed them off again, loosely cut them out, and then taped them together to make my own final version for the square. I used a clear tape and kept it on the back so it wouldn't interfere with the tracing as much. I then traced as much of it as I could, like the other squares, and then finished it of by copying as much as I could. I also knew I wanted to include the TARDIS and then for the two final squares I picked two villains that I was able to find printables for.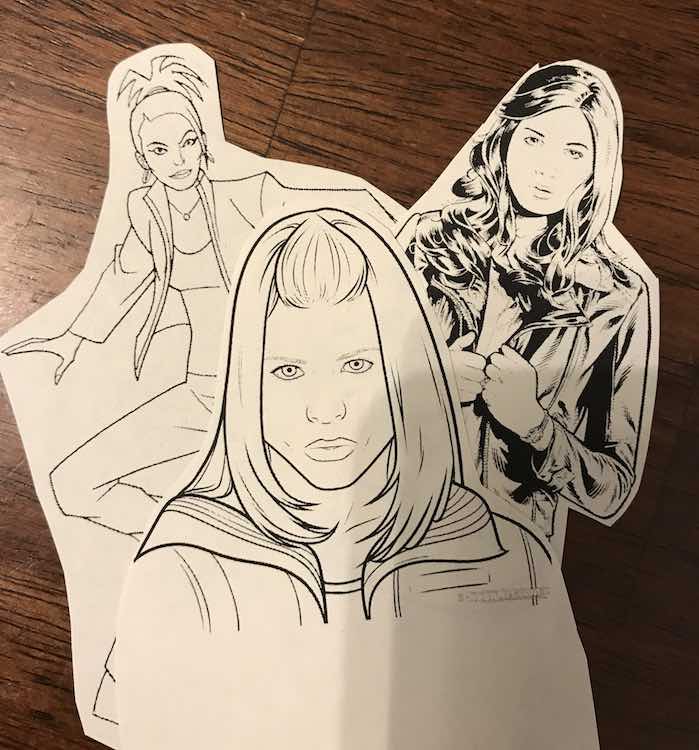 I couldn't find an image online for the Doctor Who companion square so I choose three separate images, resized them, printed them off, and then taped them together to make my own final version.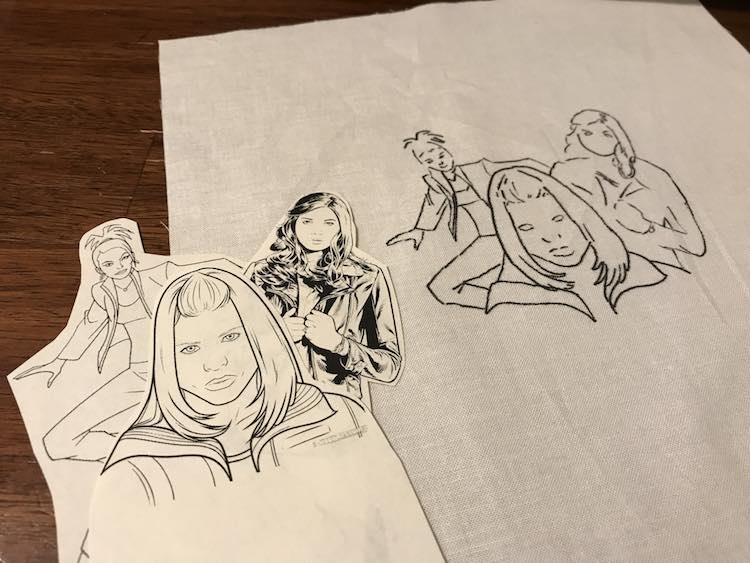 The tape made it so I didn't have to worry as much about it shifting when I traced as much as I could onto the square later and then eyeballed the rest.
The finished Doctor Who squares are: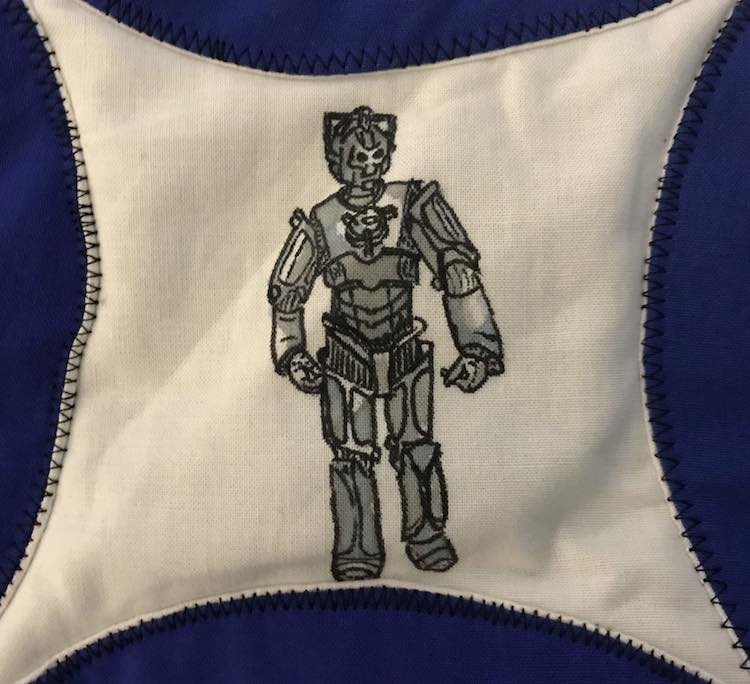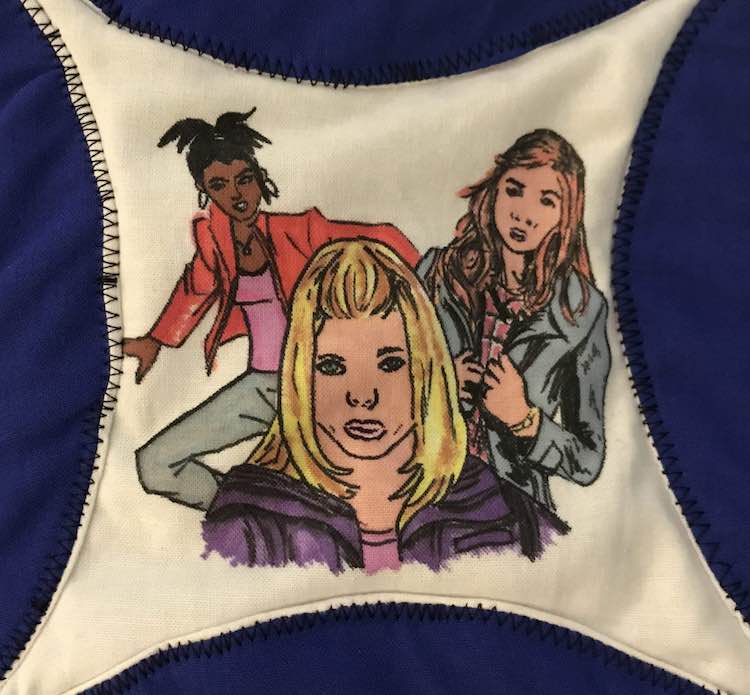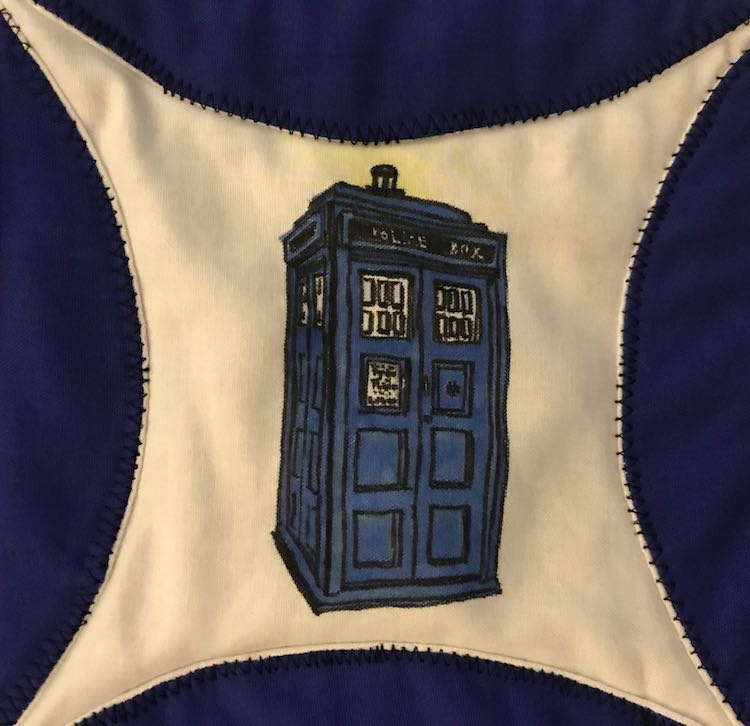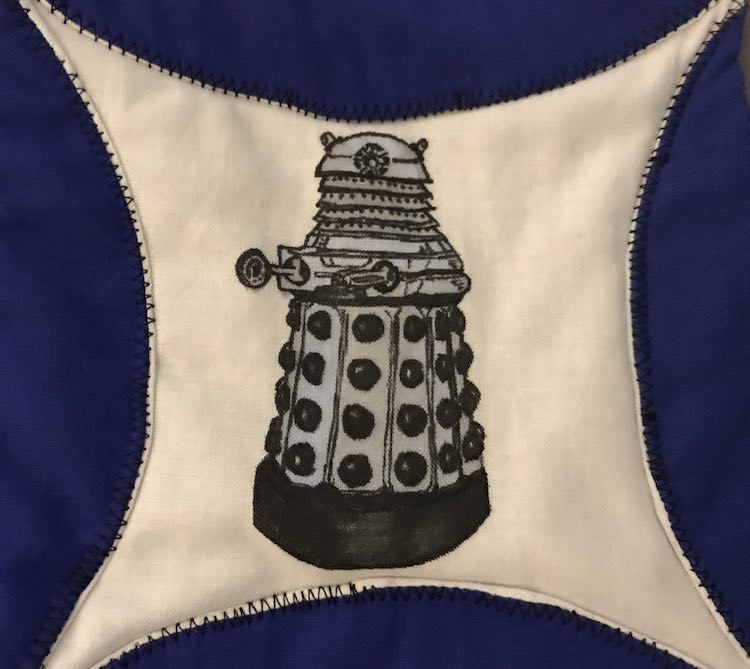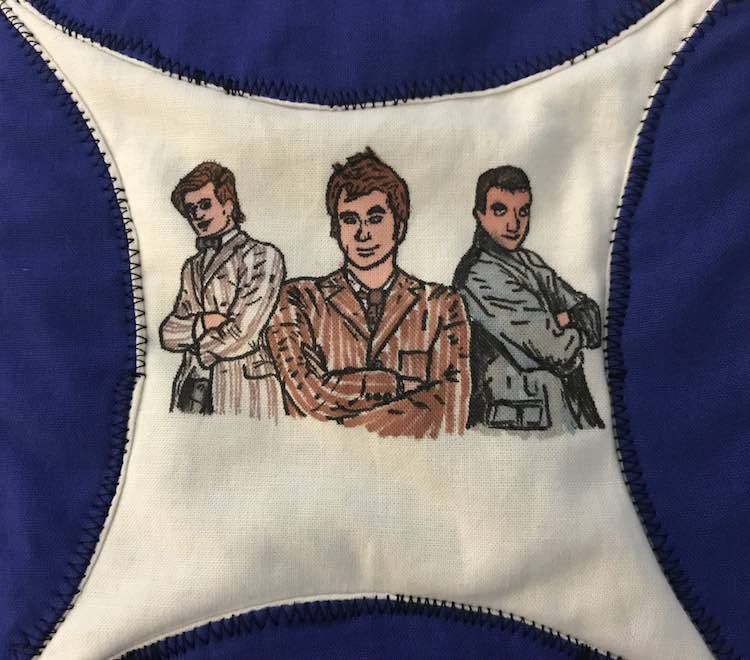 Little Einsteins
The other five-square diagonal was an easy choice as we'd been watching Little Einsteins before I started designing the quilt. This was one of the first diagonals to be picked as there are five main characters.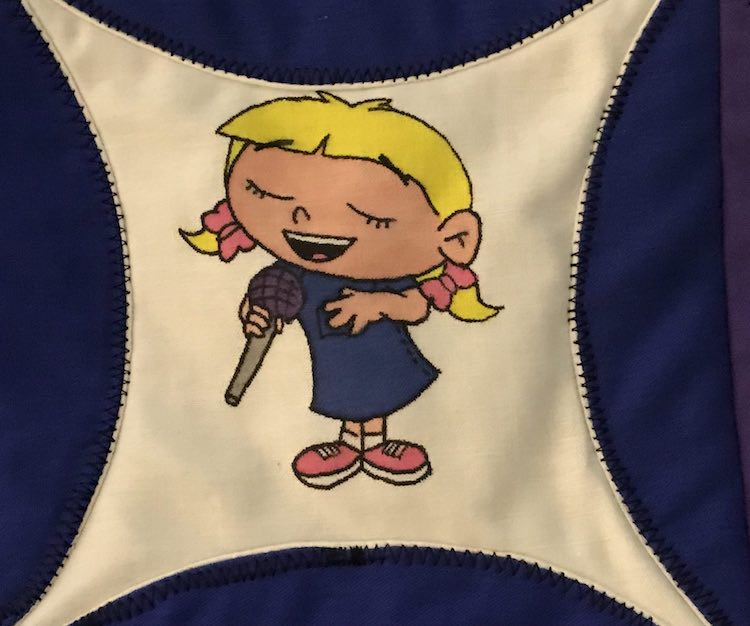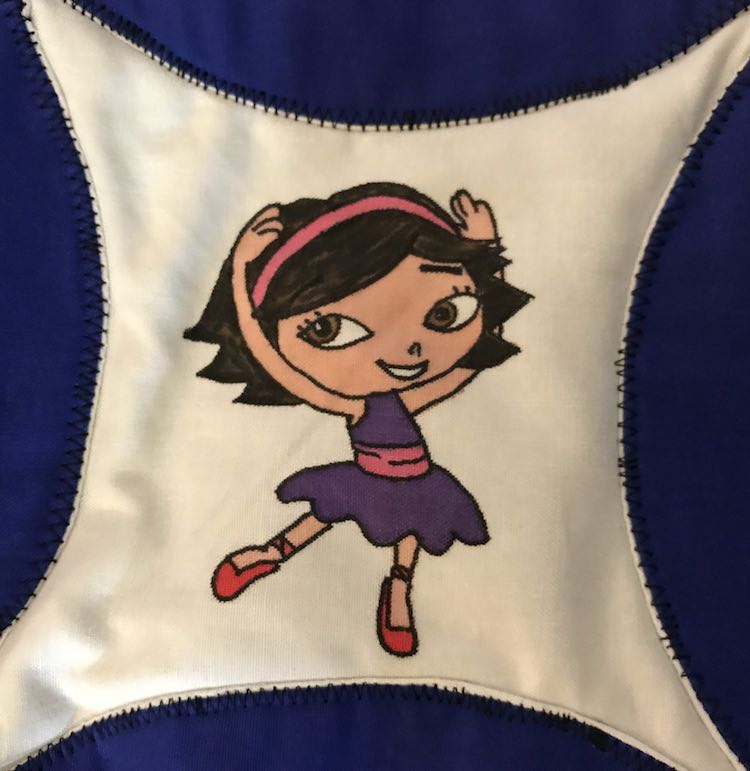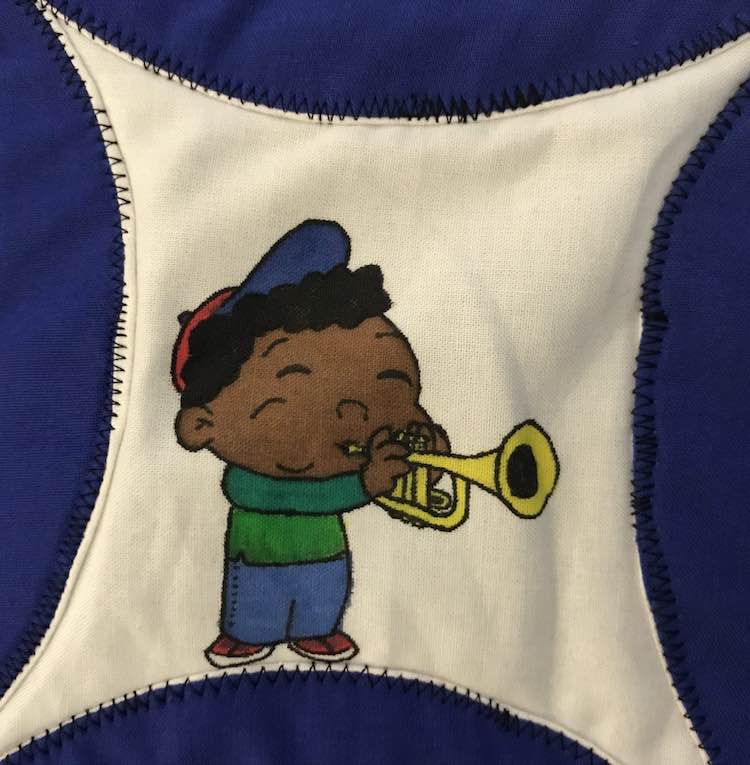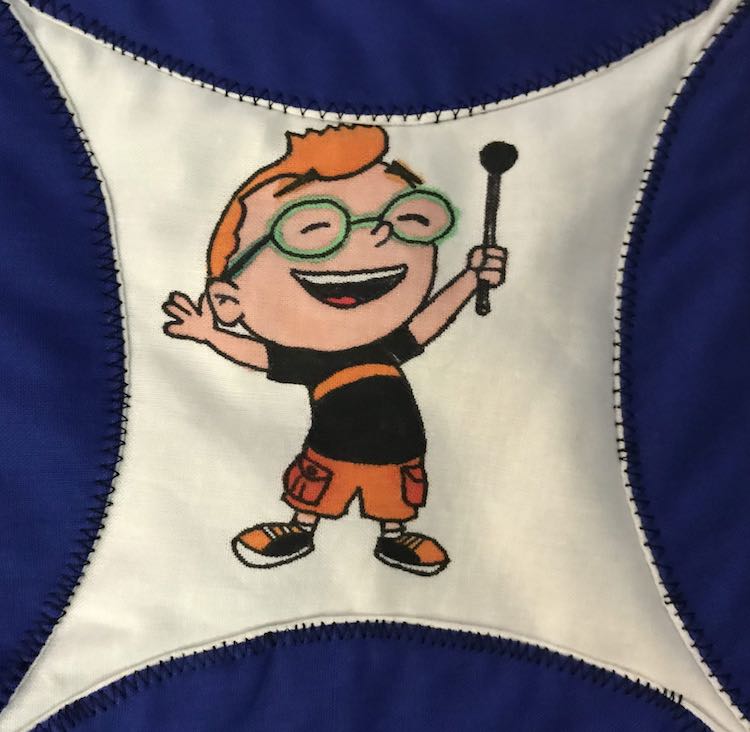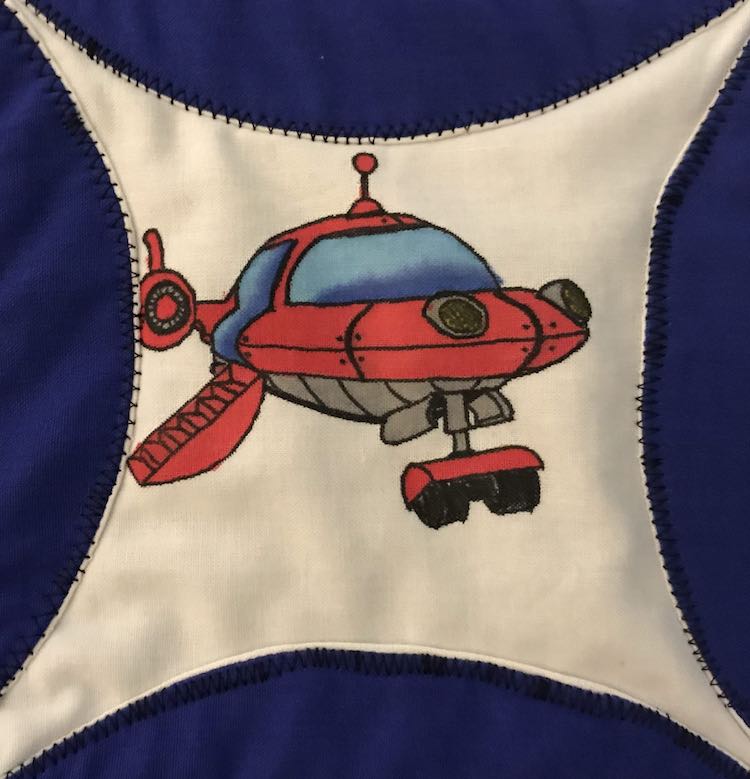 Word Party
Word Party was and is my kids' favorite show. Ada is growing out of it but still enjoys and requests it; while Zoey gets super excited when the theme song comes on. I knew I had to include it and I knew that I wanted it to be one of the six-square diagonals. I even decided I want the four main characters on their own squares and wanted the two remaining squares to be shared between the other four supporting characters: Clickety Clock, Word Wally, Party-in-a-Box, and the Whats-it-Toy. Note: the newly released season added a sticker bot. This was the most difficult show to find source material for as there were no online coloring pages and the only pictures I could find, from the official Jim Henson/Netflix page or a single news report, either cut off some of the characters or hid them. Neither source included the supporting characters. I ended up using Lulu from one of the websites and then to create the other squares I ended up taking photos of the television with my phone while my daughters were watching the show. There were a lot of blurry photos to go through before deciding on my source ones. I then took the chosen photos and cropped, printed, resized, and for two of the final squares combined the images. My printer was black and white so the grayscale helped while tracing the final printables, but for the questionable areas I resorted to eyeballing it and copying.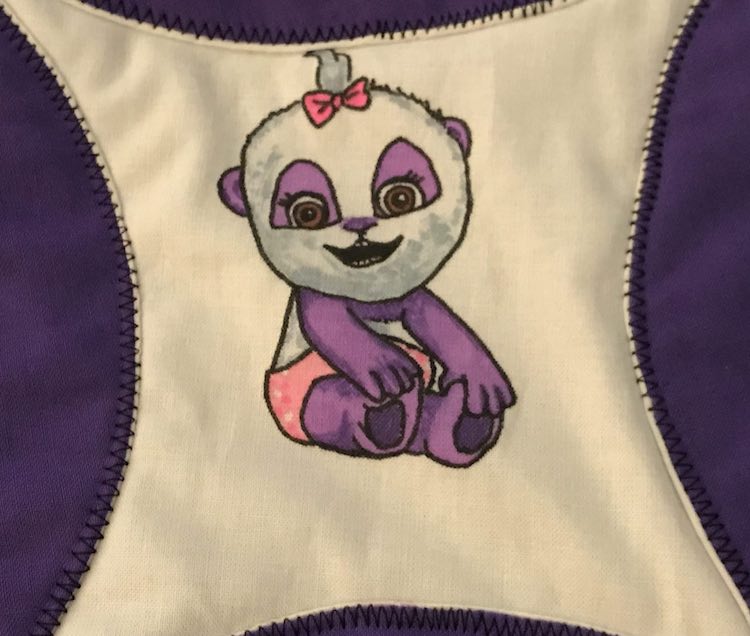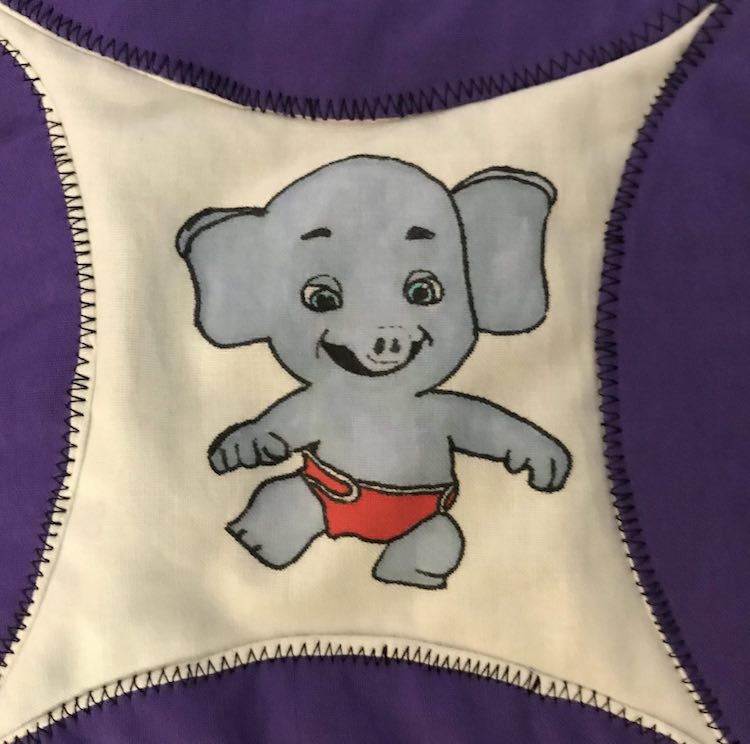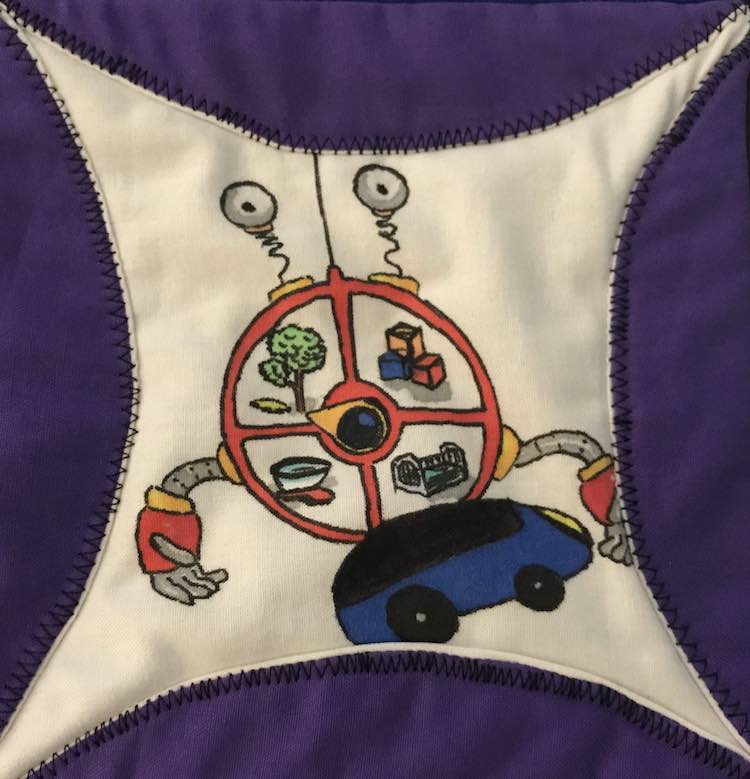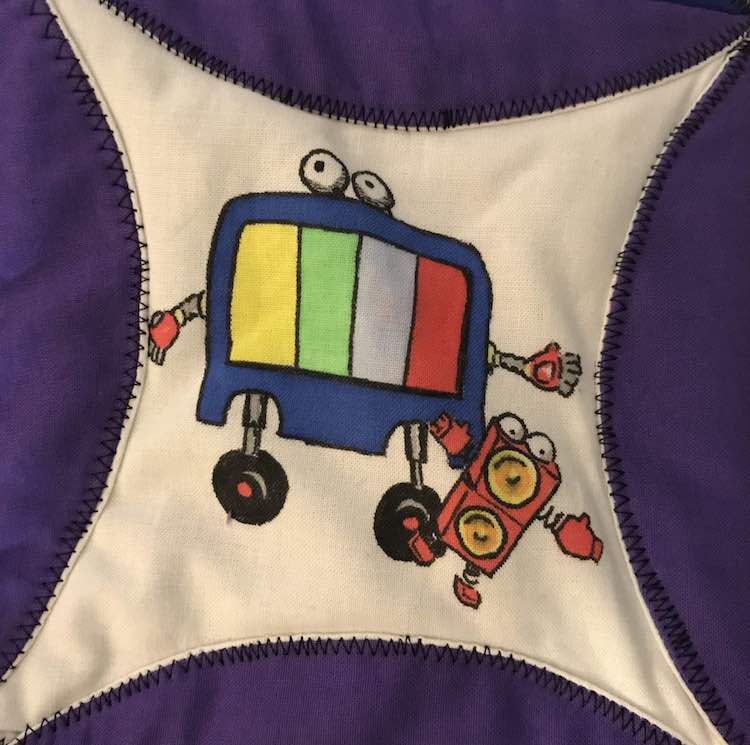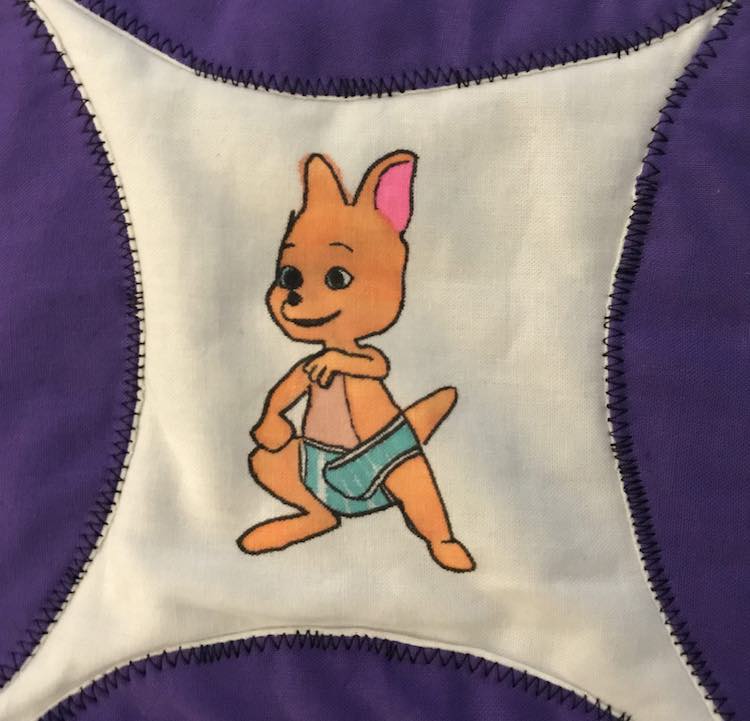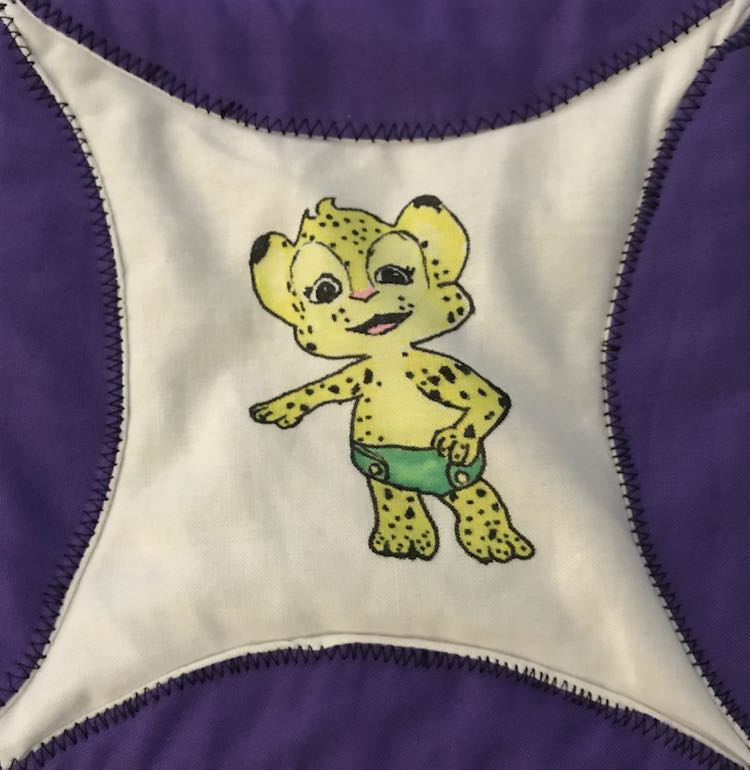 Chuggington
This traintastic crew was an easy decision for a six-square diagonal. The three main trainees were quickly picked for three of the squares. If I recreated the quilt today I probably would've switched out the chosen Action Chugger for Frostini as I've seen him way more in the episodes we've since watched… and hey ice cream is yummy.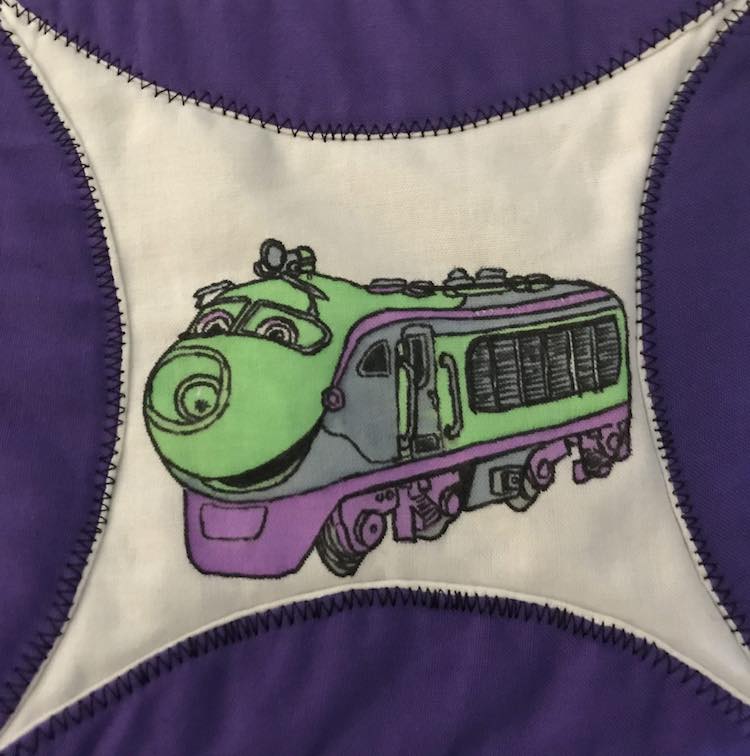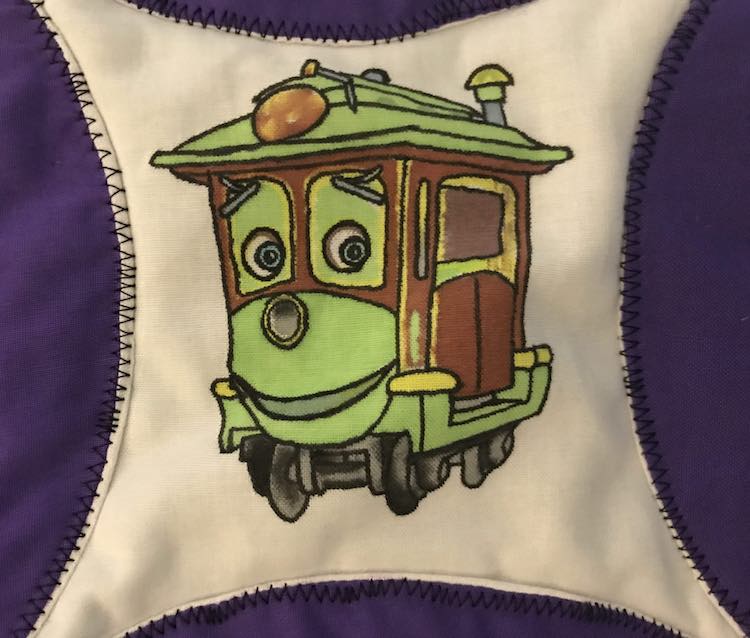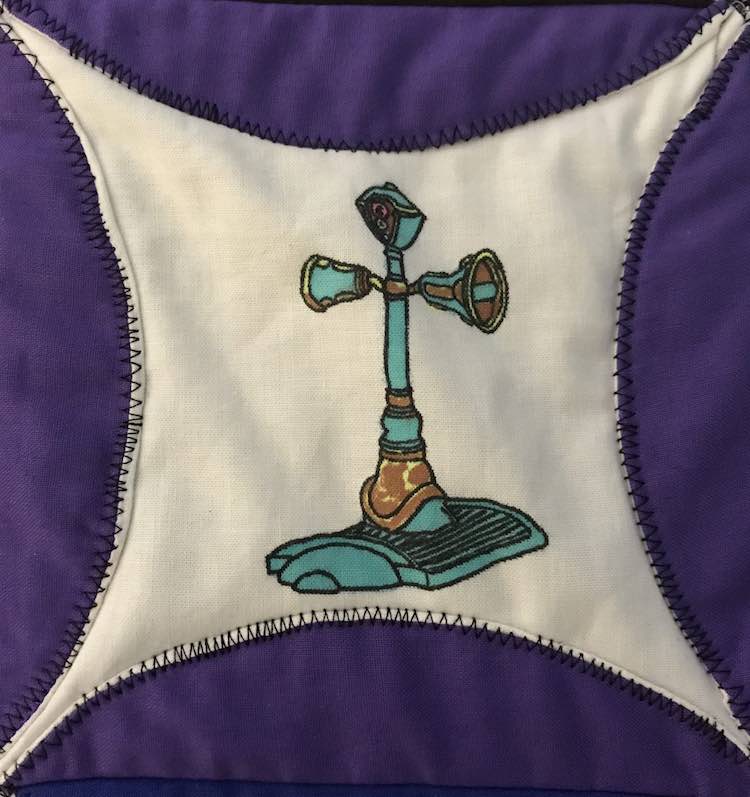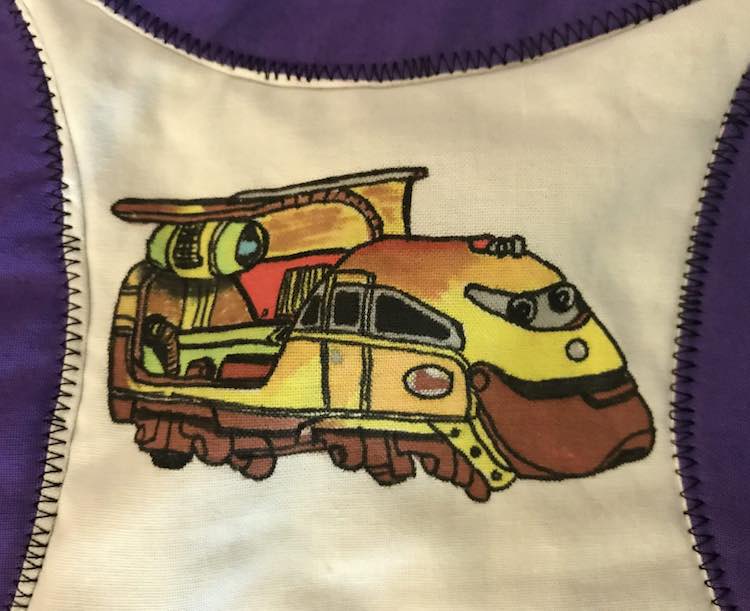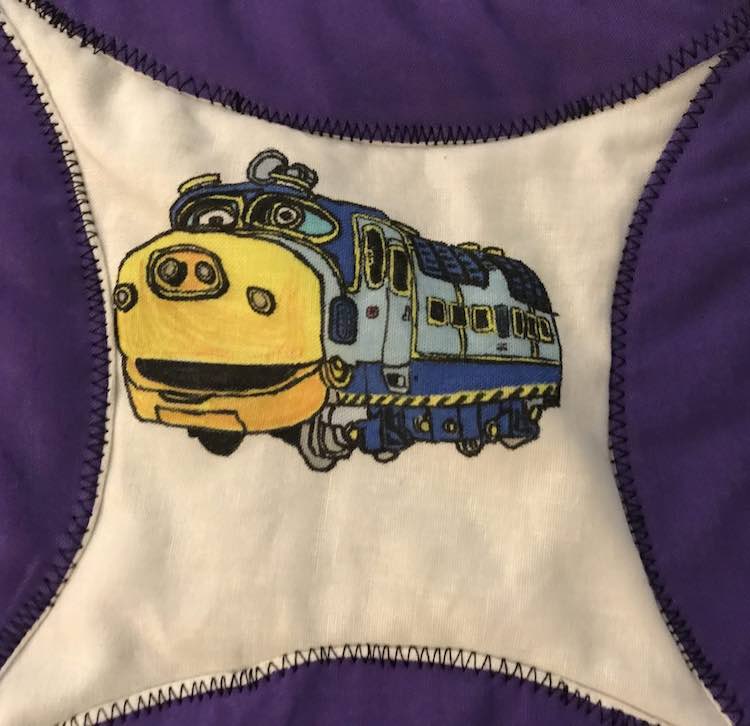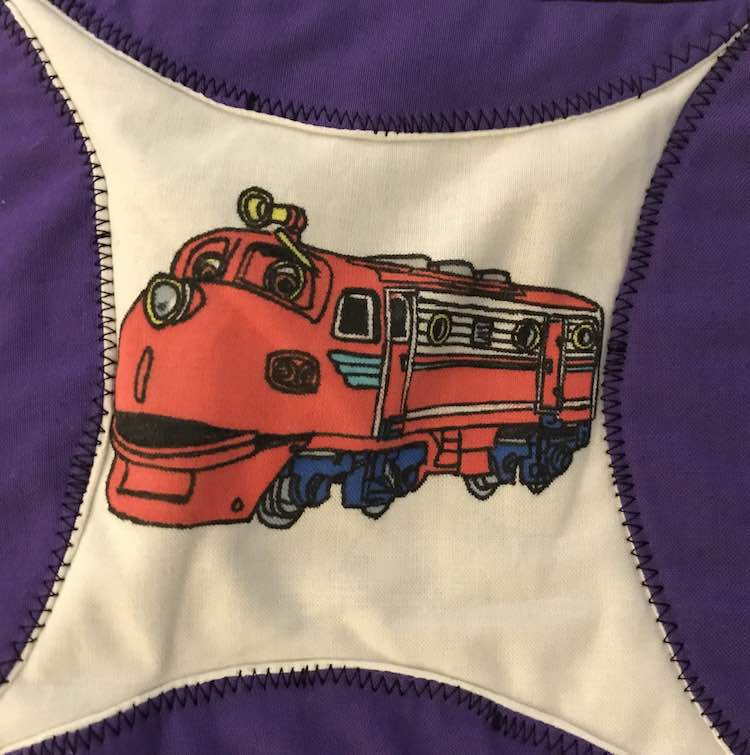 Sesame Street
The final six-square diagonal was Sesame Street as you have to include such a long running television show. Going over the photos recently I realized that a character from the Muppets weaseled his way onto the diagonal; so if I made this again I'd probably include Mr. Snuffleupagus, Snuffy, as who doesn't love that elephant. Now if I could only get Kermit to stop judging me with his relaxed posture and straight on stare.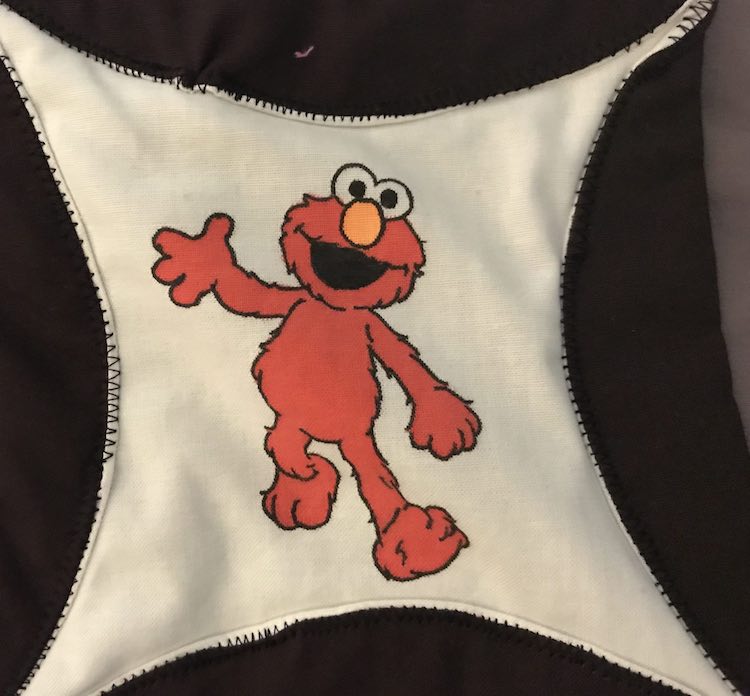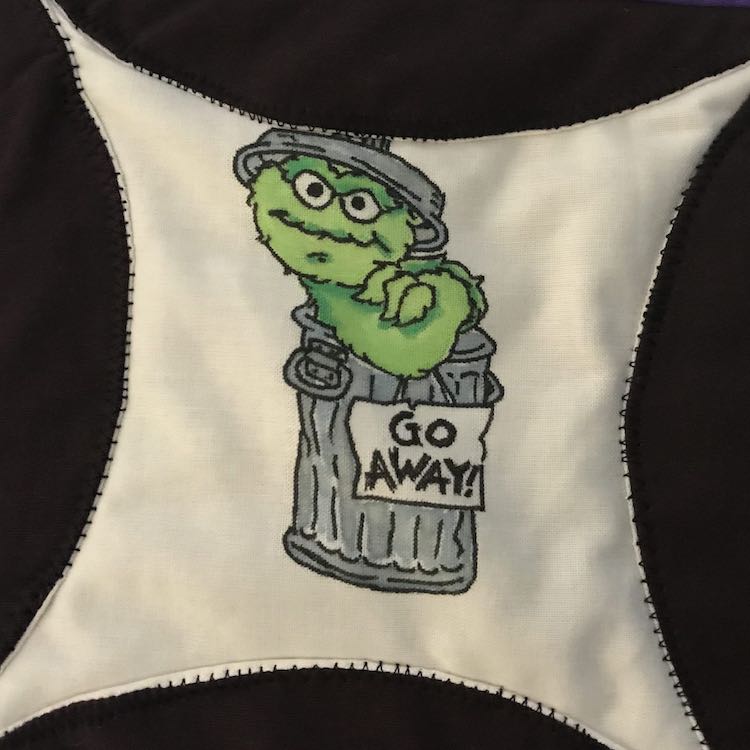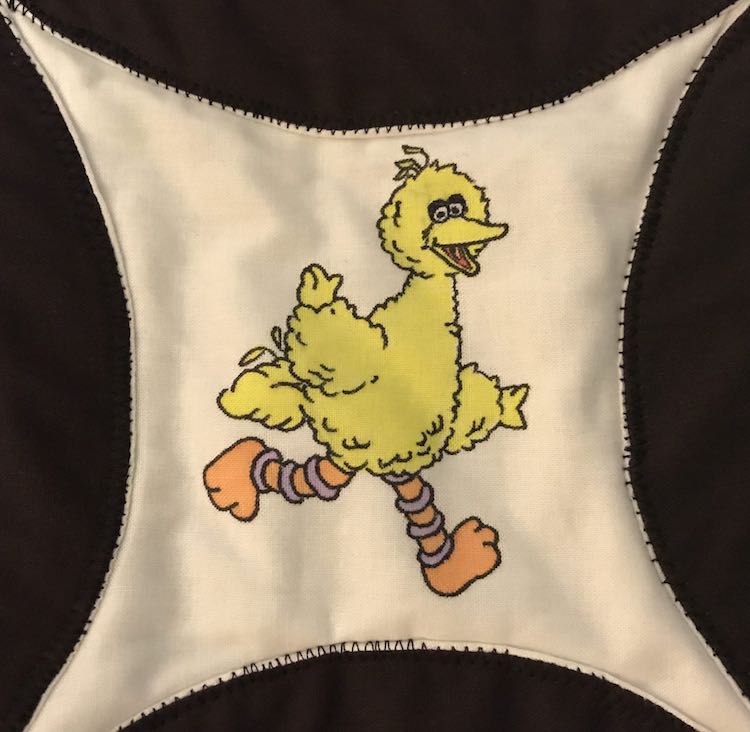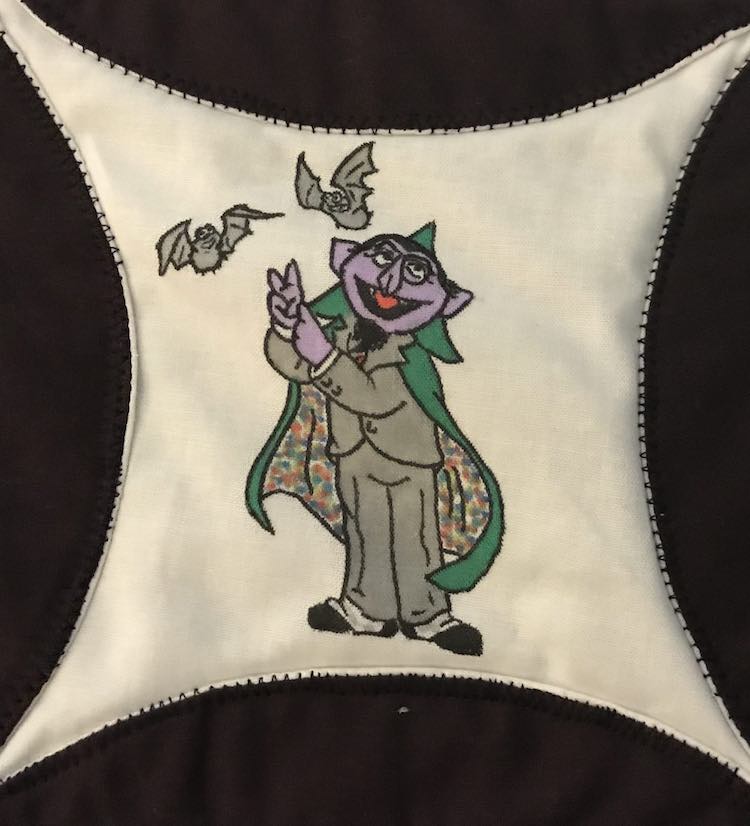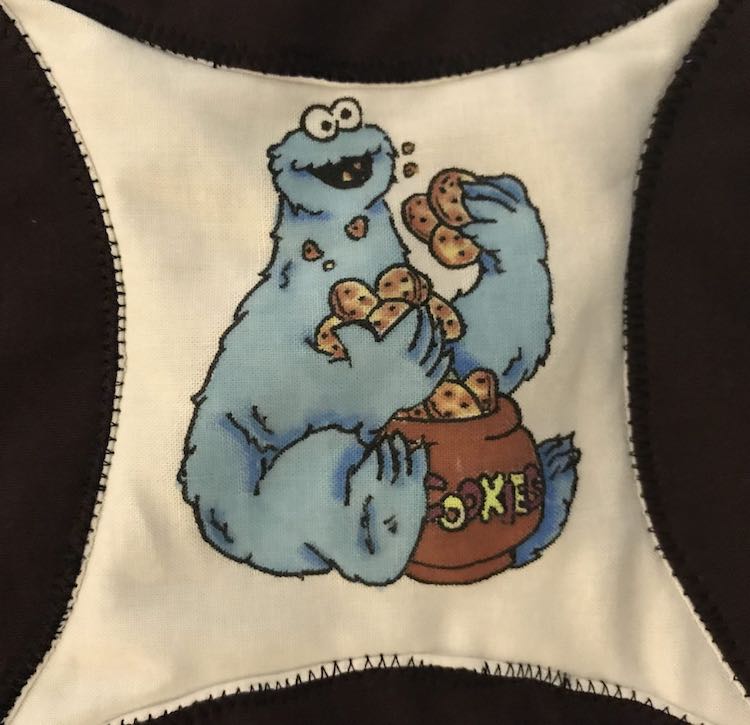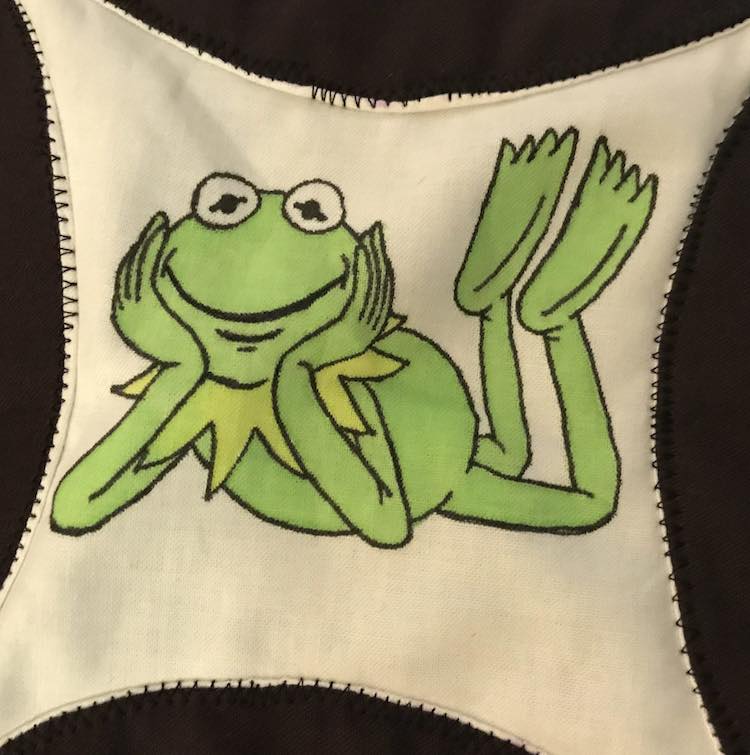 ---
Tips I found when looking for your coloring pages
Some of the images I found from the show's main website. Other images were more difficult. My go to first step was searching for "Show Name coloring pages" in a Google Image search. If I wasn't finding what I was looking for I would then narrow it down with the name of the character you want. If you're lucky you'll find a repository of coloring pages matching what you're looking for and will easily find all the characters you want. If you still can't find anything you could remove the coloring page portion of the search and look for colored images. The colored photos would make the picture harder to trace as there's less of a color difference. For me Word Party was my toughest. I was able to find a couple of articles announcing Word Party that contained some stock photos but that was about it. I ended up resorting to watching Word Party on the television and quickly snapping photos when a character I wanted was on the screen.
Remember to keep an eye on where the links are taking you before going to their sources.
If clicking on the image source keeps bringing you to a Pinterest search and not showing you the image then you could always directly save it from the Google search by right clicking on the image and choosing  'save as' OR you could click 'View Image' directly and then choose what to do.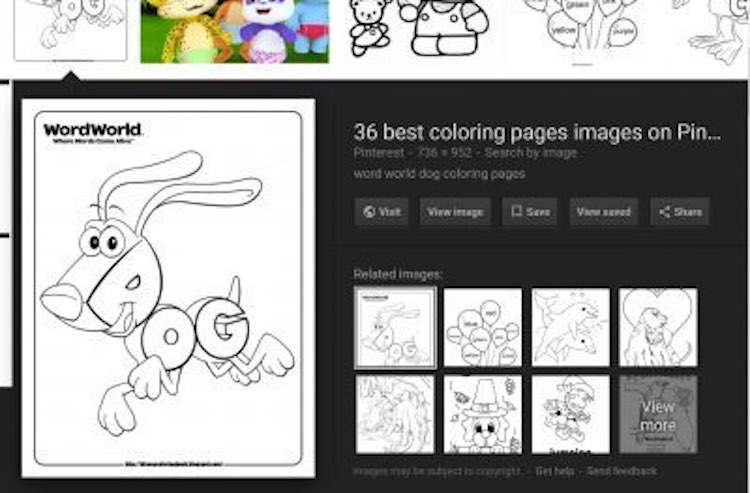 Remember to keep an eye on where the links are taking you. You can save the image directly from the Google search by right-clicking on it or clicking 'view image'.
If you want to combine characters, like I did for the Doctor Who companions, you can take the coloring pages or photos that work and then combine them on your computer with an image editing program like GIMP (GNU Image Manipulation Program), free photo editing, or print them off, cut them out, and then combine them with tape or glue.
Once I had all the images I copied them into a word document so I could adjust each image's size individually. For me I created a word document for each show so I didn't have all the images being reprinted each time but that isn't needed. After I printed the document I checked to see if it was the right size. If a document had some images that worked and some that needed adjustment I deleted the images that worked, readjusted the others, and reprinted. To keep the entire document you could either create a copy before doing this or be careful not to save when exiting.
---
I'd love to see what characters you draw out and what you make out of the fabric! If you want to see the quilt I used the square on you can check out my first post: Peek-a-Boo Television Characters Quilt; Part One of Two. You can connect with me through the comments below, on my Facebook page, or through Instagram. I'd love to hear what you think.