Masking Tape Roads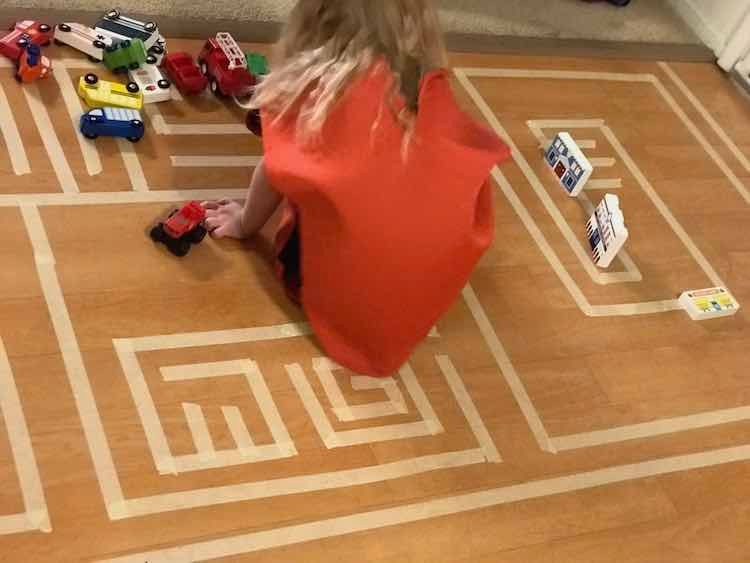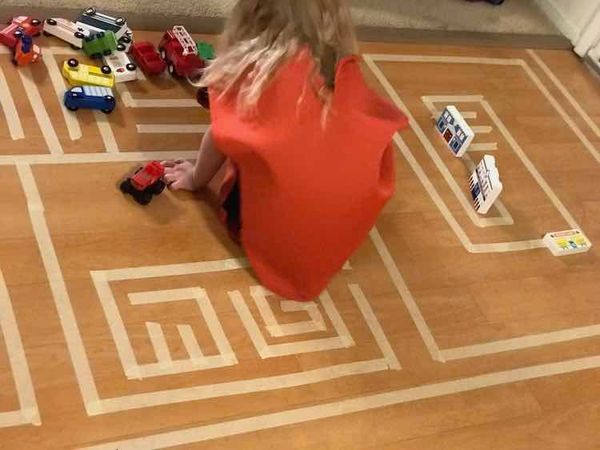 I wanted to share a quick hack that works perfectly if you're in a household with vehicles and flooring. This is customizable to any size vehicle and many ages. All you need to do is lay down masking tape on your floors for a complete roadway…. and many (or few) parking lots for your child's driving enjoyment.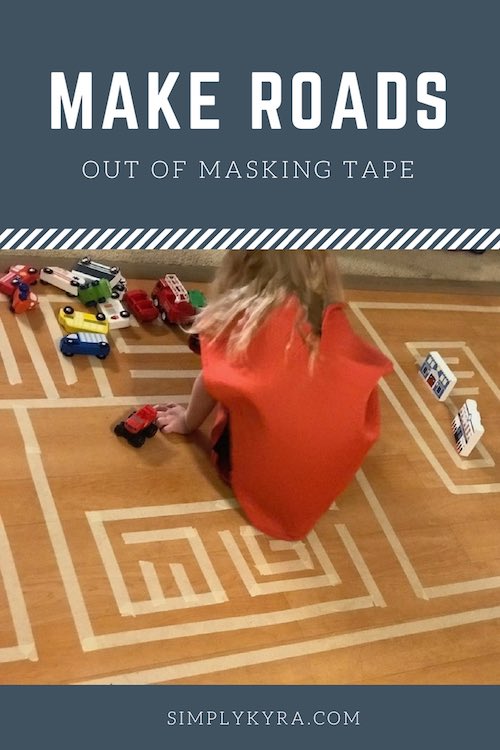 ---
Materials
Masking tape
Vehicles
(Optional) buildings
(Optional) something to draw on the masking tape that won't track on your feet – I used a fine-tipped sharpie
---
I laid out two parallel lines of masking tape on the floor so Ada could drive her vehicles between the tape. I told Ada the ridge between the rug and the floor was the beach (rug is the ocean) so I only had to put one line of masking tape down along the rug. We added parking spots by the ocean before adding more parking lots and more complicated roadways throughout the area.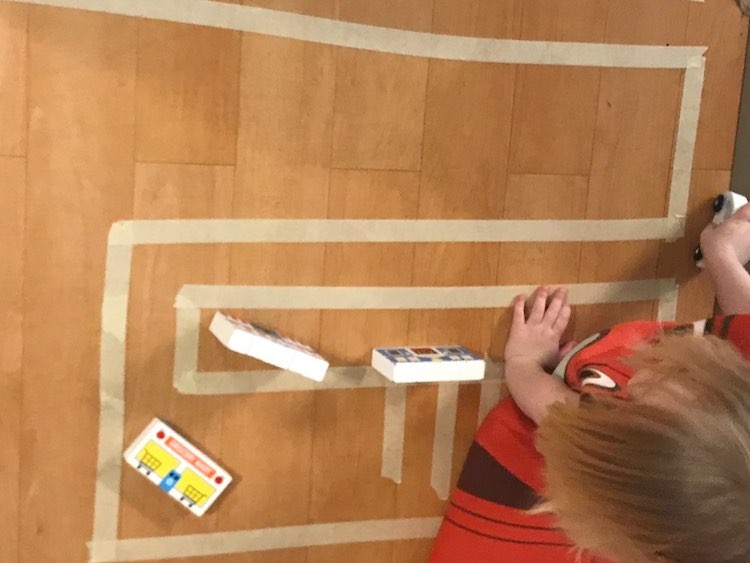 Zoey even decided that the roads needed some street sweeping.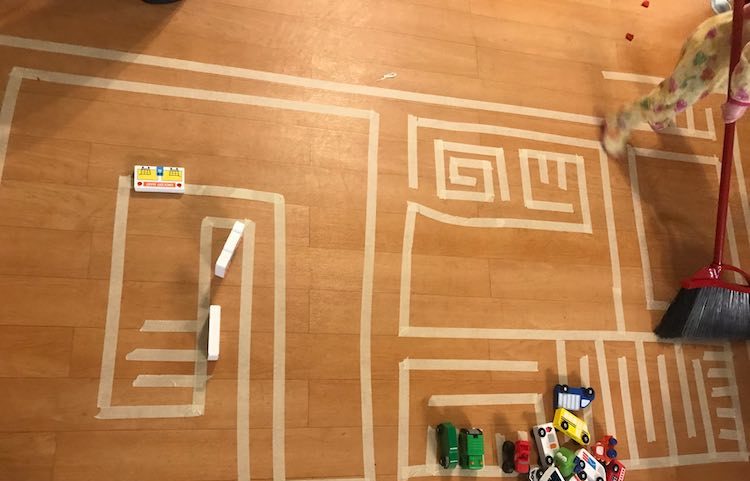 The parking lots don't have to make sense as long as Ada can get the vehicles into their spaces. You can even fill up some space by adding a spiral, a maze, or a road that zigs and zags just to get to a hard to reach parking spot.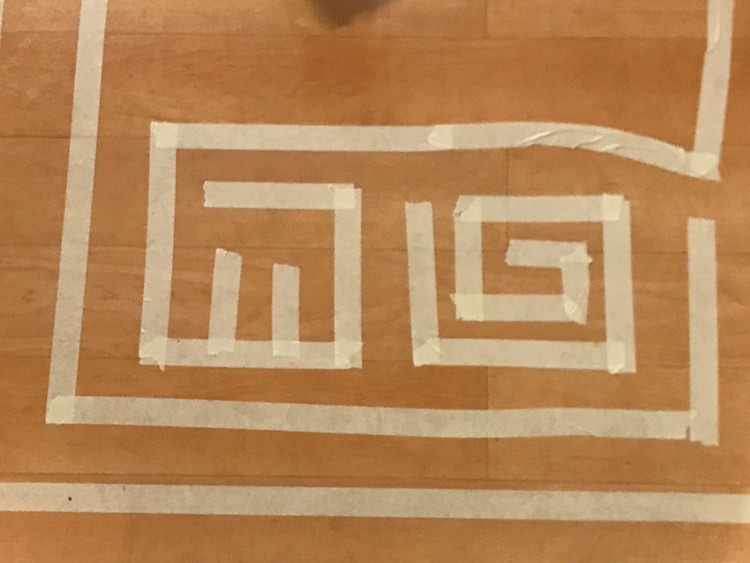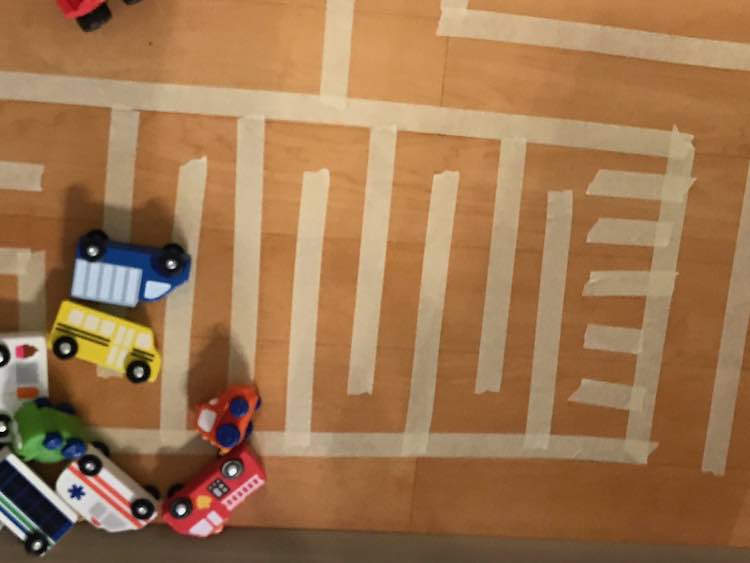 Alterations
If you have skinny toy cars you could make the masking tape roads then have your child keep the vehicle on the masking tape.
If you have big cars you can make the space between the tape larger.
For another fun possibility you can use different colors or sizes of masking tape and add intersections. It can be as complicated and in-depth as you want.
Use the opportunity to teach your child that vehicles drive on the right side of the road and what happens when you get to intersections.
If you have the tape down anyway see if your kids want to be the vehicles and have the balance as they follow the roads.
You can also use a felt to draw details on your map. If you keep it to the tape then it can easily be peeled off along with the tape when you're done. Just be sure you don't use something that will track over the house (like chalk). I used a fine-tipped black sharpie here to draw a slide, swing set, buildings, and (Ada-requested) snow. If you have older children you could have them draw the details.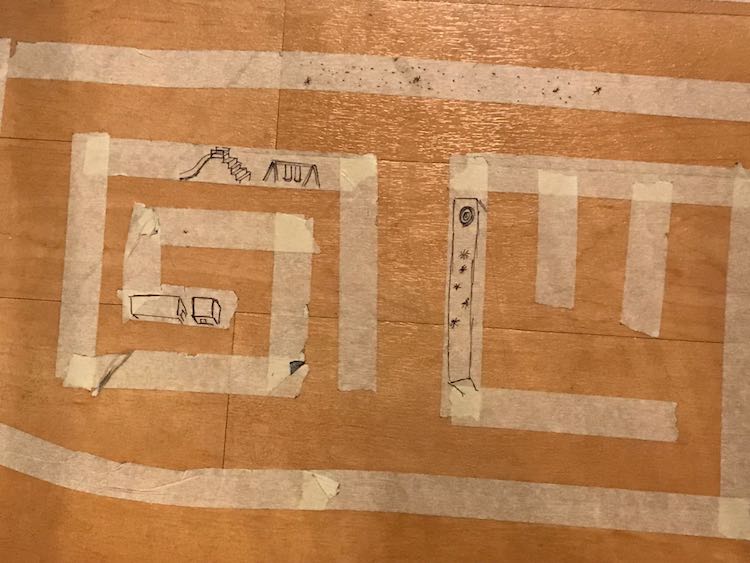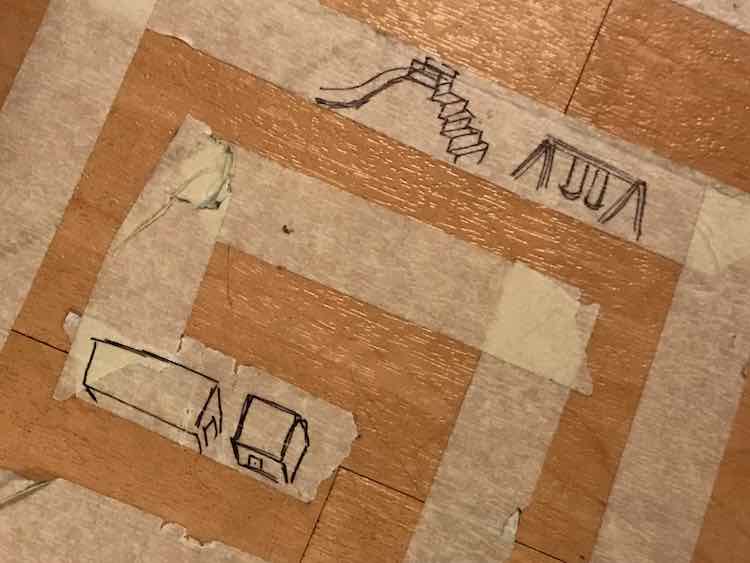 If you have kids with a wider gap between their ages I can see having the older child create a fun and in-depth roadway with building, potentially when the younger child is napping, and then letting both kids play at their own level with it.
---
I'd love to see what your masking tape city looks like! Please share in the comments below, through a post on my Facebook page, or tag me through Instagram.