Layered Dip In a Beaker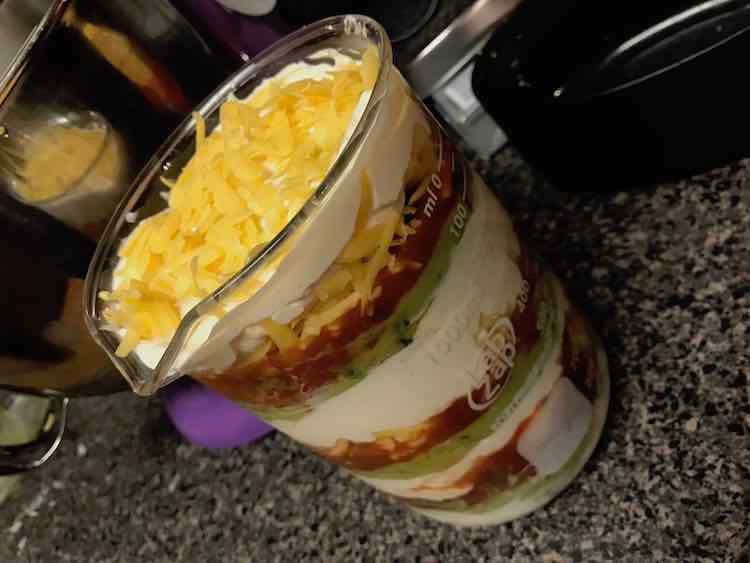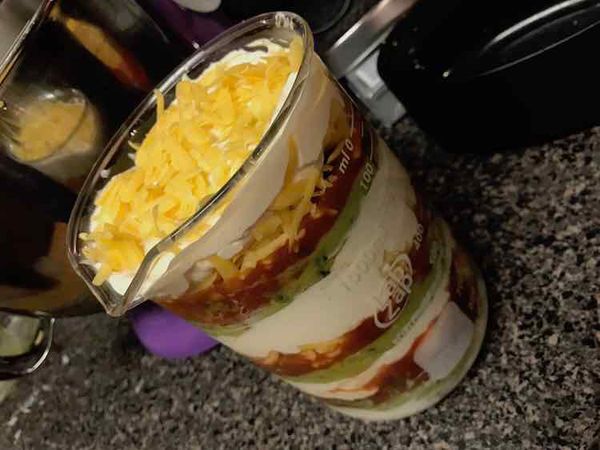 After extending Ada's science-themed birthday party to the buffet table with glass Erlenmeyer flasks and beakers through Karter Scientific on Amazon I next had to come up with a way to use them. I had come up with layered Jello for the first beaker but wanted next beaker to hold something at least a bit healthier to, at least, balance the table a bit more. I thought of doing a layered dip so I started looking for ideas online. I wanted to keep the dip simple and ended up coming across a Layered Nacho Dip from the Real Housemoms that only used three layers. The first layer was a mixture of cream cheese, sour cream, and taco seasoning. The other two layers were simple store-bought salsa and shredded Mexican 4 cheese.
I loved the idea of her cream cheese based layer so I took her idea and expanded it by changing the cheese to a sharp cheddar I had on hand and adding easy store-bought guacamole for another contrasting layer to the dip. I wanted to make this the day before the party when life isn't as rushed so after looking at other layered dip recipes online that included guacamole I was able to deduce that the guacamole wouldn't brown if I kept it sandwiched between other non-airy layers like the salsa.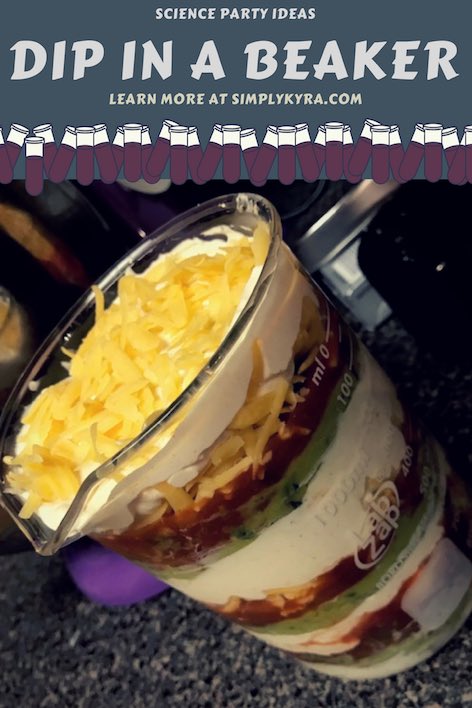 ---
The most complicated layer of this recipe is the cream cheese, sour cream and taco seasoning. I simplified it even further by forgetting to leave time to bring the cream cheese to room temperature which was fine as I used the paddle attachment on my stand mixer and beat it into submission. After the cream cheese was mechanically softened I added the sour cream and taco seasoning before mixing it more. I next grabbed the store-bought salsa and guacamole from the fridge and shredded some sharp cheddar cheese for the cheese layer.
If you don't like sour cream I've since substituted it for the same amount of plain Greek yogurt and it worked out fine. I didn't taste a difference though my husband said he did though only a bit.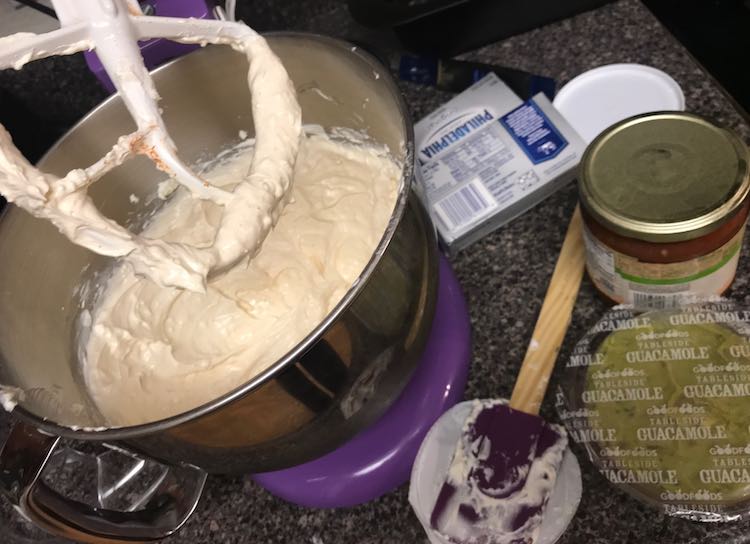 Once all the layers are mixed, prepped, and set out your next step is to decided in which order you want to layer them. I knew I wanted to finish with grated cheese on top so while layering I made sure to save some. I also wasn't sure if the grated cheese was too 'airy' for the guacamole so I made sure those two layers were next to each other. While layering I kept a spatula nearby to flatten each layer and to 'clean' the inside of the beaker as much as I could before going on to the next layer as I wanted each layer to be plainly visible.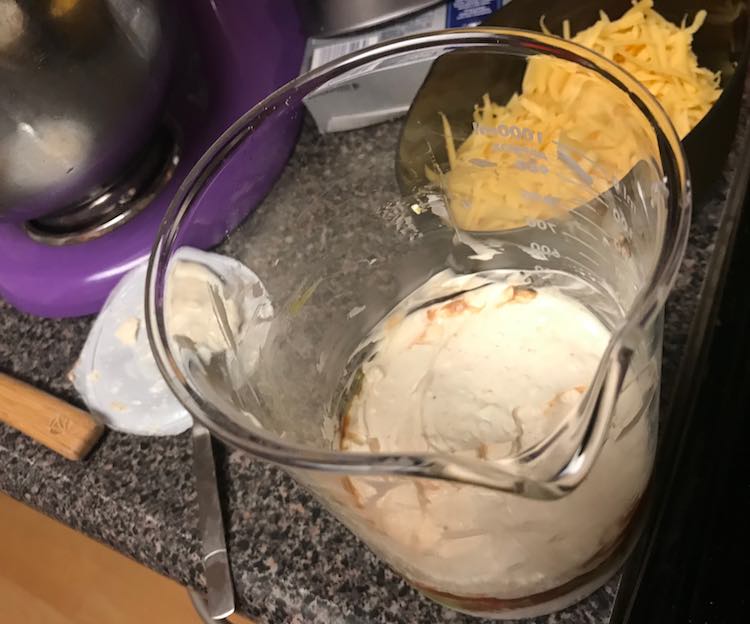 And then you're done! I wrapped up the beaker with plastic wrap before putting it in the fridge overnight.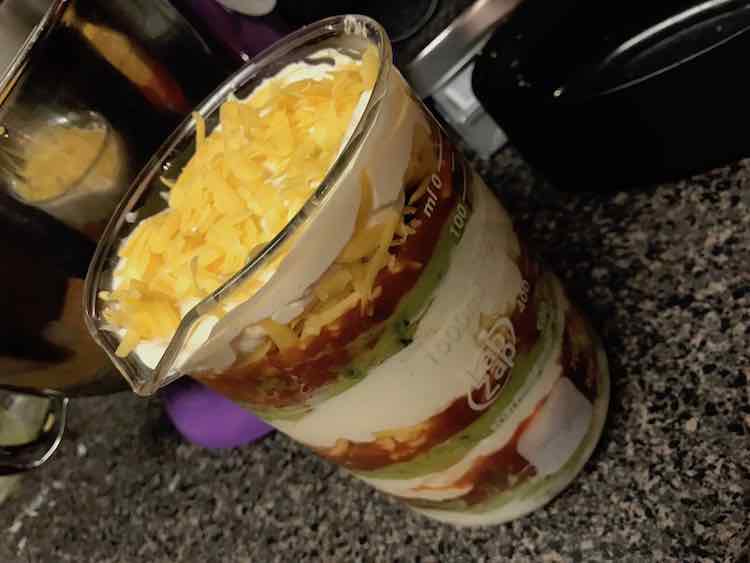 Like the layered Jello before I used masking tape to add a quick label to the side. I served the dip with a spoon for dishing along with a bag of tortilla chip and some gluten-free crackers.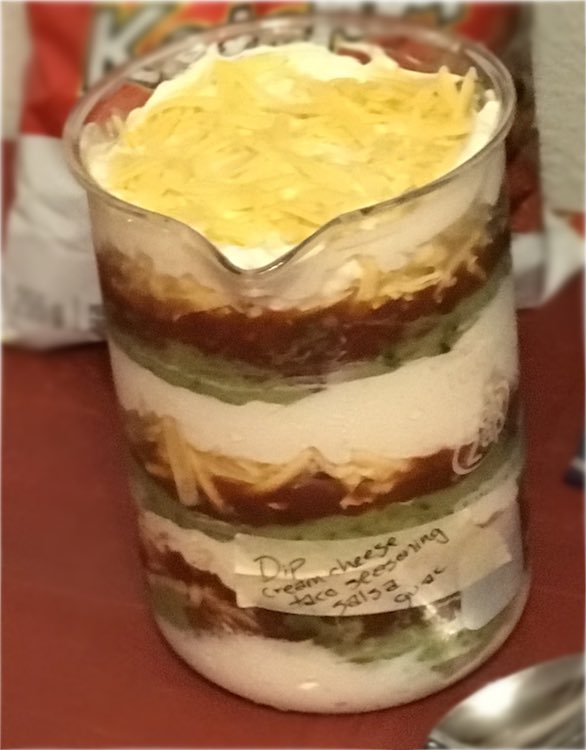 I've since made this in a large container with a lid to simplify and store in the fridge easier. I substituted the sour cream for Greek yogurt and used flavored guacamole. I noticed a bigger difference with the guacamole than the change in the cream cheese layer. As the container was wider and shorter than the beaker I ended up only using two layers of the shredded cheese and the cream cheese layers and a single layer of the salsa and guacamole layers.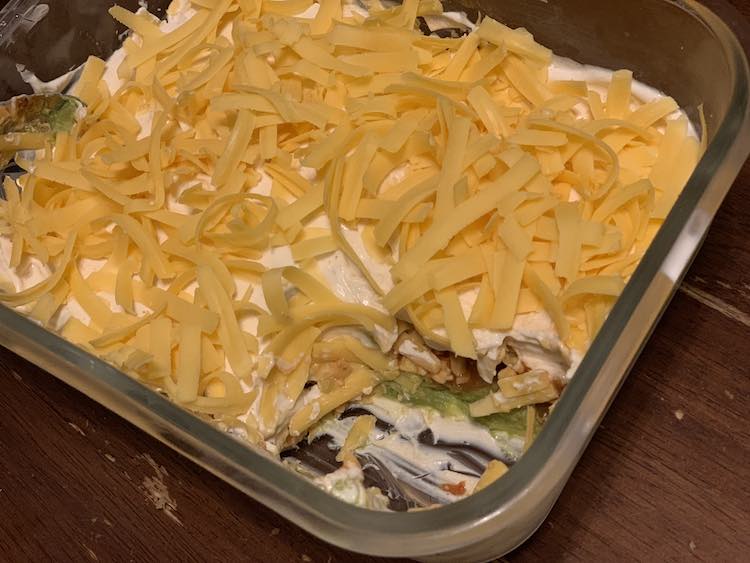 ---
Layered Beaker Dip
I extended the Layered Nacho Dip from Real Housemoms by substituting the type of cheese, adding guacamole, and making smaller (and more) layers. This is a perfect way to add a non-dessert element to a science party when layering it into a beaker while still working for non-science parties if using a different serving dish. I could see this working in any glass or plastic container depending on how many layers you want while also working in an opaque dish if you don't mind the layers not being visible. This can easily be altered based on what ingredients you prefer and how much of each you want to use.
Appetizer, Side Dish, Snack; Chips, Dip, Snack, Taco
Prep Time: 5 minutes
Cook Time: 10 minutes
Minimum Refridgeration Time 1 hour
Total Time: 15 minutes
Ingredients
8 oz cream cheese softened
8 oz light sour cream can substitute with plain greek yogurt
½ tbsp taco seasoning
15.5 oz jar salsa
6-15 oz guacamole
2 cups sharp cheddar cheese shredded
tortilla chips or crackers
Instructions
Optionally bring the cream cheese out ahead of time to soften.
Combine the cream cheese, sour cream, and taco seasoning. Mix together until completely combined.
Shred your cheese if it isn't already.
Choose which order you want to layer your ingredients and how many layers you want it repeated. I started with the cream cheese mixture and finished with the shredded cheese. Remember to not lay the guacamole down next to an airy layer or on top if making this ahead of time as you don't want it to brown.
Chill until the cheese firms up a bit. Or keep in the fridge overnight.
Enjoy topping tortilla chips or crackers.

---

I loved this dip and could see making it for non-science nights too. It was a perfect way to add something that all the adults at the party would enjoy and offer a healthier option for the kids. Most importantly it allowed me to justify another beaker on the birthday table. I hope you enjoy it and I'd love to hear what you used to dip with and how you changed the recipe to make it your own. Feel free to share in the comments below, on my Facebook page, or through Instagram. Hope you have an amazing day!