Halloween Quiet Time Activity - Simple, Quick, and Cheap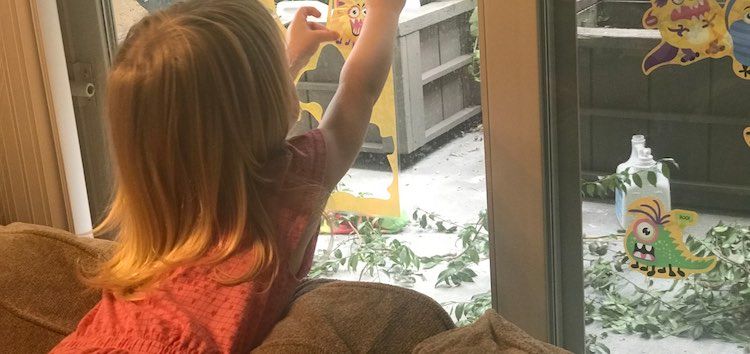 This extension only works if you bought window clings with an exterior sticker around all the main stickers.
---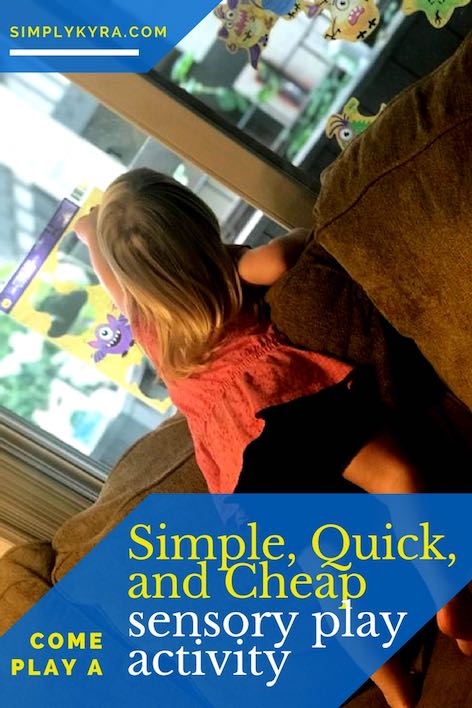 I wanted to share a simply, quick, and cheap quiet time activity I discovered in the hopes it might keep your little one occupied. It didn't distract Ada for too long conventionally, but she found her own way to use them later on. Hopefully your little one will enjoy it for longer.
We went to the Dollar Tree recently and bought a sheet of monster window clings from the Halloween section. I waited until Zoey was napping to pull it out for Ada. The first step is extremely simple. Just give them the sheet and tell them they're window stickers; maybe demonstrate it once. This should give you at least a couple of minutes while they attach the stickers to the window; maybe enough time to make a coffee. Bonus points if they're animating the stickers in their own world and having a blast. In which case do not disturb and try to maximize your you time. If your child has problems pulling off the stickers you can always remove the outer sticker so it's easier for them to grasp the interior stickers; but save the outer sheet for the next step.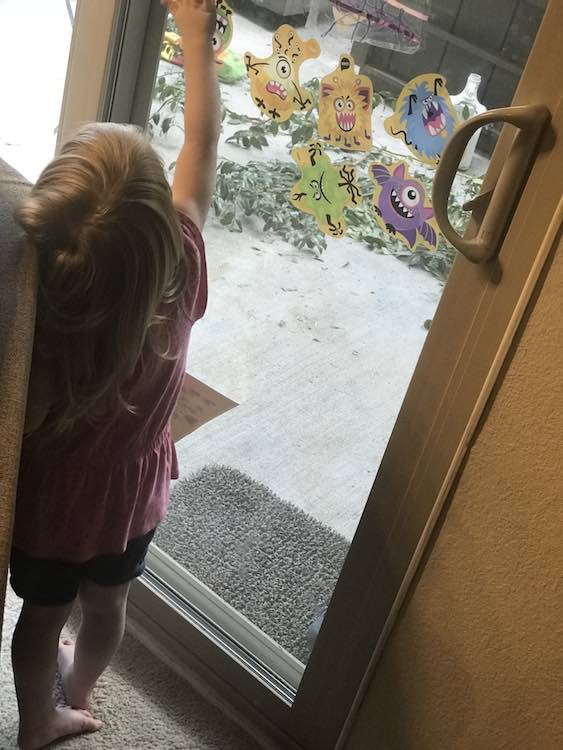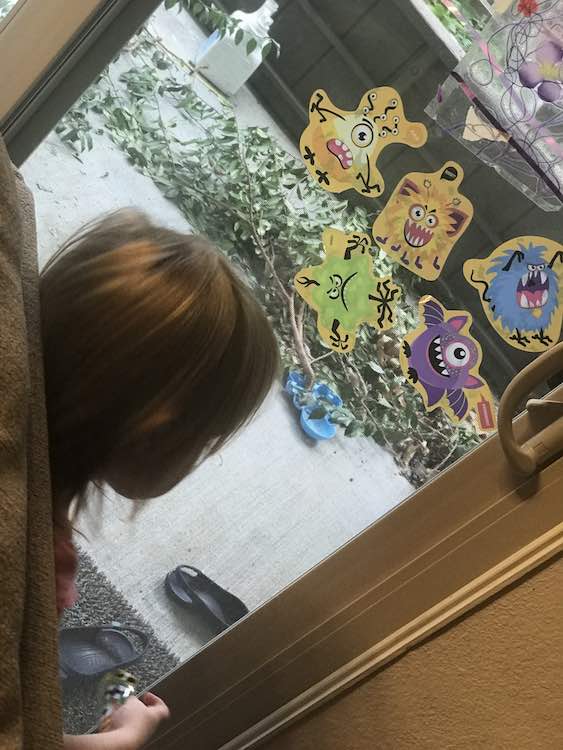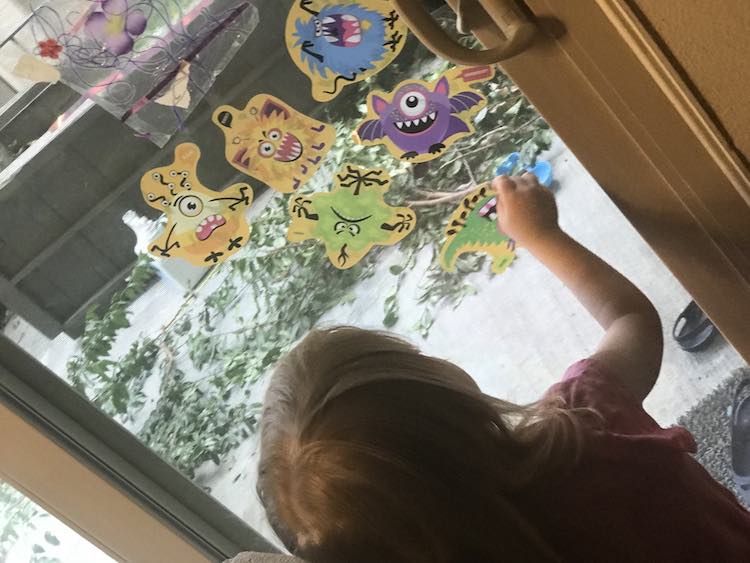 Once they get bored with the activity here's the extension to keep them interested. Put the exterior sticker onto the window next to the characters and get them to match the monster with its outer shape. I showed Ada by moving one of her stickers into its slot. Ada picked up one sticker, put it back, grabbed another one, matched it… and then asked for a different activity. I was hoping she would return to it on her own later but Zoey woke up from her nap and decided to retrieve all the stickers for Ada.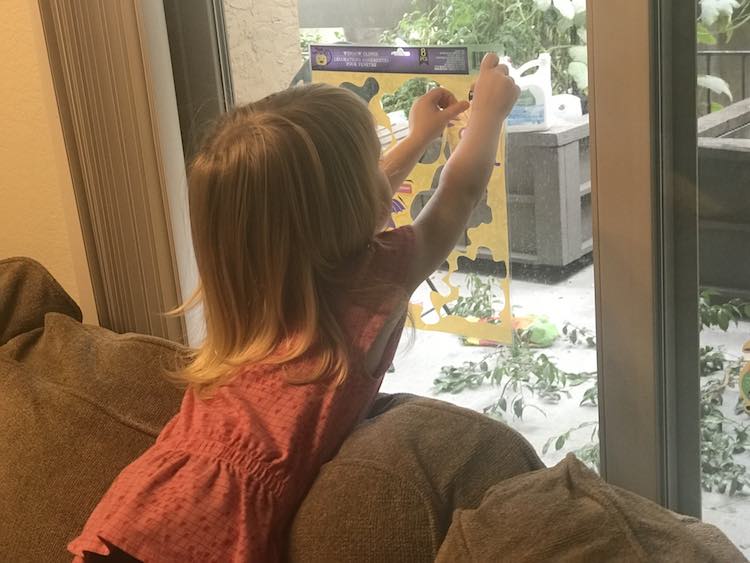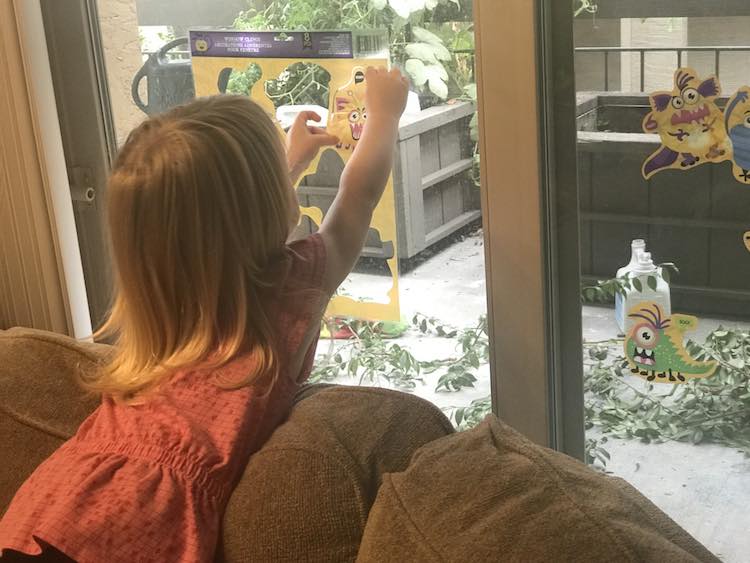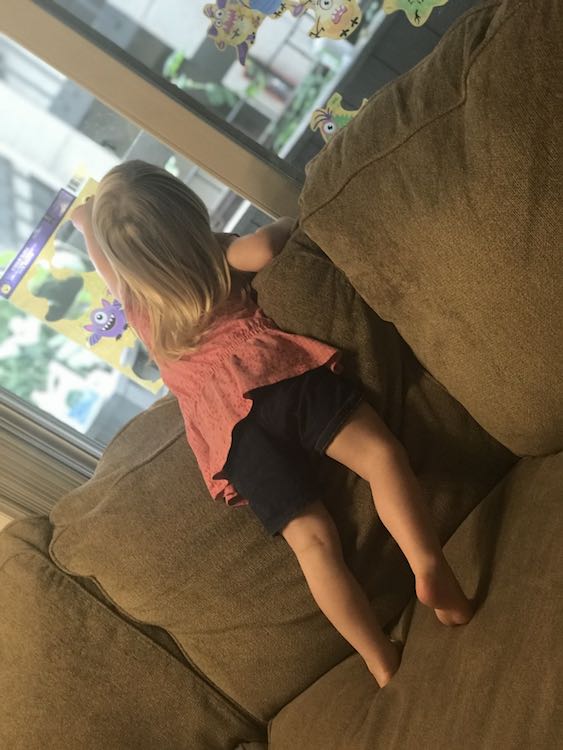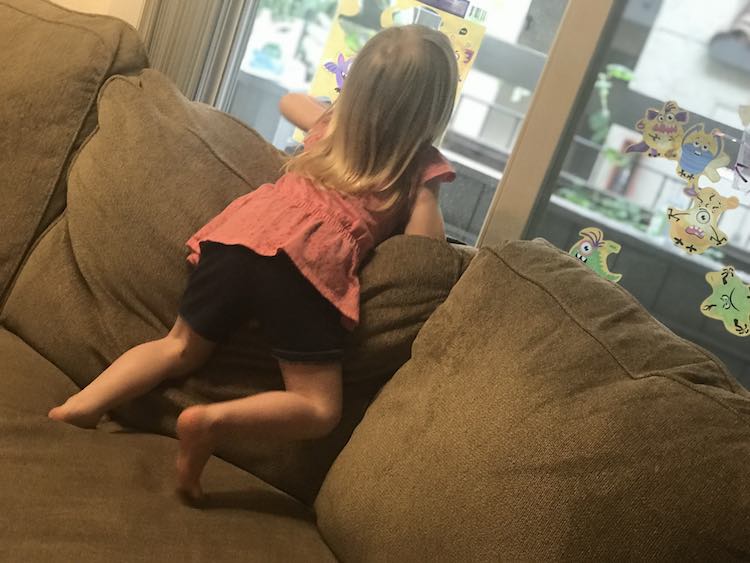 Hopefully this gets lots of reusable use from your kids. You could always increase or decrease the difficulty of the puzzle with different types of window clings. Some sheets might have stickers that come in all different shapes and sizes, easier puzzles, and some others might be more difficult as they look similar but not enough to go just anywhere. Your choice of window clings can also make this activity appropriate for any season… we still have some up from Easter that I should really take down. And bonus… your window gets decorated. If you have any difficulty sticking them (we did the next day as they had been chalked up) just wipe the back of them with a diaper wipe; it adds another element to the play.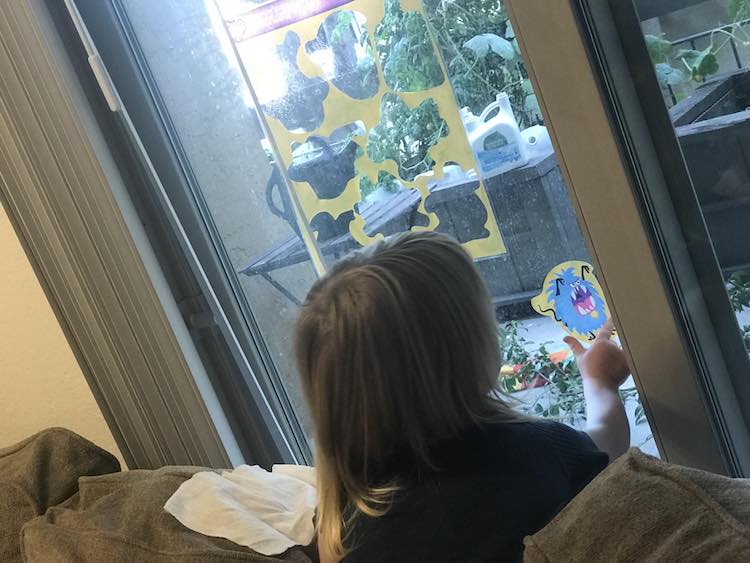 The next day after Zoey woke up and supper was cooking she sought the puzzle out.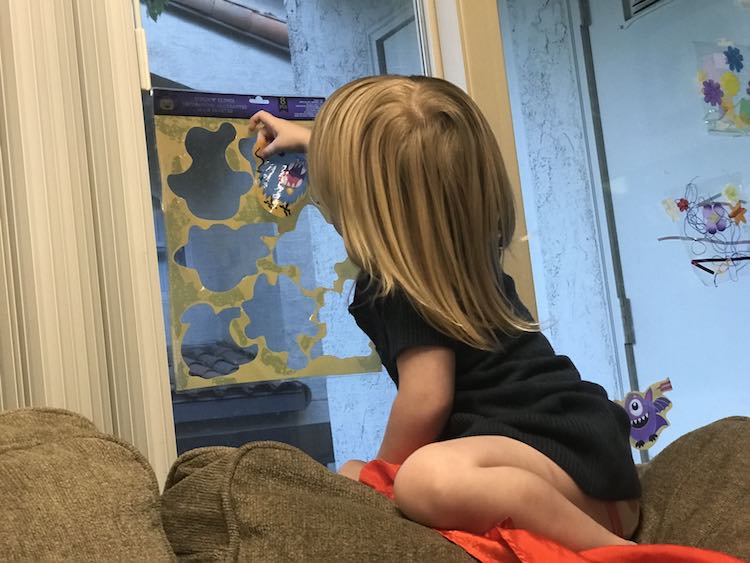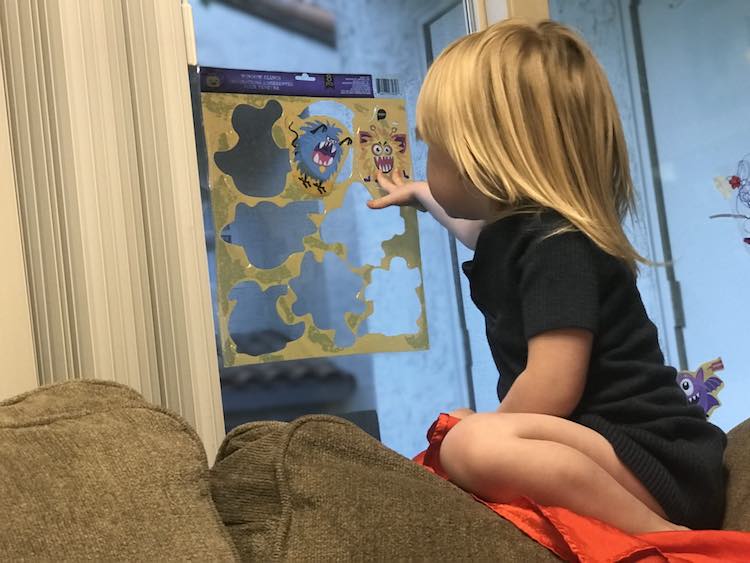 Let me know what else your kids come up with. Later on during the first day we played with the stickers Zoey discovered them, decided to pull all the stickers down, and brought the crinkled up pile over to Ada. Ada had been drawing on the bottom of her chalk bowl with the chalk and decided to use it like paper towel to rub all over the chalk and smear it. Who knows what else will happen?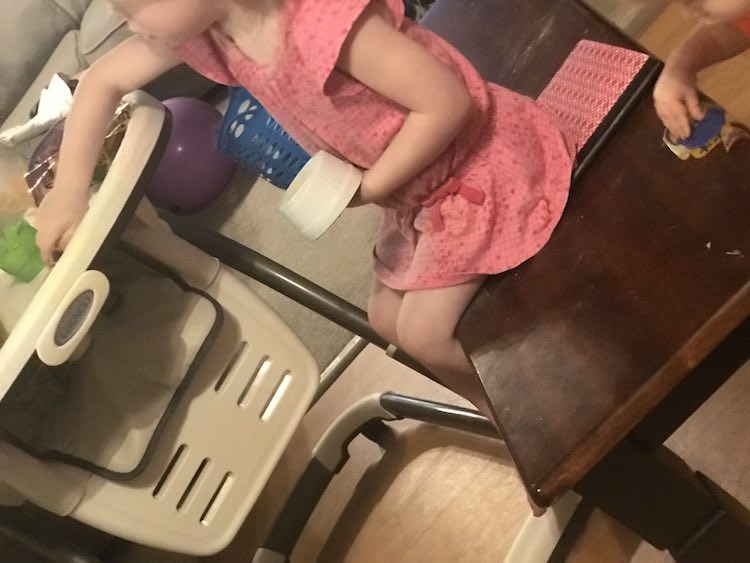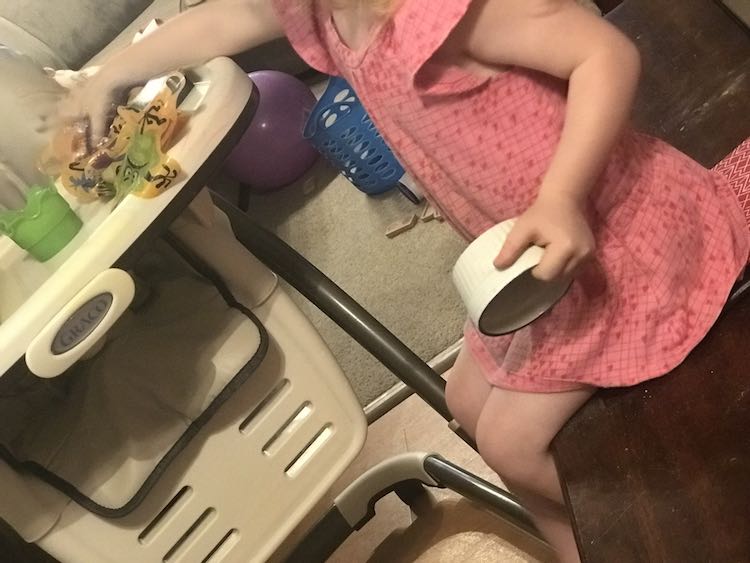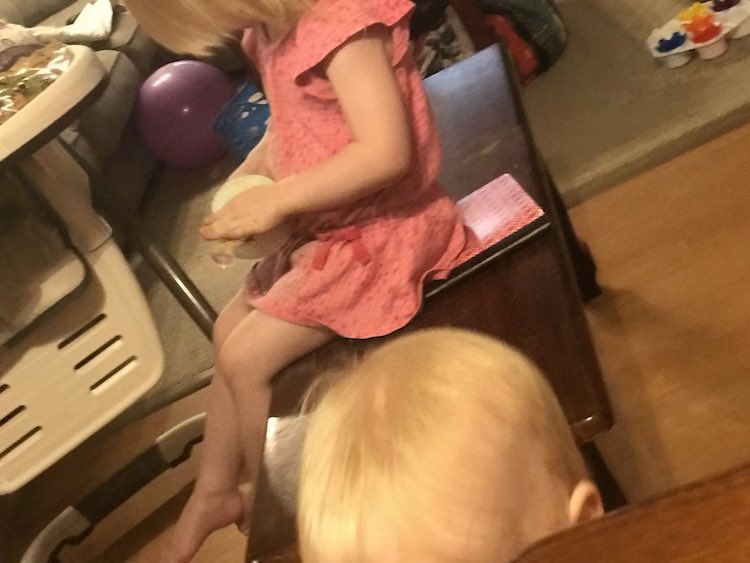 I hope this helps you keep your kids busy. It's a perfect rainy/cold day activity to put out and the Dollar Tree keeps changing up their window clings seasonally so there should always be something you can buy to pull out when you need it. Feel free to connect with me through the comments below, on my Facebook page, or through Instagram. I'd love to hear what you think.