Fruity Salad with Sliced Sausage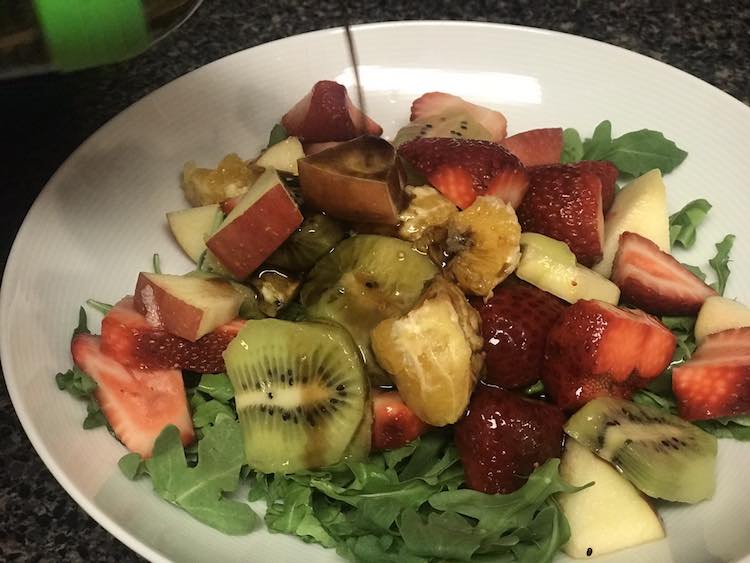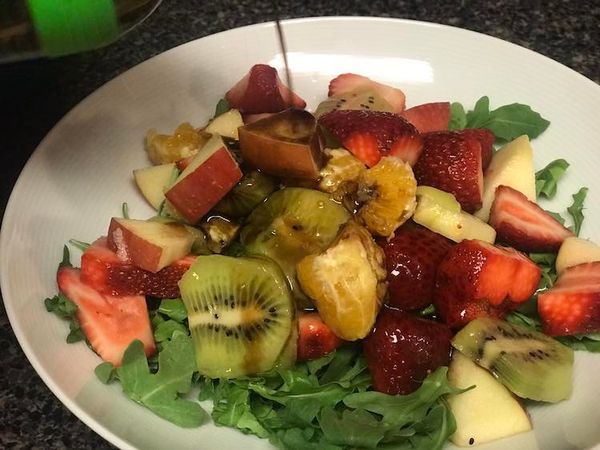 The other day I was trying to come up with something to make and already had some chopped fruit on hand from earlier. I saw the pineapple sausage I bought from Costco and came up with a new fruity salad. The finished result was amazing! It was so good that I ended up making it again for lunch (so I could get more photos) without the sausage and it was still great… though I prefer it with the added flavor of the pineapple sausages. I tossed some pineapple flavored ginger beer I bought from Ginger Labs into the dressing which went fantastic with the pineapple sausage.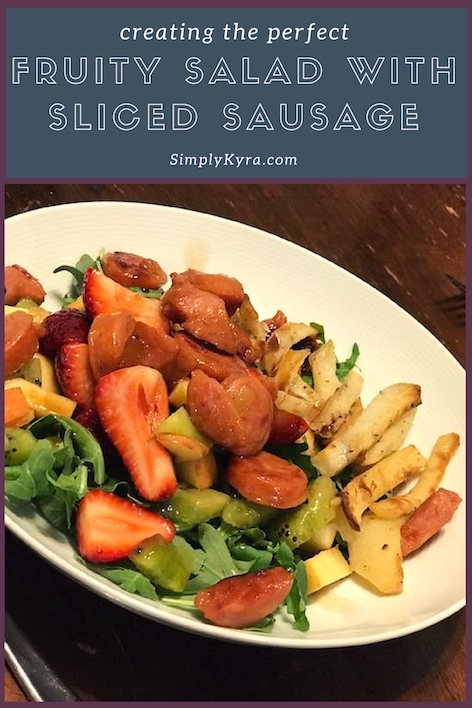 ---
Ingredients
Baby arugula or some other green
Fruit
Strawberries
Kiwi
Apple
Orange
Costco Pineapple Sausage
Dressing
Balsamic vinegar
Honey
---
You can start by slicing up the pineapple sausages. I then browned them in a frying pan. They came precooked so I didn't have to worry too much but ended up heating them fully as I chose to brown them.While the sausage was cooking I cleaned and chopped up my fruit. This included strawberries, kiwi, apple, and oranges. You can use anything. I could see adding pineapple to go with the the pineapple sausage… or whatever fruit is in your fruity meat.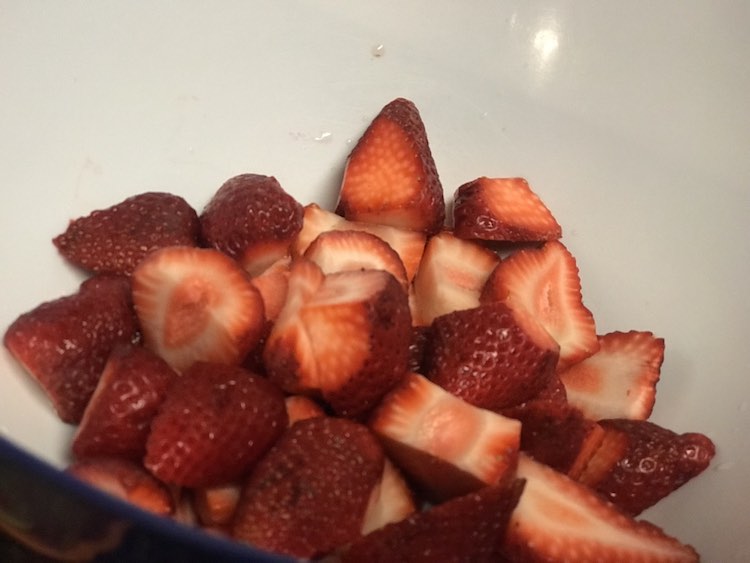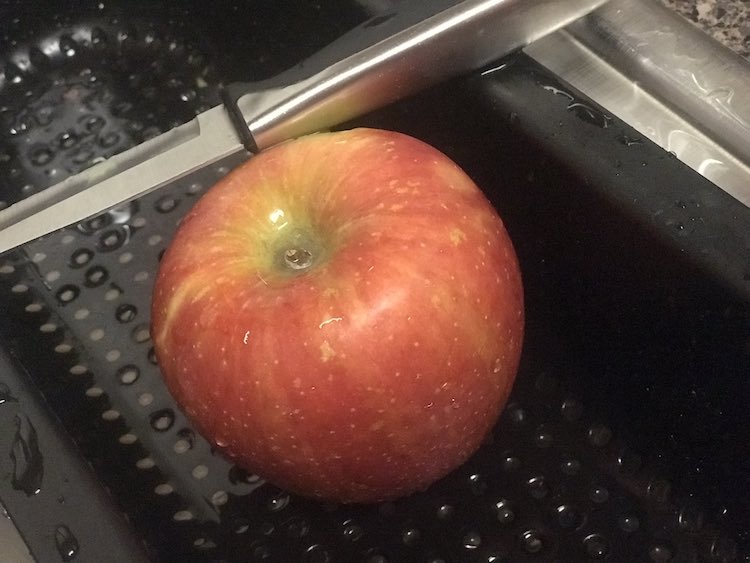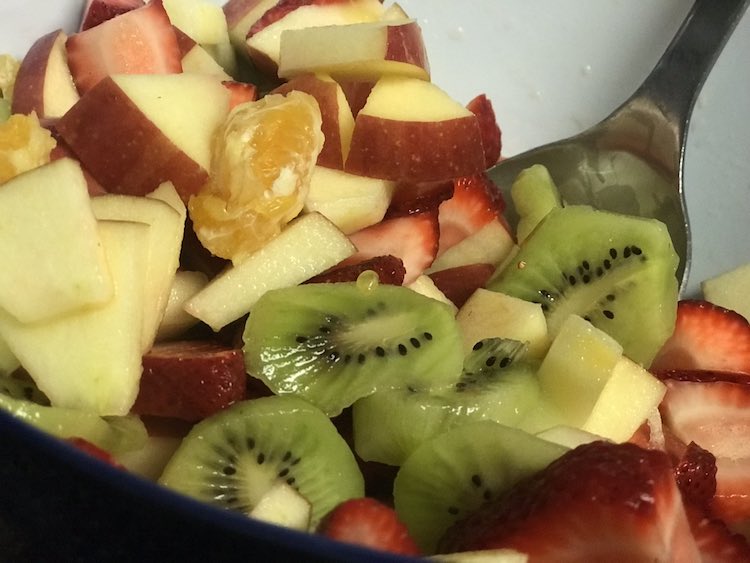 After mixing my fruit salad I then started making my dressing. I recently bought a salad dressing shaker that I saw on a What's Up Moms video that makes it simpler to give you measurements of what's added. I started by adding a quarter cup of balsamic vinegar. I then added about four teaspoons of honey, and finished it off with about five teaspoons of pineapple ginger beer. Then shake it up. You can always taste this and see what you need to add. If you don't have ginger beer you could probably season it further with juice or spices too.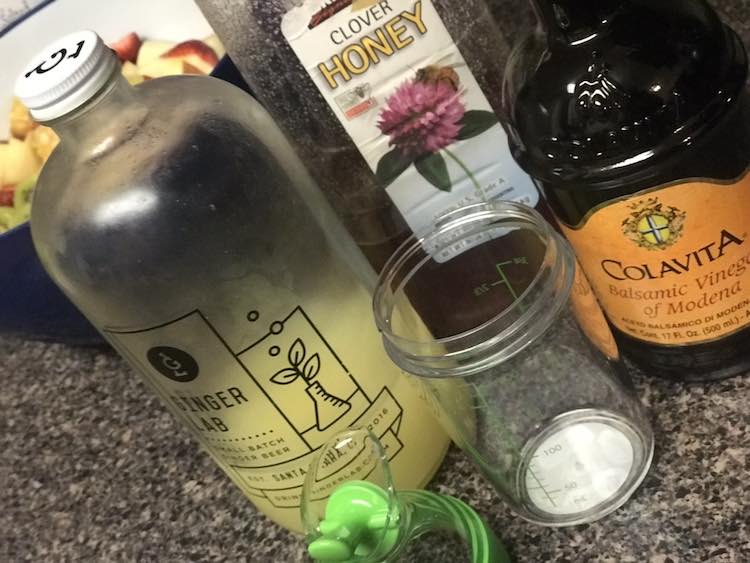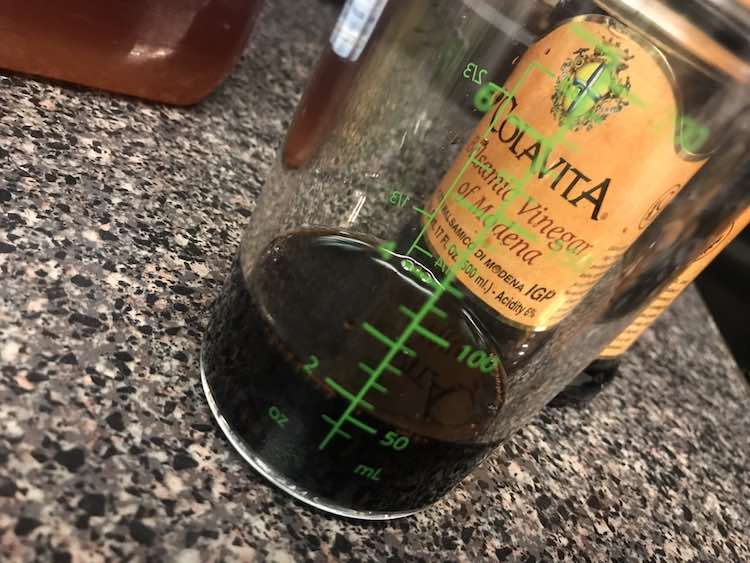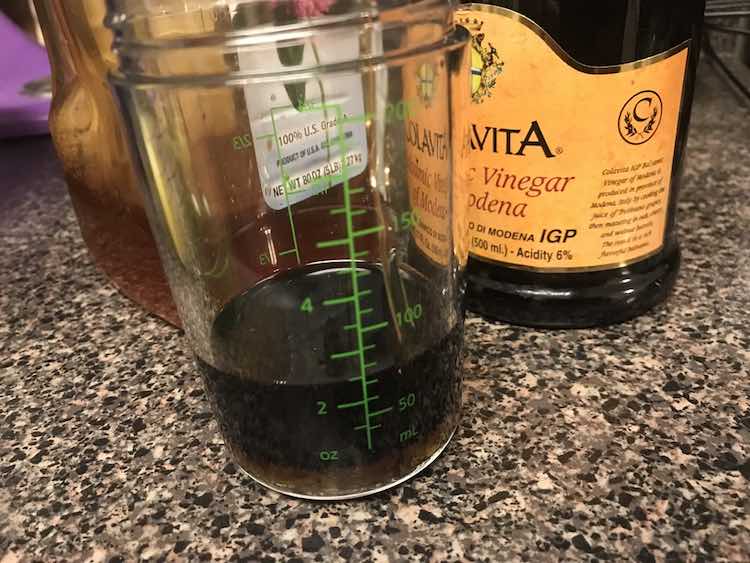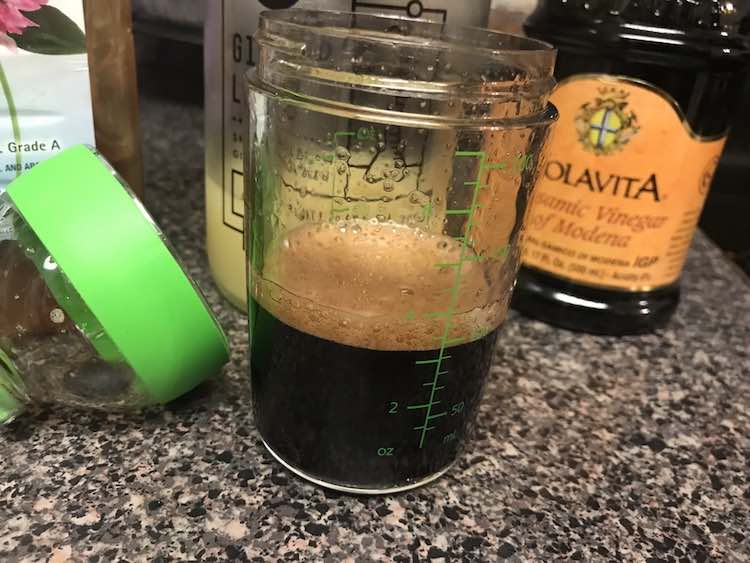 Then once we were ready to eat I started by plating my dish with baby arugula, the chopped up fruit, the optionally hot pineapple sausage, and finally the dressing.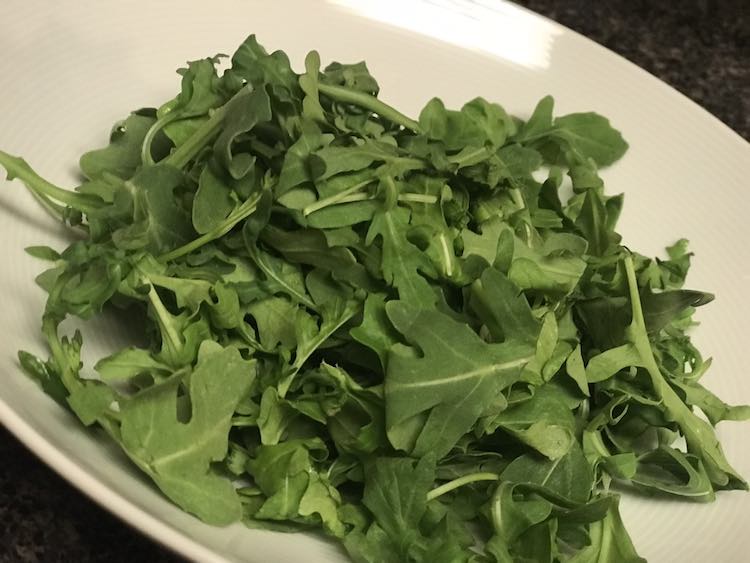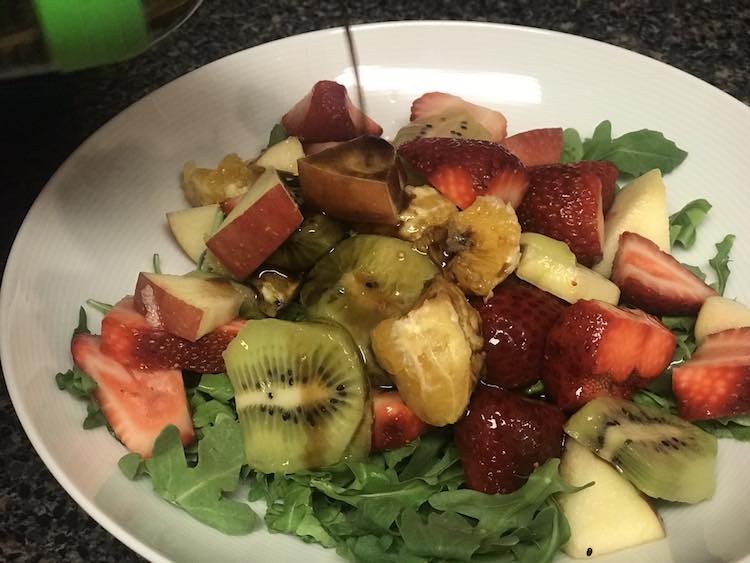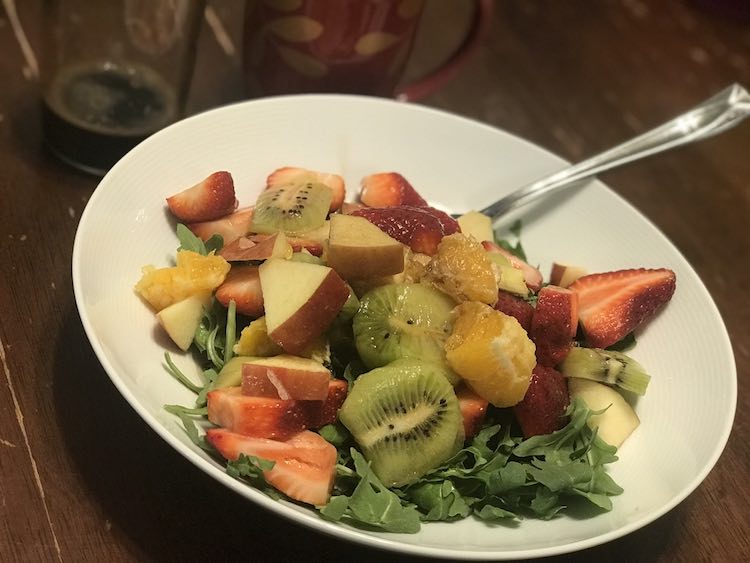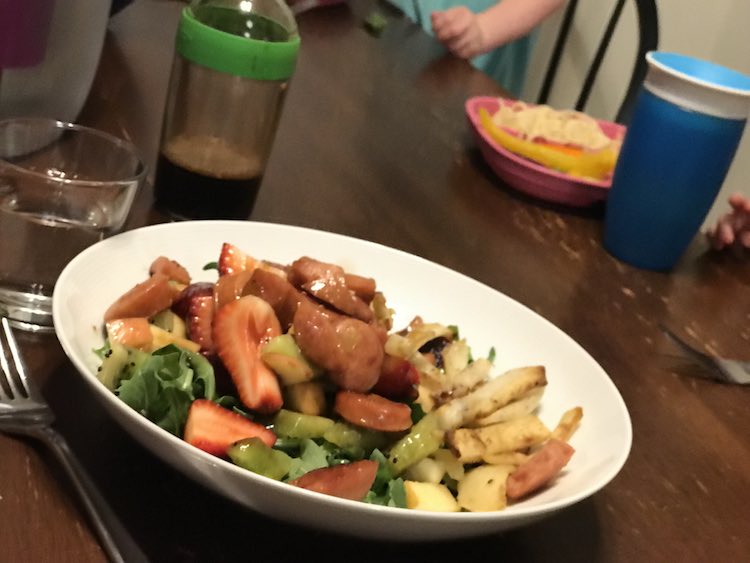 For the kids I gave them the fruit with a bit of the dressing on top. The first night they had some sausage in another section of their plate.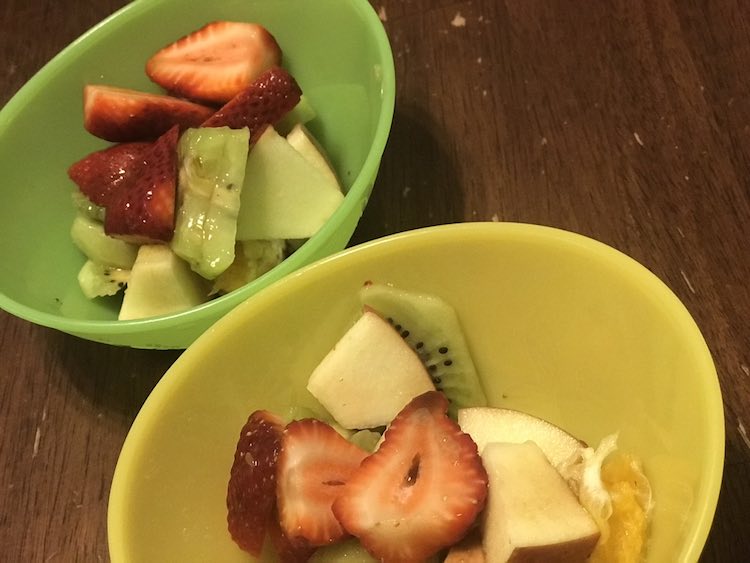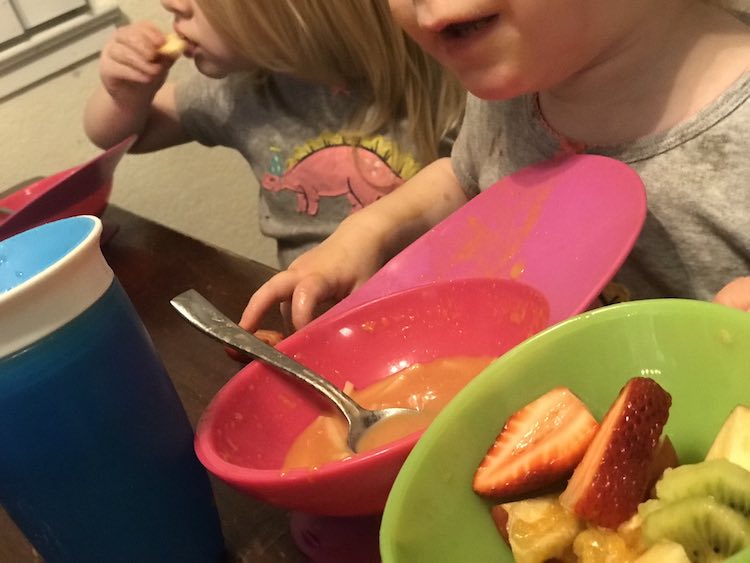 ---
Fruit Salad with Sliced Sausage
A refreshing and fruity spin to your salad! I customized it even more by adding some pineapple ginger beer to the dressing.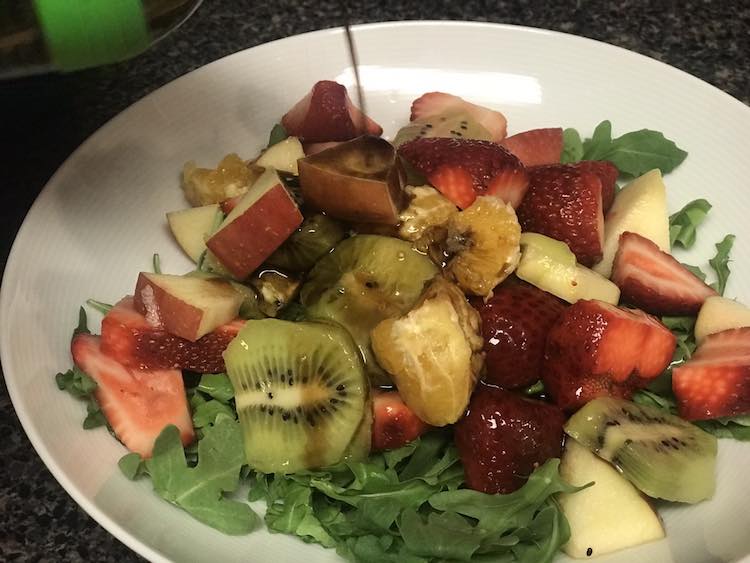 Main Course; Salad
Prep Time: 15 minutes
Cook Time: 5 minutes
Total Time: 20 minutes
Servings: 4 people
Ingredients
Salad
Strawberries
Kiwis
Apples
Oranges
Baby arugula or other green
1 package Pineapple Sausage Costco
Dressing
1/4 cup Balsamic Vinegar
Honey (up to 1/3 after the quarter)
1/3 cup Pineapple Ginger Beer
Instructions
Cup up the fruit and throw it together in a bowl with a spoon. Slice the pineapple sausage. If you're worried about the size for toddlers you can cut it in half lengthwise once or twice and then slice it.
Fry the sausage until browned and hot.
While the sausage is cooking mix together balsamic vinegar, honey, and flavored ginger beer for the dressing.
Then plate allowing each person to decide what they want.
I put my arugula down first, topped it with the mixed fruit, added the hot sliced sausage, and then poured the dressing over top. The kids had the fruit with dressing in one section of their plate and the meat in another section.
---
I would love to see how you customize your salad! Feel free to share in the comment below, post on my Facebook page, or connect with me on Instagram.