Floam - Slime with Foam Balls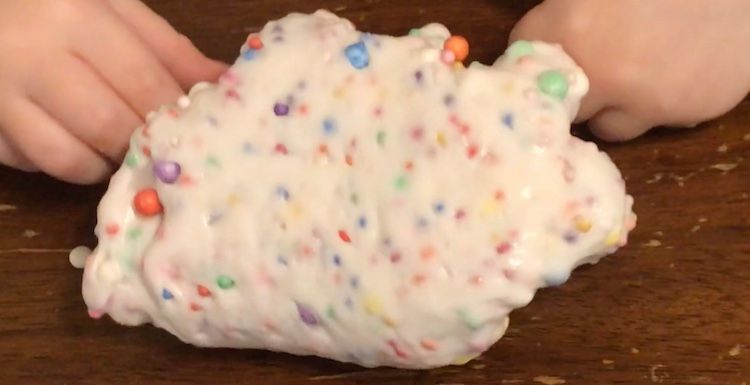 We had one of those mornings yesterday where I knew the kids were tired, especially as had Ada called me into the bedroom early that morning as she was worried that her solar dancing flower that lives on the deck flew away. Originally, I had been planning on taking them to the Happy Hollow Park and Zoo…. but as they were cuddly and argumentative and I was too tired for that I instead decided to use some new foam balls I bought to make some floam. As a side note does anyone else late night Amazon shop when they can't sleep and come across an awesome idea? Anyway while waiting for the foam balls to be delivered I lost track of the recipe I had stumbled across that night so decided to use one of my trusted slime recipes and add the balls at the end. Making a new batch of slime with the weird and interesting name of 'floam' was enough to make my kids decide to have a home day. I decided Zoey was old enough and ended up making two batches of slime using two pouches of foam beads (one small and one large) instead of just doubling the batch and splitting it.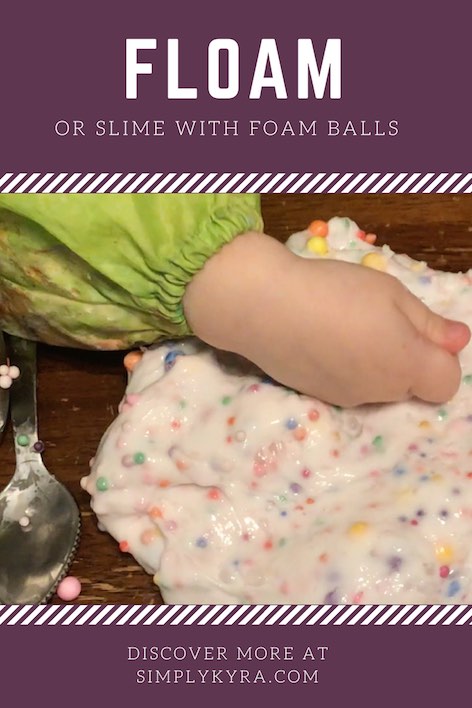 ---
Materials
Elmer's glue – I used white though I could see clear being cool
Baking Soda
Water (optional for stretchier slime)
Contact lens solution – though you could also use borax or sta-flo liquid starch
---
I decided to give each girl their own bowl and spoon and then added the ingredients one by one so they both got to make their own. I started by giving them each 3/4 cups of Elmer's white glue, a half tablespoon of baking soda, and then a tablespoon of water (optional to make it stretchier). I had them start stirring their bowl when it was just glue to give you more time to grab the last of the ingredients and dole out the next ingredient.
To turn your gooey mixture into slime you'll need an activator. This could be contact lens solution, powdered borax (bought but haven't tried yet), or sta-flo liquid starch. Basically you need anything that contains a borate ion so it reacts with the polyvinyl alcohol in the washable glue to create your final slime. This is why buying the wrong brands may not work as you need the polyvinyl alcohol from the washable glue to activate with borate ions. The borate ion itself can be created from borax (when you add water to the powder), sodium tetraborate, or boric acid… so borax, contact lens solution, and some detergents like Sta-Flo liquid starch. Baking soda is needed to help link the two chemicals together to create the long chains that create the fun feeling non-Newtonian fluid slime we love. If you want to learn more about the science of this I loved Fun at Home with Kids' version that also mentioned the helpful tip that vinegar will dissolve slime while the Kitchen Pantry Scientist also mentions the Borax alternatives and has a comparison post about the three activators.
Anyway to get the activator Ada and Zoey first have to let me give their mixture of glue, baking soda, and water a final mix just to confirm it all looks mixed in. I then added the contact lens solution and let them mix their own slime together. If they need help or look like they're stalling I give them another mix. If this gets too hard it may be easier to mix it with their/your hands. Whenever you're ready to go onto the next step (one of them is looking bored or you really need that coffee) then I divided up the foam balls and let them add it themselves. I forgot to measure but I ended up using two of the pouches of balls (one small and one large set of balls) and divided it up among the two girls so they each got maybe 1/2 to 3/4 of a cup each. I used these beads for slime: foam beads for slime – 26 mixed pack through Banisi World on Amazon (no affiliate).
And then all that's left to do is to play with the slime. I was able to get them to play for awhile with just their bowl, spoon, and a measuring cup each. When they finally got bored I gave them some toys but Zoey was done and Ada thought the idea of using the kitchen sink was exciting enough that they both were done quickly at that point. I extended the play further by having them 'wash' off all the toys in the sink.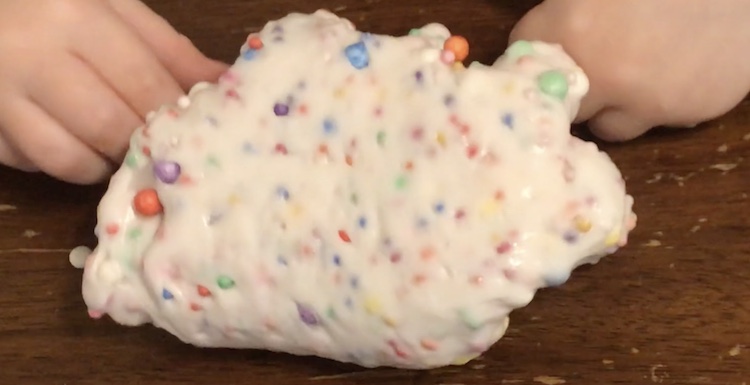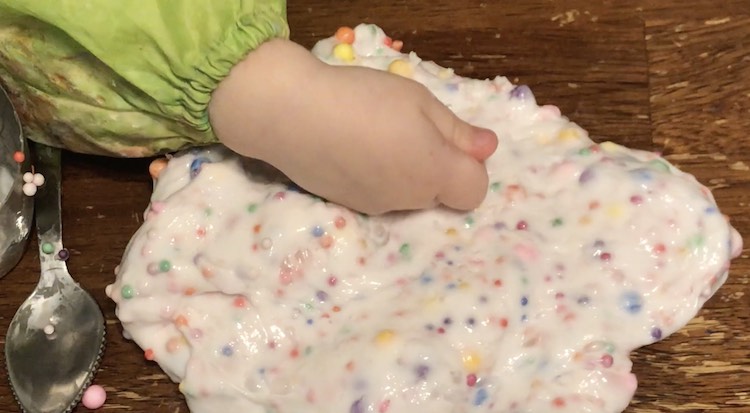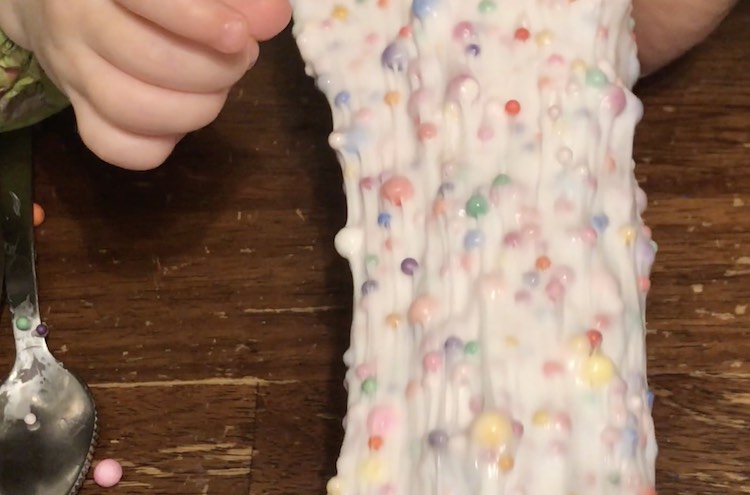 ---
Floam (Slime with Foam Beads)
Change up your slime by adding foam beads to it! Makes it so much more satisfying and distracts your kids for longer as my kids started removing the beads, cleaning the slime off with their fingers, and then readding the cleaned off bead back into the slime.
Sensory Activity Material; Floam, Sensory Play, Slime
Prep Time: 10 minutes
Total Time: 10 minutes
Servings: 1 person
Ingredients
3/4 cup elmer's white glue clear would be neat too
1/2 tbsp baking soda
1 tbsp water (optional) to make it stretchier
1 1/2 tbsp contact lens solution plus more if too sticky at the end
1 pouch foam balls (maybe 1/2 to 3/4 of a cup)
Instructions
Add the glue, baking soda, and water together in a bowl and mix together.
Add in your contact lens solution and mix it together to make your slime.
Add your foam beads whenever you're ready and mix it in!
If too sticky you can squirt some more contact lens solution but don't add too much otherwise it will get too hard.
---
Once you're all done playing with the slime if you have an empty sink you can extend the play by letting the kids wash the tools for you…. just be prepared for alot of water. I became used to the water Ada created while cleaning… but throwing Zoey into the mix created a wet counter as the water got spilled sideways instead of directly down.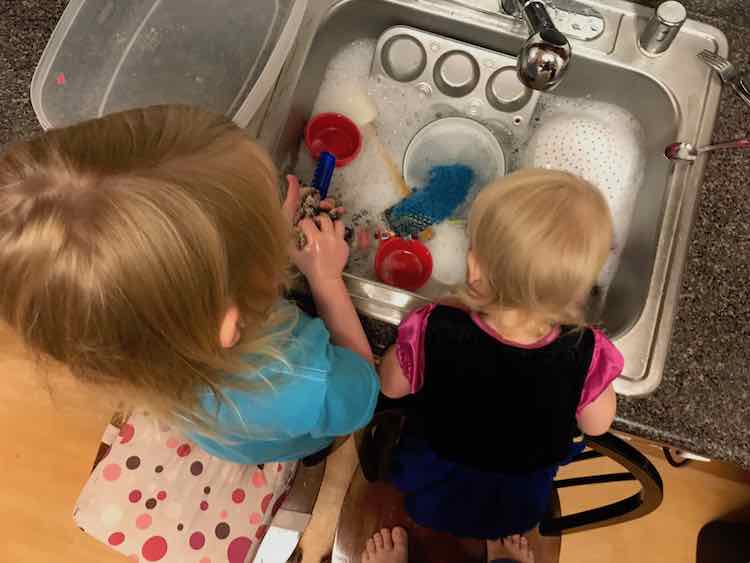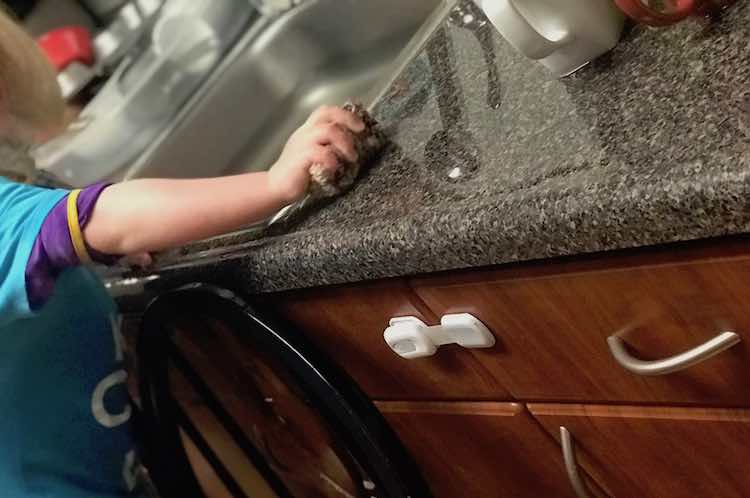 I hope you had fun making the floam. I'd love to hear how you extended your play or see how your slime turned out. If you'd like to share you can use the comments below, post on my Facebook page, or tag me through Instagram.