Easily Change Up Your Playdough With Scents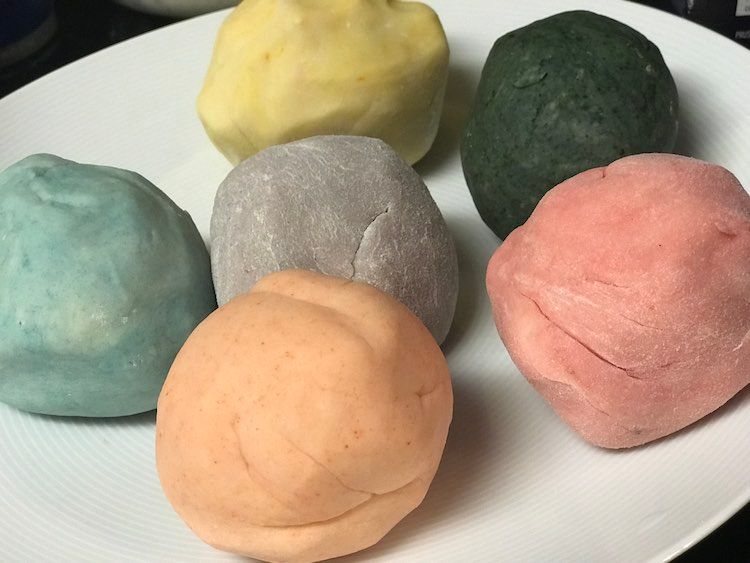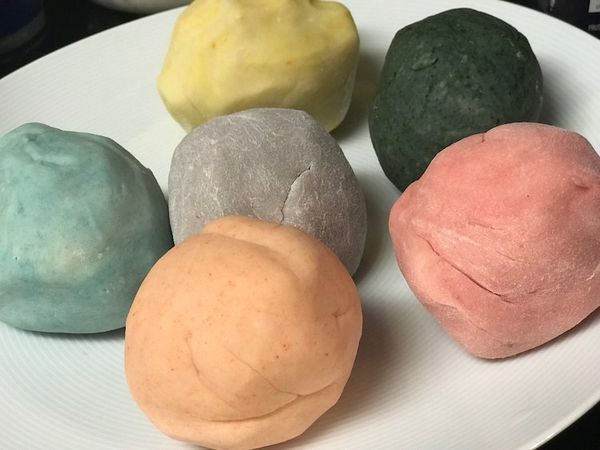 Are you looking to make amazing playdough? Or are you tired of your regular playdough and want some way to change it up? Why not make your playdough smelly…. in a good way? I wanted to share with you how we've made our playdough smell great in the past by adding scents and for fun, since the smell can't be captured in a photo, I figured I'd also throw in some glittery playdough too.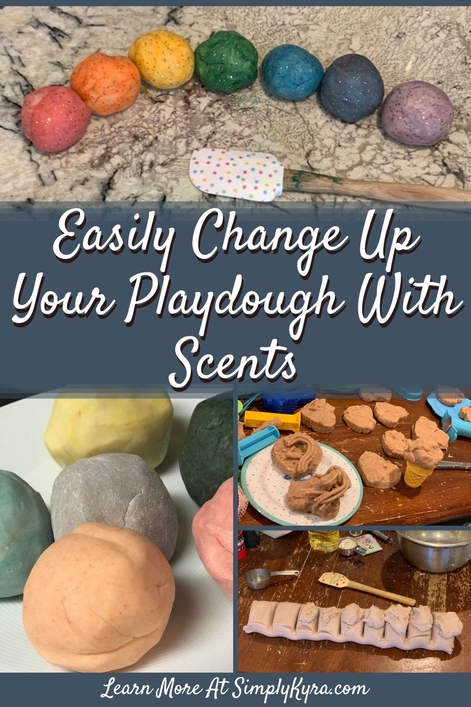 ---
If you haven't made playdough before or are looking to see how I make mine you can check out my favorite go to playdough recipe here. If you're out of food dye you can easily leave it out for a plain white playdough (and later use washable markers if you want some color) or use kids' paints to dye the playdough different colors. Or are you having issues with your playdough? Here's how I troubleshoot mine when it becomes too wet or too dry. Now on to the scents.
---
Flavor Extracts
From the very beginning of me making playdough I've often used McCormick® Extracts to add a scent component to my playdough. After making my first batch I loved it so much that I actually ended up buying all of the current McCormick® Extracts I could find from my regular grocery shopping spot at the time. I loved it… although over the proceeding years I became lazier and stopped using them. That said I can now see jumping back into using more scents now that the kids are older as it would allow them to truly be able to plan out their custom playdough.
To use the extracts I add them to the playdough at one of two different points in the playdough making process. First just a word of caution… it's better to add too little of the extract rather than having too much as you can always add more later if the scent isn't strong enough. If I'm making a batch of playdough with a single scent I always add the extract to the boiling water, along with any water-based food dye I want, before adding the water to the dry ingredients. I then knead the playdough so it all comes together and I end up with a large ball with only one scent. If I'm wanting to have multiple scents I first make the playdough and divide it so I have one ball of playdough for each scent I want to use. I then use my fingers to create a well in the center of each playdough ball before dropping any extract and food dye I want in. I next close up the hole by covering it with playdough and then kneading the extract and dye into the playdough while attempting to not come into direct contact with it.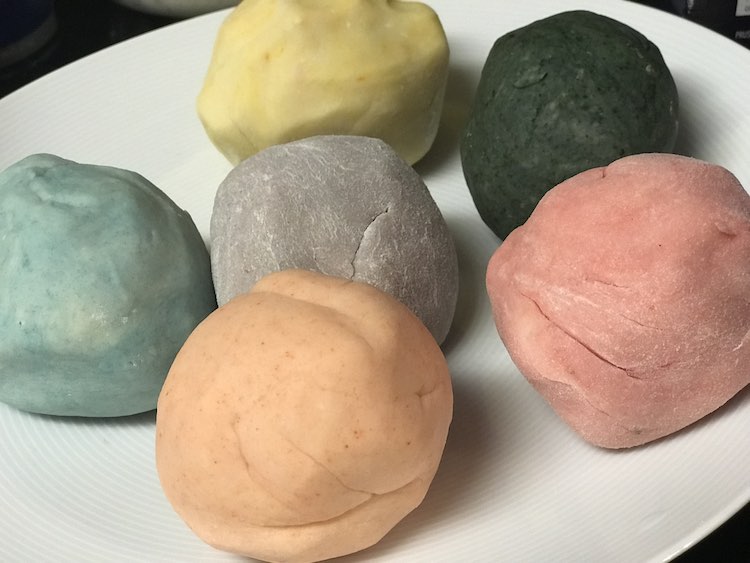 ---
Spices and Cocoa Powder
Last year I made cinnamon scented playdough for gifts using my regular recipe and adding a bunch of ground cinnamon to it. I followed a similar process using cocoa powder (not hot chocolate powder) to make a chocolate scented playdough too. Both smelled truly incredible! To make them I first looked online for inspiration and then once I knew it was possible I jumped in by adding the cinnamon or cocoa powder to my dry ingredients, mixing it in, and then continuing along with my recipe. For both recipes I skipped the food dye and let the cinnamon and cocoa powder shine through.
Specifically for the chocolate playdough I used the Imagination Tree's Best Ever Chocolate Play Dough Recipe as inspiration while for the cinnamon playdough I first read over both the Simple Southern Mom's Easy Cinnamon Play Dough along with the Imagination Tree's Gingerbread one before jumping in. Just remember since we're adding more dry ingredients, the cinnamon and/or cocoa powder, you may need to add more water later on to bring it together. If you want to see how to easily recover it check out this post I made on troubleshooting playdough.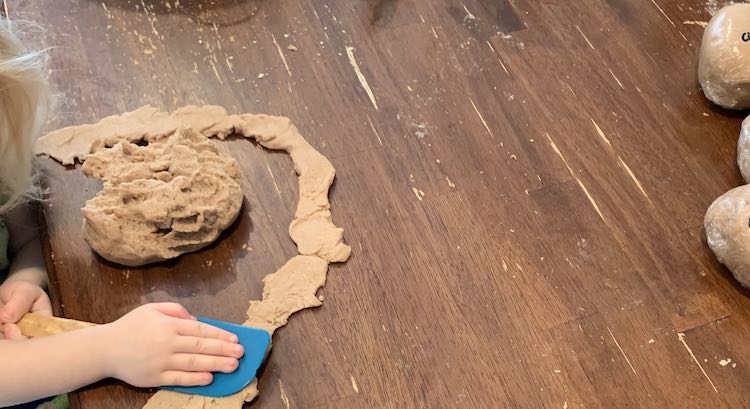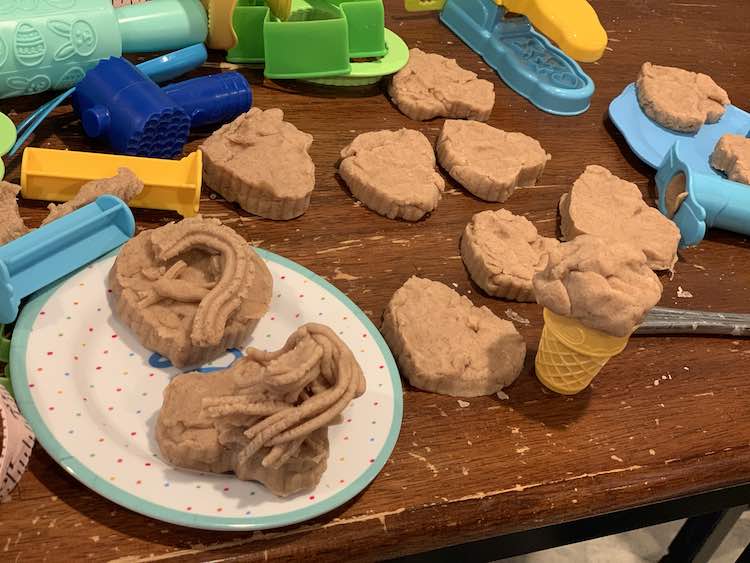 ---
Essential Oils
Twice now I've used essential oils to add an element of scent to our playdough. The first time I used lavender oil and dyed the playdough a dark lavender to match. This time around, just last week, I added a kids pure essential oil blend called Peace and Calm I purchased through Fabulous Frannie. I can't remember how I combined the oil into the playdough the first time but this time around I looked online first and found an Essential Oil Play Dough Recipe through The Pinning Mama who used 10-12 drops for a recipe that looked similar in size to mine. Since I was quadrupling my recipe I added just over 40 drops to my canola oil before then combining it in with the dry ingredients and continuing with my recipe resulting in one large batch of hopefully peaceful and calming playdough.
Just be careful adding essential oils to playdough especially for children. Some essential oils shouldn't be used around kids and/or pets so it's always good to check before using. I've been following Using Essential Oils Safety on Instagram to get tips and tricks.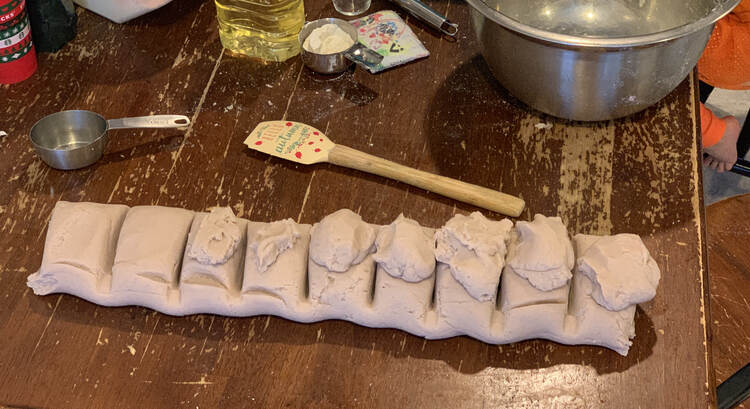 ---
Glitter
Okay, I know glitter isn't a scent but since you're here figuring out how to change up your playdough and since it's so hard to photograph a smell I wanted to throw some glittery playdough your way. So far I've only added glitter when making my own homemade playdough but I'm guessing you could also mix it into store-bought Play-Doh too if you'd like. Whenever I make glittery playdough I always dump the glitter into the dry ingredients and mix it in before adding the boiling water and bringing the playdough together.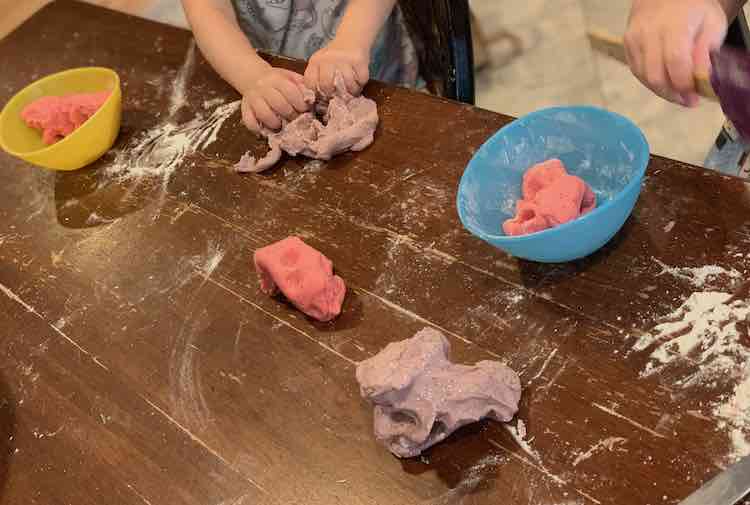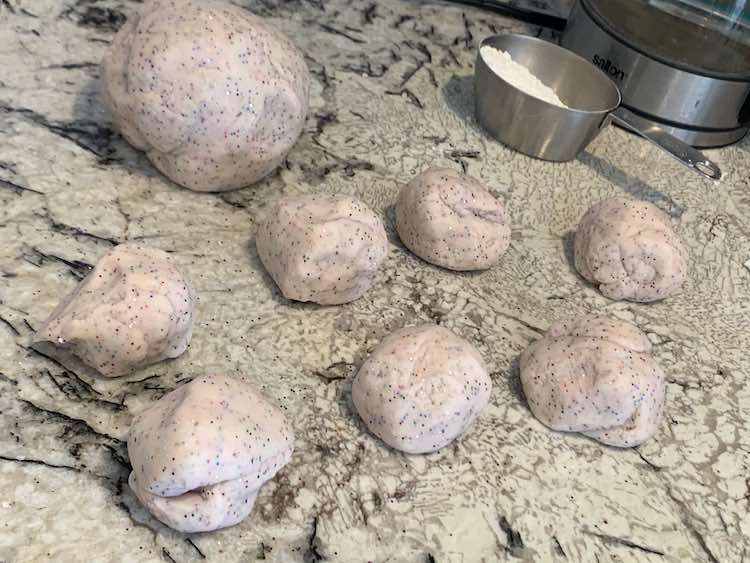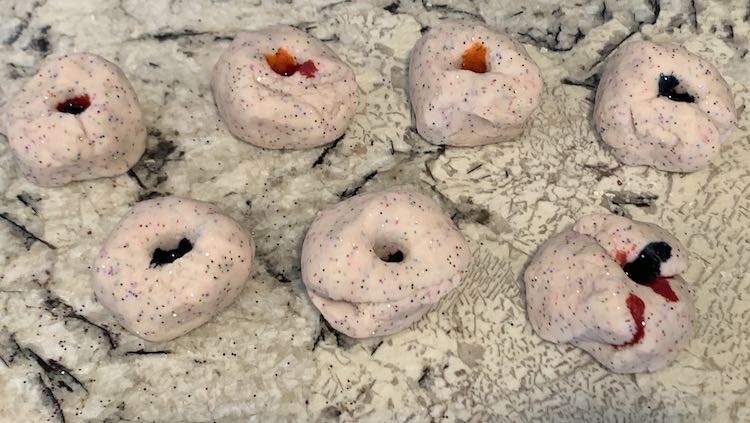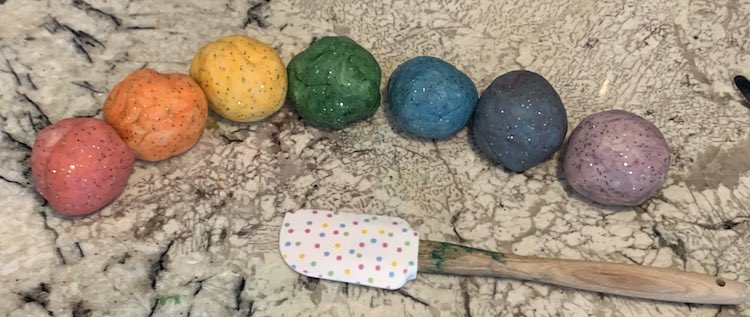 ---
Have you made scented playdough before? Did you make it a similar way to one of the ones above or do something different? What's your favorite playdough scent? I'd love to branch out so feel free to share what you did in the comments below. I hope your December is going well and you're staying safe. Hope you have a great day.
---
If you're interested in getting any of my future blog updates I currently come out with a new one every Wednesday and share them to my Facebook page and Instagram account. You're also more than welcome to join my email list located right under the search bar or underneath this post.