Cleaning the Dusty Musties Sensory Station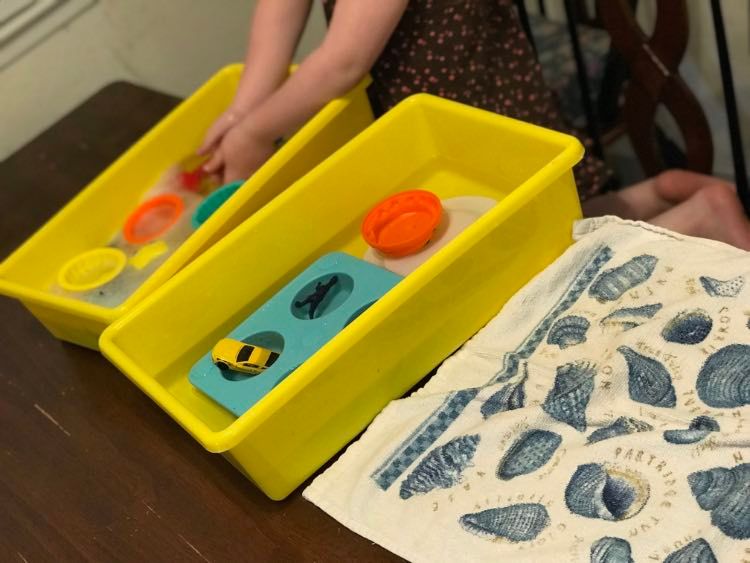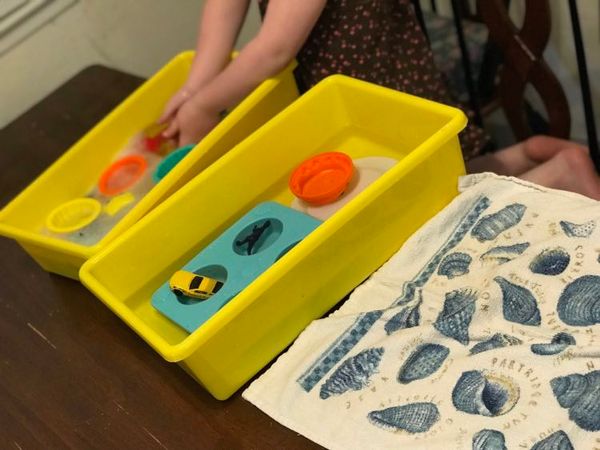 Earlier in the month we had some dusty toys I pulled out from under the kids' beds that I told the kids to stay away from so I could clean them. Ada made the connection with the 'dusty musties' from a Doc McStuffins episode about a dusty bear that had to be cleaned as the dust caused Doc's brother to be allergenic. At that point I gave the washable toys a quick rinse and set up a simple soapy water bin for her. A bit later we bought and had the Melissa and Doug Seaside Sidekicks Cupcake set delivered through Amazon. The next day after we got home from an outing and I left the kids alone for a few minutes Ada ended up setting up a 'snack' for herself and Zoey. The snack consisted of filling the cupcakes liners and toy plates with small toy dinosaurs and water. I set it aside to clean up later and forgot about it when I went on to figure out an actual snack for them. After I put Zoey down for a nap I took the soapy bubbles sensory bin idea I had from before, simplified it so it had less bubbles, and added other stations so Ada could do a Doc McStuffins inspired 'dusty musty' clean up sensory station. Later on I included the Melissa and Doug Seaside Sidekicks Sand Baking Set (I might as well let those get washed too).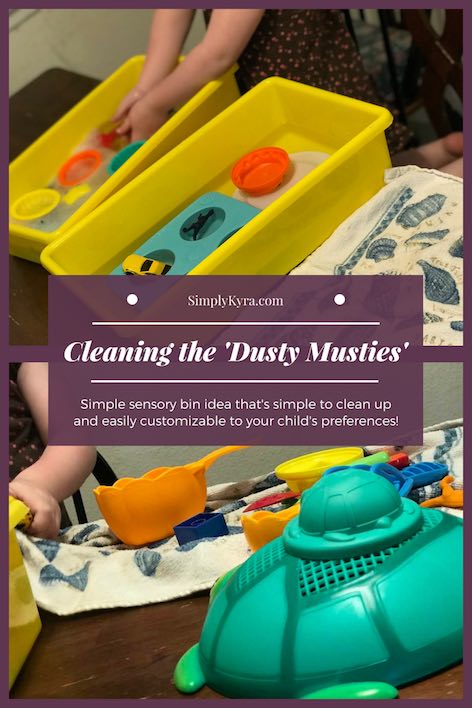 ---
Materials I used
Water-proof toys that you can say have 'dusty musties' and need cleaning. Depending on what your child likes this can be vehicles, sand toys, bath toys, or regular sensory bin toys including measuring cups or pouring cups. It can even include their rinsed off plastic dishes if you want a head start on the dishes that night… joking… kind of.
Specifically since Ada added water to them already I used a small plastic jars of dinosaurs I bought for $3 from Target and a Melissa and Doug Seaside Sidekicks Cupcake and Baking Set. I also had a set of four appetizer plates I bought in the Dollar section of Target for their kitchen set.
Two bins for the soapy and plain water
Dishsoap for soapy water. If you want a more intense soapy bubble you can check out my previous post where I used a blender (or standmixer) to make the bubbles.
Kitchen towel to set the wet toys and/or to dry the toys
(Optional) A place to put the finished toys when they're done.
---
I started out by laying out the toys that have the 'dusty musties' on one side of the table. That was followed by a bin with soapy water (dish soap and water) and a washcloth, then a bin with plain water, and then finally a kitchen towel to set the toys on. If you want you could give them a second towel to dry their toys with but by the time I thought of that Ada had a system and waited a bit before accepting the second towel.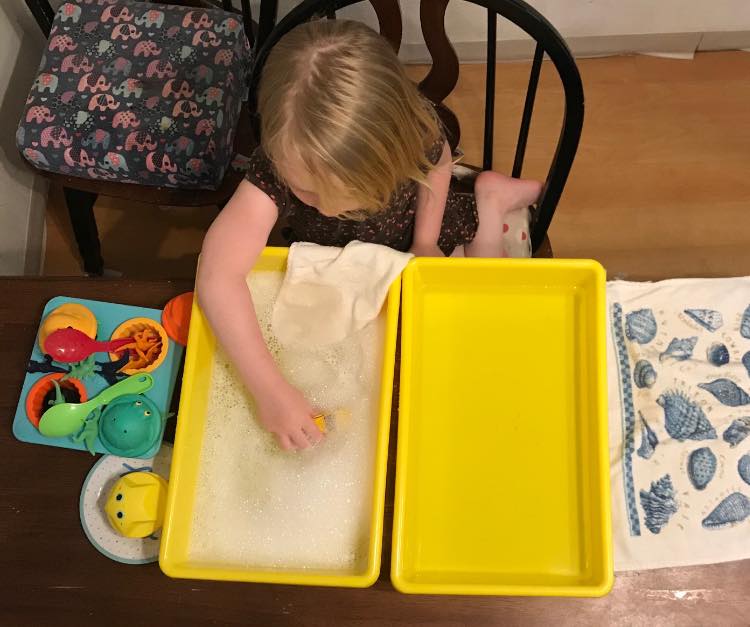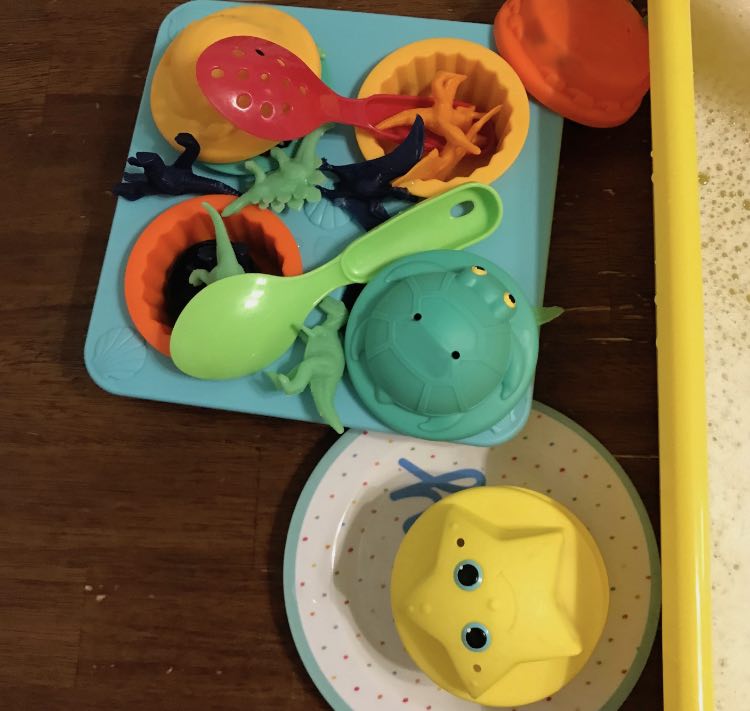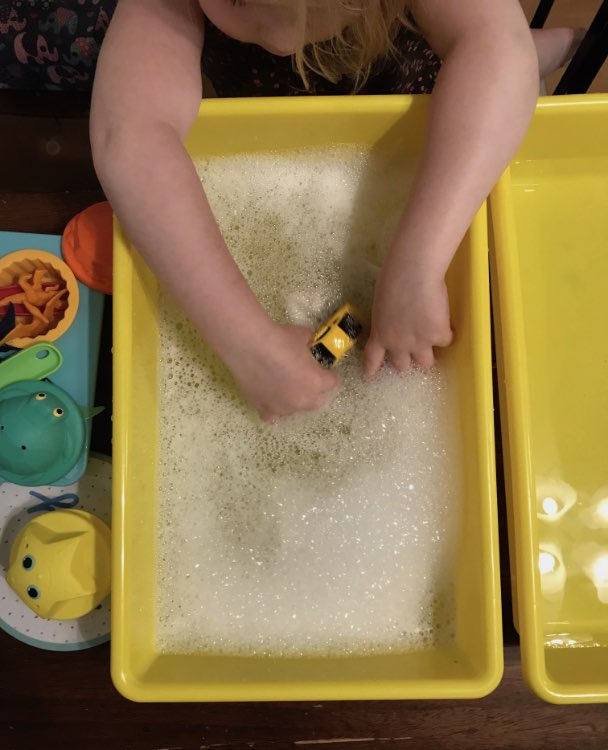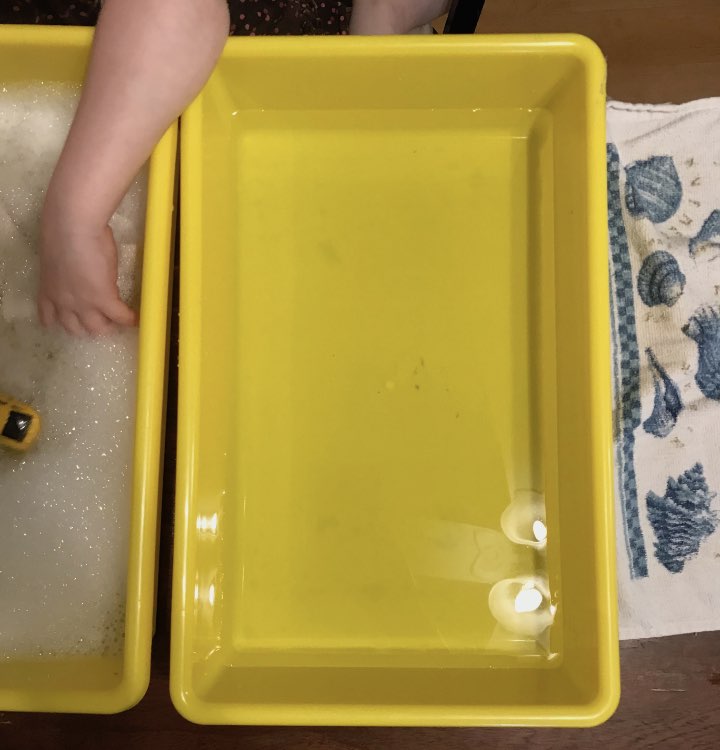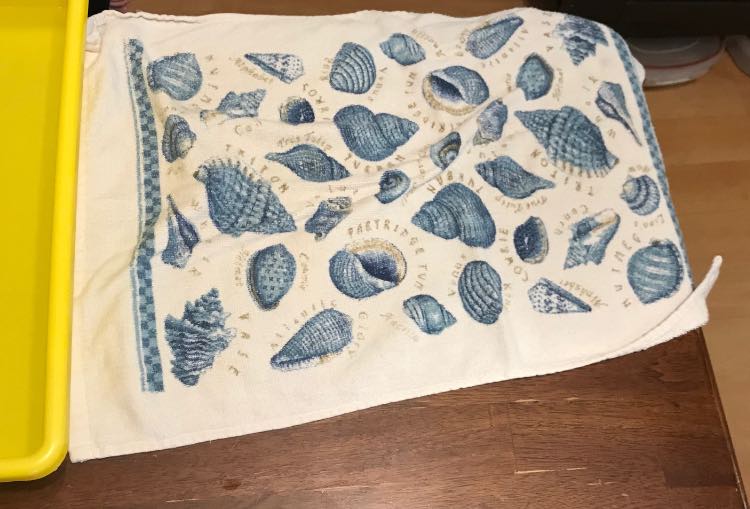 And then let them play! This is perfect if you need a chance to clean the kitchen, prepare supper, or you just need a break. With younger kids I recommend being nearby because of the water.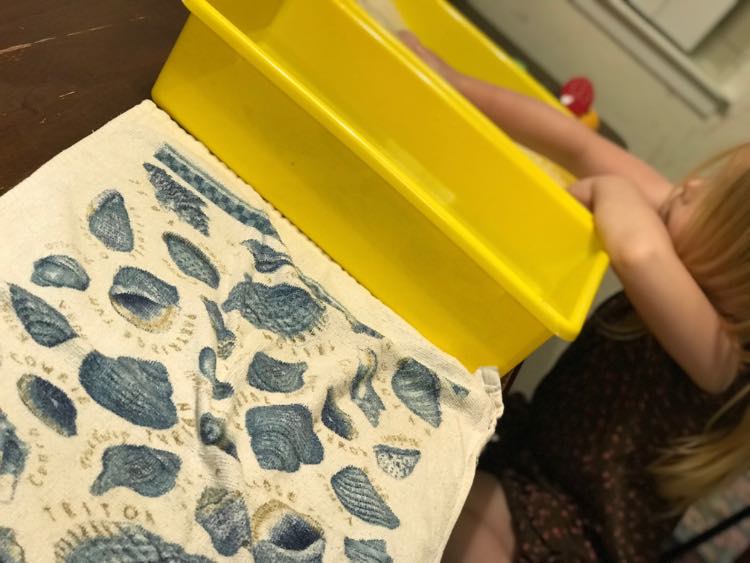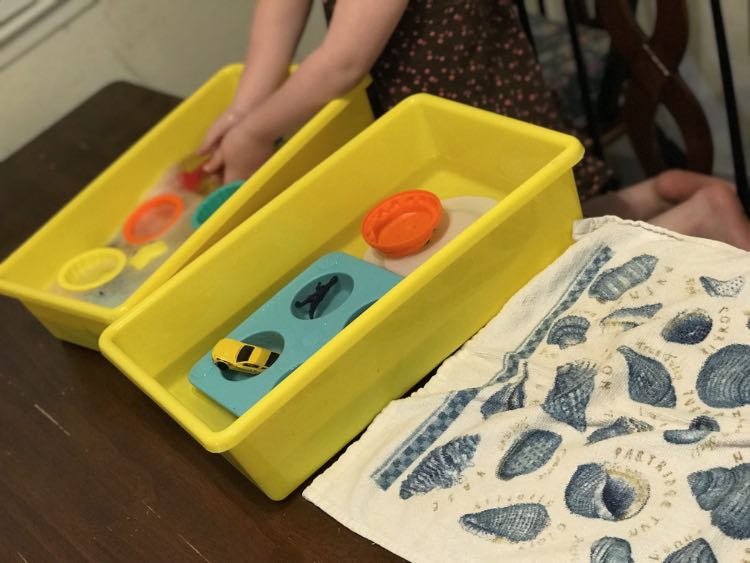 While she was playing I opened the other Amazon box that was delivered so I was easily able to extend the play by adding the baking set to the toys with the 'dusty musties'. If you notice them getting bored with it you could further extend the play with more toys that you may happen to find or you can change out the water if it needs to be warmer, more bubbly, or less bubbly.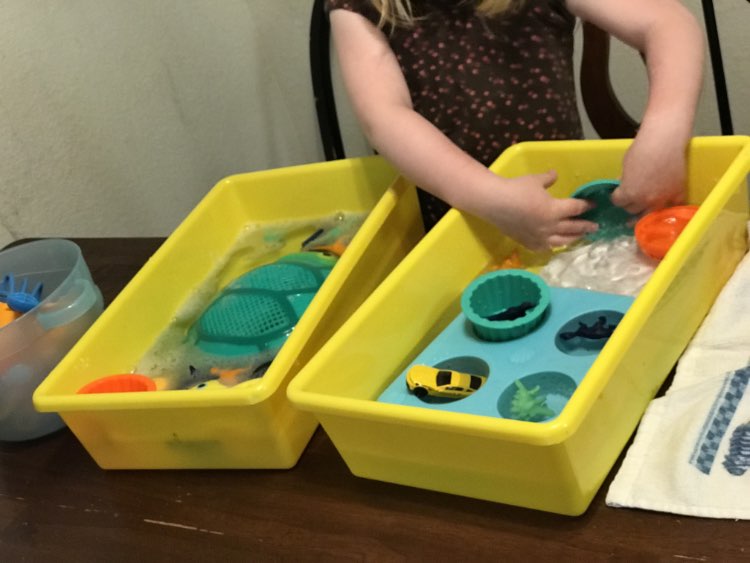 I tried to move the bins around to help Ada get to what she wanted but she had a system going on so I took a step back and laid out a second towel for if she wanted it later.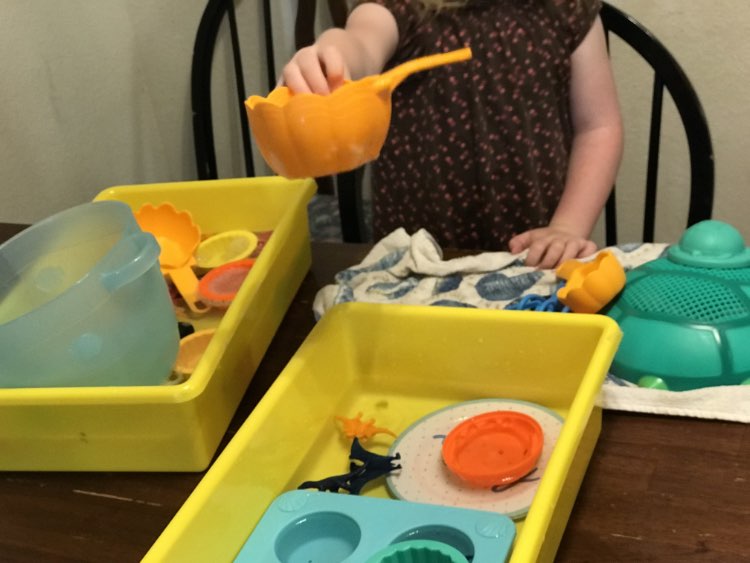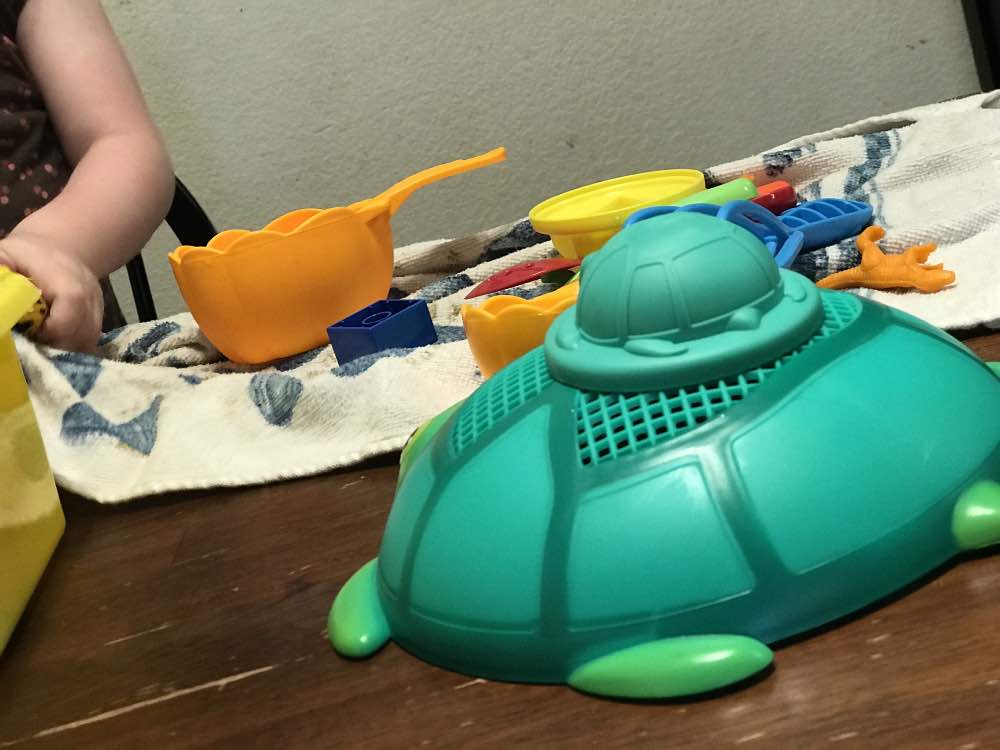 At the end she was looking for a place to put her partially dried toys so I gave her an Amazon box to use.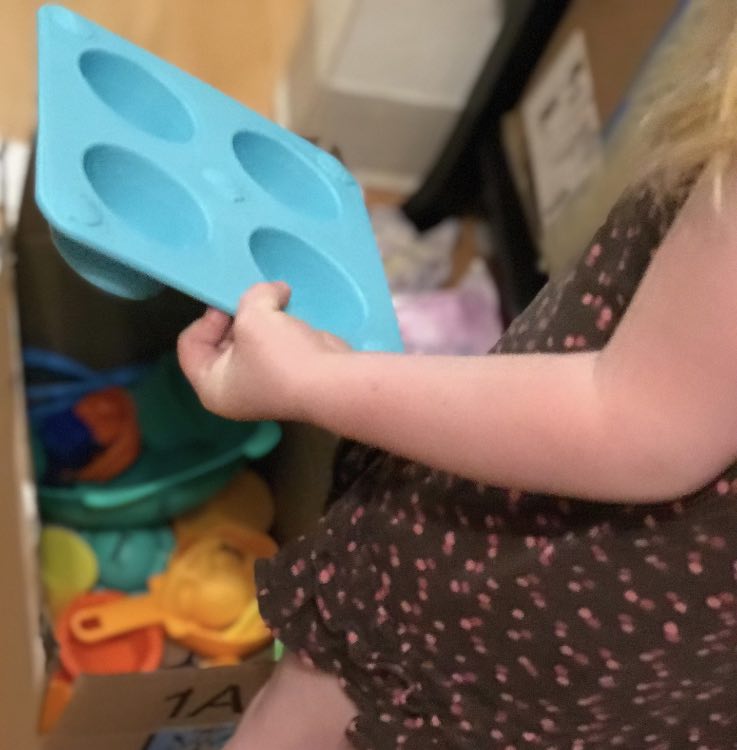 This can be as complicated or as simple as you want. The first time we came up with the 'dusty musties' I was trying to get lunch or supper on the table and she kept asking to clean the toys. I gave her a single bin, bowl full of soapy water, and a washcloth then and it kept her busy until the meal was ready.
---
I hope this simple idea helps you out when you're looking for something for your kids to do. I love how it works for so many ages and interests. If you're not into Doc McStuffins you're cleaning the toys while if you love the show the activity is brand new because you're doctoring your toys. I'd love to hear from you through the comments below, on my Facebook page, or through Instagram. I hope you have a great day.