Christmas Advent Calendar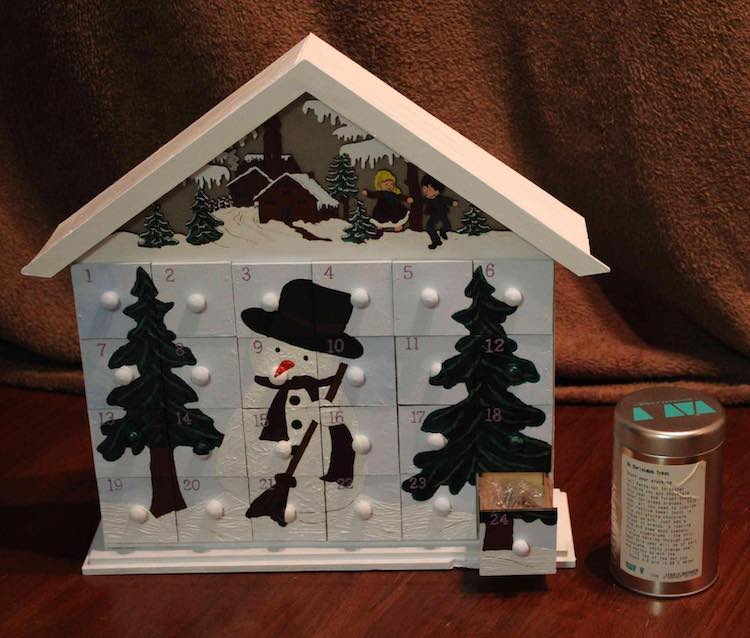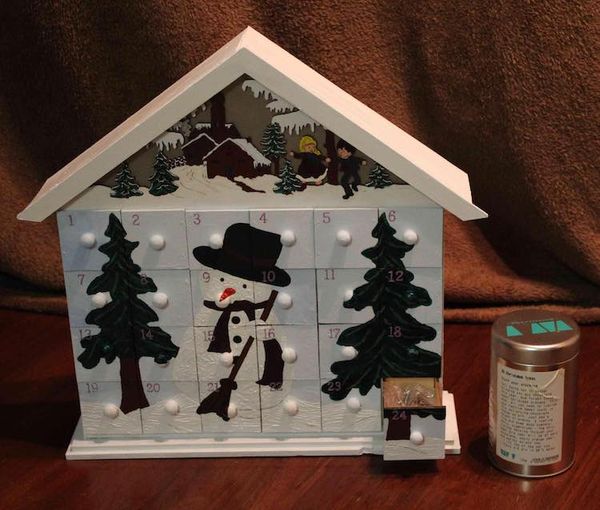 Before having kids I purchased an unfinished wooden Christmas Advent Calendar that I then painted from my local art store DeSerres. The first year I used it to make my husband and I our own tea advent calendar. We ended up getting really behind drinking it and was still working on it into February so didn't use it the next year. It was just a Christmas decoration for several years, but I was excited last year to pull it out and use it. Last year, with a 2-year-old and a 5-month-old, I ended up buying some simple toys from the Dollar Tree, coming up with activities, and then choosing the night before each day what would be in the calendar, and stuffing the drawer that night. It worked because when Ada tried to go ahead on the calendar it didn't matter as there was nothing in those drawers yet. I will probably do my Advent Calendar the same way this year.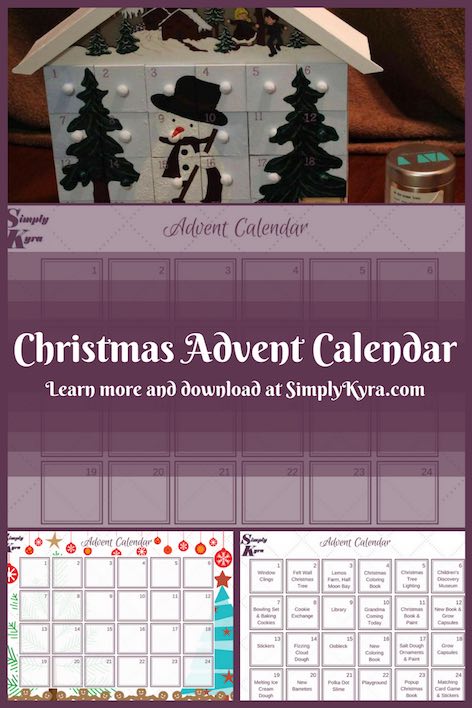 Here's what we ended up doing last year. Some days we did more but these were the plans Ada saw either right before or after breakfast. This let her look forward to the activities that were happening later in the day or allow her a whole day to play with her new toy.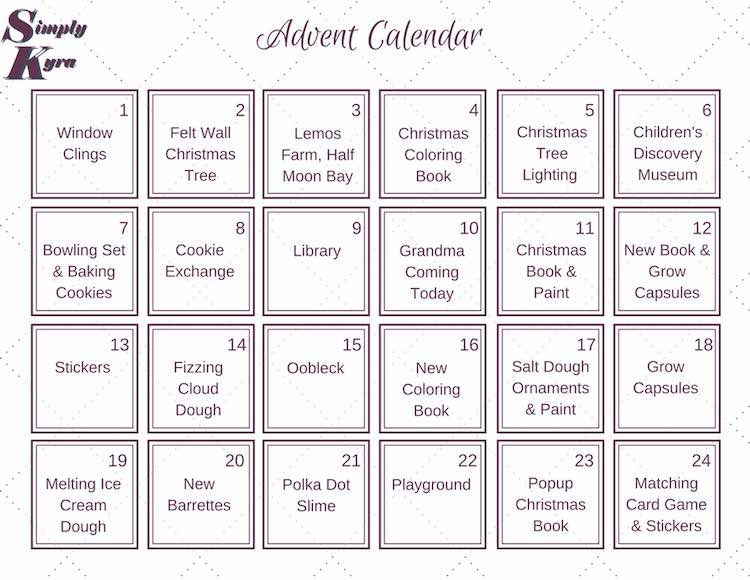 If you want to print out an advent calendar to fill in yourself I created a PDF that you can download and print for free here.
I found the simplest way to plan out my advent calendar was to:
Look ahead in your calendar and on Facebook events to see what scheduled activities your December can include. Most of these events can't be moved and must be planned ahead of time (your city's Christmas tree lighting, holiday train, or specific events at your local library) or are spread out over several days and so can be moved around based on what else is going on (multi-day craft sale or an ice sculpture exhibit – though that would potentially be only a single day if you have to watch the sculptures being carved). Some events could be fun visits with family which may be over multiple days but you could include the first day on the advent calendar.
Next look at places you want to go. Last year we used Groupon to help us come up with new places. Some of these places will have to be scheduled on the weekend if you want the whole family to participate (Christmas tree farm) and others are better one a weekday (library might have a weekly storytime and a children's discovery museum might be less busy depending on the local's school schedule and field trips).
At some point in the process you might want to buy some fun toys. This could be at the beginning and anything you don't use can go in the stockings. Or you could wait until you know how many days need to be filled. I liked the small items that would fit easily in the drawers (grow capsules split up or barrettes) though the larger items are great and you could wrap them and/or hide them and write a clue to go in the advent calendar to go with it.
Come up with some fun activities to fill in the blanks. This could be holiday oriented (salt dough Christmas tree ornaments or baking cookies for a cookie exchange), holiday inspired (green and red playdough), or just be fun (toys encased in ice, oobleck, baking soda and vinegar, painting)
Overall have fun and don't worry if you plans change!
---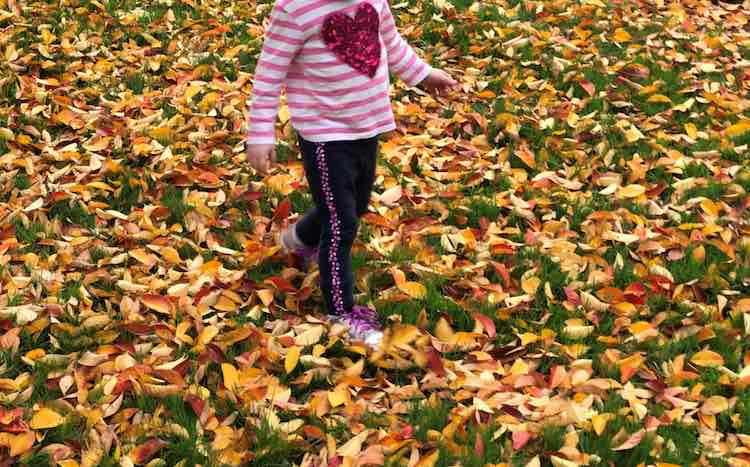 We had just bought a new book (150+ Screen-Free Activities for Kids by Asia Citro) before Christmas so had a bunch of new activities to try at home for our advent calendar.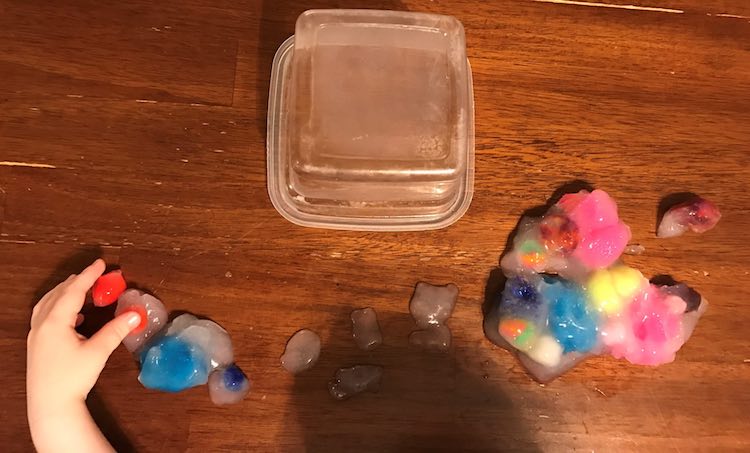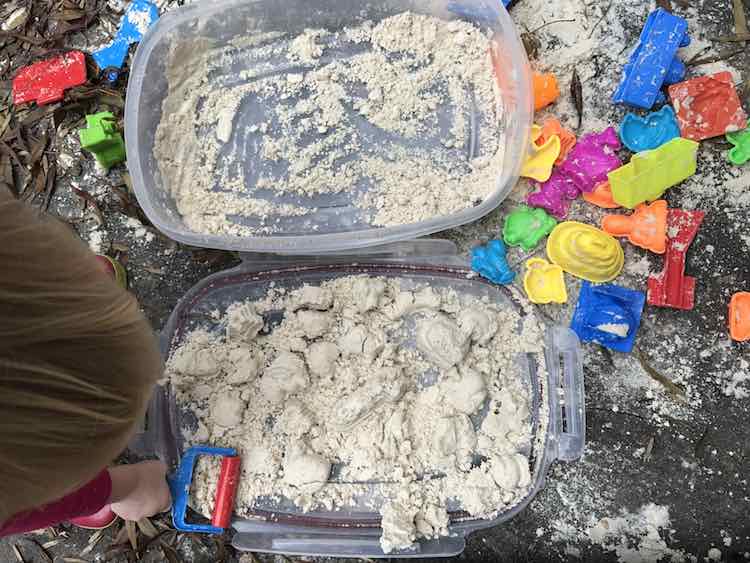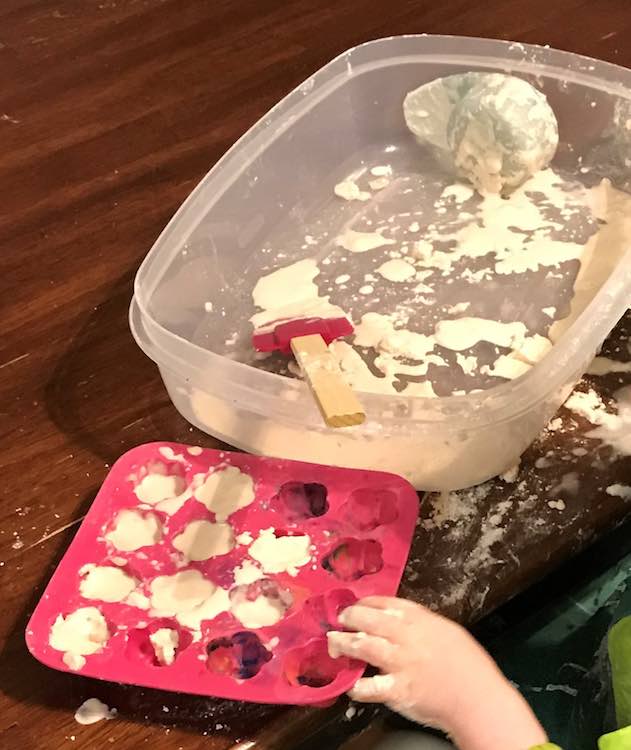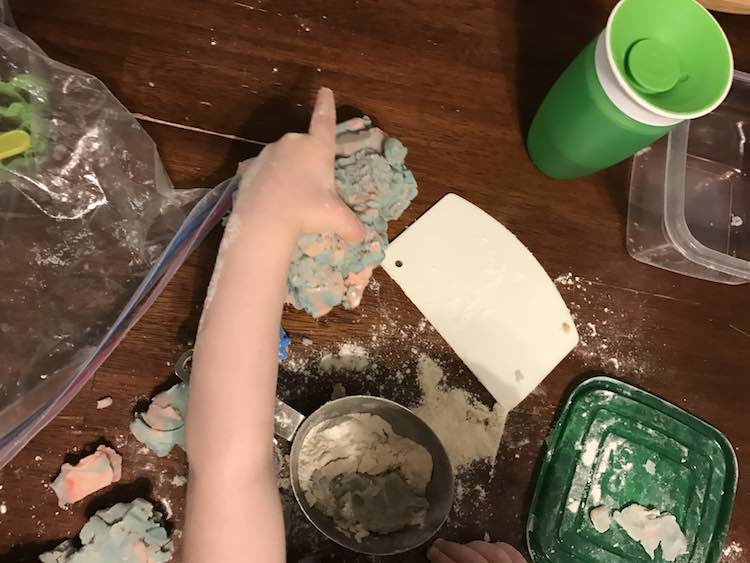 If you want to plan out your own advent calendar in advance I made a blank one that you can print and fill in yourself. I also created a more decorative one if you'd prefer a bit more flair. With the download you get the sample one from above along with the two blank ones I created to immediately download, print, and use.
The two other ones are:
I'd love to hear about what fun things you did and where you went! Feel free to share in the comments below, on my Facebook page, or through Instagram. Hope you have a very Merry Christmas.