Ada's 4th Birthday Party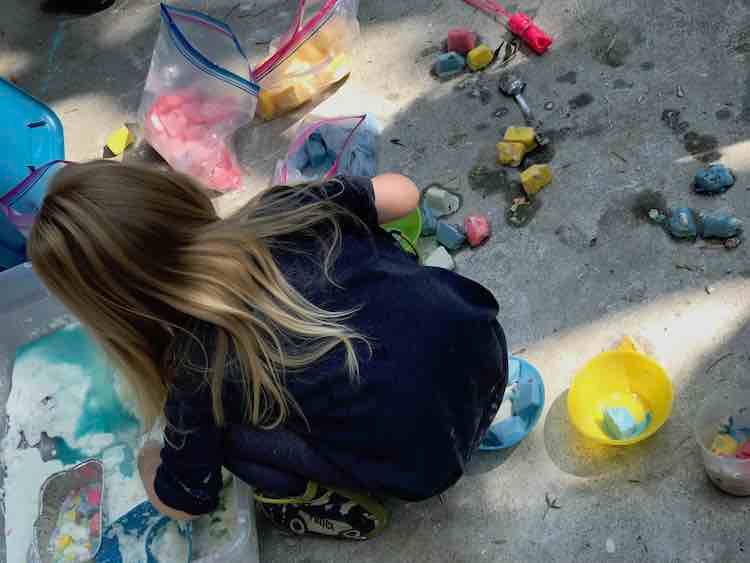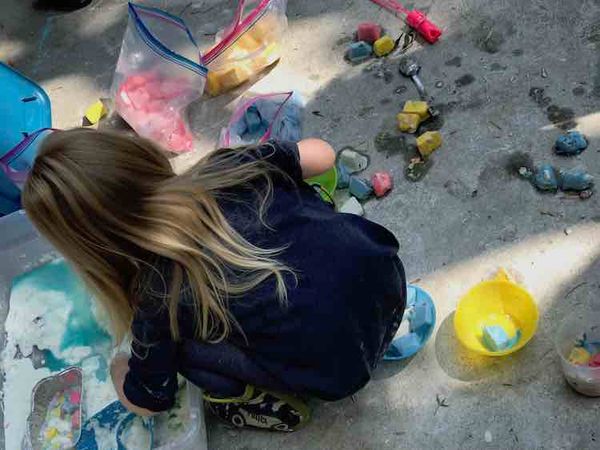 Ada turned four back in August and I'm finally finishing up with her birthday posts. I've previously posted some of the main elements used during her birthday party but I wanted to post a general overview to link to the previous posts in case you want to follow a similar science theme. For Ada's birthday party we decided to focus on the general theme of 'science'. I purchased glass erlenmeyer flasks, glass beakers, plastic graduated cylinders, plastic beakers, and food-safe test tube to extend our science-theme.
If you want to jump straight to a specific post I grouped them here: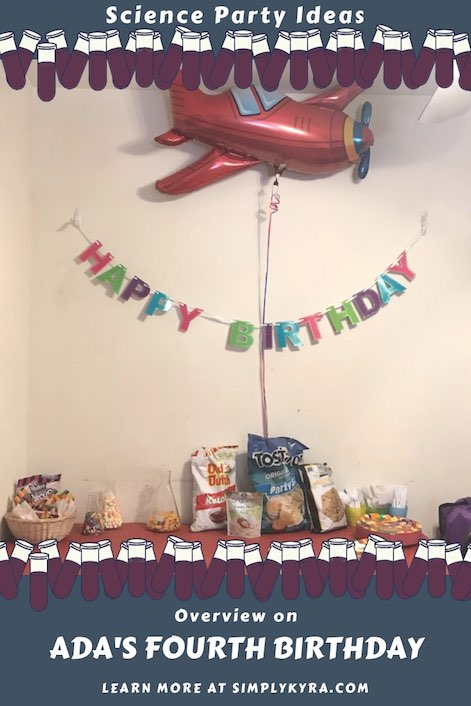 ---
For the last several birthdays the kids have woken up with balloons grouped in front of their bedroom door to great them the morning of their birthday party. After they've had a chance to walk through the balloons and drag them along on the way to the kitchen table for breakfast I gather up a couple groups of two or three balloons to tie to our balcony railing for during the party while leaving the rest free for play.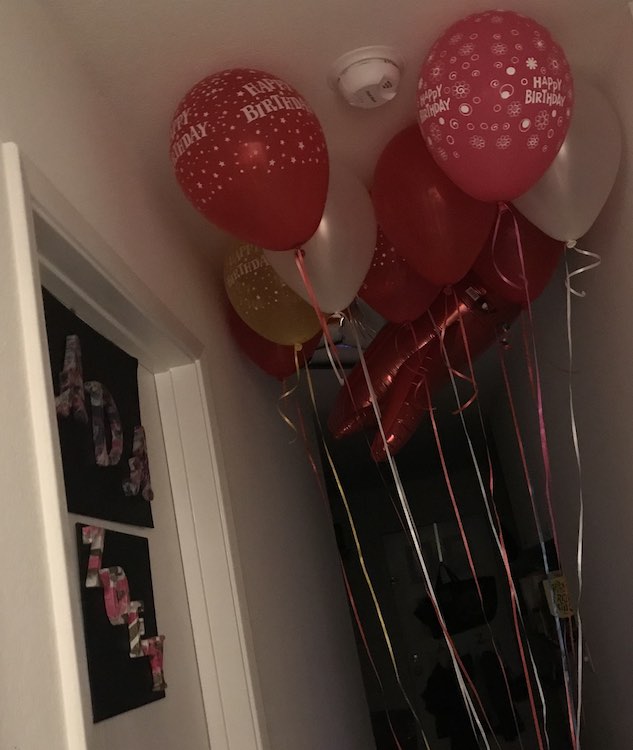 ---
Outside Sensory Play
Our main science-themed sensory activities outside were baking soda and dyed vinegar color mixing explosions and frozen color mixing oobleck. Both activities were a blast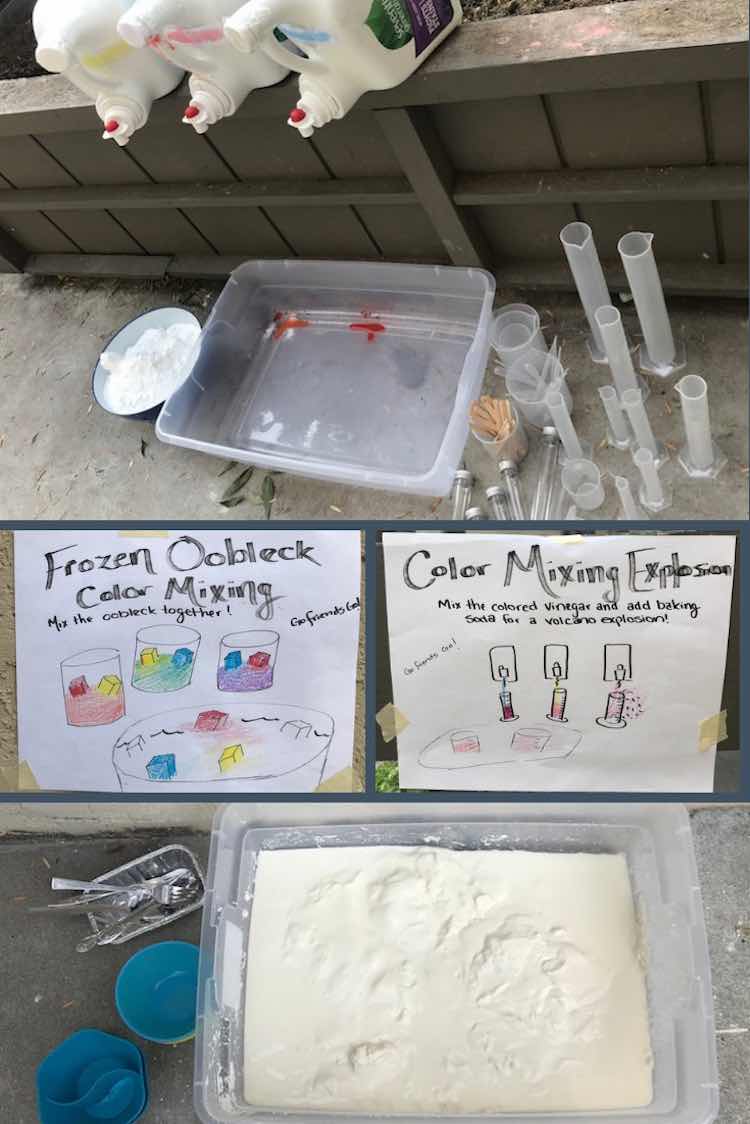 Like before, before Zoey's party, I swept over the deck cleaning up the excess toys so the kids wouldn't be overwhelmed I set aside any toys I thought the kids at the party may enjoy if the main science sensory stations didn't keep their attention. Since I made signs for the main two stations Ada and I figured we had to continue the signs throughout all the stations on the deck.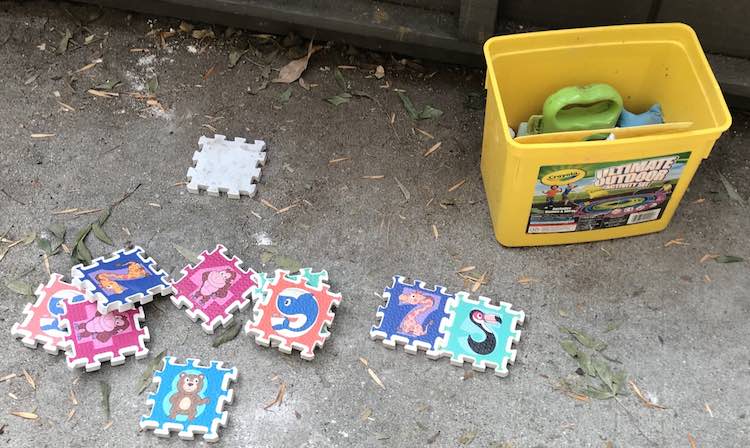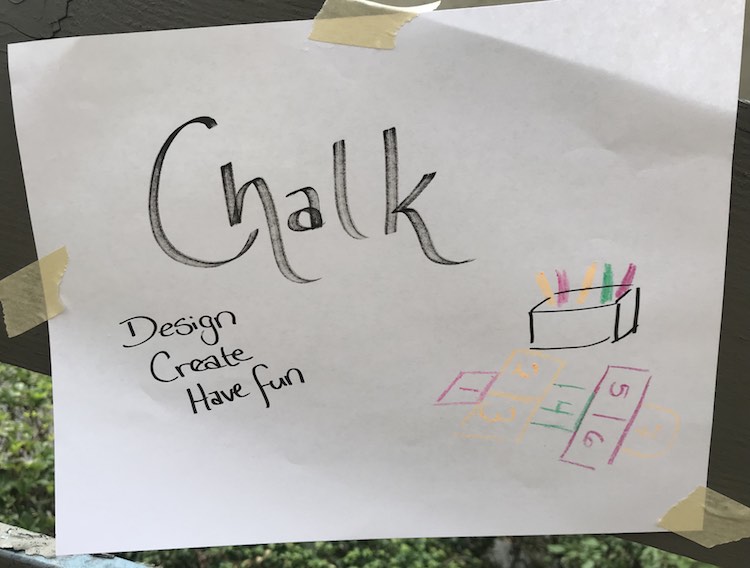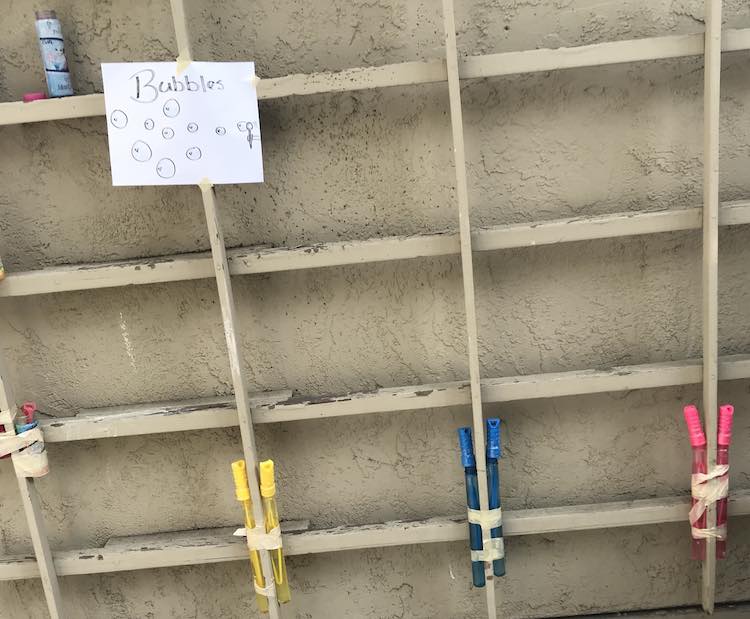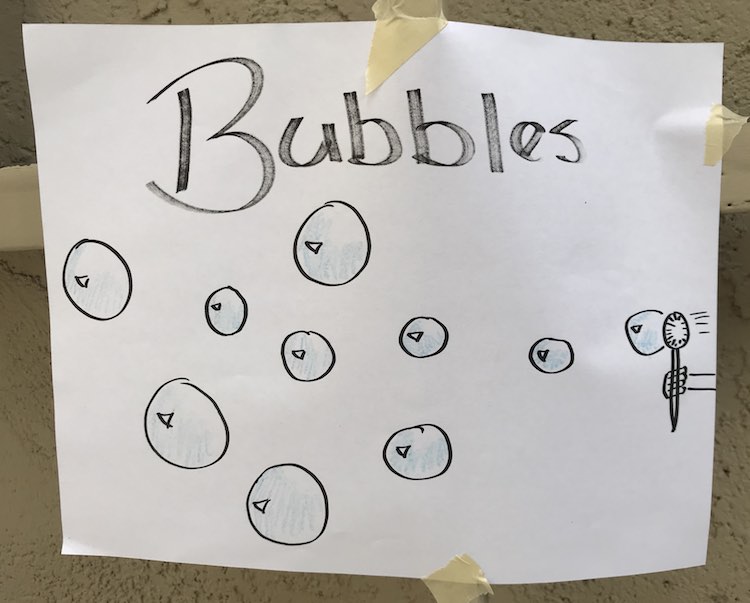 My personal favorite stations, after the two main sensory stations, was the adult station Ada wanted to create. I was originally going to collapse the chairs and leave them out of the way but when Ada was pressed for details on what an 'adult station' should consist of she told me "just chairs and adults sitting on them".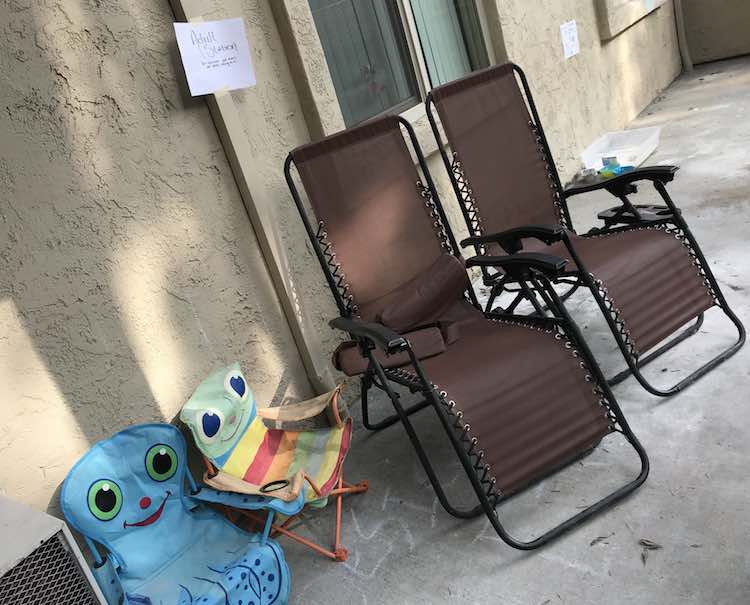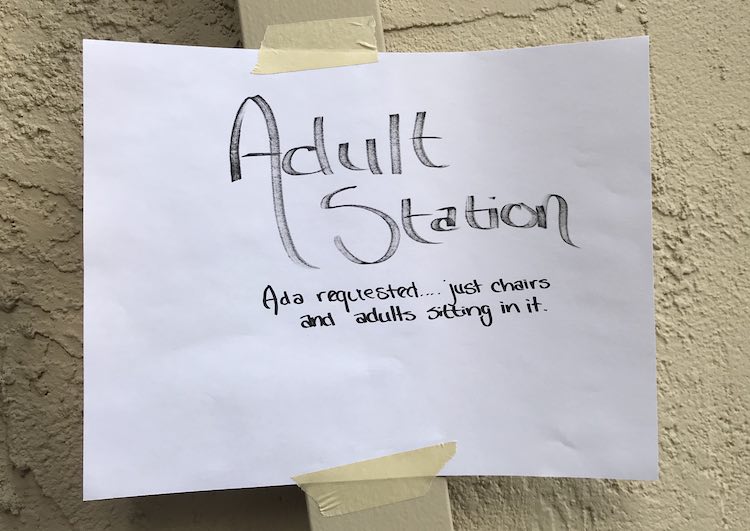 ---
Buffet Table
Ada loved the idea of having a picnic in the kitchen (so we didn't have to worry about kid seating) so for our lunch I pushed the table against the wall to turn it into a buffet table. The kids got to hang out all together on the picnic blanket laid out in the kitchen. For the buffet table itself I wanted to make it more science-themed and bring the science in from outside on the deck. I went on Amazon and through Karter Scientific bought a five-piece set of glass Erlenmeyer flasks and two 1000ml borosilicate glass beakers. For the beakers I decided to take advantage of their size and opacity by making layered Jello and a simple spin on the traditional seven-layer dip. The Erlenmeyer flasks were a harder story as they were bought because of their adorableness and potential future use rather than present usefulness. I ended up filling them with the snacks (goldfish crackers), desserts (marshmallows and Canadian smarties), and very last minute moved some Parmesan cheese into one in case anyone wanted to sprinkle it onto their pizza.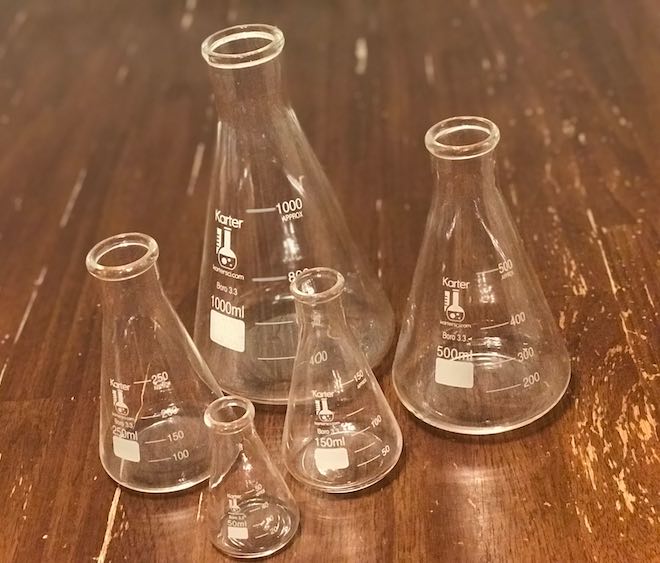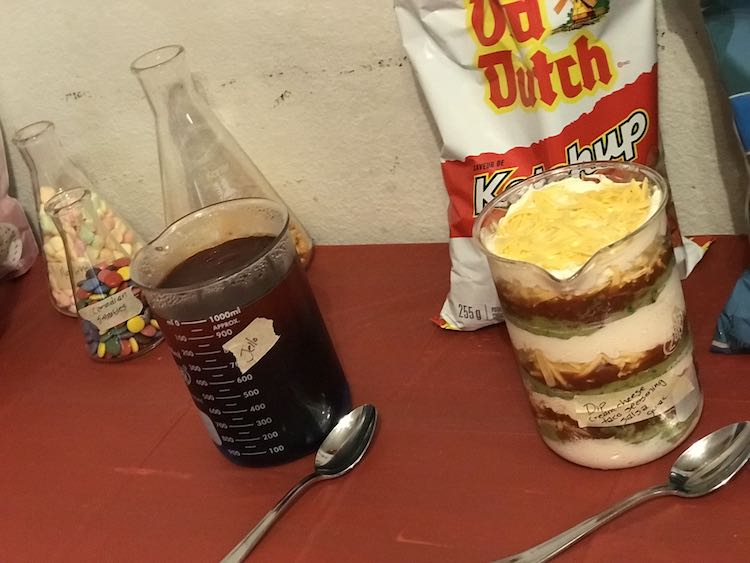 When we had gone out for balloons the local Dollar Tree was out of helium so we ended up splurging on more expensive balloons at the local Diddams. Ada fell in love with the airplane balloon so I turned it into a table decoration to keep it out of the way but still remain visible. We decided to keep the meal itself simple and ordered pizza (which ended up arriving late) so the table was simple with the dip and snacks. Later on we pulled out pineapple brownie cake for dessert which wasn't science related but the Ghiradelli box mix brownies had become a birthday tradition Ada loves and we changed it up by adding canned pineapple (Ada's idea).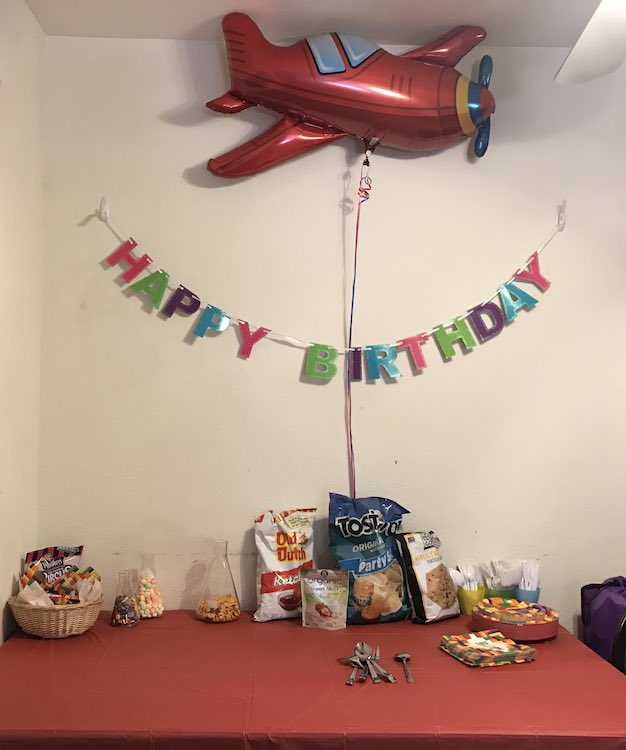 And then the birthday party was over and the kids headed home with their science-themed grab bags.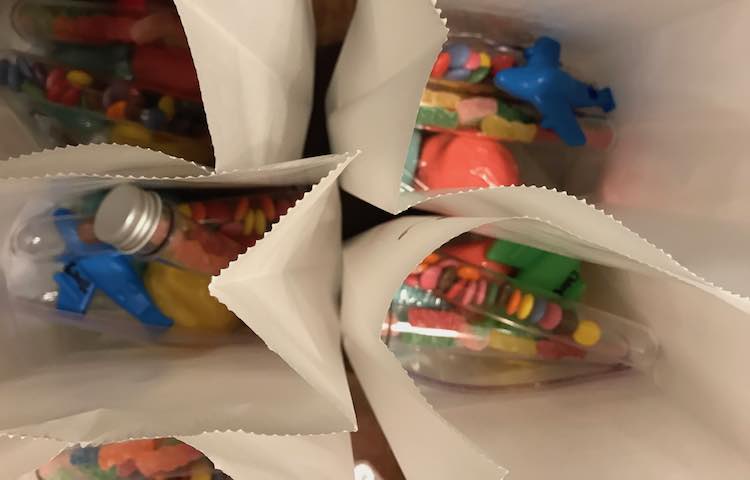 After The Party
After the birthday party Ada went out on the deck to play and after nap time both girls got to enjoy the sensory bins together before we cleaned them up. I saved a couple quotes from the after party play. At one point as Ada was standing in the bin of leftover baking soda and vinegar she dumped vinegar and said "bubbles. Oh my gosh! What happened to our feet?". Later on while playing with oobleck Ada tossed some up and said "Look Zoey. It's raining oobleck"… I may have jotted that one down as I told them not to throw oobleck. I touched on the actual cleanup process of both sensory bins in their respective posts: frozen color mixing oobleck and color mixing explosions.
I hope this helps you whether you're planning a playdate or birthday party. If you want more ideas I shared previously about Zoey's second birthday that included several non-themed sensory bins. I'd love to hear what you end up doing and how it went. Feel free to share in the comments below, on my Facebook page, or through Instagram. Hope your party goes great!